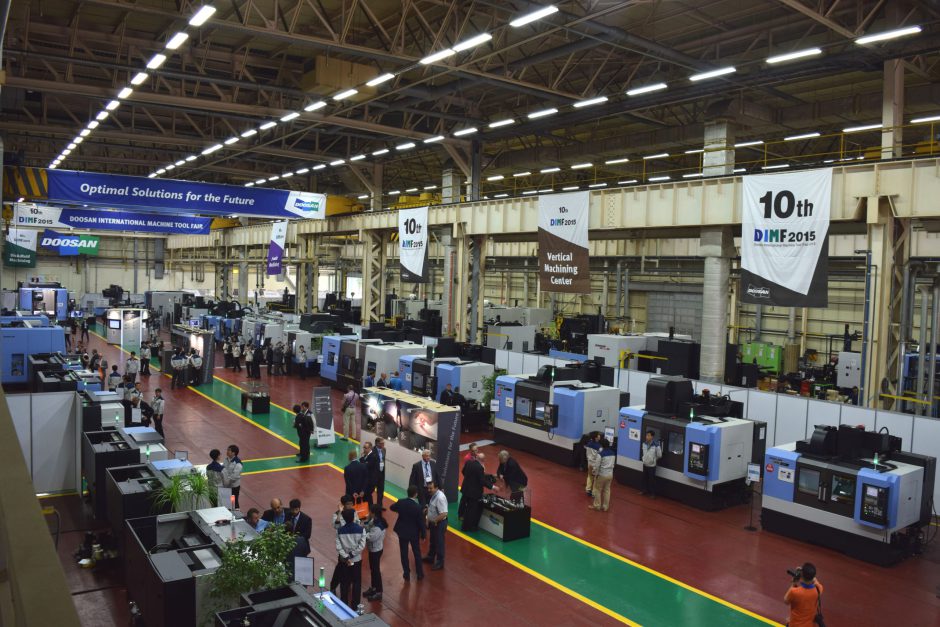 Doosan Infracore's tenth DIMF Show (Doosan International Machine Tool Fair) held in Busan, South Korea from 13 – 15 May 2015 proved to be the biggest and best yet with 5,700 Doosan dealers, distributors, academics and Doosan officials, and over 800 international visitors attending the event.
Amongst the attendees was a delegation of senior managers from Mills CNC (the exclusive distributor of Doosan machine tools in the UK and Ireland).
In this article, Tony Dale, Technical Director at Mills reports on the latest DIMF Show and gives his insight on some of the new Doosan machines and machine upgrades that will soon be available from Mills CNC to UK and Irish precision component manufacturers.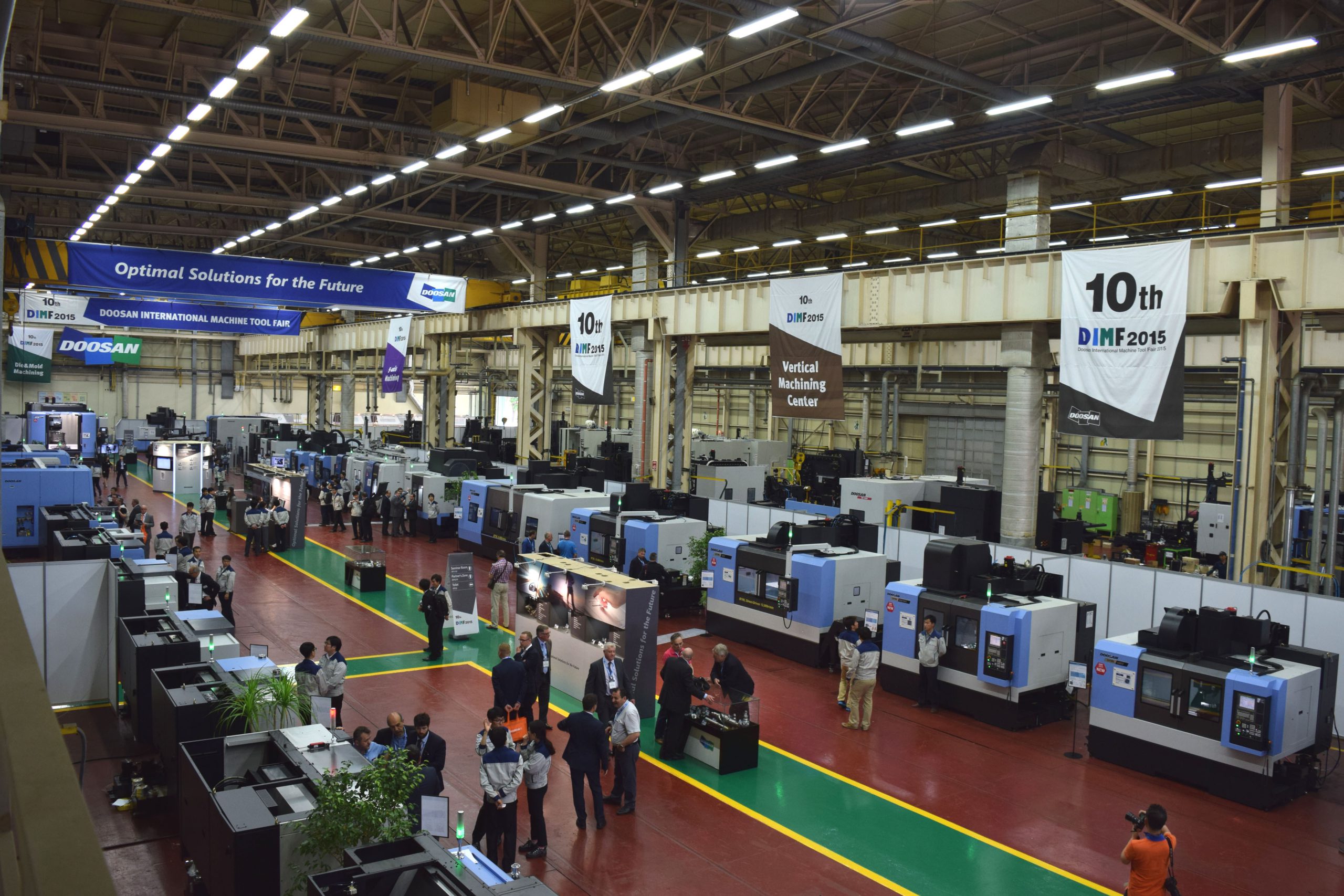 Comments Tony Dale:
"The latest DIMF Show was memorable for a number of reasons.
"Firstly it's worthwhile stating that this year's event was particularly impressive with 83 Doosan machines being exhibited.
"The number comprised 17 new machines which included Doosan's latest 5-axis machining centres, large-capacity lathes, big horizontal and horizontal boring machines and next generation multi-axis mill-turn models, as well as Doosan's latest automation solutions, different CNC Control systems and options, and 33 upgraded machines.
"Doosan is one of the largest global manufacturers of machine tools – and the sheer size, scope and scale of the DIMF Show did much to reflect and reinforce the company's strength and prowess.
"Although DIMF took place at Doosan's South Korean Namsan and Sungju facilities, the event is far from being parochial – as many of the new and upgraded machines and technologies will be available to manufacturers across the world via Doosan's subsidiaries and its global network of distributors and dealers.
"Indeed one of the major reasons why Mills CNC attended the Show was to identify the new and upgraded Doosan machines that will be promoted and stocked at the Technology Campus in Leamington in the future."
DIMF Highlights:
Horizontal Machining Centres and automation
"Doosan horizontal machining centres are recognised for their performance and productivity-enhancing features. At this year's DIMF Show new models were launched – many of which were exhibited with Doosan's integrated automation solutions.
"The DHF 8000 is a new large-capacity horizontal machining centre with full, simultaneous 5-axis machining capability. The Fanuc-controlled machine features a 'nodding-head' spindle (+60/-100 degrees), rotary table and 6000rpm spindle. The machine is supplied with an automatic pallet changer, and high-capacity tool changer for increased productivity.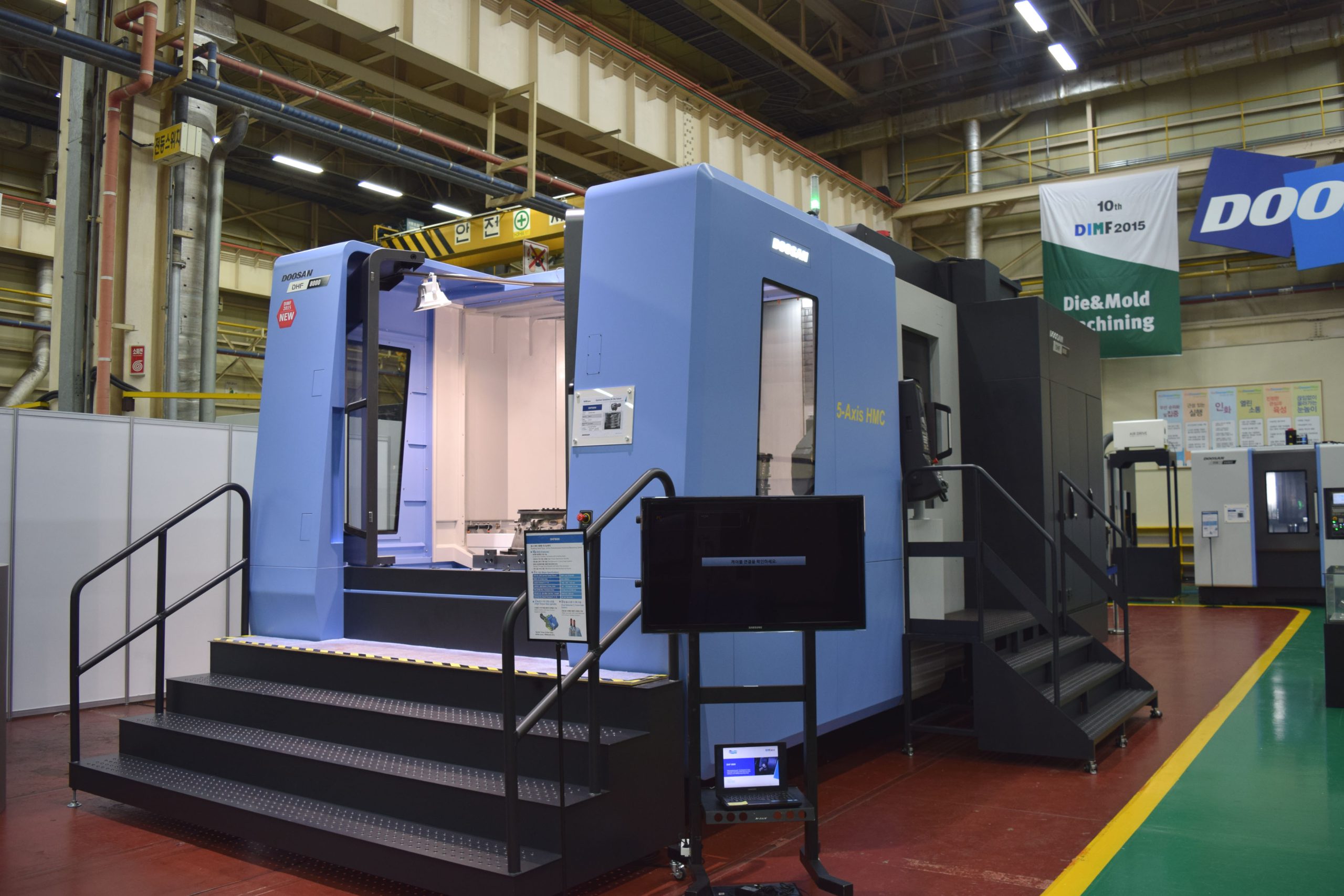 "Other Horizontal Machine highlights included the upgraded compact and heavy-duty HM 1250 model equipped with W-axis (300mm) capability, a 45kW 3000rpm spindle and Y-axis roller-type linear guides.
"Doosan's integrated automation solutions were also exhibited at DIMF with the company's LPS II (Linear Pallet Systems) being showcased on a Doosan HP 5100 II horizontal machining centre. The LPS II is a compact automation system providing customers with 12-station work-piece pallet change capability.
Multi-axis machines
"Doosan's new multi-axis machines were out in force at DIMF with pride of place reserved for the new SMX-series of mill-turn machines.
"The SMX 3100 machine, already available in the UK, has now been joined by three more models – the 10" chuck size SMX 2600 and SMX 2600S (with a sub-spindle); and the SMX 3100S a 12" chuck machine with a sub-spindle. All SMX machines feature Doosan's orthogonally-designed Y-axis.
"Although the SMX machines replace a number of Doosan's previously successful MX-range of mill-turn machines, it is worth noting that those MX-models with a lower turret (i.e. MX 1600; MX 2100; MX 2600 and MX 3100) are still available.
3- and 5-axis machining centres
"The big news surrounding Doosan 3-axis machines was (and is) the availability of the Siemens 828D control (featuring ShopMill conversational programming software) on its best-selling DNM Mark II vertical machining centres.
"DNM 400 II and DNM 500 II machines are now being brought into the UK as stock machines and in the months ahead Siemens' controls will be available on DNM 650, 750, 750L and 900 models and, later in the year, on large Mynx vertical machines.
"As well as being available with a choice of controls (Fanuc, Heidenhain and Siemens), the DNM machines can now be supplied with a BT 50 taper interface.
"Speaking about machine tools with extra-rigidity, DIMF also saw the launch of the new 50 taper box guide-way Mynx 9500 equipped a 950mm Y-axis and supplied with either a 22kW/6000rpm or 26kW/10,000rpm spindle.
"Advances in Doosan 3-axis machines were matched by equally impressive advances in Doosan's 5-axis machine tool portfolio.
"The Show provided the ideal venue to showcase Doosan's latest RED DOT product design winning machine – the compact FM 200 5AX Linear equipped with a built-in 40,000rpm spindle, 50m/min rapid rates and a direct drive, 200mm diameter rotary table.
"Another 5-axis machine that drew in the crowds was the VCF 850 5AX.
"The VCF 850 5AX is a new vertical moving-column 5-axis machine featuring a 3-metre long machining area a top-mounted or embedded table, swivel-head spindle and centre partition for increased flexibility. The machine, launched a few months ago, is now available to customers in the UK and Ireland and is being stocked by Mills at the Campus facility.
Horizontal Lynx and Puma lathes, and large Puma vertical lathes.
"No DIMF Show would be complete without specific attention being focused on Doosan's new lathe and turning centre ranges.
"New additions and upgrades to Doosan's Lynx range of lathes included the introduction of a 6" chuck Lynx 220 with Y-axis and sub-spindle which now features a bigger capacity 16-station turret. This lathe is also available with the Siemens 828D control.
"Upgrades to Doosan's popular Puma 2100/2600/3100 new frame lathes include improvements to the ranges' thermal compensation and C-axis accuracy. The Puma 2600SY is now equipped with a 16-station turret.
"Large Puma lathes have undergone significant change with the replacement of the Puma 400 and Puma 480 series with the new Puma 4100 and Puma 5100 ranges. These 12", 15", 21" chuck and large bore lathes deliver increased reliability and accuracy and have been designed for tough, heavy-duty cutting operations.
"A new large ram-type vertical lathe was launched at DIMF. The VTR 1216M, designed to machine rings and valve parts etc., has a large 1250mm table, a 1600mm maximum turning diameter and impressive 1200mm Z-axis stroke, -700/+1580mm X-axis stroke and 800mm W-axis stroke.
"The last machine to mention is the large BM 2740M milling machine equipped with a universal B-axis head (+/- 110 degrees), 40kW/18,000rpm spindle and X, Y and Z-axis travels of 4000 x 2500 x 700mm. This machine is aimed at high-precision machining of large aerospace components.
"DIMF 2015 was a truly impressive event. Although the Show is over its impact (due to the new technologies introduced) will be felt around the world for months and years to come."