CNC Automation Systems
Build a competitive edge for your business by increasing the productivity of your machine tools with an advanced CNC automation system or a bespoke automation solution from Mills CNC.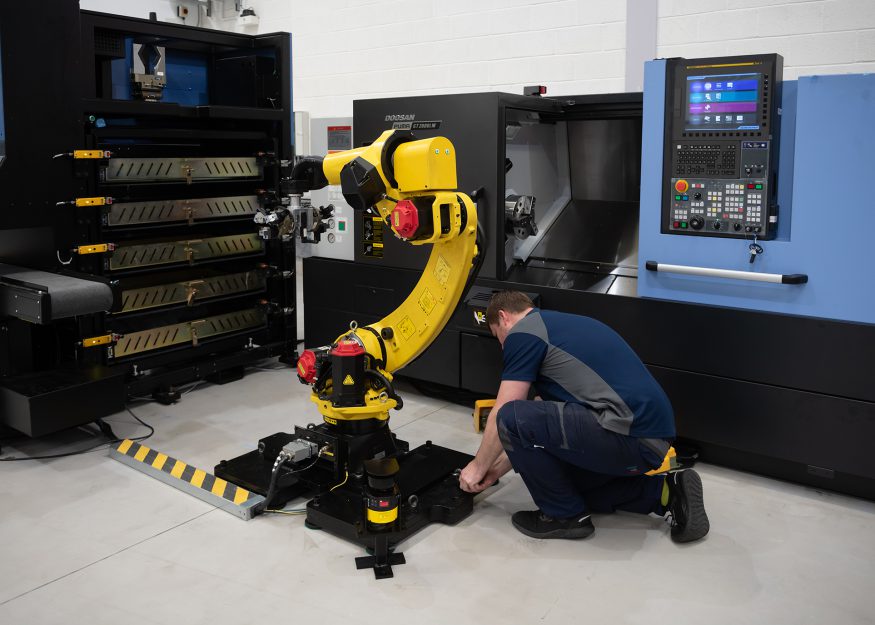 Automated Solutions
Manufacturing Robots
An automation system from Mills CNC can range from Doosan Collaborative Robots, to help improve production cycles, through to a bespoke integration of CNC robotics and industrial robots with sensors, controls, and actuators.
Manufacturing robots are designed to perform a manufacturing process with minimal or no human intervention – such as the market leading SYNERGi automation systems exclusively available from Mills CNC – the SYNERGi Premier & SYNERGi Sprint automated manufacturing cells for example.
Machine Tool Automation
Mills CNC Automation Services
At their most simple, an automated system will include integrating high-quality ancillary equipment to your DN Solutions Machine Tool in order to increase its productivity and performance.
At the other end of the scale, automation solutions can be far more complex and can include and involve the use of multi and linear pallet systems, automatic workpiece pallet changers and industrial robots or collaborative robots – these are often designed and delivered as part of a turnkey or process improvement solution.
Our long and successful history of supplying best-in-class CNC automation solutions to customers has become something we are incredibly proud of. So proud, in fact, that as well as developing our own market-leading automation solution, the SYNERGi automated manufacturing cell, we have invested in our very own Industry 4.0 Automation and Turnkey Centre, showcasing our Doosan cobots and industrial robot and CNC robotics solutions – located on our technology campus in Leamington Spa.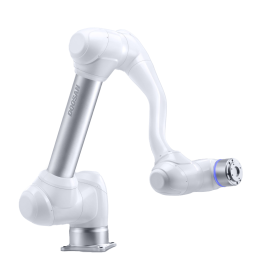 Interested In CNC Automation? Get In Touch
Mills CNC have great experience in creating bespoke CNC automation systems. Tell us about your project, and we can help you develop an automated solution that saves time and energy.
CNC Robotics and Automation from Mills CNC
Cobots and Industrial Robot Solutions.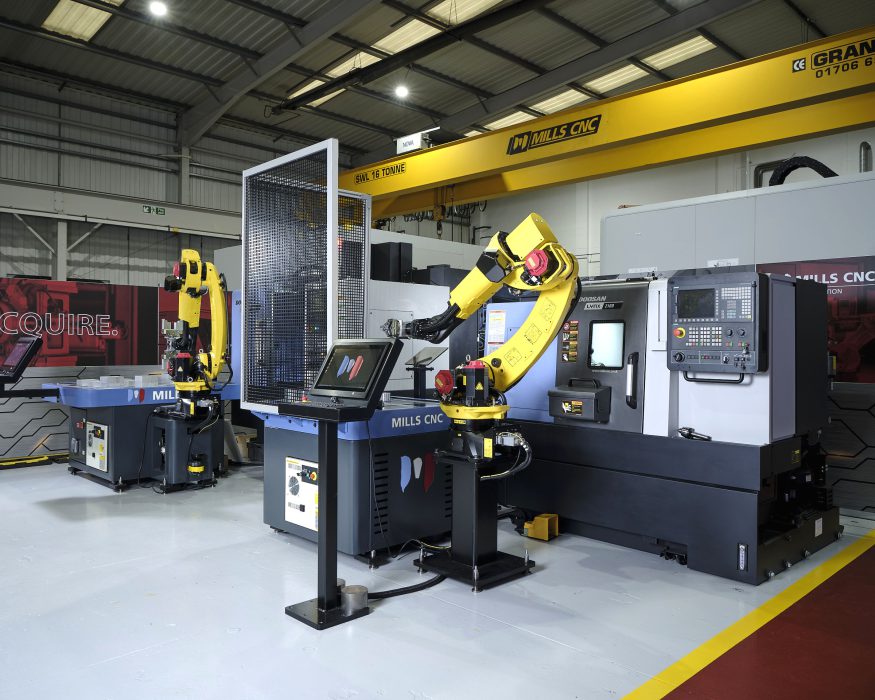 Introduction to Robotics and Automation
At Mills CNC we have a strong belief in moving forwards, and we want to revolutionise the way our customers look at their manufacturing processes, with a particular emphasis on Automation solutions integrating Cobots or Industrial Robots.
Our dedication to helping machine tool processes become streamlined and efficient caused Mills CNC to create a new division with the sole remit of automating CNC operations and streamlining manufacturing processes. Mills CNC Automation is based at our Head Office in Leamington Spa in the aptly named Mills CNC Technology Campus.
There are two types of CNC automation solution available from Mills CNC – Collaborative Robots, and Industrial Robots.
A cobot, or collaborative robot, is a robot intended for direct human/robot interaction within a shared space, or where humans and robots are in close proximity. Cobot applications contrast with traditional industrial robot applications in which robots are isolated from human contact.
Cobot safety relies on lightweight construction materials, rounded edges, and inherent limitation of speed and force, and on the use of sensors and software that ensures safe operation.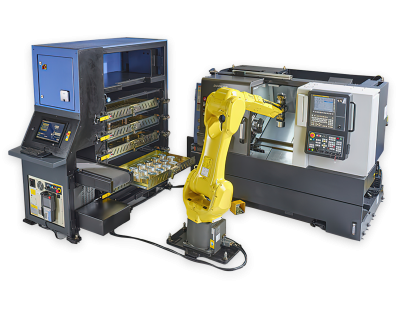 An industrial robot is a robot system used for and in manufacturing. Industrial robots are automated, programmable and capable of movement on three or more axes.
Typical applications include machine tending, welding, painting, assembly, disassembly, pick and place operations, packaging and labelling, palletising, product inspection, and testing; all accomplished with high endurance, speed, and precision.
Our industrial robot systems have been branded SYNERGi systems and are delivered as flexible automated manufacturing cells.
Mills CNC Automation Systems
In 2018 we established a separate automation division called Mills CNC Automation to provide a focus for, and to drive, our automated systems business forward. Dedicated to ensuring our customers are at the forefront of the robotics technology available to them, the goal of Mills CNC Automation is to streamline CNC operations and increase our customers' manufacturing productivity.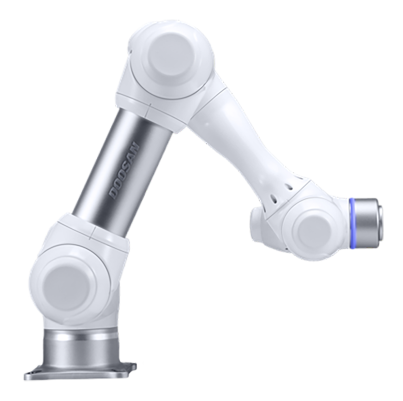 Interested In CNC Automation Solutions? Get In Touch
Mills CNC have great experience in creating bespoke CNC automated systems. Tell us about your project, and we can help you develop an automation solution that saves time and energy.