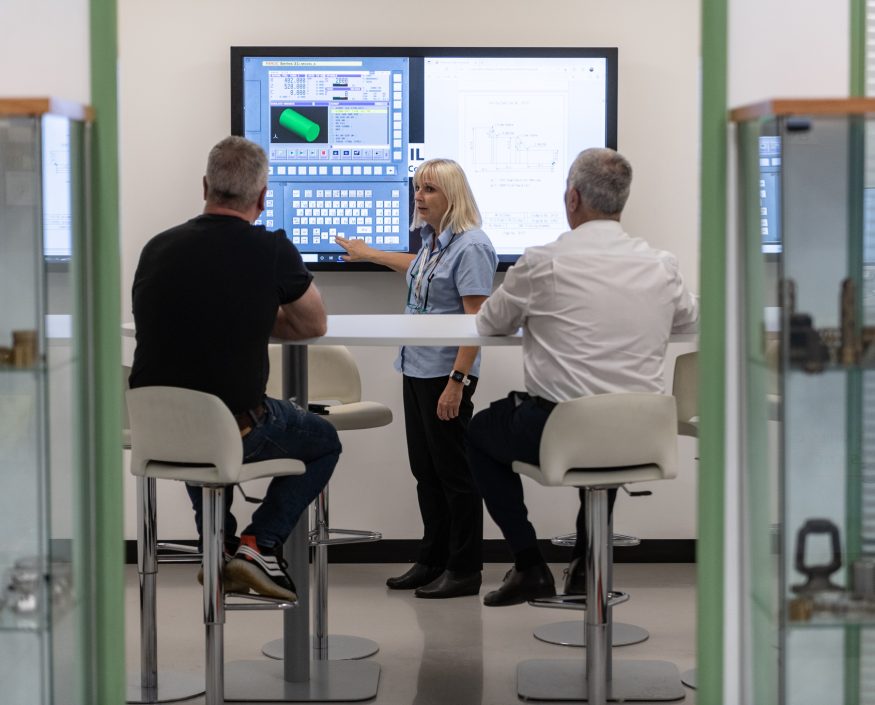 CNC Precision Engineering Career Advice
Whether you're looking to start a career in CNC operation, machining or programming, or you're looking to take your skills to the next level, Mills CNC can help you plan for your future in CNC Precision Engineering.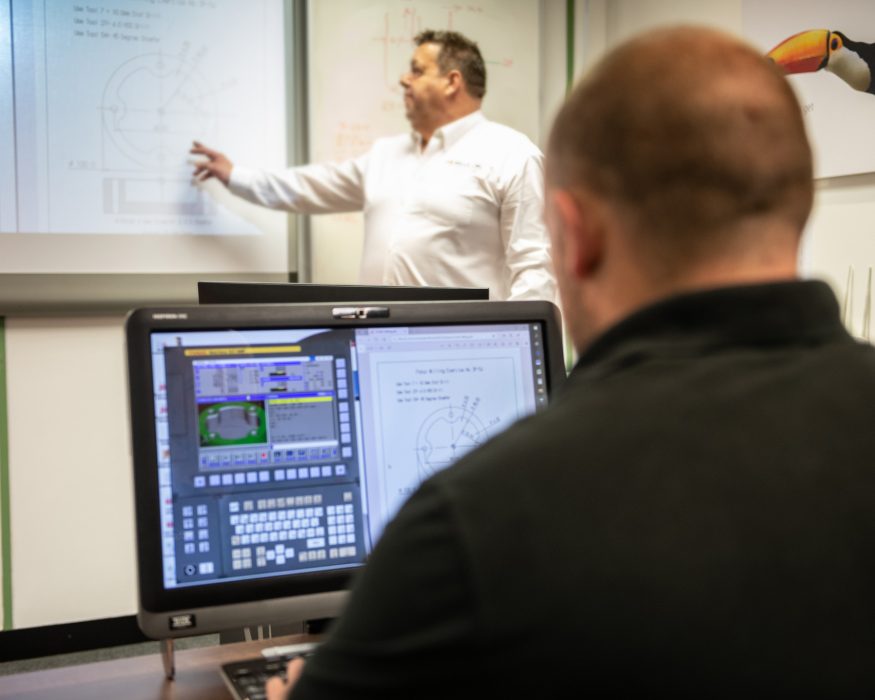 Advice for a Career in CNC
For the benefit of those just starting out, we explain the fundamentals of CNC machining and explore the differences between the various roles, from that of a CNC operator or machinist to the role of a CNC programmer.
For those already familiar with the industry we highlight the career progression options and training courses that are available here at the Mills CNC Training Academy.
What are the Basics of CNC?
CNC stands for Computer Numerical Control and is a manufacturing process in which pre-programmed computer software dictates the movement and operation of tools and machinery.
The CNC process is used to control operations, from very simple to extremely complex procedures on a range of machinery including machining centres, mill-turn machines, lathes & turning centres, borers, spindle heads, milling machines & bed mills.
The advantage of CNC machining (with no manual operator directly controlling the operation) is the ability to achieve greatly increased productivity compared to non-computerised operations where the machine must be manually controlled, especially for repetitive production.
The role of a CNC programmer is to develop the instructions required to operate a CNC machine by creating the code and sequential instructions and then loading them into a machine. To create programs for CNC machinery, programmers need to read blueprints and 3D computer designs and understand the specifications for any given part.
Additionally, programmers also make numerous mathematical calculations to determine quantities of material and at what rate it should be fed into the machine. Therefore a high level of maths is required. When these calculations are determined and loaded into the machinery the process is handed over to a CNC machinist who will follow those numbered, sequential instructions.
It should however be noted, that at some manufacturing plants, the machinist may also program the instructions into the machinery. When this isn't the case, the programmer generally takes responsibility and works with the machinist to get the operation set up.
As a consequence, due to the role of CNC programming being so important, these skilled professionals generally command a higher salary than CNC machinists or operators.
In CNC systems, the design of a mechanical part and its manufacturing program are highly automated – the part's dimensions are defined using CAD (computer-aided design) software and then translated into 'directives' by CAM (computer-aided manufacturing) software.
The resulting manufacturing directives are then transformed by "Post Processor" software, or drivers, into specific commands and loaded into a CNC machine to produce a component.
Post Processor (machine control) instructions are delivered to the machine in a sequential program such as G-code. G-code instructions (Fanuc, Siemens-Sinumerik, Mazak-Mazatrol, Heidenhein or Deckel-Maho) tell the machine's motors where to move, how fast to move and on what path or axis to follow.
During the manufacturing process a component could require the use of several different tools on the same machine as CNC machines often combine multiple tools. In other operations, several different machines could be used in conjunction with human or robotic operators that move the component from one machine to another.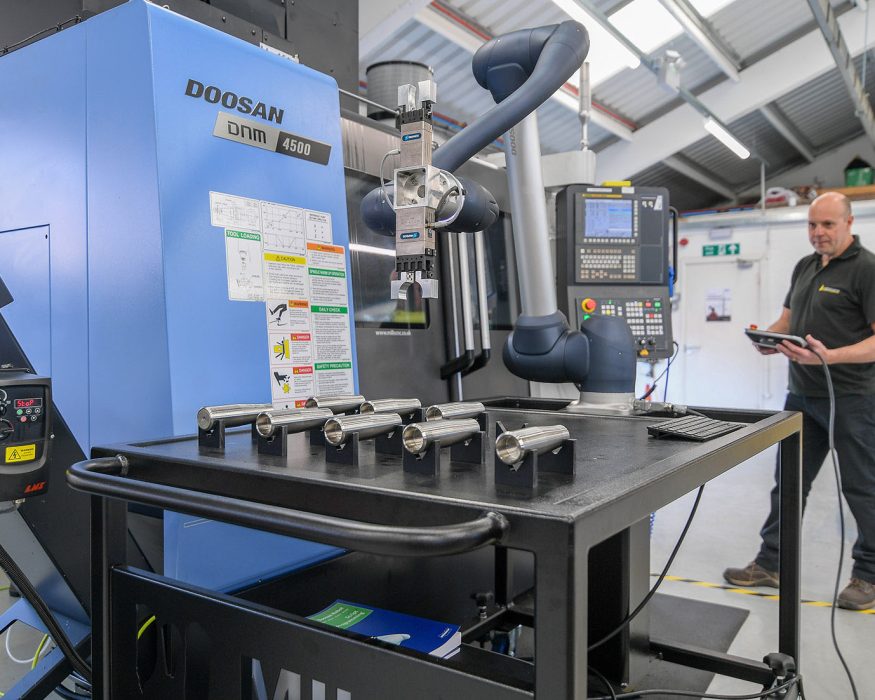 CNC Beginners Courses at Mills CNC
Learning the basics of CNC Programming, Operation or Maintenance can get you started in a career that gives you plenty of opportunities to progress, improve and upskill.
CNC Career Advice
CNC programming will become more important going forward as CNC machines will need more in-depth programming when adding automation & robotics into the manufacturing process. As a result, CNC programmer jobs will come at a premium as the required skills evolve & develop.
It's possible for a CNC operator or machinist to progress to CNC programming, but as a rule A levels or BTEC diplomas are required. Some employers will require a bachelor's degree in engineering, machine tool technology or an associate degree in engineering, CNC operation & programming or machining.
An engineering associate degree offers a foundation for engineering students planning to take an engineering degree and involves lower-level science & mathematics that those degrees require.
How much do CNC machinists make in the UK? Rates vary depending on experience, but a CNC programmer usually earns more than a machinist or operator in the UK. At many companies there isn't much difference in salaries for machinists or operators as job descriptions can vary as the roles can share similar responsibilities in the setting up and running of CNC machines.
There are some subtle differences between CNC machinists and CNC operators worth noting – at many companies CNC operators work under the supervision of CNC machinists – in these instances operators are considered to be more entry-level as machinists tend to have more experience and an advanced level of skills.
For this reason a CNC machinist can usually earn more than a CNC operator in the UK.
Are you interested in a career in the field of CNC engineering? With a real mix of exciting manufacturing tools and computers, and a career option with or without a degree, we think CNC engineering is a wise choice for a long & successful career.
CNC careers are on the rise, but how do we know this? In our opinion there is no doubt that CNC jobs are very much in demand in the current UK job market. Precision engineering is used in just about every type of industry from aerospace, defence and medical equipment to consumer goods, to name just a few, so the demand for parts made by CNC machines is only going to grow.
This assumption is borne out by a recent report by Fortune Business Insights which stated that "The global CNC Machine market size was $83.99 billion in 2021 – and is projected to grow to $140.78 billion by 2029 – representing a staggering Compound Average Growth Rate of 7.1% over the period."
There are of course many different jobs within the field of CNC engineering, so which one is right for you?
Furthermore, if you are already a CNC programmer, we can't emphasise enough that you become as familiar as possible with the latest machines and controls.
Find out how a series of events led to a job for a Mills CNC machine user and a CNC Training Academy customer:
Job Opportunity Via the Mills Academy
Very basic CNC is relatively easy to learn, if you have modest IT skills, a good level of mathematics and an appreciation of how industrial machining works. Therefore theoretically you could teach yourself basic CNC concepts within a few days.
It should be noted however, that the difficulty of CNC programming is entirely dependent on how complicated or advanced you want to get. Realistically there are no shortcuts and there is simply no substitute for professional training. A comprehensive range of CNC Operator Courses suitable for beginners are available at the Mills CNC Training Academy.
Our training covers all aspects of the machine lifecycle, from CNC Maintenance & CNC Operator to CNC Programmer Courses, so if you're looking to secure a career in precision engineering with CNC machine tools, then a CNC training course from Mills CNC will get you there.
If you're just starting out in a new career in CNC engineering then you will generally start out as a CNC operator. This is where you will gain the 'hands-on' training and experience needed to learn machine operation and become familiar with CNC machining basics.
Intermediate programming skills can take a year or more to acquire through a combination of training and work experience.
Advanced CNC programming will probably take several years to learn, and only then with hard work, dedication and specialised training.
These days, more and more manufacturing employers are looking for highly skilled workers with post-secondary education & training. A degree or certificate in CNC engineering will therefore prove extremely beneficial, particularly for careers in CNC programming.
There are two common paths to starting a career in CNC machining, both of which enable you to develop the technical skills necessary for a successful career in CNC precision engineering. They are either through college or getting an apprenticeship. The steps below are intended only as a guide to how to start out in CNC machining:
College courses
Most CNC operators or machinists don't have a university degree, and if you don't then obtaining qualifications from college or a 16 to 19 education provider can help you to secure a role in CNC machining (college courses usually require some GCSE qualifications).
College courses you can study include:
Level 1 Certificate in Performing Engineering Operations
Level 1 Certificate in Engineering & Manufacturing
Level 2 Certificate in Mechanical Engineering
College courses provide the skills needed for a career in CNC machining and often allow some practical experience using CNC machines.

Apprenticeships
It's also possible to start a career in CNC machining by getting an apprenticeship. Having an apprenticeship allows you to develop your skills and gain qualifications while working and earning a modest salary. It's also a great way to gain confidence by learning from experienced skilled professionals.
The Mills CNC Training Academy is available for all CNC engineering levels. We provide courses suitable for those just starting out as an entry level CNC Operator, up to advanced CNC programming. Mills CNC is undoubtedly the best place for you to start your career in CNC and then to ensure you're working towards continual development.
We offer over 28 bespoke CNC training courses covering all aspects of machine operation, programming & maintenance.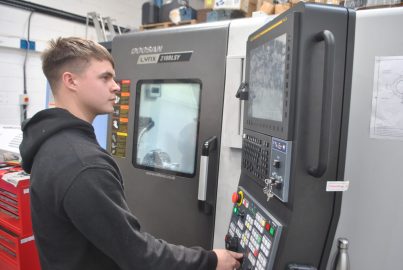 CNC Training Courses at Mills CNC
From beginners courses to advanced training, Mills CNC have a range of Programmer, Operator and Maintenance courses that can help you re-train, upskill or get started in your CNC career.
CAD CAM and CNC
Computer Aided Design (CAD) & Computer Aided Manufacturing (CAM) are both essential components within the automation process of CNC Machining. Though each program can be used independently, they are almost always used side by side.
CAD is a software tool used by engineers that has replaced the manual drafting of technical drawings. It is used to create designs known as computer models that visualise a components construction in either 2 or 3 dimensional views.
The CAD program allows for the development and modification of a component and users can also test it through simulations before subjecting it to real-world conditions. Thereafter, decisions can be made on changing specifications or other design parameters for improved performance.
In simple terms, CAM is the use of software and computer-controlled machinery to automate a manufacturing process. The design data from the CAD files are used to create program logic (cutting tool paths) that instruct the CNC machine's motors when and how fast to move and on what path or axis to follow during production. The machine operator controls the production process via the machine's UI (User Interface).
The machine's UI is the front-end 'dashboard' that the user interacts with during the tool path data (TPD) generation stage, referred to as 'Post Processing'. CAM post-processing acts as the common language between the user and the CAM software, allowing the user to generate, simulate and process the tool path data that will be implemented during the manufacturing process.
Post-processor software such as BobCAD-CAM Post Editor is used to convert CAM manufacturing directives (called Cutter Location data files – CL Data) into specific code, called G-code, so that a CNC machine can understand and use those directives.
Therefore, post-processing simply acts as the gateway between a CAM system and a CNC machine tool by converting CL Data into G-code, the most widely-used CNC programming language.
When CL Data is delivered to a machine control module using G-code, those sequential program instructions use specific types of drivers. Common machine control modules in use today are Fanuc, Siemens, Mazak-Mazatrol, Heidenhein & Toshiba and these all contain an array of workflows and dialogs that provide complete control over the CAM process.
Basically, CAD focuses on the design of a product or part – how it looks, how it functions – while CAM focuses on how to make it. Essentially, there are three stages required for a Computer Aided Manufacturing system to function:
Software that generates a toolpath to tell a machine how to make a product
Post Processing to convert a toolpath into a language machines understand
CNC machinery that can follow those instructions to turn raw material into a finished product
The whole process begins with CAD software – engineers will make either a 2D or 3D drawing, called a model, which contains a set of properties that once complete can be loaded into the CAM system. This is generally done by exporting a CAD file and then importing the file into CAM software.
The CAM software converts CAD data to CL data, however, you can't just give a CNC machine a list of instructions in plain English! These instructions need to speak the machine's language, which means post-processing (converting) the machining toolpath logic into a set of instructions called G-code.
The G-code program is transferred from the CAM application to the CNC machine either directly using an interface cable (referred to as DNC – Direct Numerical Control) or manually using a USB thumb drive (referred to as CNC – Computer Numerical Control).
Once the G-code code is loaded on the CNC machine the production process can begin.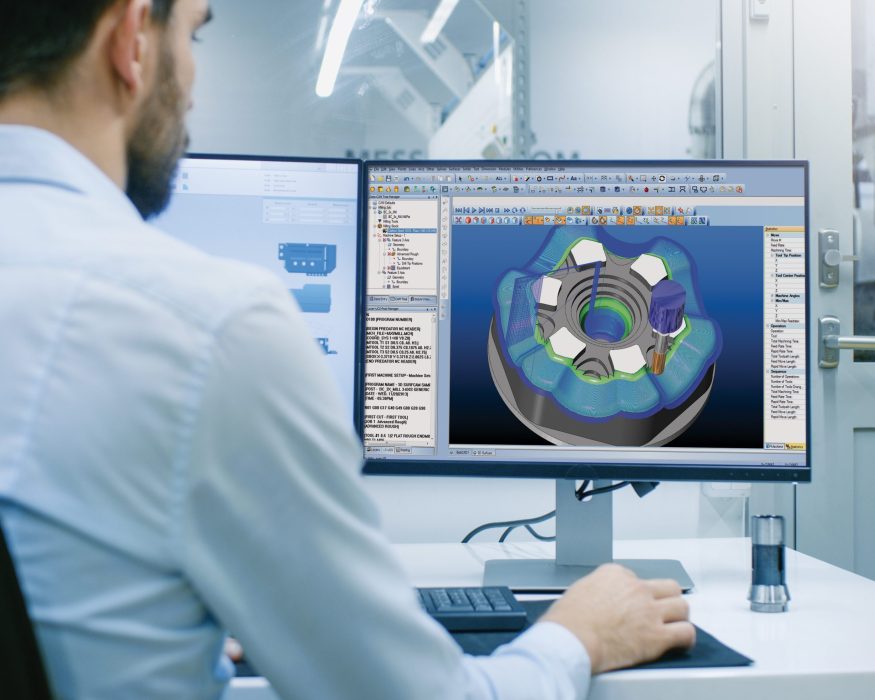 BobCAD Training Classes
The Mills CNC Training Academy offers several BobCAD Training Classes aimed at manufacturers looking to improve their CNC machine productivity and operational efficiencies.
Having successfully completed the courses, attendees will be able to make the seamless transition between designing accurate part geometries to creating and assigning advanced tool paths.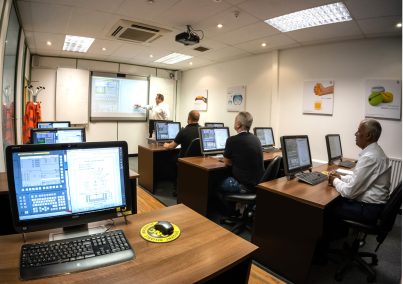 Build Your CNC Experience With Training Courses from Mills CNC
If you're looking to upskill, refresh your knowledge, learn a new aspect of CNC programming or are just starting out, Mills CNC have the right course for you.