Doosan Collaborative Robots
Collaborative robots are cost-effective, safe, easy-to -use and flexible to deploy. They are revolutionising manufacturing and because of their (relative) low cost and ready availability are making automated systems easier than ever to implement, even for small and medium-sized companies.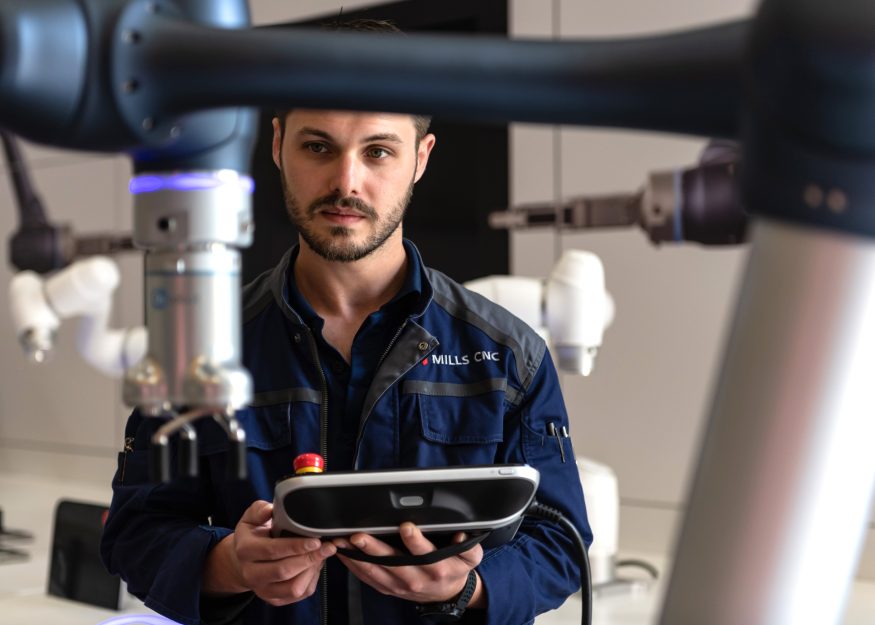 What are cobots?
Cobots are collaborative robot that are intended to work hand-in-hand with employees. They focus more on repetitive tasks, such as inspection and assembly operations, to help workers focus more on tasks that require problem-solving skills.
What can collaborative robot do?
Collaborative robot usually integrate into aspects/elements of a production process that are repetitive or dull enough to risk errors or injury. Their small size and dexterous movement mean they make great assistants for tasks using small parts or intricate placement. These include the type of job humans do at workbenches and on the manufacturing floor.
Examples include:
pick and place (e.g. moving item from a conveyor to a tray)

machine tending (e.g. injection moulding or CNC machines)

packaging and palletising

process tasks, when equipped with end-effector tools (e.g. glueing, drilling, welding)

finishing (sanding, polishing, deburring, trimming)

quality inspection, when equipped with a vision camera/system

assembly
dispensing (e.g. adhesive, lubricant, sealant)
painting, coating, dipping
Benefits of collaborative robots
The collaborative robot industry is set to grow exponentially as more and more companies recognise the advantages this kind of automation solution will bring to their business. These advantages include:
Versatility
Cobots offer unlimited potential. As a fairly new but fast-moving industry, the possibilities that these robots can bring to the shop floor in terms of efficiency, productivity, flexibility etc., are set to grow rapidly in the coming months and years.
Easy to install and use
Collaborative robots are much easier to install and use than their industrial robot counterparts, allowing them to be integrated seamlessly into the workplace with little disruption or previous automation knowledge or experience.
Increased efficiency
Collaborative robots are designed to perform repetitive tasks that have a high risk of human error. By deploying cobots this way human workers' time can be freed up enabling it to be used performing more value-adding activities.
Increased safety
In the manufacturing industry, safety is paramount. Potentially dangerous tasks that were once the preserve of human workers can now be undertaken by cobots ensuring a) workforce safety and b) freeing up workers' time to concentrate on more valuable tasks.
Cobots are designed and built to be inherently safe. The incorporation of highly sensitive torque sensors detect any changes in force and pressure around them which causes them to stop.
Cost-effective
It's no longer exclusively large companies that can afford this kind of automation. Collaborative robots are competitively priced and are an affordable option for more and more small and medium-sized businesses.
Cobots, for all size of business, deliver increased productivity, reduced labour costs and as such, a fast and favourable return on investment.
Machine Series
The new A-series is the 'go-to' range for manufacturers. The series is versatile, safe and reliable and offers a truly high-speed cobot solution.
Payload: 5kg - 9kg
Reach: 900mm - 1200mm
Repeatability: +/- 0.03mm - 0.05mm
View Series
The H-series comprises the most powerful cobots on the market with one model having a 25kg payload capacity. Both models in the series feature six torque sensors which dramatically increases their application potential.
Payload: 20kg - 25kg
Reach: 1500 mm - 1700mm
Repeatability: ±0.1 mm
View Series
M-series cobots are versatile, easy to use and install, and are competitively priced. The range won the prestigious RED DOT award for product design in 2017 and 2018.
Payload: 6kg - 15kg
Reach: 900mm - 1700mm
Repeatability: ±0.03 mm - ±0.1 mm
View Series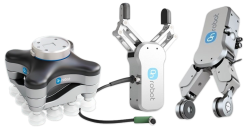 End of arm tooling products
Our cutting edge gripping and sensing systems for industrial automation are ideal for assembly, surface finishing, pick and place, machine tending or testing.
All Doosan Collaborative Robots
Showing 10 products
Cobots in action
Check out some of our latest cobot applications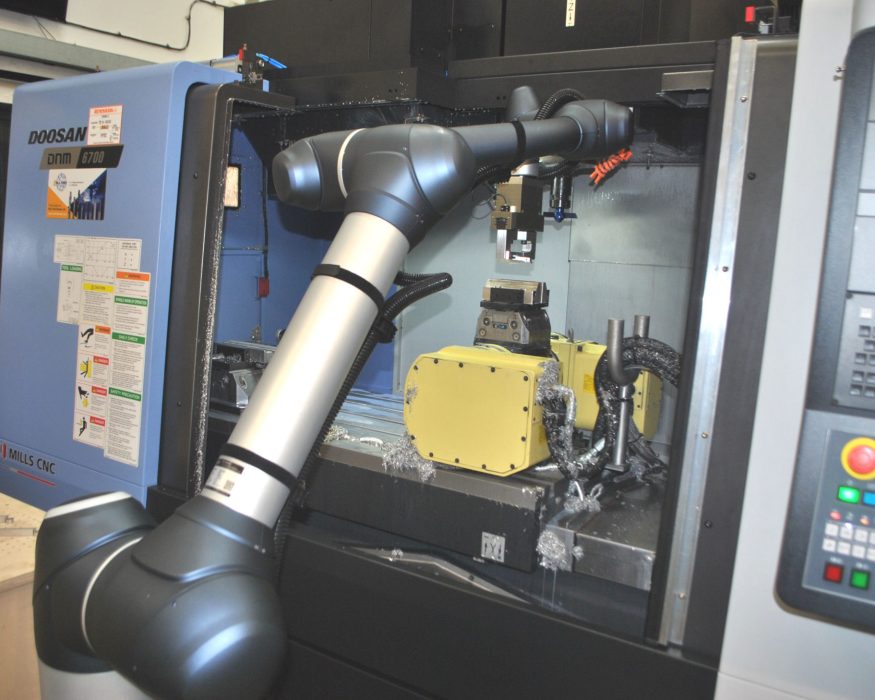 Case Study
Cambridge Precision
Leading precision subcontract specialist invests in three new Doosan machining centres and a Doosan cobot to fulfil a new machining contract.
Mills CNC, the exclusive distributor of Doosan machine tools in the UK and Ireland, has recently supplied leading precision engineering specialist – Cambridge Precision Ltd (CPL) – with three new, advanced Doosan machine tools and a new, high-performance Doosan collaborative robot.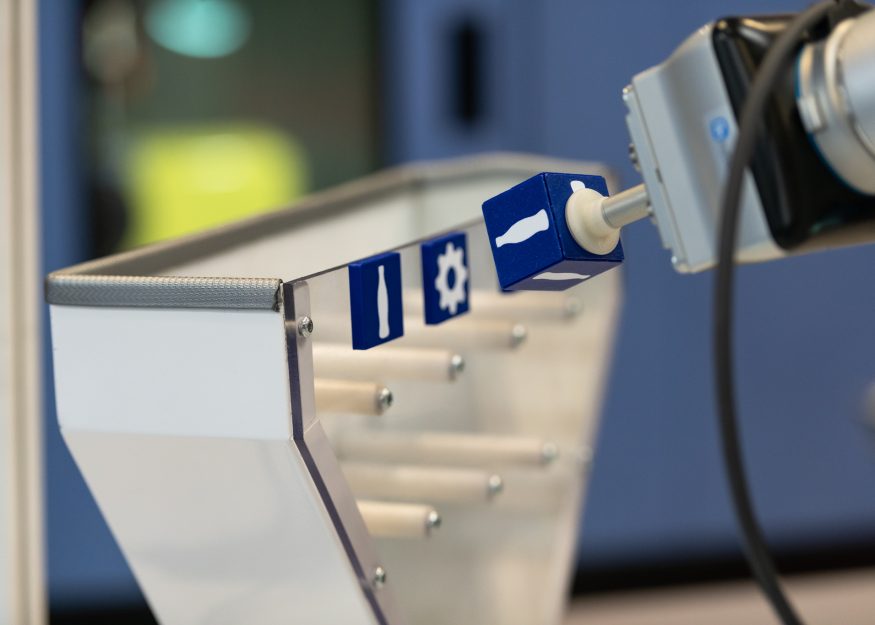 Why choose Doosan?
Doosan cobots
Doosan collaborative robots are versatile, incredibly safe and are the workforce of the future and we at Mills CNC Automation are the exclusive distributor of Doosan Robotics' Cobots in the UK and Ireland.
Doosan's cobots are suitable for a wide range of industries, including but not limited to automotive and defence, pharmaceutical, food and beverage, electronics, packaging, healthcare, warehouses and logistics etc. With the capabilities of the Doosan Cobot, and the sheer number of applications you could find an automated robotics solution within, it's no wonder this is one of the fastest growing areas of automation in the UK.
With a range of 3 different cobots available in the Doosan portfolio – M series, A series and H series, there is plenty of choice depending on the business need. These cobots can have a range of up to 1.7m and a payload size of up to 25kg. There are 10 different cobot models in total: M series (4 models); A series (4 models); H series (2 models).
FAQs about Cobots
No, collaboration is a key part of cobot technology. Cobots are designed to support and optimise the efforts of human workers, encouraging job shifts – not losses. Their role is to make up the resource difference and allow human workers the time to focus on innovation and driving your business forward.
There are many jobs that cannot be fully automated and will always need to be carried out by a human worker.
Cobots generally have a lifespan of at least 20,000 hours, so you can expect a cobot working 40 hours a week to last at least 10 years.
Yes – one of the reasons that cobots have become so widespread and popular is due to their simple but effective technology. Simple tasks can be programmed with little knowledge of coding. Doosan cobots come with a Teach Pendant. Via the Teach Pendant, just about all of your cobots capabilities are accessible through a well-written programme.
The price of a cobot varies depending on many variables, such as payload and intended use. Cobots are, however, designed to be accessible and cost-effective for businesses of all different sizes, with minimal upfront costs and low maintenance costs. It's also important to note that the return in investment is relatively fast due to the increase in production.
Industrial robots are designed to efficiently complete repetitive and potentially dangerous tasks in the same way as a collaborative robot, however, an industrial robot does not require any help or intervention from human operators. They are usually larger, more complex and expensive and are often kept in a caged area on the shopfloor away from human workers.
Cobots, on the other hand, are by definition designed to work alongside humans in a safer way, requiring regular human intervention in order to carry out tasks. Both have their benefits and which is best for your business will depend on your needs and the type of business.
Over time, your Doosan cobot will need servicing. At Mills CNC Automation, we offer our customers best-in-class and competitively-priced servicing for your Doosan machine. We provide two different machine tool servicing options: Mills CNC Servicing Agreements and Fixed-Price Servicing.
Mills CNC holds over £1.4m of OE parts at our Technology Campus facility which, alongside our sophisticated service & logistics operations, ensures fast same-day or next-day delivery of parts to our customers.
Whilst you won't need replacement parts very often with Doosan machines, Mills are on hand to provide immediate assistance if you do. Find out more about our spares and parts service.
To find out more about Doosan Cobots and how they can benefit your business, please get in touch with Mills CNC Automation on 01926 736736 or visit our contact page.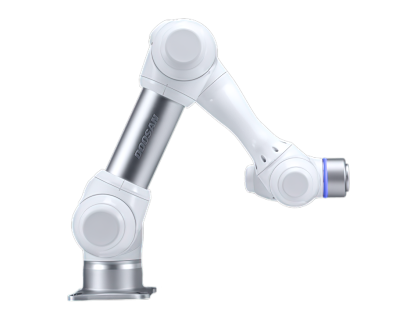 Interested in cobots? Get in touch
Cobots have a wide range of practical applications, and at Mills CNC we can help you find the right solution for your unique requirements. Simply get in touch to find out more.