Leading precision subcontract specialist, G-MACH Engineering Ltd., a company committed to continuous improvement and to providing customers with best-in-class, high-quality machining services, continues its long-standing relationship with Mills CNC by investing in another high-performance machine.
Mills CNC, the exclusive distributor of DN Solutions' (formerly Doosan) and Zayer machine tools in the UK and Ireland, has recently supplied G-Mach Engineering Ltd., a leading precision subcontract specialist celebrating its 30-year anniversary in June this year, with a new Doosan, Fanuc-controlled, multi-tasking turning centre.
The machine, a compact 8" chuck/65mm bar capacity long-bed Lynx 2100LMB lathe with integrated driven tooling, was installed at the company's 10,000sq. ft. production facility in Melton Mowbray in October 2022.
The new Lynx lathe is the latest addition to G-Mach's impressive in-house machining resource which currently comprises 22 CNC machines in total (8 x machining centres and 14 lathes)…17 of which are Doosan machines supplied by Mills CNC.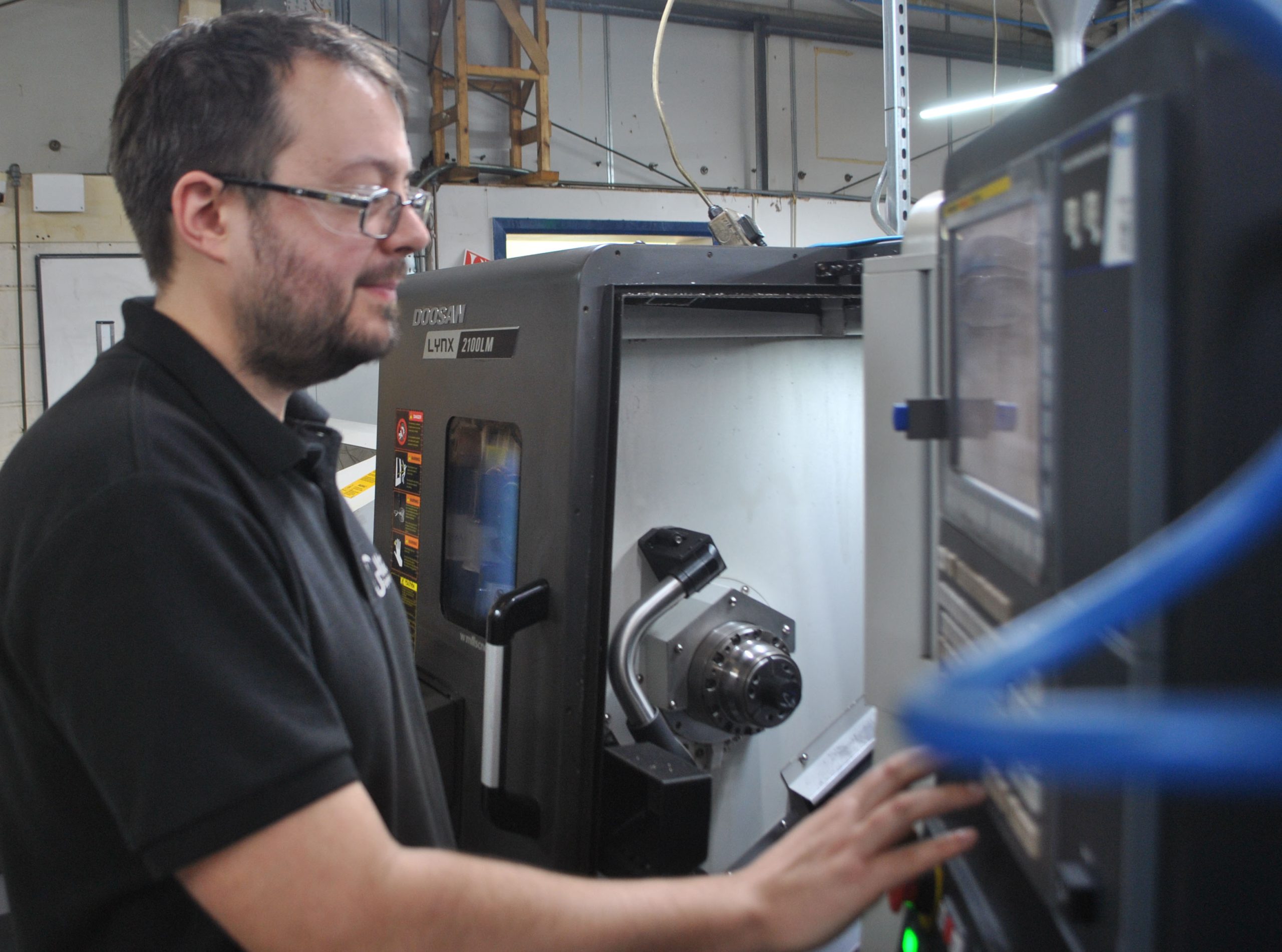 Since being installed, the new Lynx lathe has been put through its paces machining high-precision, complex components for the company's growing range of customers operating in the motorsport, medical, aerospace sectors…to name but a few.
These components, often with short cycle times (typically 3 minutes), are made from a range of materials that include Stainless 316, Titanium 4 and 5, Hastelloy, Inconel, aluminium, steel etc., and are machined in relatively small batches (up to 2,000-off), to tight, tied-up geometric tolerances (i.e., 0.01mm) and stringent surface finishes (down to Ra 0.8µm).
The 6000rpm driven tooling capability on the Lynx 2100LMB enables G-Mach to machine (turn, mill, drill, tap etc.), small parts to completion in one set up, improving the company's productivity and process efficiencies, and enabling it to improve throughput and reduce production bottlenecks and pinch points.
G-Mach is a keen advocate and proponent of multi-tasking machine tools and, way back in 2000 when the company first started its relationship with Mills CNC, invested in its first multi-tasking machine – a Puma 230MSB sub-spindle lathe with driven tooling.
"We are an innovative and progressive company and, to differentiate ourselves in the market and maintain our competitive edge, have always invested in advanced machine tools: a majority of these have been Doosan machines supplied by Mills CNC.
"In the last 4 years alone, we have invested in five new Doosan machines.
"Doosan machines are accurate, reliable and deliver excellent cutting performance. They are backed by Mills CNC's after-sales service and support which, we believe, is the best in the business."

Graham Miller, Owner and Director of G-Mach
A cursory view of G-Mach's history reveals that the company invests in (at least) one new machine tool every year!
This commitment to continuous improvement and growth extends far beyond new machine tool acquisitions.
The company is constantly expanding, re-developing and improving its facility and, in 2022 prior to the arrival of the new Lynx 2100LMB and with the help of Mills CNC, re-organised its machining operations to create separate and discrete turning and milling 'sections' within its facility.
The reorganisation necessitated the quick, seamless and simultaneous movement of 17 machines!
"The reorganisation, achieved with help from Mills CNC, has helped us improve workflow and achieve significant machining efficiencies."

Graham Miller, Owner and Director of G-Mach
Other improvements the company has made to help cope with the growing demand for its services, include the recruitment of four additional members of staff over the last three years: the company's current head count stands at 20.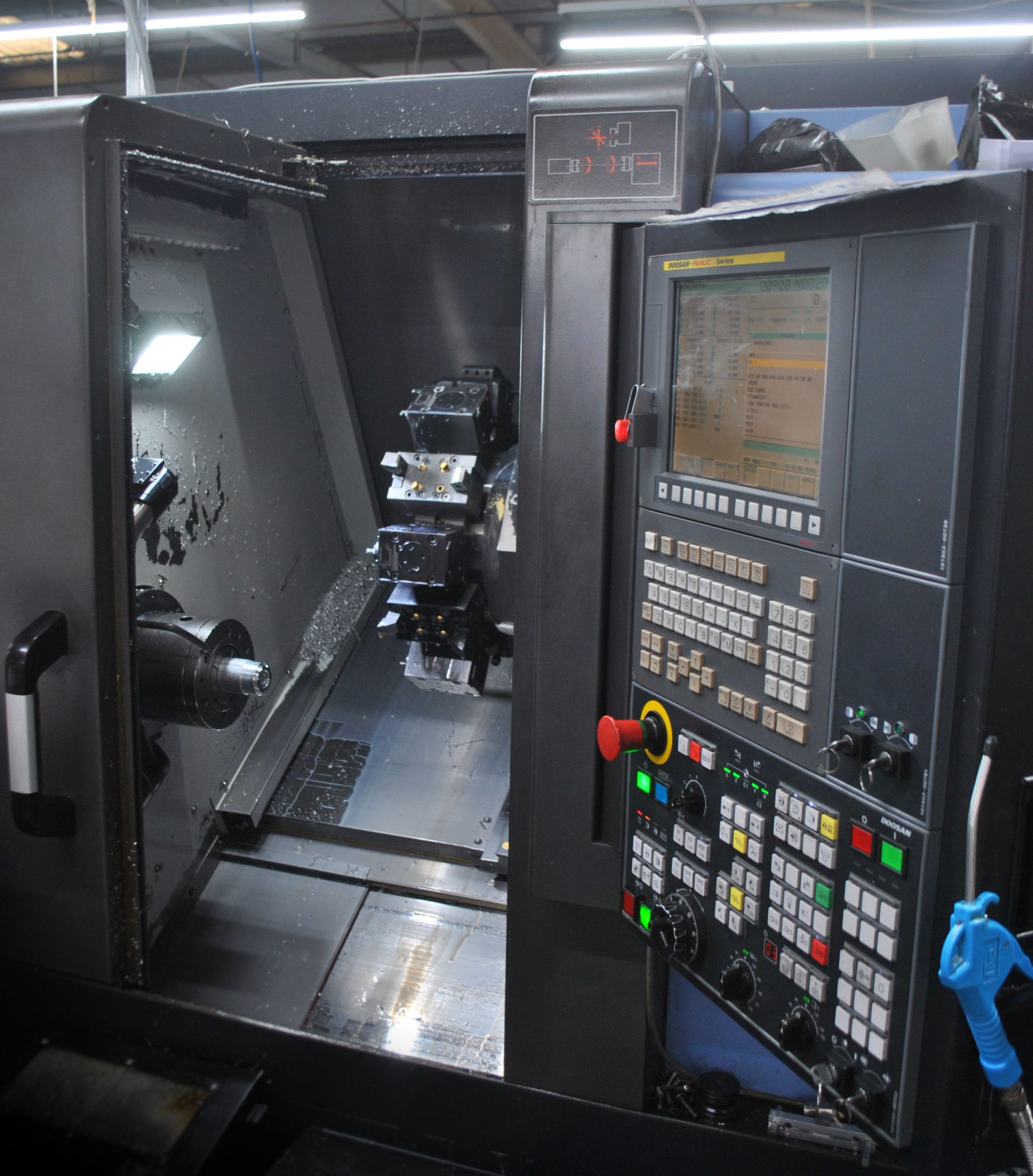 Even during the pandemic, when many companies were postponing or scaling back their investment plans, G-Mach was on the front foot and, in March 2020, successfully acquired a small plastics' part subcontract machining specialist as a going concern.
"The acquisition has helped us to diversify our operations further and, during the height of the pandemic, provided an additional revenue stream that helped offset a temporary decline in business from existing customers.
"Today, our plastics business accounts for 10% of our total turnover and, since 2020, as a direct result of our acquisition and investment strategies, turnover is up by 50%."

Graham Miller, Owner and Director of G-Mach
Such impressive results, achieved through organic growth and by successfully entering new markets and sectors, is testament to G-Mach's vision and values and can be traced right back to 1993 when the company was first established.
Then, operating as a one-man band from small, rented premises, and armed with a used NC lathe, a couple of manual machines and assorted tooling, G-Mach, led by Graham Miller, began trading.
"Even in the early days the focus was on delivering high-quality, added value and competitively-priced machining services and on providing transparency and unrivalled customer service.
"These same values and principles, that have stood us in good stead, remain cornerstones of the business today and will be for the foreseeable future."

Graham Miller, Owner and Director of G-Mach
As far as the future is concerned G-Mach, as one might expect, is not resting on its laurels.
To improve its machining capacity and capabilities the company will continue to upgrade its existing machine tool resources – trading in older models for advanced multi-tasking machines – where appropriate.
G-Mach is also currently exploring the use and application of collaborative robot technology to improve its productivity and part processing efficiencies.
These potential investments, plus further redevelopment of its Melton Mowbray facility, will provide G-Mach with a solid platform to achieve significant growth in the future.
With such an illustrious past and impressive track record – you wouldn't bet against it happening sooner rather than later.