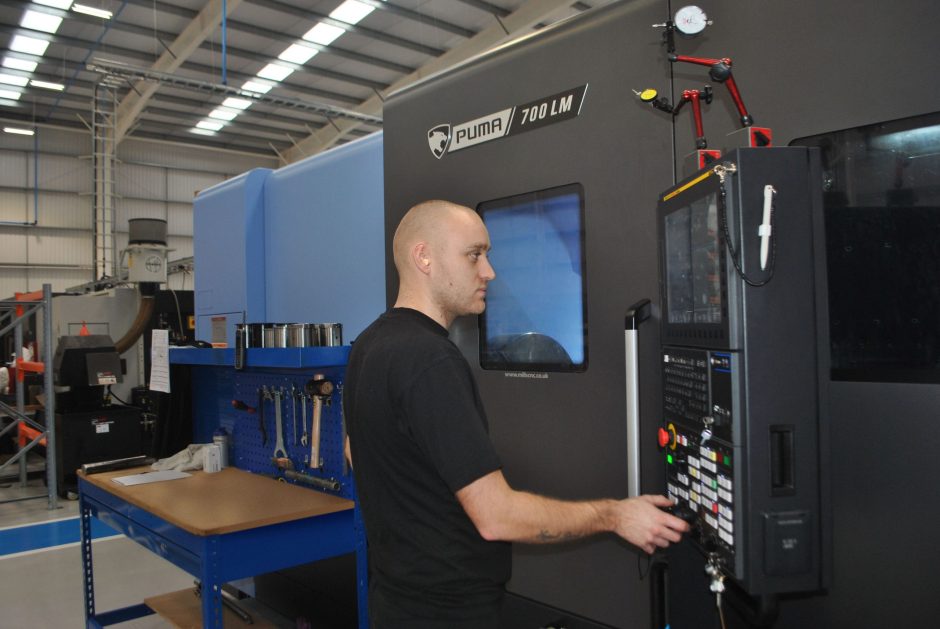 Latest investment in a large Puma 700LM lathe from Mills CNC significantly increases leading precision component manufacturer's machining capacity and capabilities and further underlines its growth ambitions.
Mills CNC, the exclusive distributor of DN Solutions' and Zayer machine tools in the UK and Ireland, has recently supplied leading precision subcontract specialist – NTG Precision Engineers, part of the NTG Group, with a new, large-capacity DN Solutions' multi-tasking, box guideway turning centre.
The machine, a 24" chuck Puma 700LM II, was installed at the company's new, purpose-built 45,000sq. ft. manufacturing facility in Gateshead in January 2023.
Although still early days it is intended that, when fully operational with the arrival of a steady rest that is currently on order, the new Puma lathe will be used to machine a range of large, high-precision components and specialised tooling equipment for a growing range of OEM and Tier 1 customers operating in the defence, oil and gas, subsea, automotive (EV), food production and power generation sectors, to name but a few.
Whether billet or bar work, the Puma lathe will machine everything from prototypes and one-offs, through to small batch series (typically 10 – 20 off), from a range of materials i.e., aluminium alloys through to Duplex and Super Duplex stainless steels.
The new lathe, with its integrated mill and drill capabilities, underscores NTG's growth ambitions and its commitment to continuous improvement – a commitment that, over recent years, has seen the company, not only relocate its entire operations to the new facility on the Team Valley Trading Estate, but also continue to make regular, strategic investments in a) developing its staff, b) upgrading its plant and equipment, and c) streamlining its processes and systems.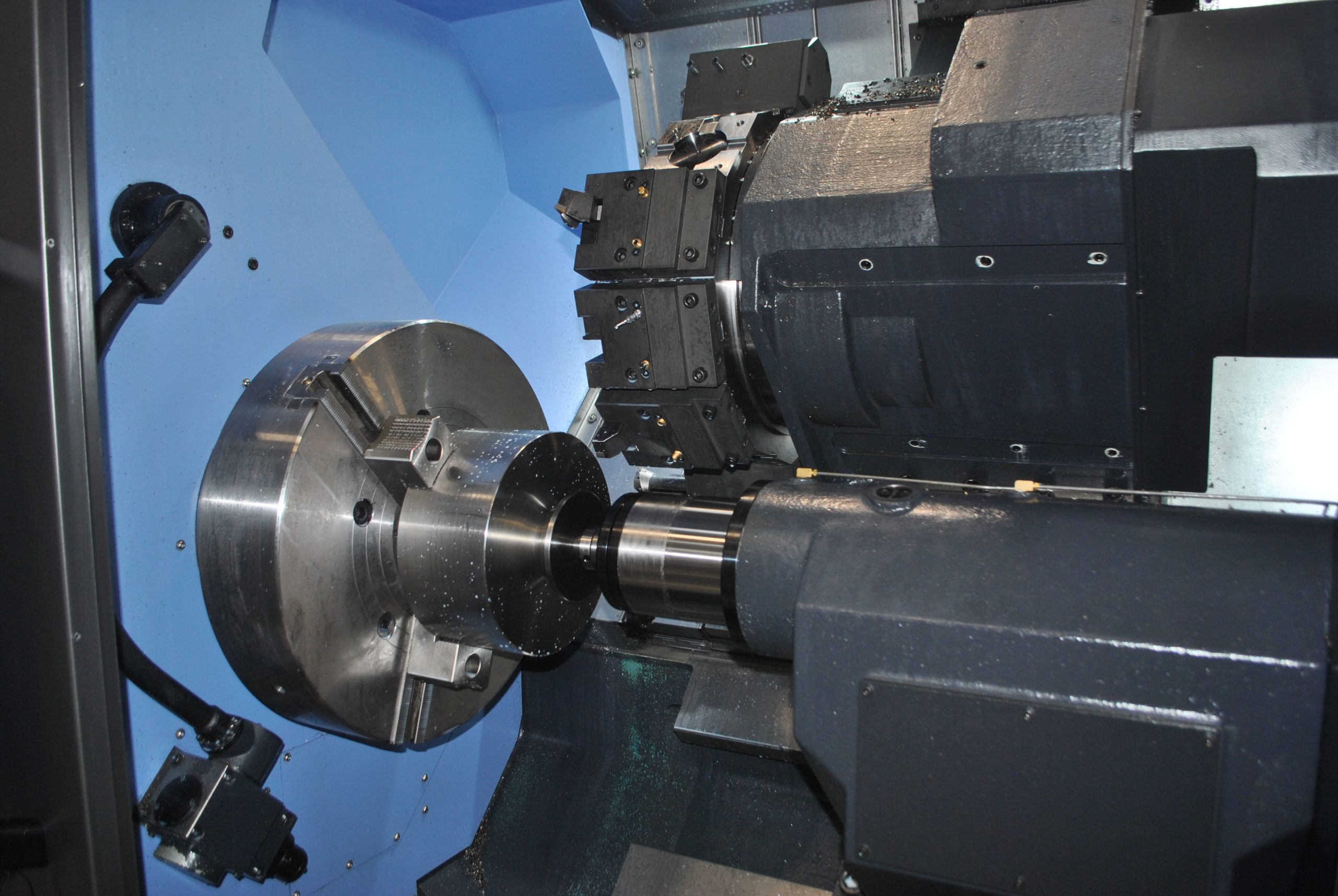 NTG, through a combination of organic growth and through securing/winning new business contracts from new customers, has experienced significant growth over the last 12 years.
A Management Buy Out (MBO) concluded in January 2021 that saw Ignite Growth, a private equity investment firm, acquire a majority stake in NTG has delivered extra impetus and provided the company with a clear roadmap covering its future business goals…and how to best achieve them.
"Our future growth and success will be achieved by continuing to provide a unique and highly-differentiated offering to customers.
"The main focus, our 'raison d'etre' if you like, is on delivering high-quality, high-value and competitively-priced machined components supplied on-time…every time to our customers.
"Everything we do is predicated on our ability to strengthen our position as a preferred supplier and a 'manufacturer of choice' to new and existing customers operating across the many industries and sectors where we operate."
Mike Hutchinson, Group Managing Director at NTG
To help increase its productivity, consolidate its position within customers' supply chains and maintain its competitive edge, NTG has an impressive range of high-performance machine tools (35+) at its disposal: many of which are characterised by their multi-axis and multi-tasking capabilities.
"Our advanced 5-axis machining centres and multi-tasking turning lathes and turning centres enable us to machine high-precision, complex components and specialised tooling equipment (i.e., fixtures, rigs etc.), in one-hit.
"Multi-tasking machine tools improve our productivity and process efficiencies. They help improve throughput and reduce production bottlenecks and pinch points.
"We are always looking to improve (and increase) our machining capacity and capabilities in order to meet growing demand."
Mike Hutchinson, Group Managing Director at NTG
The Puma 700LM investment decision
It is against this backdrop of continuous improvement that NTG's investment in the new DN Solutions' Puma 700LM lathe must be viewed.
NTG is no stranger to DN Solutions (Doosan) or Mills CNC, having previously invested in a 12" chuck Puma 3100XL lathe with a 2150mm turning length back in 2013.
"Although not as large as our new Puma 700LM, the Puma 3100XL is still a big machine and, with its rigid design and construction, has many similar features to our latest acquisition and has performed well, and consistently, over the years."
Mike Hutchinson, Group Managing Director at NTG
This positive experience of Puma lathe technology combined with Mills CNC's after-sales service and support both proved instrumental in helping NTG make its latest, large lathe investment decision.
"The decision to invest in the new Puma was made for a number of reasons.
"We knew we needed a large-capacity machine to take pressure off our existing turning resource and to help spearhead our new business growth ambitions."
Mike Hutchinson, Group Managing Director at NTG
As such NTG prepared a detailed technical and application-based specification for the new lathe and approached a number of machine tool manufacturers with its proposed investment plan: one of the companies approached was Mills CNC.
"Although we have a large installed machine tool resource, we are not beholden to any manufacturer. Instead, we select new machine tools based on their performance, capabilities, price and availability.
"The in-depth research undertaken into the market established that large-capacity Puma lathes, from many manufacturers' perspectives, have a good reputation and that their accuracy, power, flexibility and reliability are considered to be 'second to none.'
"From talking to Mills we were informed that they had a new Puma 700LM on order and, as such, that it that could be delivered and installed (relatively) quickly – virtually coinciding with our relocation to our new facility.
"We ordered the machine in September 2022, and it was delivered, installed and fully commissioned in January 2023."
Mike Hutchinson, Group Managing Director at NTG
The Puma 700LM: a closer look
The Puma 700LM is a large-capacity, long-bed heavy-duty 24" chuck lathe equipped with 15kW/1500rpm high-torque (8076N-m) spindle, a 12-position BMT 85P turret with driven tooling capabilities (11kW/3000rpm) and a programmable tailstock.
The machine was supplied to NTG with the latest Fanuc 0iTP control with an onboard 15" touchscreen iHMI.
The machine has a 900mm maximum turning diameter and 3200mm maximum turning length to help accommodate large, and long, workpieces.
Despite its size, the Puma 700LM is fast with X- and Z-axis rapids up to 12m/min and 10m/min, respectively.