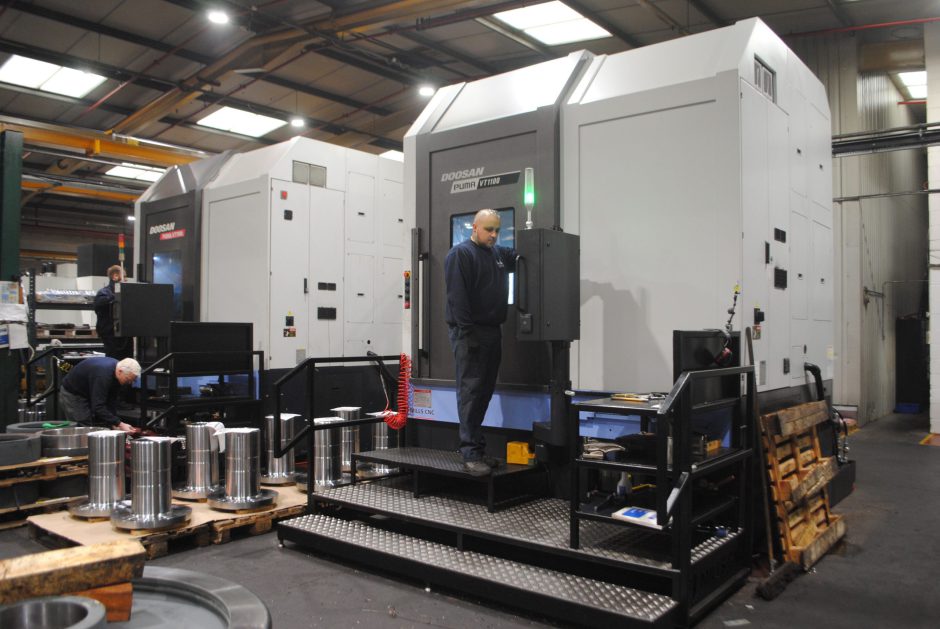 New Doosan vertical lathe investment is more than instrumental in helping leading precision subcontract specialist consolidate and grow its aerospace business.
Mills CNC, the exclusive distributor of Doosan machine tools in the the UK and Ireland, has recently supplied a new, large-capacity vertical turning lathe to Unilathe Ltd – a leading precision subcontract specialist based in Stoke-on-Trent.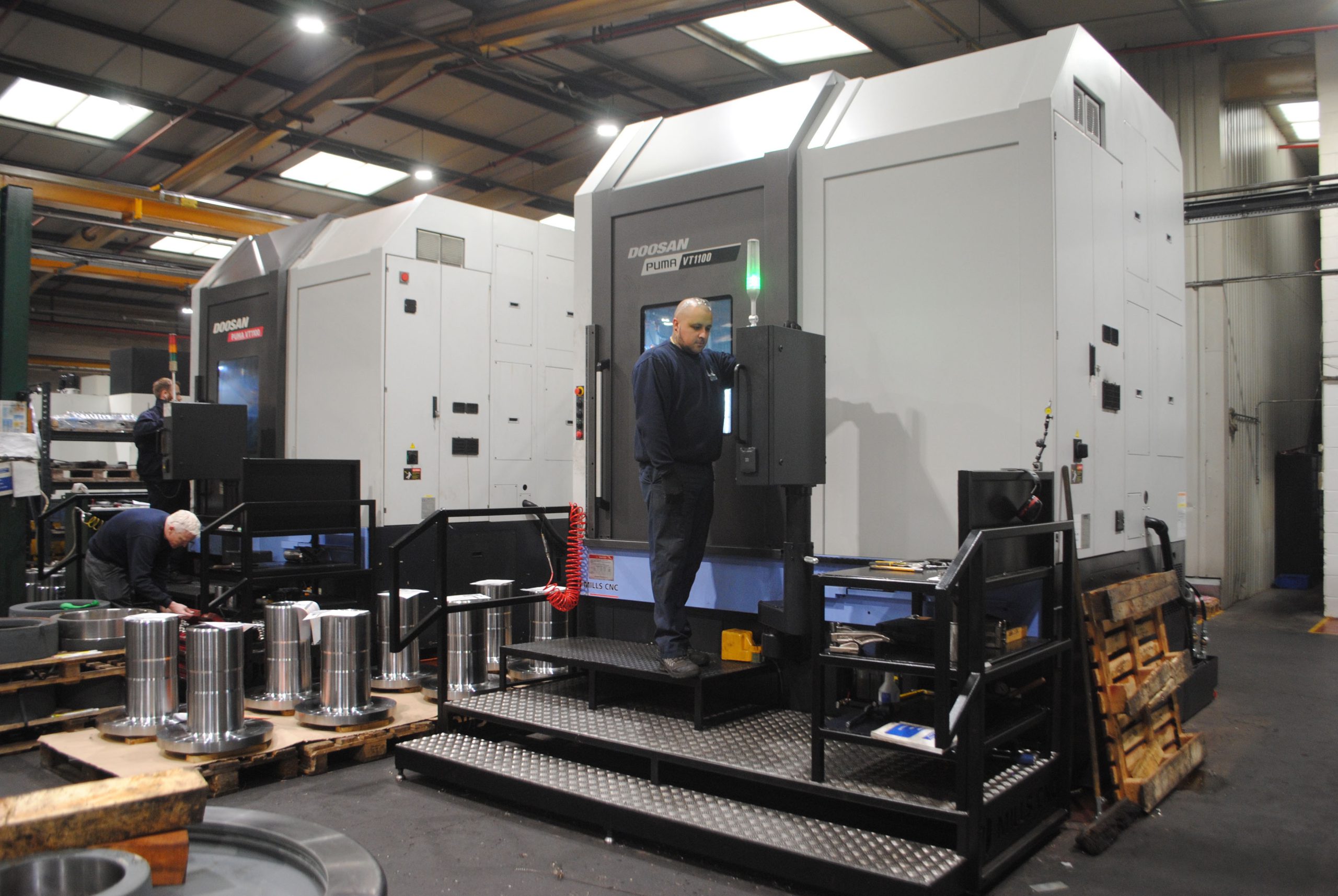 The machine, a Fanuc controlled Doosan VT1100, was installed at Unilathe's 82,000 square foot facility in August 2019 and has been positioned adjacent to another Doosan VT1100 machine to create a flexible, high-productivity vertical turning cell.
Since being installed the new Doosan VT1100 vertical turning lathe has been used to machine a range of complex, high-precision and performance-critical components for customers operating in the aerospace, oil and gas, off-highway, mining, rail and special industrial equipment sectors.
These components, machined in small batches, are large, heavy and awkward-shaped.
They are made from hard and difficult-to-machine materials that include titanium, inconels, nickel-based alloys, Heat Resistant Super Alloys (HRSA) and Jethete (a corrosion-resistant, hardened and tempered steel) etc., – to name but a few.
Investment rationale
Unilathe is a company committed to continuous improvement and has an on-going programme of making strategic investments in its people, plant and equipment as well as its systems and processes.
A primary objective behind the new VT1100 investment was Unilathe's desire, and determination, to secure new aerospace business.
Explains Andrew Sims, Unilathe's managing director:
"We have been active in the aerospace sector for a number of years and have an international reputation in the sector for quality, lead time fulfilment and cost competitiveness.

"Our ambition is to significantly grow this side of our business and to strengthen our position in the supply chain."
To do this Unilathe has implemented a number of strategies. These include:
becoming a member of the North West Aerospace Alliance (NWAA);
achieving specific Aerospace quality management accreditations (i.e. AS9100), and working towards gaining others (i.e. SC-21 certification);
using and leveraging the skills, experience and knowledge acquired from working in other sectors (i.e. off-highway, rail etc.), to help raise its profile and, as a consequence, win new business in the aerospace sector.
Continues Andrew Sims:
"Our efforts have been (and are) focused on repositioning Unilathe in the sector.

"We want to move away from being perceived as a company that only offers first and second stage machining of castings and forgings to one that can machine and deliver high integrity components from start to finish to aerospace customers – similar to what we provide for customers in other sectors and industries."
Integral to the success of Unilathe's repositioning strategy is ensuring the company has access
to high-performance machine tools that deliver excellent cutting performance and unrivalled process reliability.
A strategic audit undertaken by the company examined its internal machining capabilities and revealed that its future aerospace ambitions would be well served by strengthening its vertical turning capacity and, in particular, by acquiring an additional vertical lathe adept at undertaking roughing, semi-finishing and finishing operations on aerospace components like rings, seals, rotor shafts etc.
Explains Andrew Sims:
"We pride ourselves on machining high-quality components within budget that are delivered on time – every time.

"To do this we rely on proven machine tools that are fast, accurate and flexible."
The Doosan decision
Unilathe is no stranger to Doosan machine tool technologies supplied by Mills CNC.
In addition to its (first) Doosan VT1100 vertical lathe the company has, in recent years, also invested in a large-capacity Puma 480 lathe and a large and powerful DBC 130 horizontal borer.
Comments Andrew Sims:
"We are an advocate of Doosan machine tools, They perform well, are reliable and represent good value.

"The fact that they are backed by Mills CNC's applications and after-sales service and support, makes them even more of an attractive proposition.

"Our first VT1100 machine has proved to be a good investment – so when we were looking to increase our vertical turning capacity it was natural that we contacted Mills and enquired about acquiring a second machine."
Having two (almost) identical vertical lathes at its disposal made sense and provided Unilathe with a number of advantages:
1) There would be no learning curve involved for operators and programmers to become proficient in operating/programming the new machine;
2) Having the same technology platform enables jobs to be transferred between machines when, and if, required.
Continues Andrew Sims:
"We needed the new machine to be delivered and installed quickly – and Mills did not disappoint.

"Eight weeks after order confirmation the new VT1100 was delivered to our facility. Since its installation in August the machine has been working virtually around the clock and hasn't missed a beat.

"Our VT1100 vertical turning cell has dramatically improved our capacity, productivity and machining flexibility, and is a critical resource in helping us leverage new business opportunities in the aerospace sector."
Unilathe Ltd
Unilathe is a family-owned business that was established in 1977. The company offers customers a total engineering service that includes first-class project management and the ability to deliver complete machined components and assemblies – on time and within budget.
The Doosan VT1100 vertical turning lathe
The VT1100 is a powerful, box-guideway machine equipped with a 32" chuck and a high-torque gearbox-driven 60kW/850rpm spindle that makes it ideal for fast, accurate and responsive machining – even when performing heavy-duty cutting operations.