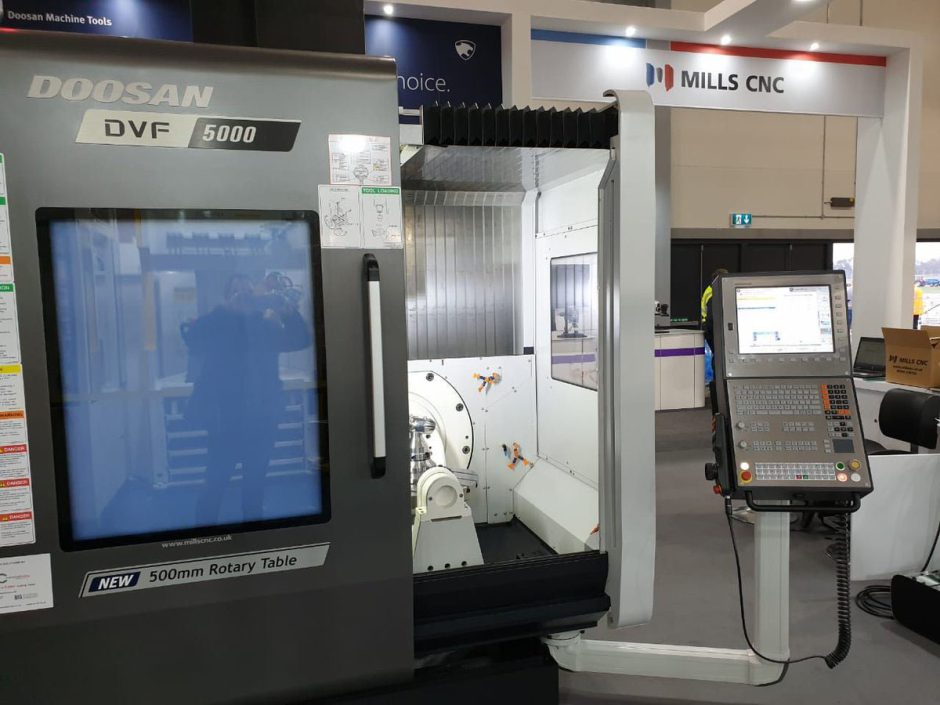 Mills CNC has reported that its debut at Southern Manufacturing 2019 was extremely positive with visitors impressed by the Doosan 5-axis machine tool and Doosan Robotics' collaborative robot showcased at the event.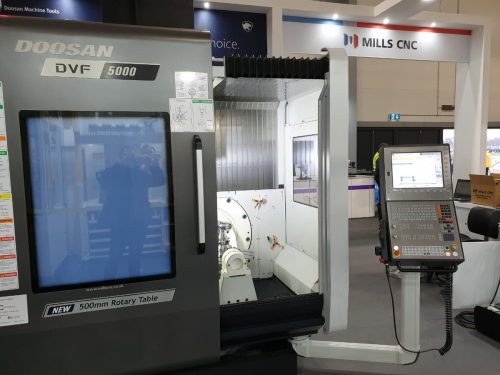 Mills CNC, the exclusive distributor of Doosan machine tools in the UK and Ireland, has attended the Southern Manufacturing Show for the first time in the company's history.
With business over the the three days being described as 'brisk', Mills has announced that its attendance at Southern Manufacturing 2019 was successful with a significant number of machine tool and cobot leads and enquiries being generated. These are now being actively followed up by the company.
5-axis machining
Mills CNC used the event to showcase its latest high-performance simultaneous 5-axis machining centre to show attendees.
The DVF 5000, first launched by Mills at MACH 2018 has, since then, proved highly-successful amongst aerospace and medical component manufacturers – to name but a few.
The machine delivers high precision, speed, flexibility and process reliability. It is equipped with a 17kW/12,000rpm direct-drive spindle (a 22kW/18,000rpm option is available), a generous-sized servo-driven tool changer (up to 120 tools) and the latest control technology from Fanuc, Heidenhain or Siemens.
Other standard features include linear guides, a sophisticated thermal compensation system that mitigates against the effects of thermal drift and ultra-fast rapid rates (40m/min) on the machines' X-, Y- and Z-axes.
The machines' productivity can be further increased via an optional (8-pallet) automatic workpiece changer.
Says Tony Dale, Mills CNC's Technical Director:
"The DVF 5000 is the latest addition to Doosan's impressive 5-axis machine tool portfolio.

"Precision, speed, process reliability and flexibility accurately sum up the credentials of the new machine and explain why the machine was such a draw onto our stand."
Collaborative robots
Southern Manufacturing 2019 was also an ideal venue for Mills to showcase a Doosan Robotics' collaborative robot (cobot) to visitors.
At the end of last year Mills CNC signed an agreement with Doosan Robotics, part of the Doosan Group, to supply its range of advanced collaborative robot systems and solutions to UK and Irish manufacturers.
To help drive and manage its collaborative and industrial robot and automation business, Mills has created a new division, called Mills CNC Automation.
Says Tony Dale:
"There are four different collaborative robots in the Doosan Robotics' range and, at Southern Manufacturing 2019, we showcased the M0609 model, which has a 6kg payload capacity and a 0.9metre radius reach, performing different pick and place tasks.

"Doosan Robotics' cobots are versatile, easy to install and use, incredibly safe and competitively-priced. They are designed to perform a wide range of tasks and operations from CNC machine tool tending through to inspection and testing – and from assembly to packaging and palletising."
The M0609 is the smallest cobot in the Doosan Robotics' range.
Models are available with a 15kg payload capacity – others with a 1.7metre radius reach.
All cobots are incredibly safe and feature 6-axis articulated arms with highly-sensitive torque sensors that are able to detect changes in force and/or minimal impact which causes them to stop.
As well as different capacity arms all cobots are supplied with a state-of-the-art controller, a sophisticated Teaching Pendant and a number of options that include a dress pack, a water jacket and a mobile base unit.
Concludes Tony Dale:
"Visitor traffic to the Mills stand was steady over the three days.

"This was the first time we attended Southern Manufacturing Show – it will not be the last."