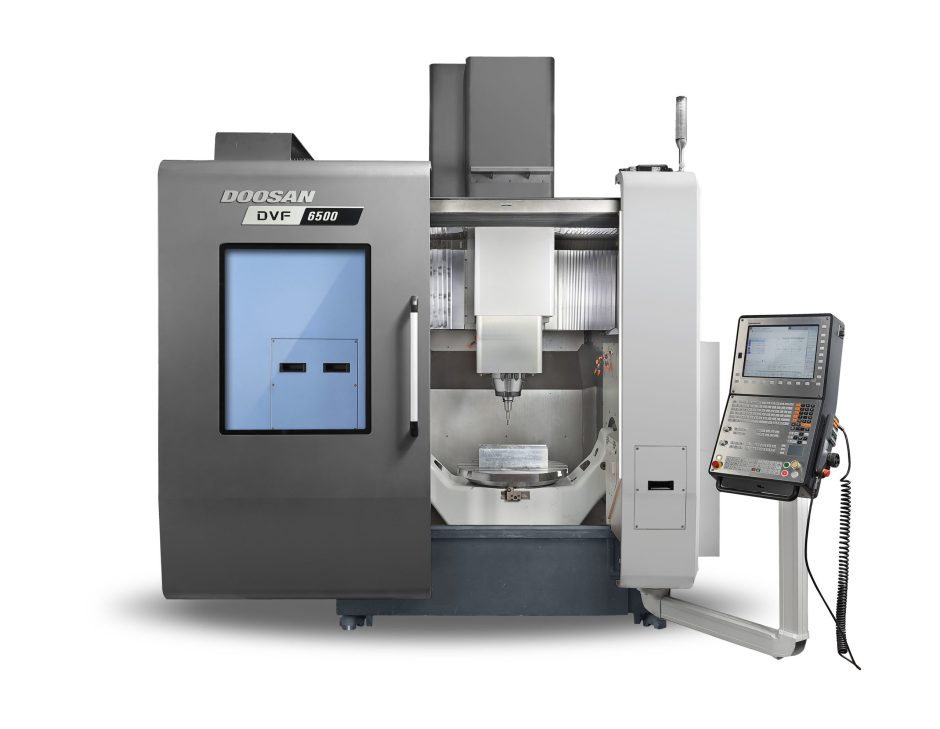 Mills CNC increases its 5-axis machining centre range with the introduction of two new Doosan DVF models.
Mills CNC, the exclusive distributor of Doosan machine tools in the UK and Ireland, has recently introduced two new Doosan 5-axis machining centres into the market.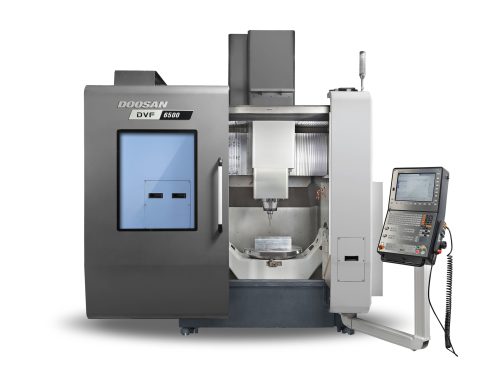 The two machines – the DVF 6500 (650mm diameter table) and the larger capacity DVF 8000 (800mm diameter table) – are from the same stable as the highly-popular Doosan DVF 5000 machine successfully launched in the UK and Ireland 18 months ago.
The new DVF machines share many similarities.
The similarities
Both machines are compact and have a rigid and stable structure for increased accuracies, improved surface finishes and greater process reliability. They are also fast, boasting impressive 45m/min rapid rates, and are equipped with powerful, oil-cooled, directly-driven BT40 spindles (up to 22kW/18,000rpm) that deliver excellent cutting performance, irrespective of whether 3 + 2, 4 + 1 or full 5-axis simultaneous machining is the order of the day.
The machines also feature servo-driven automatic tool changers (up to 120 tools) with a 1.3 second T-T-T changeover time that increase the machines' flexibility, roller LM guideways that deliver increased speed, accuracy and reliability, and direct-drive rotary tilting tables (A-axis = +120/-120 degrees; C-axis = 360 degrees).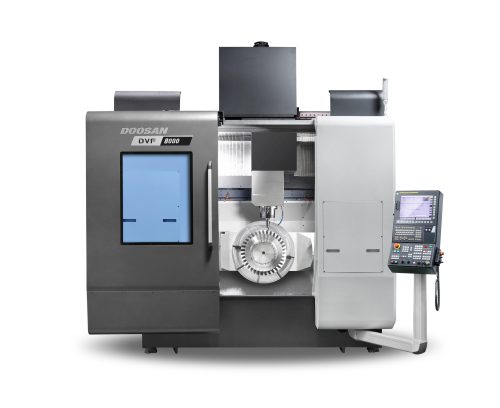 The DVF 6500 and DVF 8000 machines can be supplied with a choice of control (Fanuc 31iB5, Heidenhain TNC640 or Siemens 840D with ShopMill software), and are supplied with thermal compensation systems (spindle and structure) and a long-life, grease lubrication system. A Collision Protection System can also be supplied as an option.
Both machines can also be supplied with a range of different automation solutions that increase their productivity, and enable manufacturers to take advantage of unattended and lights-out operations.
The differences
 The DVF 6500 and DVF 8000 have different-sized travels (DVF 6500 = 750mm x 785mm x 600mm: X-, Y- and Z-axis; DVF 8000 = 1000mm x 900mm x 685mm: X-, Y- and Z-axis), and different table loads – (up to 1000kg and 1400kg respectively).
Within the DVF 8000 range a specific 'Turning' model can be specified. The DVF 8000T, with its integrated function, has the same technical specification as the DVF 8000 in most respects except for a lighter maximum table load (700kg), and a faster C-axis feed rate (600rpm).
Says Tony Dale, Mills CNC's Technical Director:
"The depth and breadth of Doosan's already highly successful 5-axis machining centre range is second to none. The introduction of these two new models will be of interest to component manufacturers looking to improve their productivity and make 'one-hit' machining a reality."