Mills CNC's website has undergone a recent and radical transformation. The new site doesn't just look better than its predecessor… it is better, and provides visitors with a more enjoyable and rewarding experience.
Mills CNC, the exclusive distributor of Doosan machine tools in the UK and Ireland has launched its new website.
The old site, designed five years ago, has now been replaced by a new, easier to navigate and easier to maintain site that is contemporary looking and is more in keeping with Mills' market-leading status.
The new site has been significantly streamlined and ensures that visitors are able to access and select relevant machine tool and after-sales service information, latest news articles and machine tool videos, efficiently and effectively.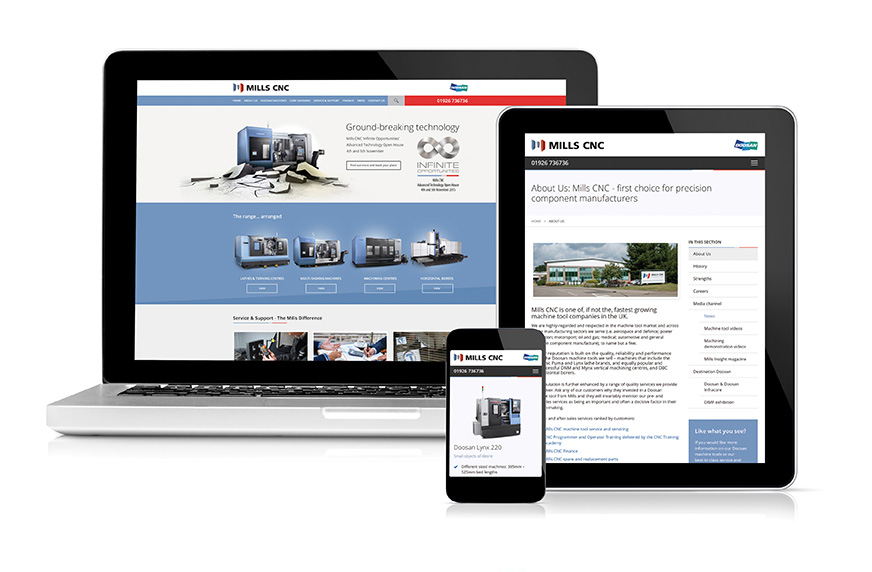 To ensure that the website is always up-to-date, the integration of a powerful content management system enables web updates, upgrades and amendments to be made quickly by Mills staff, in real time.
A specific requirement of the new site was to improve SEO and to enable Mills to plan and monitor, far more effectively than before, the company's online marketing campaigns and promotional activities. The new site will enable Mills to develop and implement in-house email campaigns (and review their effectiveness), and refine its social media presence.
Says Kevin Gilbert, Mills CNC's Managing Director:
"The new site looks fresh, modern and exciting and rather than being a passive tool (as was the case with the previous site) is now a front-line marketing tool that will help drive growth and also help us communicate more effectively with customers and prospects.

"It's taken a little while getting here – but the modernisation exercise has been worthwhile."