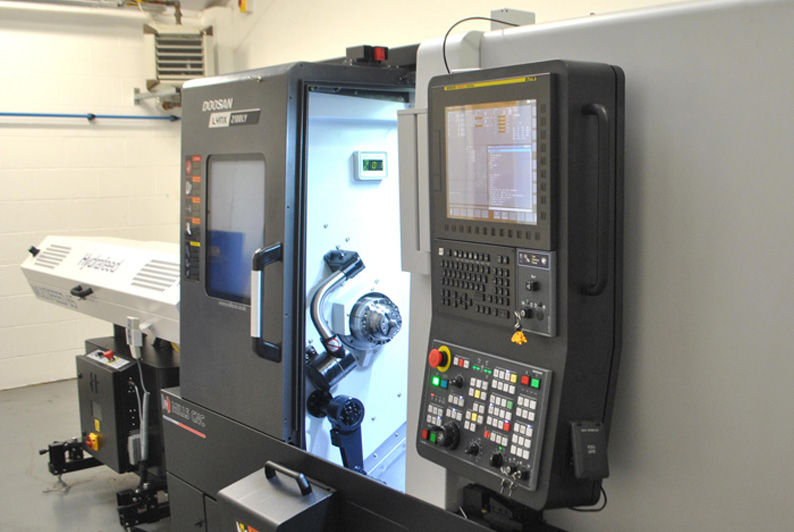 Leading precision subcontractor invests in a new Lynx 2100LY multi-tasking lathe from Mills CNC as a route to increasing its machining capacity and capabilities and providing customers with one-stop-shop machining resource.
In September 2020, Banbury-based precision subcontract specialist MRN Engineering, invested in a new Doosan DNM 5700 vertical machining centre from Mills CNC.
The DNM was the first CNC machine acquired by the company and, as was the intention, helped it diversify its operations away from being a purely specialist engineering design consultancy to one that could also design and machine prototypes and pre-production parts primarily, but not exclusively, for a number of automotive and motorsport customers.
Virtually 12 months, to the day, since the arrival of the DNM 5700 machining centre saw MRN Engineering acquire its second Doosan machine and install it in its 120 square metre facility. This latest addition is a 6" chuck Lynx 2100LYA multi-tasking lathe equipped with a powerful 15kW/6000rpm spindle, driven tooling capability (6,000rpm), an integrated Y-axis (+/- 52.5mm), a 12-station turret and programmable tailstock, and features the advanced Fanuc 0iTP control with a 15" touchscreen iHMI.
The arrival of the new Lynx is another milestone in MRN Engineering's history – one that has significantly increased the company's machining capacity and, more importantly, its capabilities too.
MRN Engineering: a company with a plan
Since acquiring its first Doosan machining centre in September 2020 MRN Engineering has been busy and, according to owner and managing director, Matt North, "there have been very few weeks, if any, where MRN's high-quality and cost-competitive milling services were not in demand."
MRN Engineering may well be a small company, but it has big ambitions. And, like all businesses with drive and the will to succeed, is committed to continuous improvement.
Continues Matt North:
"In business if you're not investing and moving forwards you are, in reality, going backwards.

"As a progressive company with one eye on the future, it was always my intention, as long as good trading conditions persisted, to increase the scope and scale of our machining services by acquiring a second machine."
The big question then for MRN was less to do with whether to invest in a second machine tool and more to do with what machine to acquire…and when to make the investment.
Catalysts
There were a number of reasons why MRN Engineering decided to invest in a Lynx 2100LYA lathe from Mills CNC in the latter half of 2021.
They included the following:
Catalyst 1
Throughout 2021 a number of MRN Engineering's existing 'milling' customers had enquired whether the company could provide high quality in-house turning solutions.
Says Matt North:
"The level of enquiries proved to me that turning work was there. it was just that I was in no position to really take advantage of it."
Catalyst 2
In the past MRN Engineering had quoted for machining contracts that did involve turning specifying to the customer that, if successful, this work would be subcontracted out.
Explains Matt North:
"Some customers prefer, from perceived cost, quality and on-time delivery perspectives, that work is handled by a single source supplier and is not subcontracted out.

"Even when this wasn't the case, I just wasn't competitive enough on the turning side and, on occasions, ended up losing not just the turning work but the milling business too. A real lose – lose situation."
Catalyst 3
A number of other customers, knowing that I had no in-house turning capacity, quietly went about placing this work with 'other' precision subcontractors.
Comments Matt North:
"Despite having built a good reputation with these customers I clearly wasn't in the frame for this type of work. It seemed as though I was missing a trick."
With all the signs suggesting that there was a definite and consistent demand for high quality, competitively-priced precision turning services – MRN Engineering 'bit the bullet' and decided to act.
From talking over his ideas of expanding his operation with customers and peers, and by gauging their reactions, MRN Engineering's 'turning' plans began to take shape.
Says Matt North:
"Owing to space constraints at the facility it was clear that I needed a compact lathe. I also made the business decision, owing to the sectors and industries (i.e., advanced automotive and motorsport) I serve, to focus on precision turning and on low volume, small parts production.

"To ensure high-productivity, machining flexibility and overall competitiveness (now and in the future) I also decided to explore multi-tasking, multi-axis lathes rather than going for an entry-level two-axis machine."
Having already established positive and mutually beneficial relationships with Mills CNC, it was natural that MRN Engineering discussed its turning plans with Mills' sales and applications engineers.
These discussions culminated in a new Lynx 2100 lathe with integrated Y-axis, C-axis and driven tooling capabilities being recommended.
The fact that a Lynx 2100LYA lathe was in stock at Mills CNC's campus facility in Leamington and was ready for immediate delivery, made the decision to invest, a relatively straightforward one to make.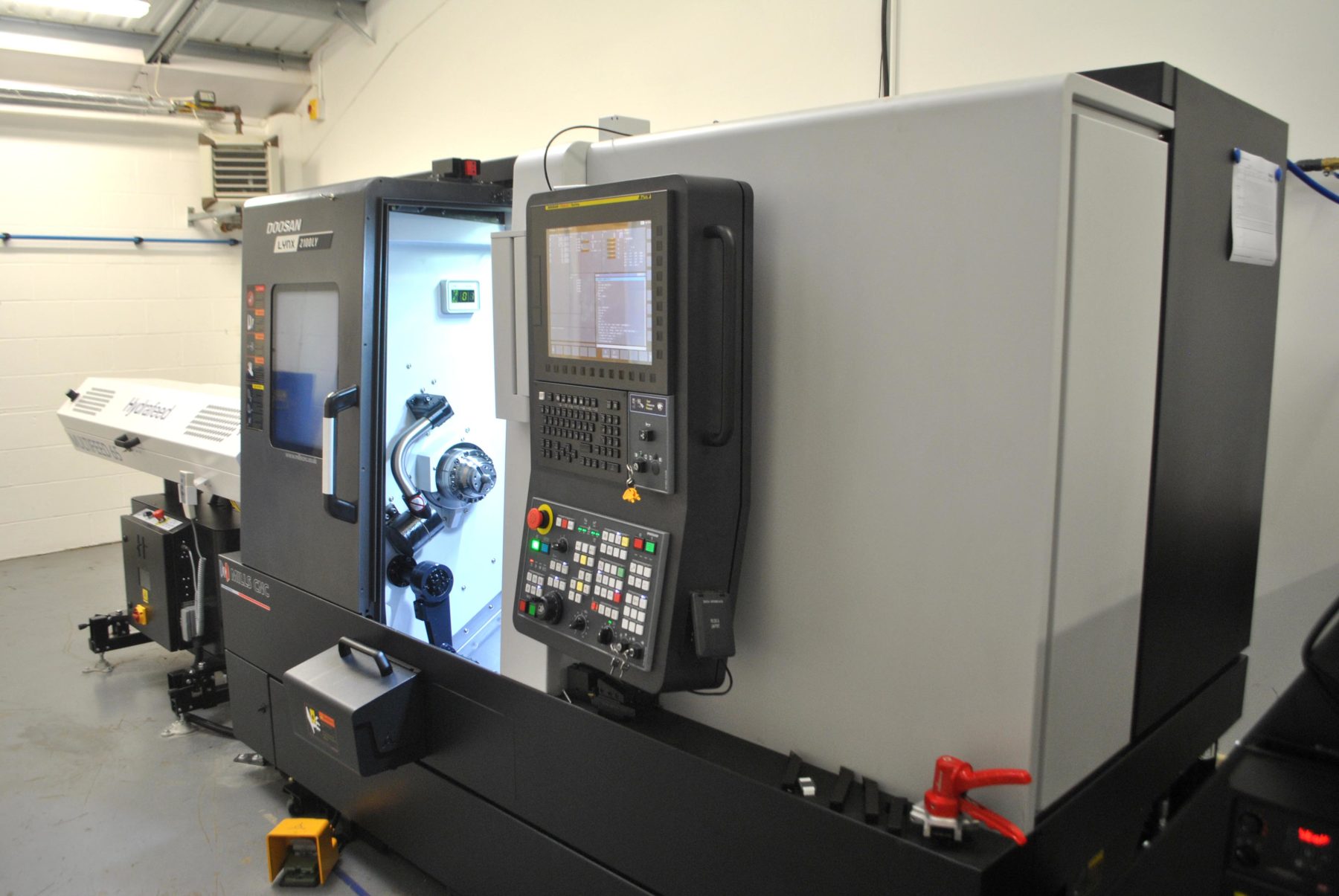 Since installation
The new Lynx 2100LY has significantly strengthened MRN Engineering's machining capabilities.
Machining work that involves both milling and turning operations can be, and is being, quoted more accurately, quickly…and successfully.
No longer having to subcontract out turning work to third parties has also resulted in MRN Engineering being a) more competitive; b) better able to achieve tight customer deadlines; c) more in control of its machining operations, and business performance per se.
Says Matt North:
"We are now in a win – win position. Being able to handle milling and turning work in house makes our, and our customers', lives easier."
Another string to its bow
To help increase its turning capabilities still further, MRN Engineering has recently invested in a new Hydrafeed Multifeed 65 electro-pneumatic bar feeder and integrated it with the Lynx 2100LY.
Says Matt North:
"The bar feeder opens up a whole new range of possibilities.

"Automating the Lynx means that I can now machine larger batch sizes and run the machine unattended. As a result, I am able to improve operational efficiencies, reduce job setup times and the cost per part."
Although still relatively 'early days', MRN Engineering's investment in a new Lynx lathe is paying dividends and has enabled the company to provide a more comprehensive range of high quality, competitively-priced machining services to existing and new customers.
The decision to invest in a second machine has been vindicated.
To find out more visit www.mrne.co.uk