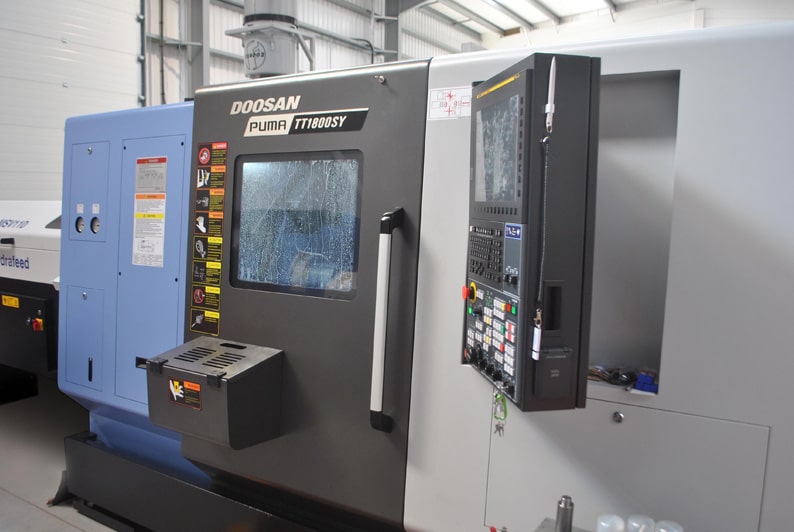 Leading precision subcontractor reaps the rewards from investing in a new, state-of-the-art Doosan multi-tasking turning centre from Mills CNC.
Mills CNC, the exclusive distributor of Doosan machine tools in the UK and Ireland, has recently supplied leading precision subcontract specialist – RPS Precision Engineering Ltd., with a new multi-tasking twin-turret, twin-spindle turning centre.
The machine, a Puma TT1800SY, was installed at the company's new 7250 sq. ft. facility in Rawtenstall (Lancashire) in late March 2021.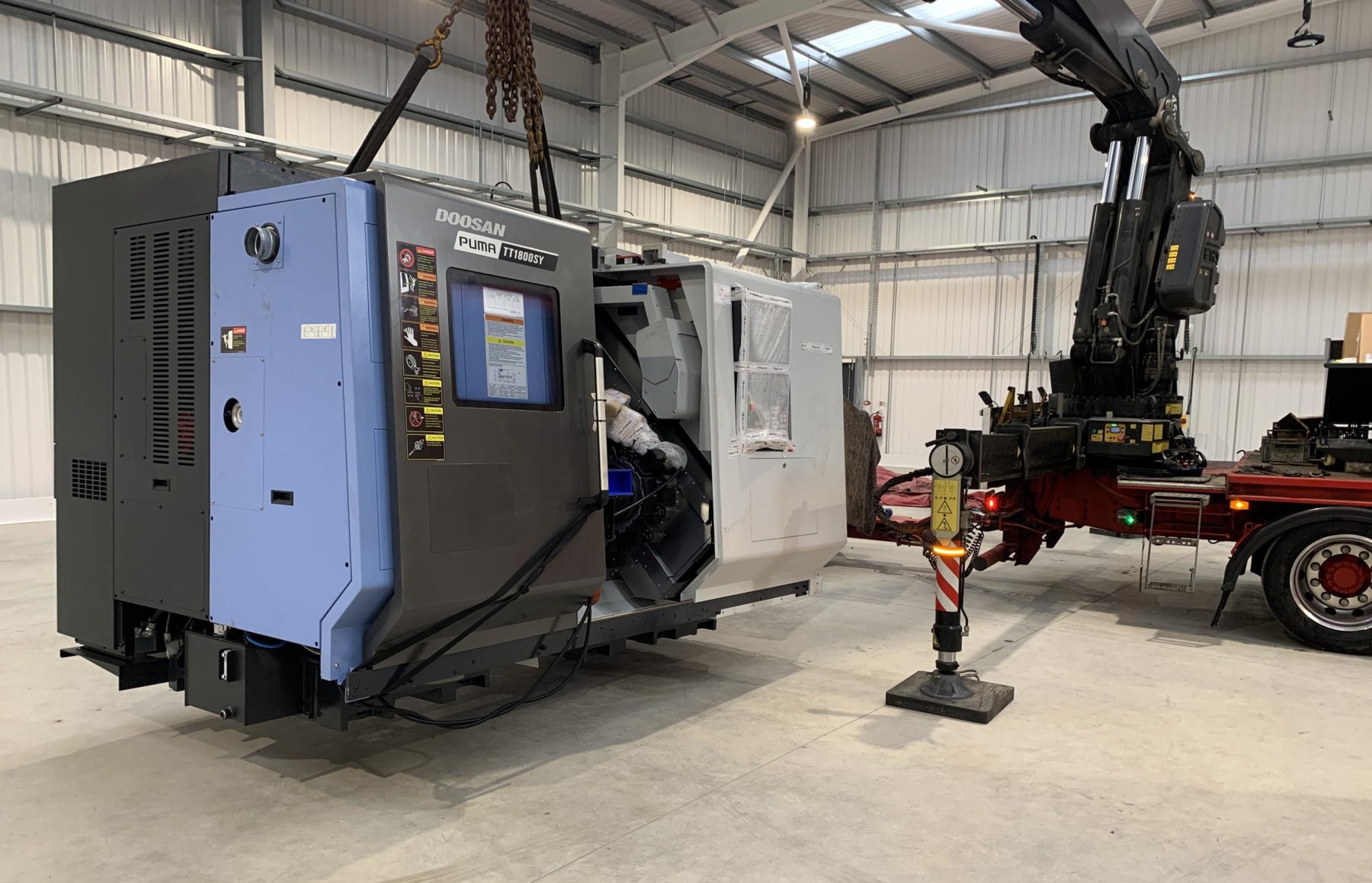 As part of the investment package, the TT1800SY turning centre was also supplied (by Mills) with a new Hydrafeed Servo barfeed as well as a number of different-sized collet chucks and adaptors – the intention being to make the TT1800SY ready for action and able to swing into full production as soon as its installation and commissioning had been completed, and after operator/programmer training had occurred.
Since being installed and becoming fully operational the TT1800SY has been used to machine a range of complex, high-precision parts (in medium batch sizes) for an equally diverse range of customers.
In just a few short weeks the investment is already paying off with the TT1800SY having a positive impact on RPS' productivity and performance.
Says Michael Sirrell, owner and managing director:
"The TT1800SY is a productivity powerhouse of a machine. It might appear small from the outside – but its twin-spindle, twin-turret configuration is helping us machine high-precision components quickly and accurately…in one hit.

"Furthermore, by integrating the machine with a servo-driven bar feeder, we have created a 'de facto' automated manufacturing cell that is both efficient and reliable, and that we are able to run, unattended, during the day.

"It's a real win: win situation for us.

"In the near future, when we fully embrace lights-out operations and run the machine unattended overnight and over the weekends, the productivity benefits will be even more impressive."
About RPS Precision Engineering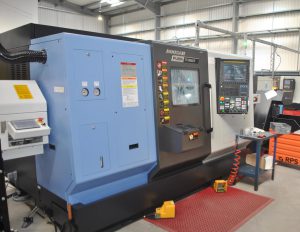 RPS Precision Engineering (previously Rochdale Production Services) was established in 1988 by current owner and managing director, Michael Sirrell, and his father Bryan.
The independent, family-owned business specialises in machining complex, high-precision parts (from prototypes and one offs through to small, medium and large batch production), and in delivering them to its customers on time…and in budget.
To add more value and further strengthen its position within customers' supply chains, RPS has augmented its precision machining services to include TIG welding, fabrication and assembly.
RPS also provides a range of 'Design for Manufacturing' services that includes consultancy, 3D modelling and rapid prototyping.
Says Michael Sirrell:
"We are a one-stop solutions provider. We pride ourselves on the quality of our services…on our ability to meet the most stringent of deadlines…and on our high levels of customer care."
RPS is ISO 9001: 2015 certified and is committed to continuous improvement. As such it regularly invests in its people, and in its plant and equipment, and its processes and systems too.
To maintain its competitive edge, and ensure that is delivering the best possible service to customers, RPS invests in advanced machine tool technologies.
The Doosan: Mills CNC relationship
Over recent years the company has made significant investment in new Doosan lathes and turning centres from Mills CNC. The first of these, made back in 2012, was a Lynx 300 – a 10" chuck/76mm bar diameter capacity, horizontal single turret lathe.
Remembers Michael Sirrell:
"It was a watershed moment for us because, up to that point, we had really only invested in good quality used machines when we needed additional machining capacity".
However, such were the performance improvements the company experienced from its first Doosan lathe that 12 months later it invested in second.
Further investment in Doosan turning technologies followed with the emphasis being more on improving the company's turning capabilities as well as increasing its capacity. Other Doosan machines acquired were as follows:
A Lynx 2100LSYB acquired in 2017. The 8" chuck/65mm bar capacity long-bed lathe is equipped with a sub-spindle and features driven tools and an integrated Y-axis.
A Puma 2600SY II acquired in 2019. The 10"chuck/ 76mm bar capacity turning centre is equipped with a sub-spindle, driven tools and a Y-axis.
Says Michael Sirrell:
"The Doosan lathes/turning centres we have invested in are all high-performance, sophisticated machines.

"They have similar capacities and share many of the same features (i.e. sub-spindles, live tooling and Y-axes). All have Fanuc controls which means that programs can be transferred easily between them – should that be required.

"The lathes have all been supplied by Mills CNC and, over the last 9 years, we have developed good relationship with them.

"Mills understand our business. We like their approach and we respect their advice."
The recent TT1800SY investment
RPS' investment in its new TT1800SY nearly didn't happen.
Despite the impact and effects of the pandemic the company had been busy throughout 2020 and at the start of 2021. So much so in fact that early in 2021 RPS made the decision to (once more) strengthen its turning capabilities.
Remembers Michael Sirrell:
"A significant percentage of the parts we turn are small and have short cycle times. They are made from materials that include hardened and mild steel, aluminium, Stainless, copper, bronze, brass and plastics. And they are machined to tight geometric tolerances (0.002mm is custom and practice) and high surface finishes, in relatively high volumes.

"The profile and characteristics of parts being machined led us, at the beginning of the year, to consider investing in our first sliding head machine. And, because Mills CNC supply Doosan Swiss-Turn machines, we naturally approached them for advice."
An audit into what RPS wanted to achieve from the new investment was undertaken and completed. The results caused a change of direction.
Says Michael Sirrell:
"On the advice of Mills CNC engineers we changed our investment plans and opted, instead, for a multi-tasking (fixed head) turning centre as opposed to going down the sliding head route.

"We believed that the multi-tasking turning centre integrated with a bar feeder would provide us with more flexibility and, because we were already familiar with fixed head lathes with Y-axes, driven tools, twin spindles etc., we could hit the ground running quickly.

"And that was what transpired."
The TT1800SY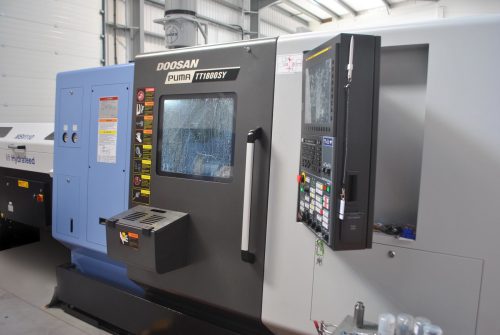 The Fanuc controlled 8" chuck/65mm bar capacity TT1800SY turning centre is equipped with a left and right spindle (both 26kW/5000rpm) and features a Y-axis (+/-50mm), driven tools (5.5kW/5000rpm) and an upper and a lower turret (12/24 position).
The machine's configuration delivers outstanding productivity and unrivalled operational efficiencies and can be employed in a number of ways i.e.
The machine's twin turret capability allows simultaneous OD and ID cutting to occur on a part located in the machine's left or right spindle;
Simultaneous milling and turning of components in the machine's left and right spindles enables multiple finished parts to be completed in one cycle;
Operations can be combined by machining one side of a part in the left spindle and it being finished in (transferred to) the right spindle.
The machine's integration with a high-performance bar feeder has created a flexible automated manufacturing cell that can run unattended for long periods during the day.
In the next few weeks and months the company will exploit its investment in the TT1800SY still further by running the machine unattended overnight and over the weekends.
Summary
Concludes Michael Sirrell:
"It's been an incredibly busy and important year for RPS. We have changed our company name to better reflect who we are and what we do…we have relocated to new premises (over 300% bigger than our previous facility)…and we have invested in a new, state-of-the-art turning centre that is making us more productive, efficient and profitable.

"These are exciting times."