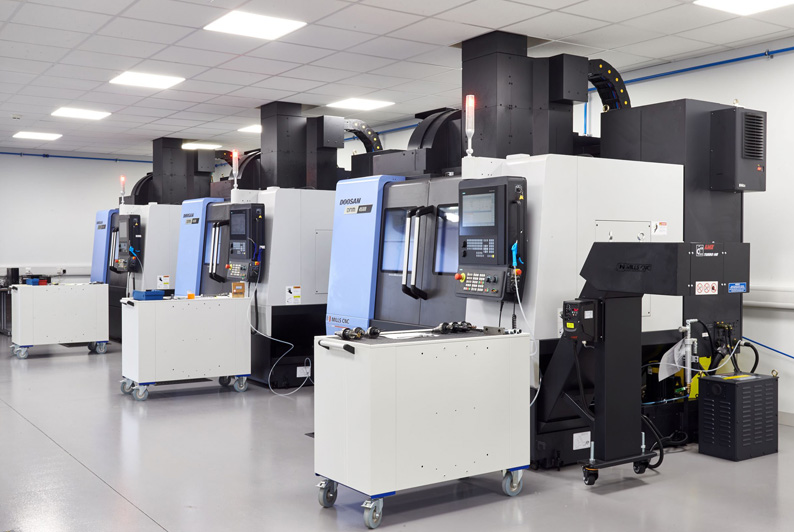 Recent investment in four new, high-performance Doosan machines from Mills CNC enables market-leading precision wire guide tube manufacturer achieve its machining accuracy, repeatability and reliability requirements.
Mills CNC, the exclusive distributor of Doosan machine tools in the UK and Ireland, has recently supplied Eurotubes UK Ltd., a leading global wire guide and stator/rotor winding needle design and manufacturing specialist with four new, high-performance machines.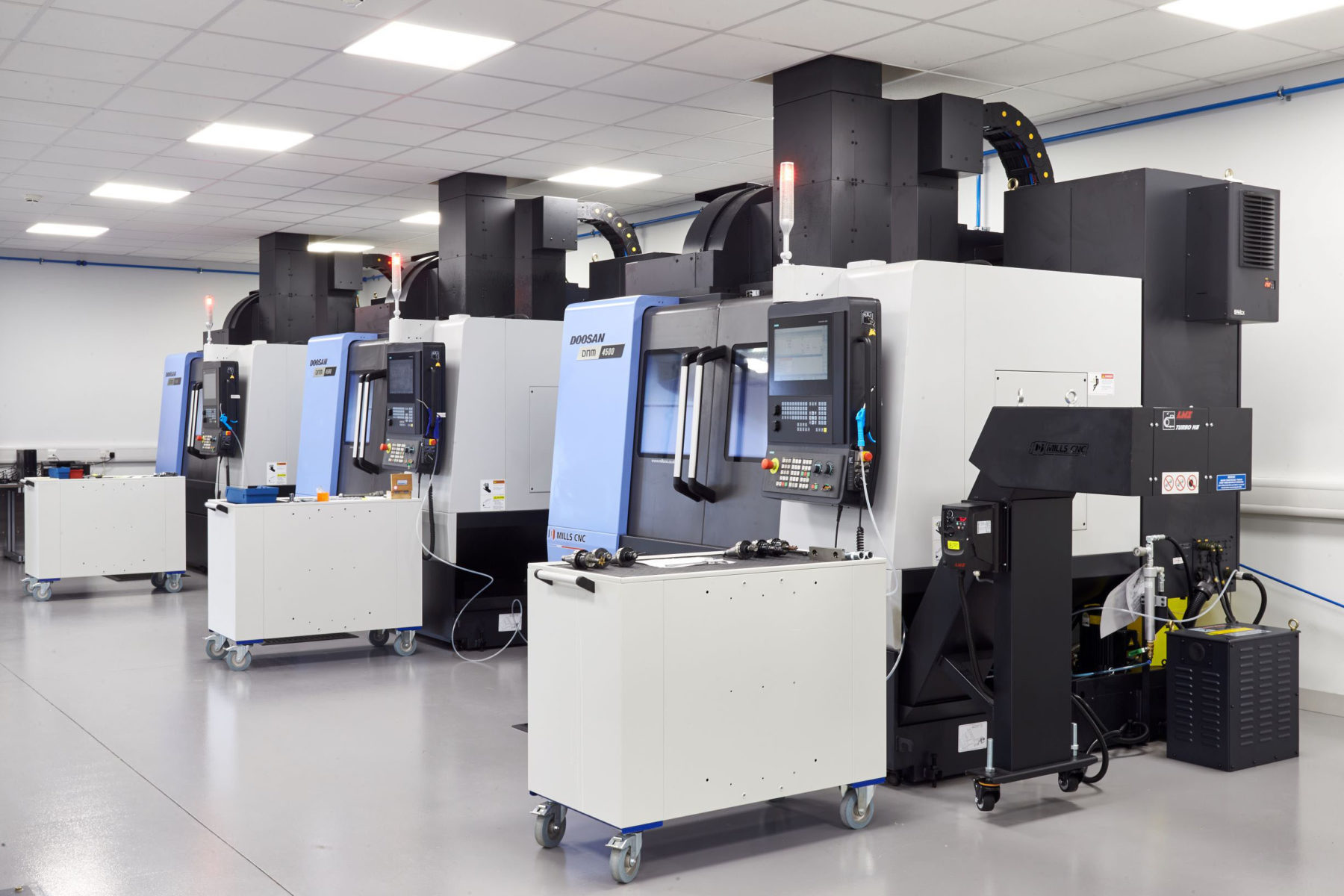 The machines – 3 x Doosan DNM 4500 machining centres and 1 x Doosan Lynx 2100LSY – were delivered and installed at the company's modern and spacious 18,000 Sq. ft facility in Portland, Dorset in 2019. (The three DNM 4500 machines were all installed in February and the new Lynx lathe was installed in September).
All four Doosan machines are being used to machine high-precision wire guide tubes/nozzles used in the coil winding industry on automatic CNC-controlled machines that wind enamelled copper wire around a core to create electromagnetic coils.
The tubes/nozzles designed and manufactured by Eurotubes are essential components in the manufacture of electric motors – a huge, globally important and growing market encompassing a range of different sectors and industries – i.e. Industrial Machinery, Motor Vehicle, HVAC equipment, Aerospace & Transportation and Household Appliances etc. (According to research undertaken by Allied Market Research, the global electric motor market is expected to grow exponentially over the next few years to be worth $232.5 billion by 2028).
In addition to machining its range of standard wire guide tubes/nozzles Eurotubes also uses its new Doosan lathe and machining centres to machine.
a) innovative and highly customised workholding designed specifically for the accurate and secure machining of its high precision tubes, nozzles, needles etc.
b) rapid prototypes (i.e., one-offs with a quick turnaround) for OEMs and end user customers looking for new and/or optimised tube or needle designs.
c) other complementary products used in/by the coil winding industry (i.e., cutters, tooling, machine parts etc.).
Says Greg Bedford, Eurotubes' Managing Director:
"Our experience in designing and manufacturing wire guide solutions is extensive and unrivalled. We work closely with stator/motor and coil winding machine manufacturers and with a large number of end users who use their winding technology to manufacture electric motors and coils for their own products."
These end users can include manufacturers of fans, pumps, hair dryers, white goods (i.e., major appliances), computers, motor vehicles etc.: the list is virtually endless!
Continues Greg Bedford:
"We have built a reputation in the market for quality, reliability and value. The recent acquisition of the four Doosan machines has helped us strengthen our position in key markets and with specific customers.

"By improving our machining capacity and capabilities we have been able to achieve higher part accuracies and repeatability's, reduce part cycle times and win contracts to machine 'other' complementary components used in the manufacture of electric motors and copper wound coils generally."
The new Doosan machines have replaced several older machines Eurotubes had at its disposal.
These machines, although still performing adequately, could not be relied upon to deliver the consistently high and repeatable accuracies (i.e., close geometric tolerances, concentricity, perpendicularity, cylindricity etc.), and superior surface finishes required by Eurotubes…and expected of it by its domestic and international customers.
Continues Greg Bedford:
"Consistency and repeatability are critical. When a customer purchases our wire guide tubes, nozzles and needles they have to be identical – not just in terms of their physical dimensions but also identical in terms of the unrivalled performance they deliver."
Machining high precision wire guide tubes/nozzles
The tubes and nozzles machined by Eurotubes on its Doosan machines are made from BS1407 British 'silver' steel – a versatile high carbon, low alloy tool steel that is generally supplied in 1 metre bar lengths in a range of different diameters which are then cut to down to size by Eurotubes using its in-house CNC and/or manual bandsaws.

Tubes are usually machined in small batches (50-off is at the top end…volume wise) and can be machined and dispatched within 24 hours to meet urgent customer demands. However, in most cases, the tubes are machined for stock.
Explains Greg Bedford:
"Wire guide tubes are performance-critical products – they are also consumable items. Through constant use they will deteriorate over time and, as such, we do encourage customers to carry small quantities of (their) tubes in stock…just in case they need access to products quickly and to avoid downtime.

"For additional insurance and peace of mind we hold customers' tubes (and needles) in stock at our facility in Portland with a next day turnaround: it's all part of the service."
Once cut to size, the blanks are machined (first operations) on the multi-tasking Lynx 2100LSY making full use of the lathe's integrated Y-axis (+/- 52.5mm), 6,000rpm driven tooling capabilities and its 5" chuck sub-spindle which enables the front and back-end machining operations on the tip, neck and holder elements of the tubes (i.e. sculpting, 3D profiling, chamfering and machining the radii on either end of each tube), to be machined to high accuracy in a single set up.
Tubes and nozzles designed, manufactured and supplied by Eurotubes are available in a range of sizes: the largest tubes can range from 20mm up to 200mm in length, and tube diameters/geometries are endlessly varied; hence why Eurotubes now has over 7000+ different designs of wire guides.
"We are involved in micro-machining and, as such, need access to technologies that can deliver the close tolerances (i.e., to within 5 microns) we demand", says Greg Bedford.
A critical element of every wire guide tube is its centre hole. These can be incredibly small (down to 0.2mm in diameter) and, as such, involve the use of small diameter drills and reamers, in conjunction with tube drawing facilities, and wire EDM technologies.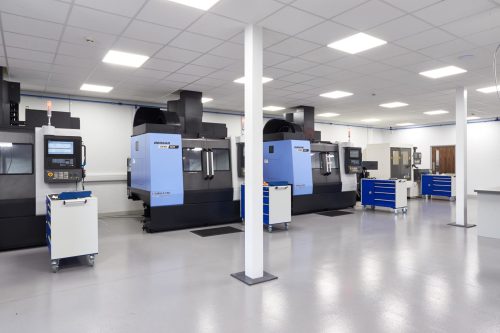 Drilling and reaming operations are undertaken on the DNM 4500 vertical machining centres which, in addition to their rigid design and directly coupled 15,000rpm spindles with integrated thermal compensation, feature large sized worktables (1000mm x 450mm), and through spindle coolant.
The dimensions of the machines' tables combined with the small size of the parts to be machined enable multiple parts, using Eurotubes' bespoke multi-vice workholding solutions, to be set up and machined in one hit – thereby improving the company's productivity and operational efficiencies.
Says Greg Bedford:
"Owing to the small and delicate nature of the parts being machined we design our own workholding and clamping solutions to protect the parts and ensure their integrity during machining."
A critical feature of Eurotubes' nozzles and tubes are the small diameter holes that run in perfect alignment from one end of each tube to the other. These holes are machined to high accuracy and their interior, mirror-like surface finishes are achieved via hand polishing and by using Eurotubes' custom designed and built lapping machines.
Says Greg Bedford:
"The cylindricity, concentricity and surface finish of the internal holes are important and affect wire feed rates and wire tension. They also ensure protection of the enamelled copper wire and help reduce friction.

"Our DNM machines combined with the skill and expertise of our staff ensure that the wire guide tubes we manufacture are up to the job."
The Doosan: Mills CNC angle
The three DNM 4500 vertical machining centres and the Lynx 2100LSY multi-tasking lathe are the first Doosan machine tools acquired by Eurotubes: according to Greg Bedford, "they won't be the last!"
He continues:
"We are committed to continuous improvement and are always ready to invest in our people, plant, equipment and processes when the time is right.

"Back in late 2018 when we were in the market for new vertical machining centres we did our homework, drew up a list containing our needs and wants, and approached a number of suppliers.

"We needed vertical machining centres equipped with good-sized work envelopes, powerful and high-speed spindles and the latest Siemens control. (We run a Siemens machine shop and our operators and programmers are familiar and are completely content with the Siemens platform)."
Eurotubes had previously visited the Mills CNC stand at MACH 2018 and followed this up with a visit to the company's Campus facility in Leamington.
Continues Greg Bedford:
"We liked what we saw and recognised that the performance and reliability of Doosan machines combined with Mills CNC's best-in-class after sales service and support were difficult to beat. These strengths plus the fact that Mills can deliver and install Siemens-controlled machines quickly from stock all impacted on our decision-making process.

"The part accuracies, process reliability and machining flexibility we experienced from investing in the DNM 4500 machines meant that when, some months later, we were looking at acquiring a Siemens-controlled compact, multi-tasking lathe – we approached Mills straight away with our requirements."
The pandemic
Like many manufacturing companies the pandemic outbreak affected and disrupted Eurotubes' business operations in the Spring of 2020.
Rather than mothball or allow its recently acquired machining capabilities to go unused, the company took a proactive stance and approached its existing customers to explore whether they could use the additional machining capacity.
Says Greg Bedford:
"It worked."

"Owing to our reputation for delivering quality, reliability and value, a number of customers took us up on the offer and we are now machining a range of different parts for them in addition to wire guide tubes and stator/rotor winding needles."
Summary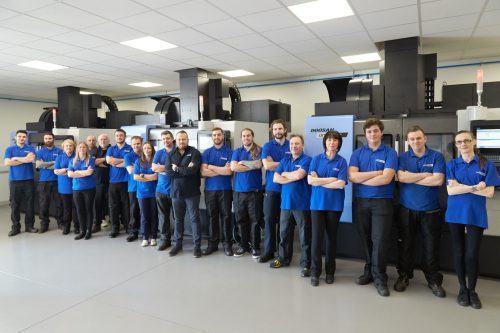 Eurotubes was created in 1987 by Rob Bedford (Greg Bedford's father) who built the company from scratch and pioneered the use of wire guide tubes in the coil winding and motor winding industries.
Fast forward to 2021 and the company now employs 21 members of staff and, in its 34-year history, has manufactured over 4.5 million tubes across 7000+ different design of guides.
Concludes Greg Bedford:
"I am incredibly proud of what my Dad achieved. His commitment to innovation and quality, and his entrepreneurial spirit are at the heart of the company."

"Through investing in the latest technologies and employing expert staff with a 'can do' attitude Eurotubes, from its relatively humble beginnings, is now the undisputed market leader in the design and manufacture of wire guide tubes and needles."