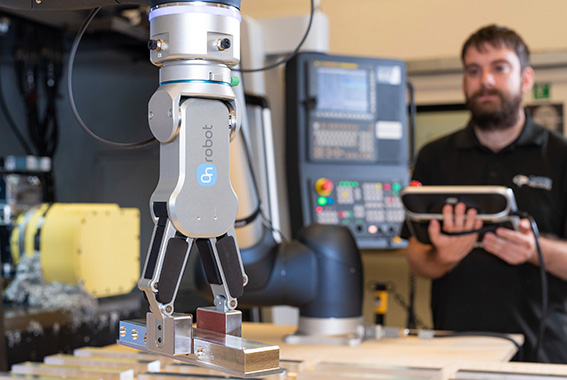 Cambridge Precision invests in its first Doosan cobot to enhance a flexible, autonomous and high-productivity (milling) manufacturing cell.
Mills CNC has, through its recently-created Automation Division, supplied leading precision engineering specialist – Cambridge Precision Ltd (CPL) – with a high-performance Doosan collaborative robot (cobot).
The Doosan M0617 cobot, equipped with ONRobot electrically-driven two finger parallel grippers and Schunk vices, was installed in the company's 24,000 square foot facility in St Neots in July 2019 where it has been integrated with a Doosan DNM 6700 vertical machining centre to create a flexible and highly-productive automated manufacturing cell.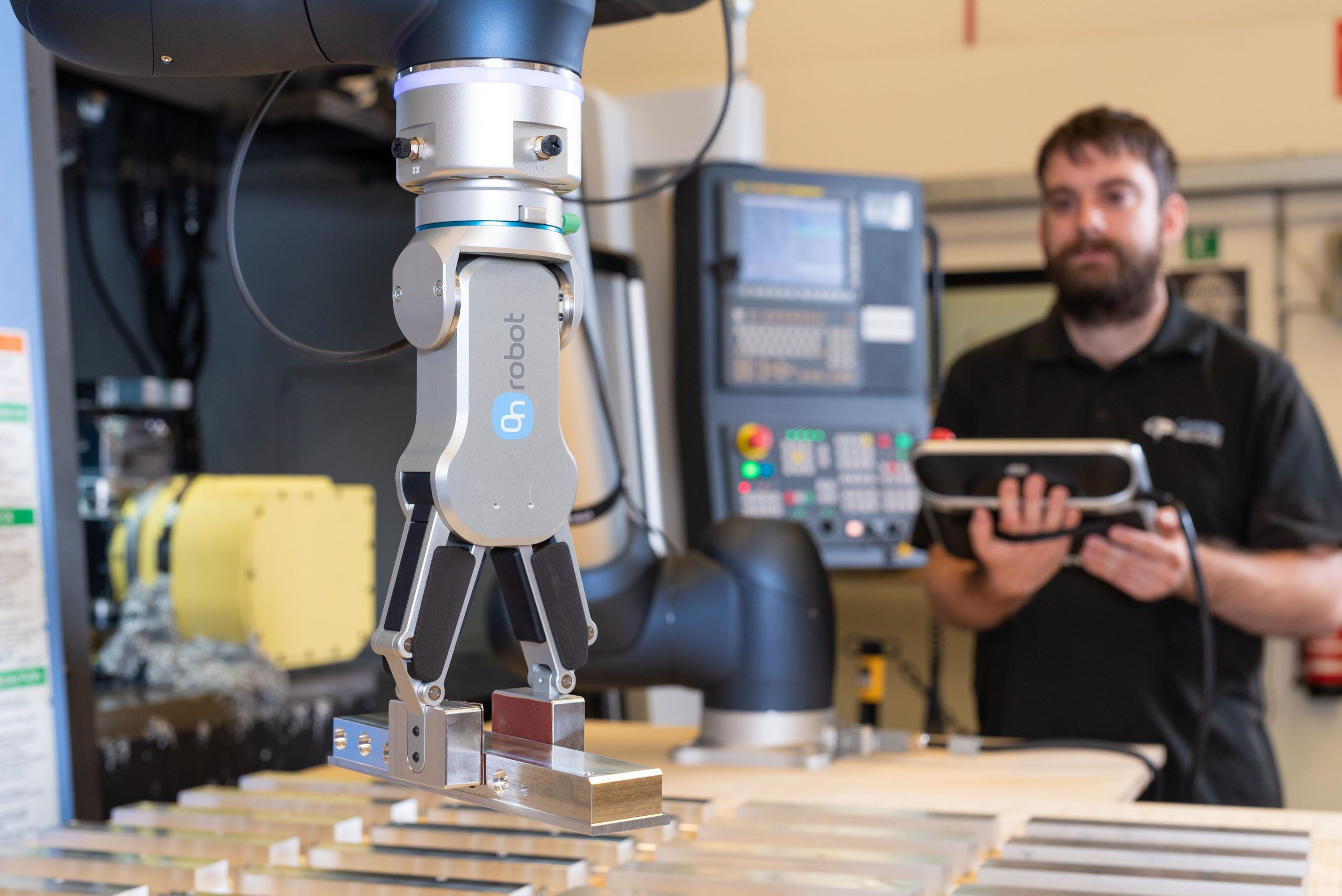 The cobot performs machine tool tending operations i.e. loading workpiece billets from a loading table into the DNM 6700 and, after the machining operations have been completed, unloading the finished machined components and positioning them back on the table. By creating the manufacturing cell, comprising the cobot and a 5-axis machining centre, and by creating new programs for different jobs, CPL is pushing the boundaries of human:machine collaboration.
The company manufactures complex parts and undertakes mechanical and electrical assembly for a number of customers operating in specialist markets. Quality and lead time fulfilment are critical, and CPL constantly looks for ways to improve performance, support its work-force and delight its customers.
Says Nick Raven: CPL's General Manager:
"The cobot helps to free-up skilled labour by handling repetitive and less profitable tasks. Robbie (the cobot) has been welcomed by the team, and has enabled team members to focus on other manufacturing and assembly demands."
The milling cobot cell is able to operate 24/7. Since installation it has been digitally programmed to handle more than 20 different projects and the company estimates that, from a standing start two months ago, over 5000 prismatic parts have been manufactured in the cell.
The cell, supported by a number of CPL's partners, including tooling specialists MA Ford, Guhring and Alpha-CAM, and metalworking fluid experts Q8Oils, is the company's first investment in advanced robot technology.
The results achieved to date suggest that it will not be its last.
CPL, celebrating its 25th birthday this year, is committed to innovation and continuous improvement. These twin strategies, evident across all of its operations, help explain the continuing growth and success of the company and why it is so highly-regarded by its large and diverse domestic and international customer base.
The company has a history of investing in the latest and most advanced machine tool and ancillary technologies and has, at its disposal, a range of multi-axis machining centres and multi-tasking turning centres to machine high-precision and often complex parts for its customers in the Scientific Laboratory, X-Ray, Medical Device and Research Instrumentation sectors and industries
A majority of the machines used by CPL are Doosan machines supplied by Mills CNC and a significant proportion of these have built-in automation.
Says Nick Raven,
"We are keen automation advocates. Recent machine tool investments in our dedicated turning cell include machines with a twin spindle, twin-turret configuration, as well as lathes with sub-spindles, driven tools and Y-axis capabilities.

"A number of our (eight) lathes have integrated bar-feeders that help facilitate continuous production."
It's a similar story with CPL's milling cell where the company has, over recent years, invested in a number of 5-axis machining centres to help it improve operational efficiency and increase productivity levels.
A visit to Mills
It was indeed a visit to Mills CNC's facility in Leamington earlier this year by CPL representatives to look at the latest Doosan simultaneous 5-axis machine in action when the potential of a cobot investment was realised, and where the impetus behind the cobot acquisition began.
Explains Andrew Barnard, CPL's Milling Supervisor:
"We had arranged to see the new Doosan DVF 5000 5-axis machine integrated with an automatic workpiece pallet changer (AWC) at Mills. During the visit we were introduced to the new Doosan cobot range, and saw one of the models performing pick and place operations.

"We liked what we saw and could immediately see that this type of technology could be employed to good effect back at CPL, increasing our ability to meet challenging production issues and lead-times."
CPL had considered investing in an industrial robot previously but had not been able to justify the high investment cost or identify applications that complemented its skills development or capital equipment strategies.
The fact that the M0617 cobot has a small footprint and does not need to be caged-off made it suitable for CPL's environment, acceptable to the workforce and cost-effective in terms of the value it delivers.
 The investment justification
Prior to investing in its first cobot CPL undertook a comprehensive feasibility study and cost justification exercise.
Explains Andrew Barnard:
"We were looking to achieve an 18 month payback on the cobot investment and we believed we could do this by moving one of our existing machining centres, the Doosan DNM 6700, out of our milling unit into a newly-created automation area where it would be integrated with the cobot.

"The new cell configuration would help us increase the DNM 6700's production capacity (i.e. the number of hours it could be used cutting metal) and profitability (i.e. autonomous machining with minimal operator intervention).

"As long as we could supply the cell with components that were the right size and weight, and in sufficient batch quantities (ideally 200 to 300), we were confident that we could make it work."
This recent example illustrates the productivity gains that CPL is experiencing with its cobot investment.
Example
65 small aluminium blanks are positioned on a peg table next to the cobot and adjacent to the DNM 6700 machining centre. The cobot is programmed to pick up each blank in turn and load it into the machining centre where it is machined to completion. (Cycle time for each part is 8 minutes 20 seconds).
Once machining operations have been completed the cobot takes the finished component from the machine and places it back on the peg board, and then loads a new blank into the machine.
By starting the machining operations at 5.00pm the entire batch is machined, overnight, in 9 hours – without any manual intervention.
The Doosan cobot
The cobot acquired by CPL is a Doosan M0617 which has a 1.7 metre reach, a 6kg payload capacity and features high-torque sensors on its (6-axis) articulated arm. It was supplied to CPL with controller, a base unit and teaching pendant.
The cobot was set up by Mills CNC Automation application engineers and training was provided to CPL on-site.
Conclusion
Says Nick Raven:
"It's still early days but we are delighted with the cell's performance, and the decision to invest in collaborative robot technology has been justified.

"As with any investment in new technology there is a definite learning curve involved but, thanks to Mills, it wasn't that long or steep. We are appreciative of the relationship we have with Mills and, I believe, we are both benefitting from the learning this journey provides.

"Such has been the positive impact of our first cobot that we are considering investing in a second in the near future and further developing our use and application of digital automation and artificial intelligence."