Two day Open House in October will provide the ideal platform for Mills CNC to showcase a number of new and recently-launched Doosan machines as well as the company's latest industrial and collaborative robot solutions to UK and Irish component manufacturers.
Mills CNC, the exclusive distributor of Doosan machine tools in the UK and Ireland, and home of the CNC Training Academy, has announced that it will hold an Open House at the company's Technology Campus facility in Leamington on the 9th and 10th of October 2019.

Branded 'Another Giant Leap', the Open House makes more than a passing nod to the Apollo 11 mission and the moon landing which occurred in 1969.
Says Tony Dale, Mills CNC's Technical Director:
"Fifty years ago Neil Armstrong and Buzz Aldrin set foot on the surface of the moon. It represented the pinnacle of human and technological achievement, and was immortalised by Armstrong's "one small step for (a) man – one giant leap for mankind" live commentary.

"At our Open House in October we are showcasing a total of 15 Doosan machines – a number of which are making their UK debuts at the event. We are also exhibiting our latest industrial and collaborative robot solutions to visitors for the very first time.

"The technological innovations on show are, to put it bluntly, nothing short of impressive and out-of-this world. They represent another giant leap (technology-wise) for mankind."
The Doosan machines – highlights
A significant number of the machines on view at the Open House include new Doosan models that recently made their international debuts at the DIMF Show (Doosan International Machine Tool Fair), that took place in May 2019. These machines will take their place at the event alongside more established, popular and best-selling lathes, mill-turn machines and machining centres from Doosan's extensive machine tool portfolio.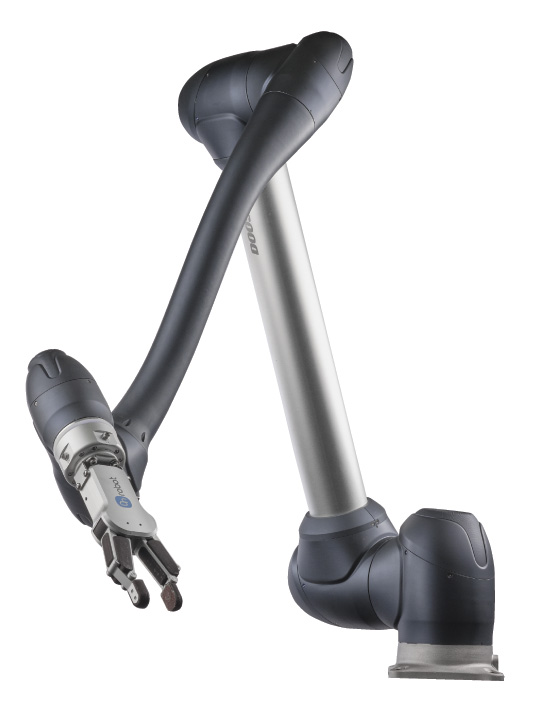 The Open House also provides the ideal platform for Mills CNC Automation (a recently created division at Mills) to showcase an AutoMill industrial robot system integrated with a Doosan DNM 4500 vertical machining centre and a number of Doosan Robotics' collaborative robots performing a range of machine tool tending operations.
The emphasis throughout is to demonstrate the significant productivity gains that can be achieved via automation.
No Mills Open House would be complete without the company showcasing its customer-focused range of 'best-in-class' pre- and after-sales support services…and at the event in October Mills representatives from the CNC Training Academy, Mills CNC Finance, the Mills CNC Turnkey and Development Centre and Mills CNC Servicing will be out in force – explaining and demonstrating their strengths and the enduring market appeal of the services on offer.
Says Mills CNC's Managing Director, Kevin Gilbert:
"Market-leading Doosan machines…Innovative automation systems and solutions…Industry-recognised service and support – our 'Another Giant Leap' Open House has it all and is a great opportunity for component manufacturers to find out what's so special about Mills and why we are, as our corporate strap-line states, Like No-one Else!"
New machine highlights
Pride of place at the Open House goes to a number of new Doosan machines making their UK debuts.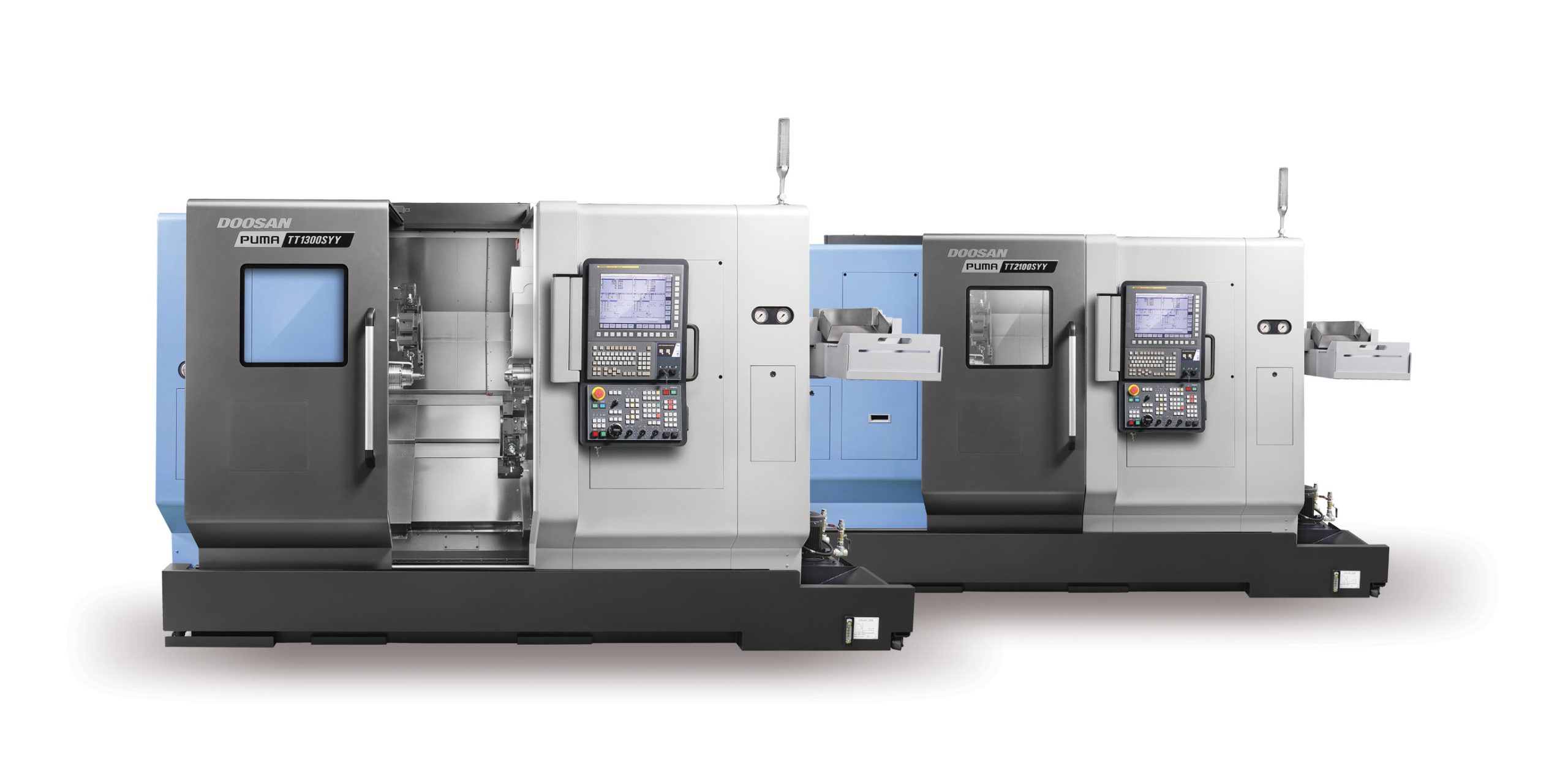 These include the new range of Twin-Turret, Twin-Spindle multi-tasking turning centres with Y-axis capabilities on their upper and lower turrets.
The TT1300SYY (42/51mm bar diameter capacity) and TT2100SYY (65/81mm bar diameter capacity) machines are versatile and ultra-productive, and can be employed in a number of ways -:
The twin turrets allow simultaneous OD and ID cutting on a part in the main spindle.
Simultaneous milling and turning of components in the machine's main and sub-spindle enables 

multiple finished parts to be completed in one cycle.

Operations can be combined by machining one side of a part in the main spindle and finishing it in 

the sub-spindle.
Also on view is the latest addition to the Doosan DNM range of vertical machining centres – the large-capacity DNM 6700XL equipped with a 2.1 metre X-axis. As with other DNM models – the DNM 6700XL has a direct-coupled spindle (18.5kW/15,000rpm) that reduces noise and vibration, a fast servo-driven ATC, a sophisticated thermal compensation system that ensures high precision and process reliability, and roller LM guideways for rigidity and increased accuracy.
Another new and innovative addition, designed to demonstrate the productivity potential from embracing automation systems, can be seen with a new Doosan DVF5000 (5-axis machine) integrated with an Automatic Workpiece Changer (AWC)
The AWC's capacity can be configured to suit an individual customer's requirements in terms of the number of pallets available (i.e. 4, 6, 8, 10, 12, 24), and the size of each pallet (i.e. 150mm x 150mm to 500mm x 500mm).
The AWC is supplied with SCHUNK clamping systems (NSE) and gripping systems (NSR).
In addition to the new models customers can also get up close and personal to a number of Lynx and Puma lathes, a SMX multi-tasking mill-turn machine performing power skiving machining demonstration, and a number of Doosan 5-axis, horizontal and vertical machining centres. All machines being showcased at the Open House are under power and will be put through their paces undertaking challenging demonstrations.
Explains Kevin Gilbert:
"The Doosan range of high-performance machine tools is constantly evolving. The Open House in October provides an ideal opportunity for manufacturers to keep up-to-speed with the latest developments."
After-sales and service highlights
 Mills' Open House isn't just about machine tools – important as they are.
A main strength and key differentiator of Mills CNC is its range of customer-focused pre- and after-sales services. At the Open House, representatives from the company's CNC Training Academy, Turnkey Development Centre, Finance and Servicing divisions etc., will all be available to explain the services on offer and how they can help manufacturers improve their productivity, performance and profitability.
Worthy of special mention here is the CNC Training Academy's recent agreement with US-based BobCAD-CAM to become an authorised reseller of, and recognised trainer for, its advanced CAD/CAM software systems in the UK and Ireland. The power, flexibility and sophistication of BobCAD-CAM software will be demonstrated at the Open House.
Manufacturers wishing to attend Mills' 'Another Giant Leap' Open House should call 01926 736736.