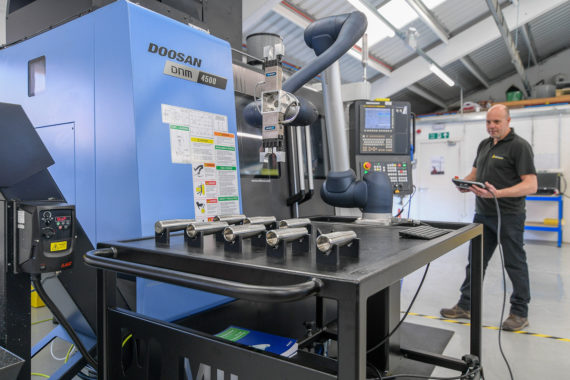 Arrowsmith Engineering invests in a high-performance Doosan collaborative robot (cobot) cell.
Mills CNC has, through its recently-created Automation Division, supplied Coventry-based Arrowsmith Engineering, part of the AS.G Group, with a high-performance Doosan collaborative robot as part of a wider £200k investment made by the company to help it increase its productivity levels and maintain its competitive edge.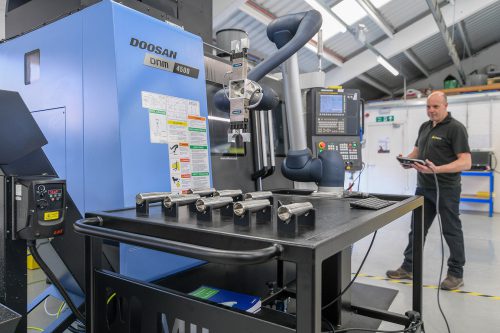 The robotic cell installed at Arrowsmith's 20,000 square foot facility comprises a new Doosan DNM 4500 vertical machining centre equipped with a 4th-axis unit and a M0617 cobot with a 1.7m reach radius and 6kg payload capacity equipped with a Schunk Co- act EGP-C electrically-driven two finger parallel gripper.
The cell is being used to ramp up production of a precision engine part that Arrowsmith manufactures for customers in Spain and the US. through adopting 'lights-out' production, the cell operates 24/7 enabling the company to manufacture and supply 200 components every month to these customers.
Integrating a collaborative robot into the process has had a dramatic impact on productivity and machine shop efficiency, and has negated the need for Arrowsmith to invest in a second machine tool.
Comments Jason Aldridge, Arrowsmith Engineering's Managing Director:
"The cell has significantly increased capacity levels (by up to 50%) and is helping us capitalise on the 20% growth we (as a company) have experienced over the last 12 months – growth that has seen our annual turnover soar to £7.5m."
He continues:
"Some manufacturers, especially here in the UK, are reticent about investing in automation and believe that it has a negative impact on jobs. I don't subscribe to this view. If anything automation makes us more competitive and successful enabling us to recruit more people into skilled jobs."
The cobot cell is Arrowsmith's first investment in robotics.
Operating around the clock it has made the machining process for the engine parts less labour intensive as an operator is no longer required, on standby, to load and unload parts into and out of the machine.
Says Jason Aldridge:
"The cell has made us 15% quicker and has given us a 50% capacity boost already which, in anyone's book, is a fantastic return on investment."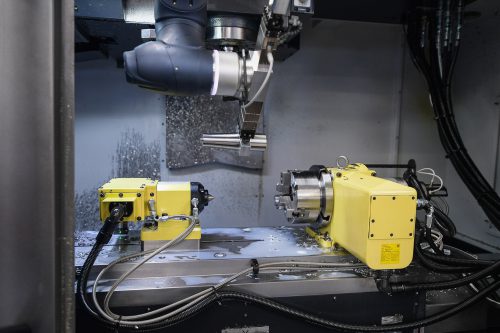 It is against this backdrop of improved productivity and efficiency that Arrowsmith has recently approached staff at Mills CNC Automation to investigate the potential for automating more and different processes at its facility.
Discussions to date have included the feasibility of investing in a Doosan cobot to serve two machine tools to create an autonomous and flexible automated manufacturing cell, and the potential of a cobot to undertake part inspection operations.
Comments Peter McCullough, Product Manager (Doosan Robotics):
"The cobot cell at Arrowsmith Engineering provides ample evidence (if any was needed) of the significant benefits component manufacturers can expect to achieve from automated machine tool tending operations.

"The installation of the Doosan M0617 cobot is one of the first in the UK and, judging by its positive and immediate impact on Arrowsmith's productivity, it won't be the last."
Says Jason Aldridge:
"We are keen advocates of automation.

"Automation shouldn't be seen as something that only the big boys do… SMEs can access it cost-effectively and we need to 'grasp the nettle' in order to bring the UK's productivity up to, and in line with, our international rivals."
About Mills CNC Automation
Mills CNC Automation is a division of Mills CNC responsible for driving sales of the company's industrial and collaborative robot systems and solutions.
Mills CNC Automation is the exclusive supplier of Doosan Robotics' cobots to manufacturers in the UK and Ireland.
There are four cobots in the Doosan range. All cobots feature high-torque sensors on their (6-axis) articulated arms, and have impressive reach (up to 1.7 metre) and payload capacity (up to 15kg).
The cobots can be supplied with application-specific end-of-arm tooling and, in addition to a cobot arm, feature a state-of-the art controller, a mobile base unit and a teaching pendant, plus a range of options and extras.
About Arrowsmith Engineering
Arrowsmith Engineering, established 50 years ago, is a precision turning, milling and grinding specialist that providing high-quality components made from titanium, nimonic alloys, stainless steel, exotic metal and engineering plastics etc., to aerospace OEMs and Tier 1 companies.
The company, which has been supported by Coventry University and Coventry City Council on its latest investment, supplies parts that are used all over the world in aerospace engines, landing gears and air frames.
It has been able to overcome the prevailing market uncertainty to boost its export business by 400%, thanks mainly to delivering world class manufacturing performance, with 'On Time In Full' at 98.5% and quality running at 99.95% for the past twelve months.
This level of continuing operational excellence has seen it recently secure the Supply Chains for the 21st Century (SC21) Silver Award for the third consecutive year, which has contributed to it becoming one of the first company's to be entered into the Competitiveness & Growth Programme.