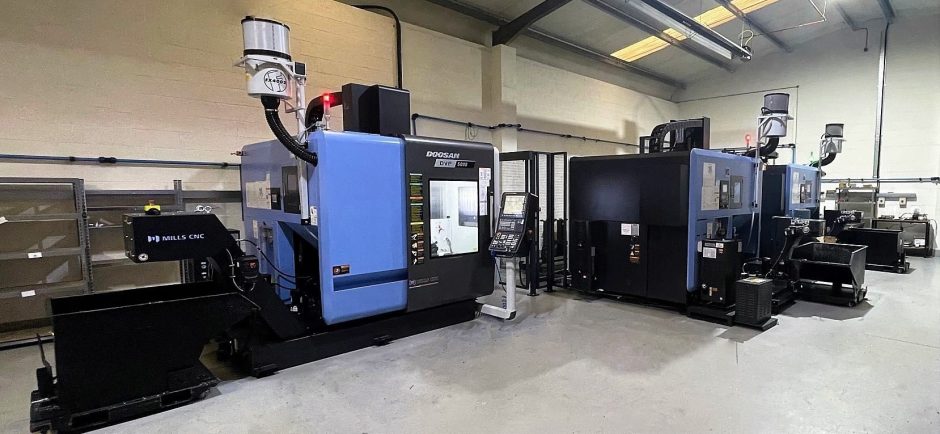 Lenane Precision's latest DVF 5000 (5-axis) machining centre acquisition, is proof-positive that the company's ambitious and progressive investment programme, somewhat disrupted by the pandemic, is now back in full swing.
Mills CNC, the exclusive distributor of DN Solutions' (formerly Doosan) machine tools and a major automation systems' provider to UK and Irish component manufacturers, has recently supplied leading precision subcontract specialist, Lenane Precision Ltd., with a new, best-selling DVF 5000 simultaneous 5-axis machining centre.
The machine, the third DVF 5000 to be acquired by the company in as many years, was delivered and installed at Lenane's modern production facility in Shannon, County Clare in September 2022
The new DVF 5000 has significantly increased the company's machining capacity and capabilities and is being used at this moment in time, to machine a range of high-precision, low volume complex components (primarily prototypes, one offs and pre-production parts), for its aerospace and medical device customers.
These components, made from aluminium, stainless and titanium, are machined to tight tolerances and exacting surface finishes. They are often characterised by their intricate features that can only be machined, or can only be machined economically, by using simultaneous 5-axis technology.
"Machining prototypes and First Article components for the highly regulated aerospace and medical sectors mean that there is little room for manoeuvre or discrepancy from product design to production result: parts need to be right first time…every time."
Jim Lenane, Managing Director at Lenane Precision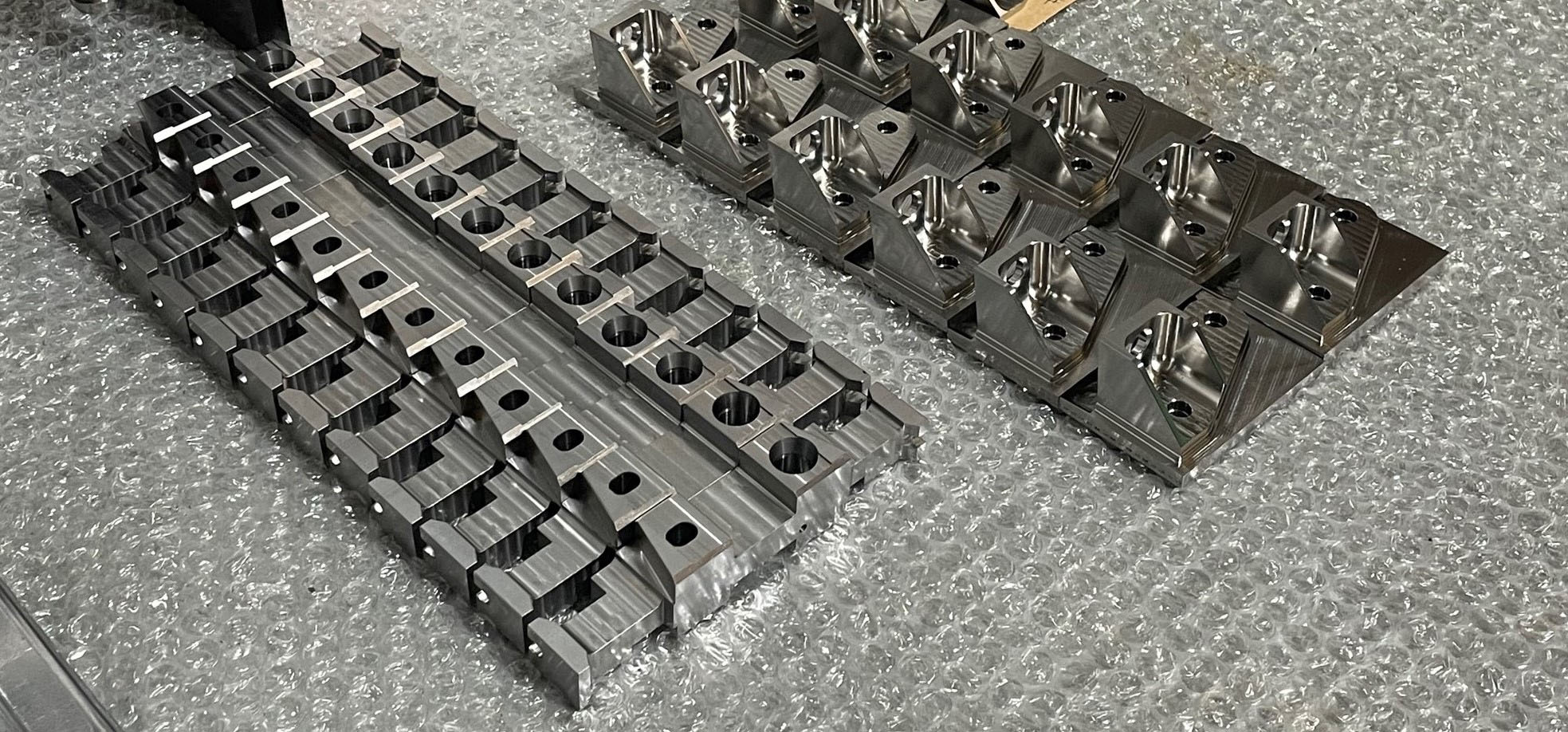 Expanding capacity with CNC machine investment
The new DVF 5000, the first machine tool investment made by the company since the outbreak of the pandemic, is significant for a number of reasons.
Firstly, it provides tangible evidence that the aerospace and medical device sectors, severely affected by the pandemic, have now 'bounced back', and that demand (from these sectors) for high-quality machined components has returned (or is returning) to pre-Covid levels.
It also demonstrates, unequivocally, that Lenane's commitment to continuous improvement and its attendant investment strategies, designed to improve and upgrade its plant and equipment as well as its processes and systems, are now being implemented by the company with renewed vigour.
Why invest in CNC technology and automation?
Although currently operating as a standalone machine the latest DVF 5000 investment should not, and cannot, be seen in isolation.
"The new DVF 5000 has been deliberately positioned adjacent to the flexible automated manufacturing cell that was delivered and installed in March 2020. The new DVF 5000 complements and works in tandem with the cell."
Jim Lenane, Managing Director at Lenane Precision
The automated cell – a sophisticated, complex and modular turnkey solution designed by Lenane in conjunction with Mills CNC – comprises two DVF 5000 machining centres and a Fanuc industrial robot integrated by a robot positioning track that runs between both machines to enable fast, efficient and reliable part loading and unloading operations to occur.
Other elements of the cell include an integrated racking system, holding up to 36 x pallets (400mm x 400mm, each with a 140kg maximum load), onto which workpieces are set up and clamped prior to loading into the DVF 5000 machines and, after machining operations are completed, where machined components are stacked and stored.
The cell is driven and controlled by Mills CNC's proprietary SYNERGi software which, with its touchscreen HMI, provides a seamless interface between the machines and robot.
"The cell has significantly increased our productivity, process efficiencies and competitiveness. It is used to machine production parts that often have long cycle times and, as a consequence, operates around the clock…currently 24/6.
"We aim to get 20 hours machining operation from the cell every day (Monday – Saturday): the remaining four hours per day are used for set up operations i.e., cleaning and maintaining the machines, replacing fixtures and tooling etc.
The cell, incorporating advanced 5-axis machining technology, has more than justified the investment made in acquiring it."
James Ryan, Production Manager at Lenane Precision
However, with business returning to pre-pandemic levels and with Lenane's machining capabilities in high demand from new and existing customers, some production bottlenecks were becoming evident.
These bottlenecks were mainly concerned with the most effective and efficient way of machining prototypes and First Article components.
"We believed that machining prototypes and pre-production parts, which are required and machined in low volumes using the automated cell, was inefficient and the wrong way to go.
"If left unchecked this could compromise the productivity potential of the cell which is designed to handle higher volumes.
"After careful analysis we determined that a more effective and sustainable solution would be to invest in another 5-axis machine for our development work as this would free-up time on the cell for higher volume batch production."
James Ryan, Production Manager at Lenane Precision
This decision resulted in the investment in a standalone 5-axis machine.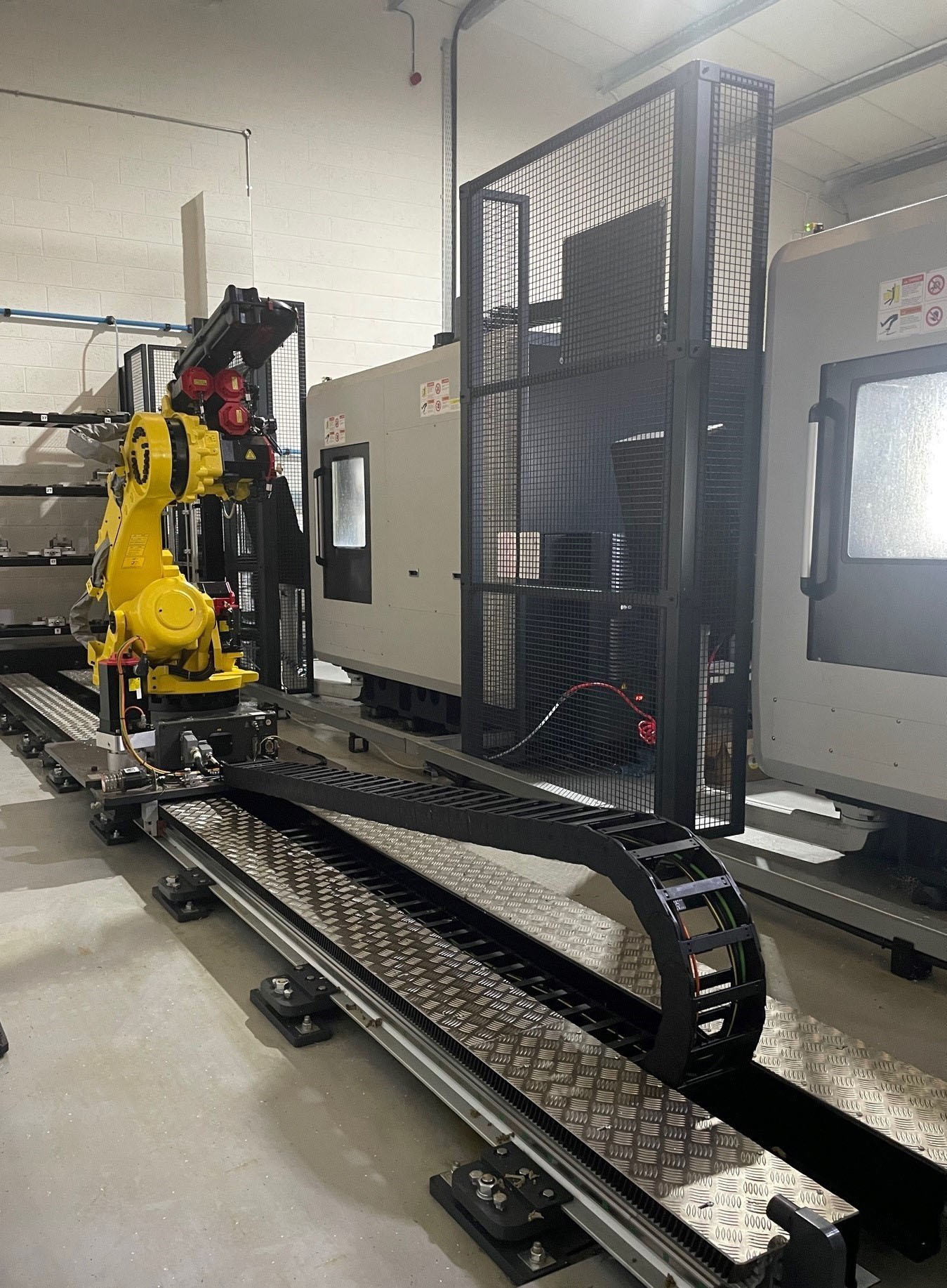 Why choose a DVF 5000?
Having already experienced significant productivity gains achieved from investing in 5-axis machine tools, most recently through the two DVF 5000 machining centres, and a few years earlier through the acquisition of a large-capacity Doosan VC630-5AX, the decision was made to invest in a third DVF 5000 machine.
"The DVF 5000 is an excellent machine. It is fast, accurate and reliable and enables us to machine precision parts to completion in one set-up. When it came to investing in another 5-axis machine – the decision was a straightforward one."
James Ryan, Production Manager at Lenane Precision
The latest DVF 5000 machine ordered by Lenane has, to all intents and purposes, the same technical specification as the two previously acquired machines: this was a deliberate decision based on:
Staff knowledge of, and familiarity with, the machine's configuration and operation. The idea of bringing in a different machine and of introducing a new and unknown variable into the production process was not an option
The potential integration of the new DVF 5000 into the company's automated manufacturing cell in the future.
"Depending on future demand and how we organise ourselves to meet it, the new DVF 5000 machine may well be integrated into the cell.
"Such scaling up can be achieved by extending the robot rail so that the Fanuc robot can service three machines and explains why we installed the new DVF 5000 in such close proximity to the cell in the first place."
James Ryan, Production Manager at Lenane Precision
With a significant proportion of prototype and pre-production work undertaken on the standalone DVF 5000 expected to move into full production in the future – it makes perfect sense, from a process consistency perspective, to integrate the machine into the cell.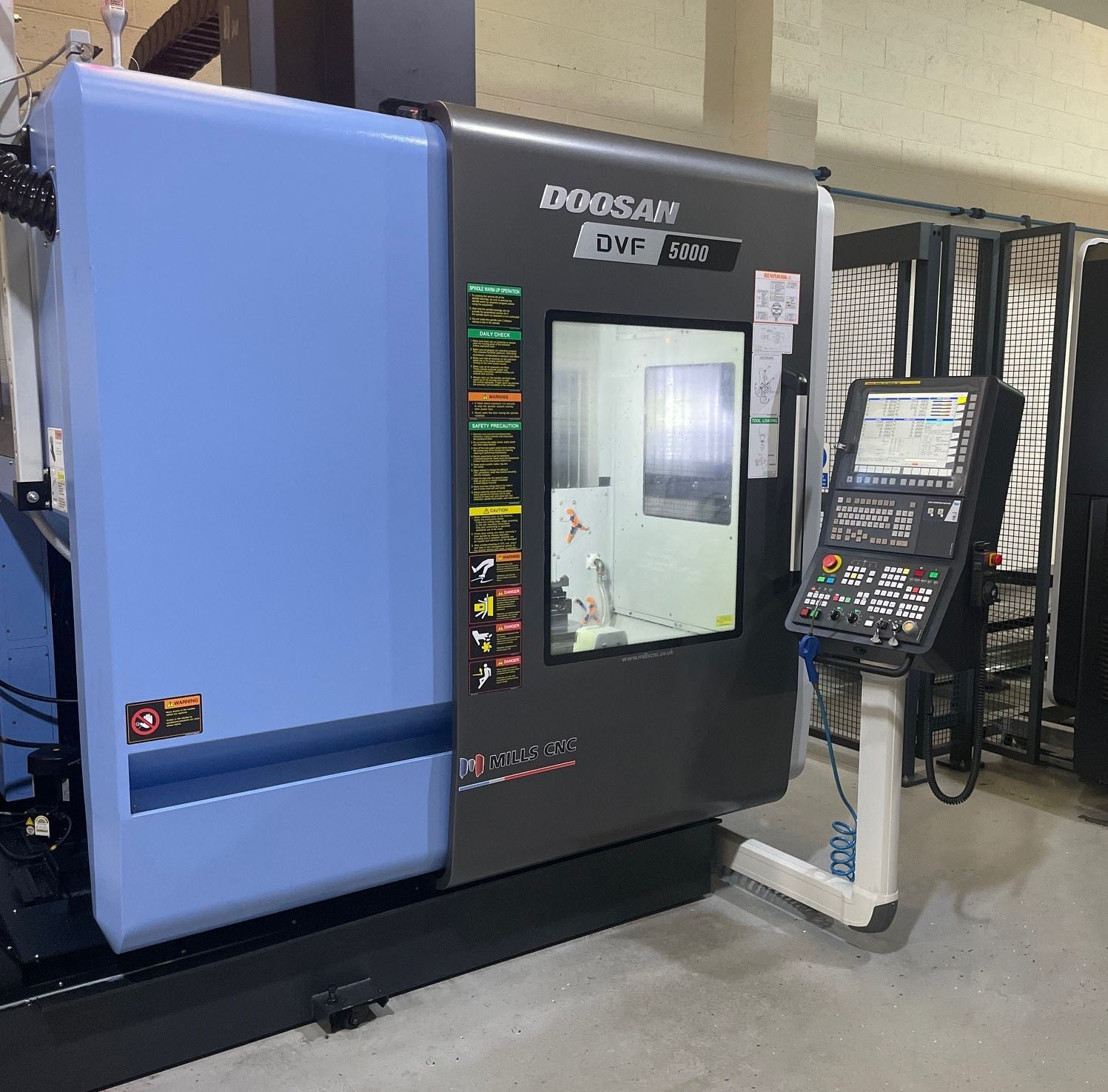 The DVF 5000 – a closer look
The DVF 5000 is a compact simultaneous 5-axis machining centre equipped with a powerful 17.5kW/12,000rpm spindle, a servo-driven (60 position) tool changer, linear guides and integrated thermal compensation for increased accuracies and repeatability.
The machine is automation-ready and has been supplied with an automatic door open/door close facility and has good side access for robot loading/unloading.
The new DVF 5000 is supported by Mills CNC's industry-leading and quick-response after-sales services which, for companies in Ireland, comprises dedicated service and applications engineers based in the Country.
"We will always need a standalone 5-axis machine for our prototype work and the DVF 5000 meets these needs perfectly.
"The decision to invest in the latest DVF 5000 was based on our positive experience with the two, previously acquired machines and with the long-standing relationship we have with Mills CNC."
James Ryan, Production Manager at Lenane Precision