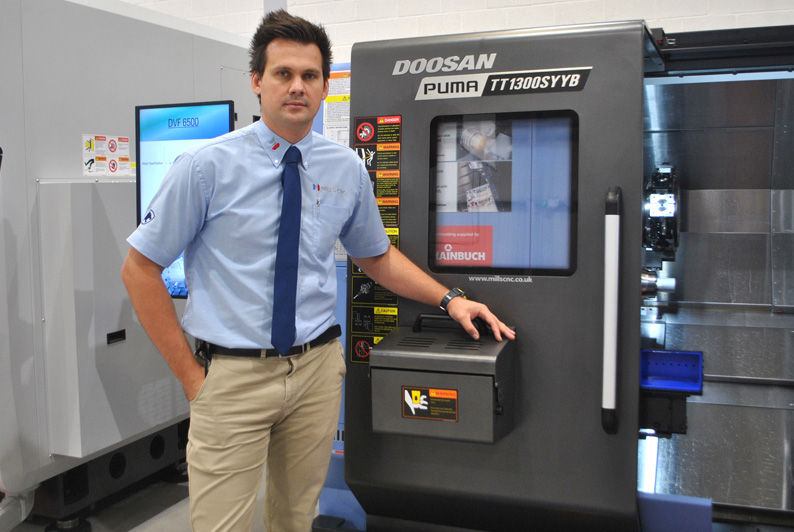 Great products keep customers interested, but excellent after-sales service keeps them loyal and coming back for more.
There's an old adage amongst machine tool manufacturers and suppliers that acknowledges that whilst it's their sales operations (i.e., its sales team and resources) that are largely responsible for the first machine tool sold to any customer, it's the strength of their after-sales services and the way they meet customers' needs that determine any and every subsequent sale.
This might be an over simplistic generalisation (as generalisations tend to be) but it's true to say that for many years this 'general truth' has been taken to heart by Mills CNC, the exclusive distributor of Doosan machine tools in the UK and Ireland. So much so that it's less a maxim and more of a company-wide mantra.
Mills CNC's is committed to delivering excellent service and, as such, has designed and developed after-sales services that are comprehensive, well-resourced and integrated. (According to the company out of the 115 people it currently employs – a significant percentage (virtually 100%) are directly or indirectly involved in delivering customer service).
All these services are coordinated at Mills' after-sales service and support 'hub' located at its Campus facility in Leamington. And, to ensure that its range of services are 'hitting the mark' and are well received by customers, the company actively and regularly researches its target markets asking them how they would 'score' the services received and how they could be improved.
 Mills after-sales services: Like nothing else!
These after-sales services include everything from:
CNC Operator, Programmer, Specialist and Maintenance courses
Sophisticated, and seamlessly integrated, machine tool PDI, delivery, commissioning and installation services
Technical and applications support including a Technical Services Help Desk facility
UK and Irish machine tool service operations
An extensive spares, parts, accessories and logistics operation.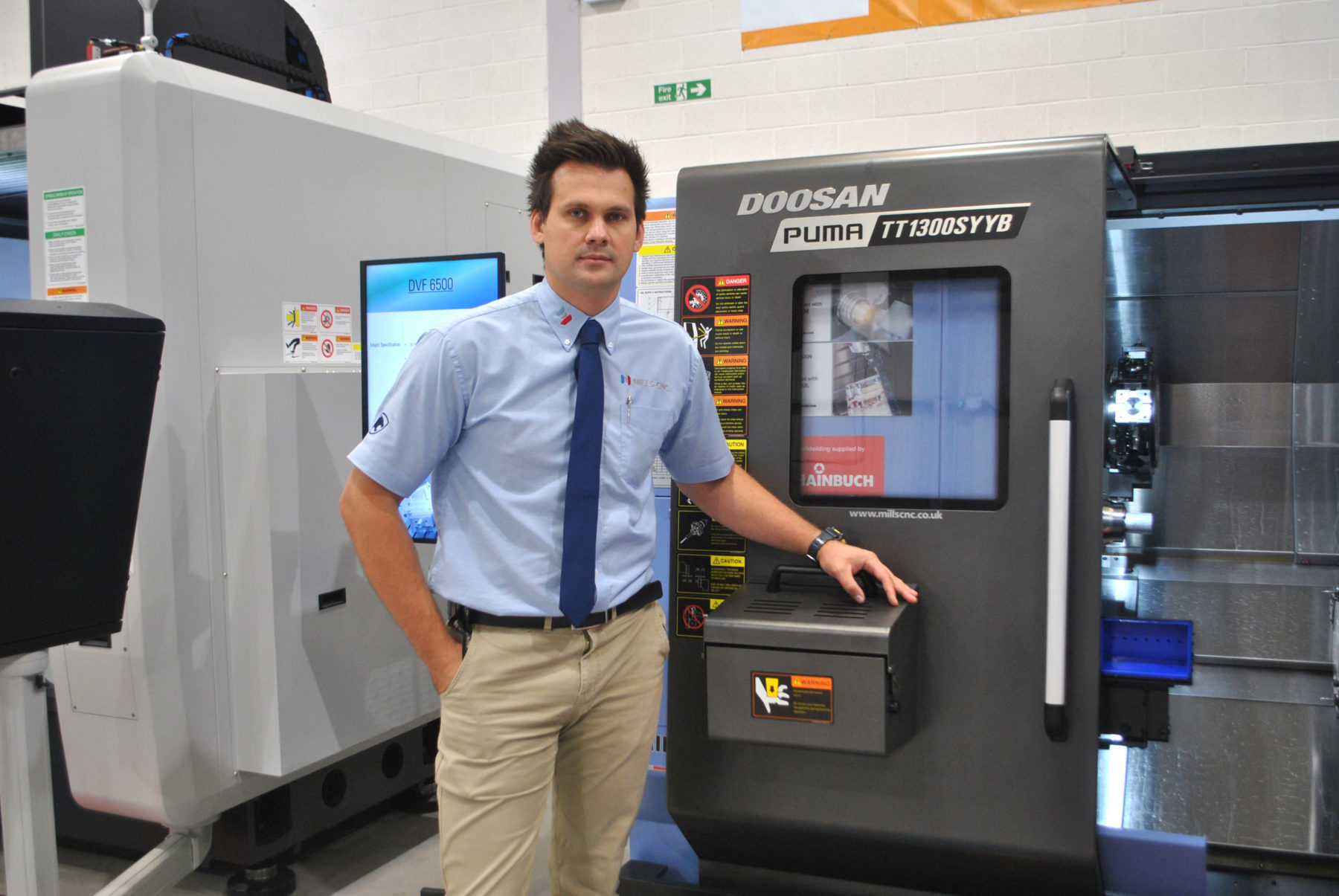 They also include a well-oiled (pardon the pun) machine tool servicing operation headed up by Servicing Manager, Arek Cichy, and his team of seven dedicated servicing engineers.
 Machine tool servicing
As part of its integrated range of services Mills provides its customers with best-in-class and competitively-priced servicing for their Doosan machine tools delivered by highly-qualified servicing engineers who can be trusted to:
Provide a professional and courteous service
Arrive in good time to undertake the planned work on their machine(s)
On completion of the work, provide immediate feedback on the status of their machine(s) – highlighting, to the customer, any future issues that could affect its/their performance.
Says Arek Cichy:
"We provide customers with two different machine tool servicing options. The first of these is via planned and scheduled Annual Servicing Agreements, and the second through Fixed Price Servicing. Both provide customers with tried, tested and trusted machine tool servicing and genuine peace of mind."
i) Annual Servicing Agreements
Servicing Agreements can be a popular option for customers with Doosan CNC machines that are out of warranty because, in addition to delivering first-class servicing, they provide the added incentive of discounts on approved parts and labour call out charges on any subsequent or follow-up visits.
However, Servicing Agreements are not exclusively the preserve of customers with out-of-warranty machines – as many customers with new machines run an Agreement alongside a machine's warranty.
Says Arek Cichy:
"If a customer is using their new Doosan machine around the clock machining high precision parts for the aerospace or medical sector (for example), it makes good sense to have a scheduled servicing visit arranged to ensure their machine continues to deliver the high performance and outstanding results expected of it.
"When you are serving performance-critical sectors you simply cannot rely on a machine tool's warranty to keep you going."
With an Annual Servicing Agreement customers decide how many service visits they need during a 12 month period. (Mills Servicing Engineers can advise customers on the optimum number of visits based on how the machine is being used and how many hours it is operating – e.g., hours per week/month etc.).
Once a customer has decided on the number of visits required Mills Servicing Department does the rest – sorting the paperwork and scheduling the visits in with its engineers.
ii) Fixed-Price Servicing
For some customers the Annual Servicing Agreement route may not be the preferred route.
Says Arek Cichy:
"Some customers, for a whole host of reasons, do not want or need an Annual Service agreement preferring, instead, something less prescribed. This is catered for by the Fixed-Price Servicing option."
With this route a customer can contact the Servicing Department providing details of the machine, year of make etc. With this information a standalone fixed price (inclusive of travel costs) for the routine servicing of the machine can be provided.
Fixed-Price Servicing is ideal for customers with machines that are still in warranty or for those customers who have accidental damage and breakdown cover in place that includes parts and labour costs.
Says Arek Cichy:
"Over the last few years and months there has been a noticeable uptake in the number of Doosan customers taking out new Servicing Agreements and renewing/upgrading existing ones.

"Customers know they are getting a comprehensive and value-added service from engineers that know their Doosan machine tool inside out. The fact that are also able to take advantage of reduced labor call out costs and discounted costs on OE spare and replacement parts makes the Agreements even more appealing."
Whichever servicing route best meets a customer's requirements, Mills CNC Servicing engineers will complete a detailed and recently revamped Health Check on the condition of their machine and provide a report which identifies machine-specific issues that may affect its future performance.
Issues identified as 'Requiring Immediate Attention' are highlighted and explained to the customer as well as being recorded and alerted to Mills' Service Department.
Explains Arek Cichy:
"Mills CNC Servicing and Mills CNC Service work hand in hand.

"If, during an engineer's visit, we identify a potential issue that could affect the machine's performance in the future we notify the Service Department as well as the customer.

"In this way a potential machine problem is not allowed to 'fall between the cracks' but is acted upon professionally and in real time through the scheduling of a service visit and/or the ordering of required replacement parts etc."
Introducing Arek
Arek Cichy became Mills CNC's new Servicing Manager a little over 12 months ago…during the height of the pandemic.
Prior to that he was employed by Mills as one of its Help Desk Support Engineers responsible for managing and coordinating the company's front line servicing response in Scotland and across the North and East of England. He held this position for four years.
Help Desk Support Engineers are a vital cog in Mills' after-sales service and support structure.
The job was (and is) pressurised with no two days being the same and involved responding directly to customers (by phone/email etc.), who were experiencing issues and problems with their Doosan machine tools (i.e., machine downtime).
Says Arek Cichy:
"The job was varied and always interesting sometimes involving the coordination and scheduling in of a service engineer visit in order to get to a customer as soon as possible."
On other occasions Arek, with his strong mechanical engineering background and experience and knowledge of Doosan machine tools, was able to a) undertake remote diagnostic work on the phone with a customer and, b) fix the problem in question.
Being employed as a Help Desk Support Engineer at Mills CNC made Arek the ideal candidate for the Servicing Manager position when it became available.
Since being in post Arek has strengthened and streamlined Mills' Servicing operations by:
i) Improving Servicing Engineers' training, and dramatically revamping the diagnostic and reporting tools and checklists used by the Servicing Team.
ii) Introducing a new Video-service App: a personal video presentation system used extensively in the automotive sector (sales, repair and maintenance), and now by Mills CNC that enables relevant and transparent videos to be recorded by Mills engineers on-site at a customer's facility.
The videos can be used in several ways i.e., a) identifying parts that may need to be replaced on a customer's machine in the near future etc., b) highlighting the situation with a machine 'before' and 'after' the service visit etc.
iii) Ensuring closer coordination with Mills' Service Department.
Concludes Arek Cichy:
"Ask any Mills customer why they continue to invest in Doosan machine tools, and they will invariably mention the 'best-in-class' after-sales service and support provided by us as being an important factor in their decision making.

"I, along with my Team, are committed to further strengthen and improve the services and support we provide to customers in line with the company's corporate proposition – Mills CNC: Like No-one Else".