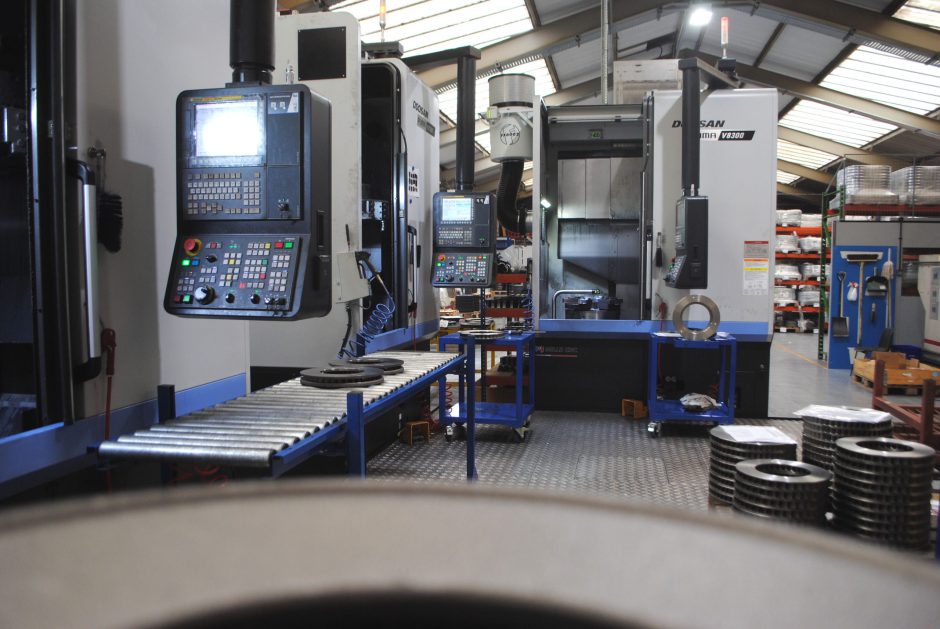 A turnkey solution, developed by Mills CNC, helps deliver up to a 40% reduction in brake disc machining cycle times for leading brake and clutch systems specialist.
Mills CNC, the exclusive distributor of Doosan machine tools in the UK and Ireland has recently supplied leading brake and clutch system specialist – Alcon Components Ltd., – with three new Doosan high-performance vertical turning lathes.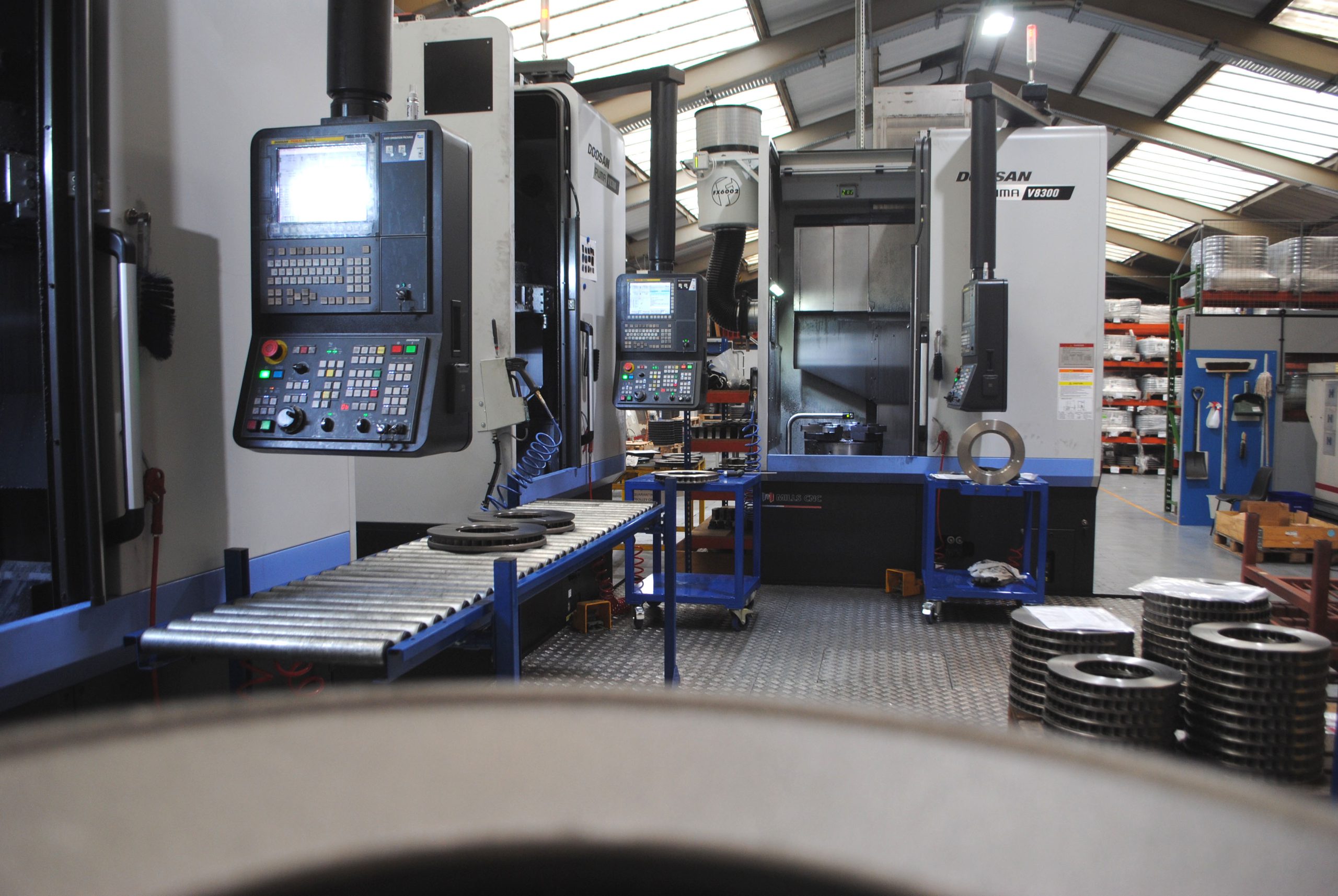 The three Doosan V8300 vertical turning lathes were installed at Alcon's Tamworth facility in June 2018 as part of a process improvement solution, designed by Mills CNC in partnership with Alcon production engineers, to manufacture the company's range of high-performance brake discs.
Alcon Components' advanced braking systems are used in the motorsport, automotive and defence sectors. The company supplies its systems and solutions direct to motorsport teams (F1, Formula E, World Rally Cross); to automotive OEMs (for use in their high-performance cars) and to defence contractors (armoured and military vehicles). It also manufactures braking systems for a large, internationally-based, after-market.
Some 70% of the company's braking systems are manufactured for export.
Prior to the acquisition of the new Doosan lathes, and the implementation of the new manufacturing process, Alcon machined its brake discs on three horizontal fixed head lathes.
These 'legacy' machines, whilst still performing satisfactorily, were relatively old having been purchased in 1983 when Alcon Components was first established. As a consequence, the machines are slow and are increasingly prone to breakdown.
Explains Brian Cutler, Alcon Component's Production Engineering Manager:
"Our business is growing and demand for our braking systems is at an all time high.

"Whilst this is clearly good news for the company, such an increase in demand was beginning to put pressure on our existing machining methods and manufacturing processes".
An internal review undertaken by Alcon identified that its brake disc manufacturing operation was a specific 'pinch point' that was affecting the company's overall productivity and operational efficiency.
Continues Brain Cutler:
"It was clear that we needed to invest in and significantly upgrade our brake disc manufacturing cell.

"We made the decision with the new cell to move away from horizontal lathes in favour of vertical turning lathes – and drew up a list of machine tool manufacturers who could not only supply the new machines but who could also develop a robust, flexible and repeatable machining process."
The vertical turning lathe imperative
Vertical turning lathes are best suited for machining wheel-, plate- and disc-shaped components which are characterised by their relatively large diameters and short (workpiece) lengths.
The machining process on a vertical turning lathe is inherently stable. With vertical turning lathes the workpieces stand upright and need less clamping force (due to the effects of gravity) than when horizontal lathes are used. They also enable higher cutting forces to be applied which improves removal rates and reduces cycle times.
Selecting Mills CNC
Alcon already had a pre-existing relationship with Mills CNC and, in the last seven years, had made significant investment in a number of Doosan CNC machine tools. These included horizontal and vertical machining centres, and multi-tasking lathes.
Comments Brian Cutler:
"We have a good relationship with Mills CNC.
"Doosan machines deliver excellent performance and they are competitively priced. The machines are also backed up by Mills' technical and after-sales services which are also first-class."
The new vertical turning lathe cell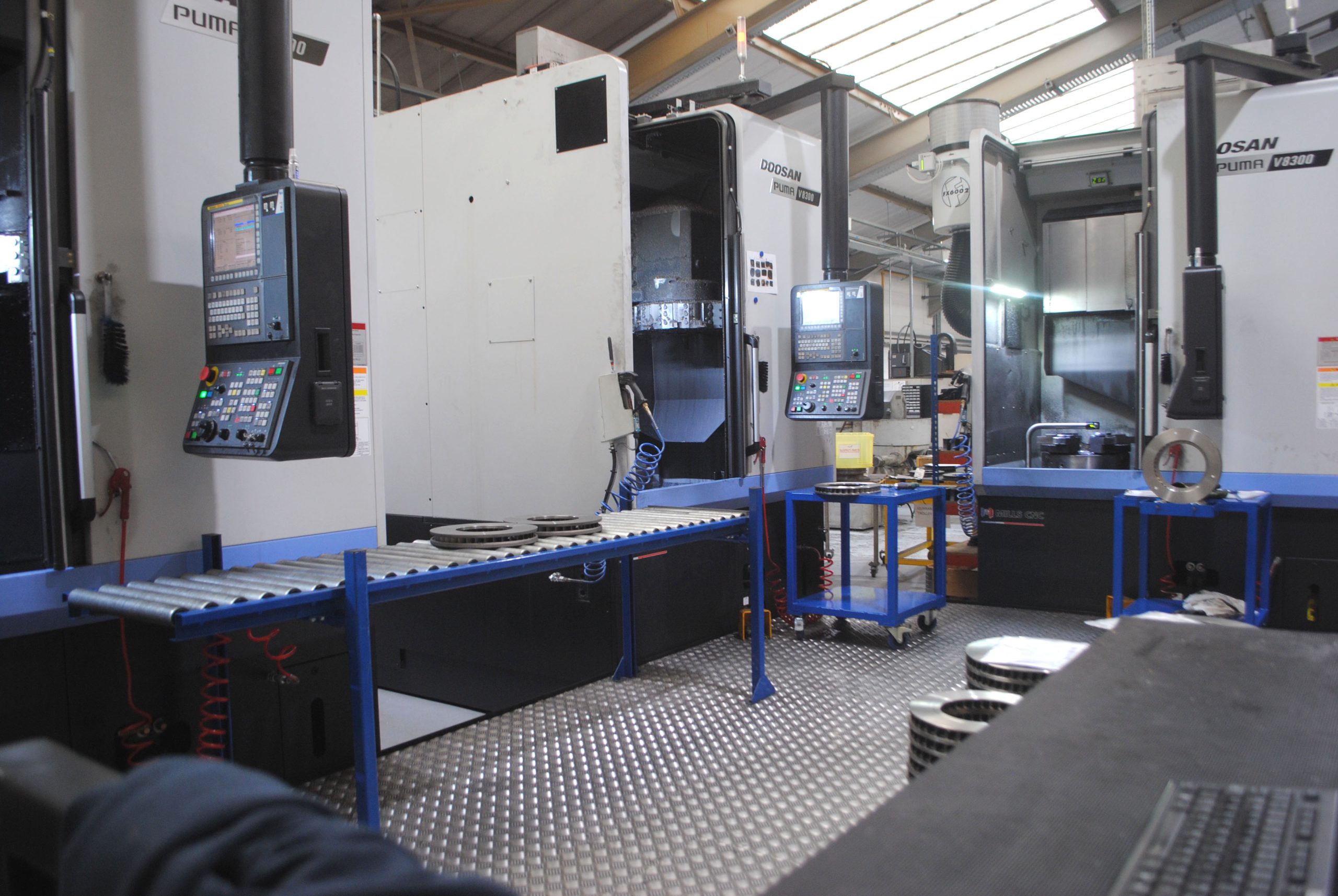 The new flexible manufacturing cell at Alcon comprises three new Doosan 15" chuck V8300 vertical turning lathes with Fanuc controls.
The machines feature an integral box guideway design that helps reduce vibration and facilitates heavy-duty and high-precision machining. All three machines are equipped with powerful (45kW/2000rpm), high-torque (2592N-m) spindles and fast servo-driven turrets (12-station) for rapid indexing and accurate positioning.
The machines have large axis travels – 495mm (X-axis) and 780mm (Z-axis), a maximum turning diameter of 830mm and a 750mm maximum turning height. The machines are fast with 20m/min rapid rates on their X- and Z-axes.
The V8300 lathes at Alcon are positioned in close proximity to each other enabling rapid part transfer between them, and are being used to machine a range of different sized brake discs.
The discs are made from cast iron (castings) and are machined to tight tolerances and high surface finishes in low volumes. Alcon currently machines approximately 500 – 600 discs per week in the new cell.
Brake disc diameters vary in size (from 200mm to 405mm) depending on the end application.
Explains Brian Cutler:
"All our brake discs are produced in three operations using the three machines – so in effect that's one operation per machine.

"Initial roughing out operations are performed on one machine before the disc is transferred to the second and third machines for machining the top face and bottom face of the brake discs.

"Having three machines at our disposal means that production is not affected or interrupted if one machine goes down.

"The machining process, developed in collaboration with Mills and using the three V8300 vertical lathes, has enabled us to ramp up production and to reduce part cycle times by up to 40%.

"We are tweaking the process continuously to make it even more efficient and effective."