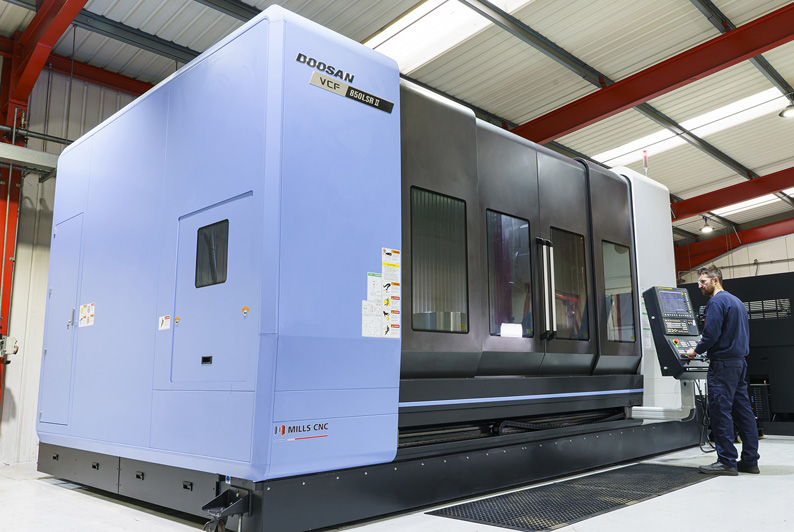 Market-leading provider of innovative and integrated turnkey and process improvement solutions makes a significant investment in three new Doosan machines from Mills CNC to increase and strengthen its in-house machining capacity and capabilities.
Mills CNC, the exclusive distributor of Doosan machine tools in the UK and Ireland, has recently supplied DRB Group, a market-leading supplier of innovative and integrated turnkey and process improvement solutions based in Deeside, with three new, high-productivity machine tools.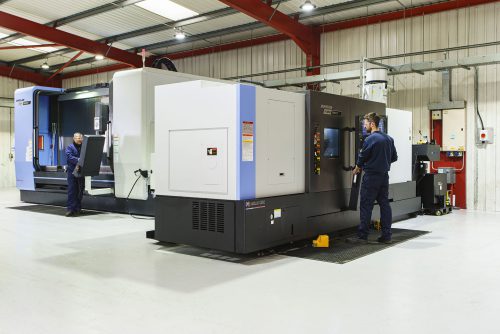 The machines comprising two Fanuc-controlled multi-tasking lathes with integrated Y-axes and driven tools, and a large-capacity, Fanuc-controlled 5-axis machining centre were delivered and installed at DRB Group's 100,000sq. ft machine shop facility in late 2021.
DRB Group
DRB Group is a family-owned business first established in 1976 with a focus on the repair, maintenance and supply of industrial electric motors, generators and mechanical transmission systems.
The company has, over the last 48 years, undergone a metamorphosis and today provides a growing number of UK-based processing and manufacturing customers operating in highly regulated and demanding sectors (i.e., rail, pharmaceutical, food and beverage, medical, energy, waste management -to name but a few), with a range of integrated and standalone services and solutions.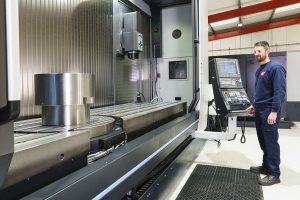 These can include the supply of high-quality machined components and assemblies, critical asset condition monitoring, maintenance and repair of customers' existing plant and equipment – through to the design, development, manufacture and installation of, what can often be, complex turnkey solutions that can incude new plant, equipment, processes etc.
With a dedicated project management team working alongside highly experienced design, applications and production engineers, and designers DRB Group is a proven and successful single source solutions provider with particular skills and competencies in mechanical, electrical, hydraulic and pneumatic systems and processes.
The new machine tool investment: a rationale
As part of its regularly updated strategic company-wide continuous improvement programme, DRB Group makes significant investment, year-on-year, in improving its people, its plant and equipment, and its processes and systems.
This commitment to continuous improvement has, over recent years, seen the company increase its headcount, implement an in-house Apprenticeship Training Programme, create dedicated areas for assembly, inspection, testing etc., and develop its in-house manufacturing capabilities (machining and fabrication).
Explains Matt Bennett, CEO, DRB Group:
"The investment in the three new Doosan machines was made to increase our machining capacity and improve our capabilities.

"Despite the outbreak of the pandemic, demand for our turnkey and process improvement solutions (many of which require the machining of bespoke components), and for our high-quality batch machining services, were on the increase and were putting pressure on our existing in-house machining resources.

"In order to avoid production bottlenecks occurring in the future, and to ensure that lead times were not compromised, we made the decision to invest in multi-tasking machine tools."
The multi-axis dimension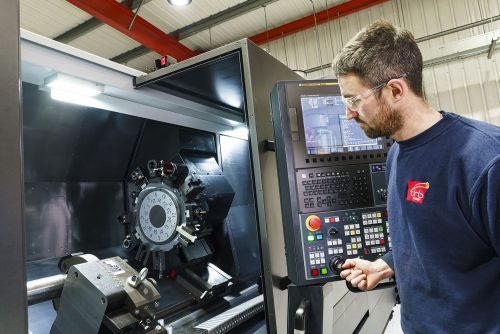 The three new Doosan machines acquired by DRB Group are all multi-axis, multi-tasking machines.
Multi-tasking machines deliver significant productivity, operational efficiency and quality benefits to manufacturers. These include:
Reduced part set-up and cycle times and reduced fixturing costs.
Increased part accuracies and repeatability's (because parts do not need to be transferred from one machine to another for completion.
The elimination of production bottlenecks and the ability to meet tight lead times and customer delivery schedules.
Commented Matt Bennett:
"We made the strategic decision not just to increase our machining capacity – but to increase our capabilities too.
"That's why we now have lathes with Y-axes, C-axes, driven tools and tailstocks, and why we have a large-capacity, ultra-versatile simultaneous 5-axis machining centre."
A meeting of minds
DRB Group, having audited its current machining resources and analysed where existing and future 'pinch points' were, and were likely to be, occurring, approached the market to discuss their plans and requirements with a handpicked number of machine tool suppliers.
Mills CNC was one of these suppliers.
"We did our homework and knew that Doosan machine tools, and Mills CNC, had good reputations in the market", said Matt Bennet.
From talking over their plans with Mills' sales and applications engineers it was agreed that a three new machine tool package comprising two multi-tasking lathes and a large-capacity 5-axis machine would meet DRB Group's immediate (and future) machining needs and requirements.
Remembers Matt Bennett:
"The Doosan/Mills CNC package had a number of advantages.

"As well as the machines ticking all the right boxes with regard to their technical specifications, they were also in-stock and could be delivered and installed quickly.

"The comprehensive, integrated and single-sourced services provided by Mills – like its independent machine tool financing operation and its well-resourced and responsive after-sales support services – all had a positive impact on our decision making."
The three new machines were installed at DRB Group's 6.5-acre facility in December 2021 and, since then, according to the company "haven't missed a beat."
The two Puma lathes have been operating around the clock machining precision parts for two customers and the VCF 850LSR has been used, amongst many other heavy-duty jobs, to machine large gearbox casings.
Concludes Matt Bennett:
"The new machines we now have at our disposal provide a strong foundation for future business growth."
The new machines:
i) VCF 850LSR
The Doosan VCF 850LSR II is a versatile, large-capacity, travelling column-type 5-axis machining centre ideal for 3 + 2, 4 + 1 and full simultaneous 5-axis machining.
The machine features a tilting B-axis that can rotate 110 degrees on either side of vertical, enabling it to machine large and complex parts in a single set up and, in addition to its large working envelope (3000mm x 850mm x 800mm – X/Y/Z-axes), also has an integrated 800mm diameter rotary table that increases its flexibility still further.
With fast 40m/min rapids, a powerful 32kW/12,000rpm spindle and a 60-tool position ATC – the VCF 850LSR is a productivity powerhouse of a machine.
ii) Puma 3100XLY
The 12" chuck box guideway Puma 3100XLY turning centre has a maximum turning diameter of 420mm and a 2125mm maximum turning length. Equipped with a powerful 22kW/2800rpm spindle (1123N-m), a 130mm (+/-65mm) Y-axis, driven tools (5,000rpm), a hydraulic tailstock and a 12 station (24-position) turret. The Doosan Puma 3100XLY is a high-accuracy lathe that can take on a range of different machining operations and machine complex parts in one set-up.
 iii) Puma 2600LY II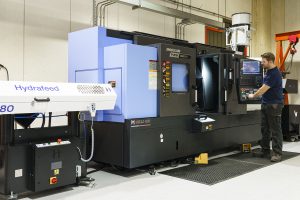 The Doosan Puma 2600LY II is a 10" chuck multi-tasking lathe with a fast and powerful 22kW/4,000rpm built-in spindle, a 105mm (+/-52.5mm) Y-axis, driven tools (5.5kW/5,000rpm), a servo-driven tailstock and a 12-station turret. The lathe was supplied with a bar feeder to further increase its productivity and ability to run unattended.