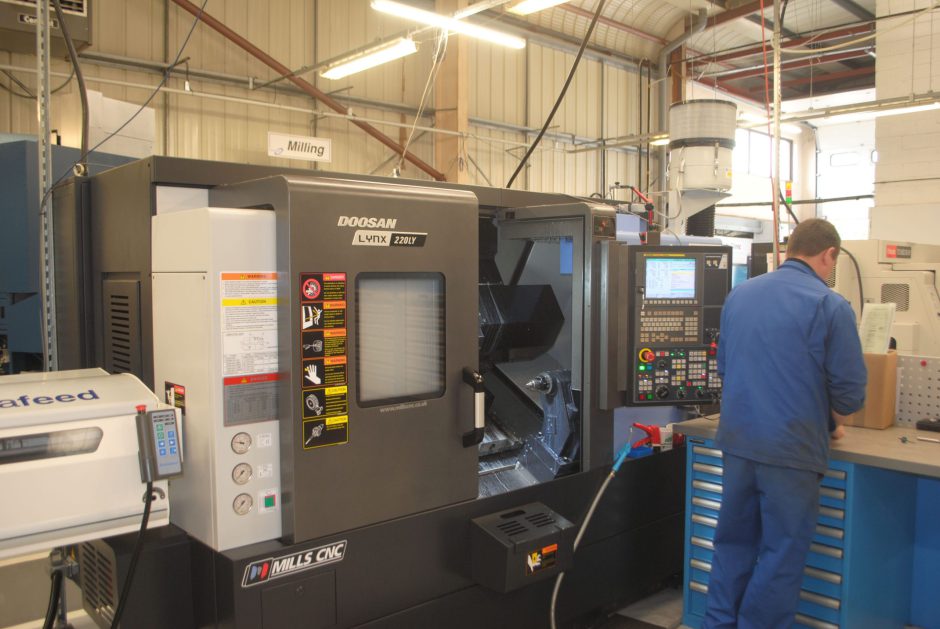 Doosan high-performance lathes and turning centres, supplied by Mills CNC, represent the 'turning technology of choice' for Gibbs Gears.
A strategic Continuous Improvement (CI) Programme implemented by leading gear manufacturing specialist, Gibbs Gears, at its facility in Stoke Mandeville is helping the company increase productivity levels and operational efficiencies, improve manufacturing flexibility and secure more orders…especially from within the global aerospace sector where the company supplies customers with parts used in wing surface actuators, engine controls, epicyclic fuel pumps and thrust-reverse units – to name but a few.
An integral element of the CI Programme, which was introduced 18 months ago and is ongoing, involved a project to rationalise and streamline the company's manufacturing operations, systems and processes.
The project involved undertaking an in-depth audit and analysis of the company's machining capabilities and capacity, and a comprehensive review of its existing machine tools and ancillary equipment (i.e. inspection, CAD/CAM etc.) investment decision making procedures – with a view to making them more effective and better aligned to the company's future machining needs and requirements.
One of the immediate results (so far) has been Gibbs Gears' decision to make Doosan fixed head lathes and turning centres (supplied by Mills CNC), the company's preferred turning technology platform.
Gibbs Gears
Gibbs Gears, established in 1954, manufactures and supplies high-performance, high-precision gears to the UK and worldwide markets.
The company manufactures a comprehensive range of standard gear solutions used across a diverse range of industry sectors i.e. aerospace, motorsport, medical, marine, power generation, oil and gas etc. This range includes – spur and helical gears, spline shafts, gear racks, pinions, worms and wheels, spiral & straight bevel gears, as well as gear box & gearbox assemblies.
In addition, the company has in recent years experienced a steady increase in demand for the manufacture and supply of low-volume non-standard gears (i.e. non-standard pitch and pressure angle gears), and the production of prototypes and NPI's.
To better manage and control its manufacturing operations, and to help reinforce and strengthen its position within existing and new customer supply and value chains, the company introduced its CI Programme.
Under the spotlight
The audit undertaken by Gibbs Gears into its existing machining capabilities revealed 'typical' issues prevalent amongst many component manufacturers.
Explains Managing Director, Reece Garrod:
"Our machine shop (at that time) comprised a myriad of different machine tool makes and models which we had acquired over the years. These machines, with their different capabilities, capacities…and controls, impacted on our manufacturing flexibility and, if not addressed, could affect our speed of response.

"Of particular concern was our ability to seamlessly transfer programmes and parts between machines. And, because machine operators were more familiar with say just one or two machines (as opposed to all of them), we couldn't always deploy staff where they were needed most."
On the basis of the audit, Gibbs Gears made a number of strategic decisions. With regard to the company's turning operations these included:
Sliding head lathe work (for small high-volume part production) would be outsourced rather be handled in-house;
Gibbs Gears' in-house turning operations would major on fixed head lathes and multi-tasking turning centres;
The Fanuc control system (and machines equipped with it) would become the standard operating system for the company;
Doosan lathes and turning centres (supplied by Mills CNC) would become the preferred turning technology platform.
Continues Reece Garrod:
"Doosan lathes and turning centres are popular amongst precision component manufacturers…and a growing number of our own customers have invested (and continue to invest) in these machines.

"Our own previous experience of Doosan machines and Mills CNC has been positive. In March 2012 we invested in a box guide-way Puma 2600SY (sub-spindle Y-axis) lathe which helped us improve part accuracies and repeatability's, achieve superior surface finishes and impressive set-up and cycle time reductions.

"We have subsequently invested in three more Doosan multi-tasking lathes – a Lynx 220LSYA in October 2014, and a Lynx 220LYA and Puma 2600LY in April 2016.

"The machines are being used to machine gear blanks and work-holding fixtures – and all four machines are great performers…are reliable…and haven't missed a beat since being installed."
Part and parcel of the decision to select Doosan technology from Mills CNC concerned the after-sales service and support provided by the latter.
Continues Reece Garrod:
"Mills CNC has a good reputation for its after-sales services.

"Machine tool downtime is something we can ill afford and Mills, with its team of skilled service engineers and its extensive UK parts operation, can always be relied upon if there is a problem."
Gibbs Gears is looking to grow its aerospace business in the future.
Already AS9100 Rev C accredited, the company has recently invested in the latest gear CMM inspection technology and sophisticated CAD/CAM software.
A major recent initiative has seen Gibbs Gears embark on a joint business venture with a leading Indian manufacturer. The venture between both companies delivers significant benefits:
The ability to supply 'regionally-based' customers with high-precision aerospace components (gears and spline shafts);
Additional capacity and capability to manufacture higher volumes of routine and standard parts for the international market as a whole.
The company is continuing to implement Lean Manufacturing best-practice across all of its operations and under the stewardship of Lean Manufacture Manager, Paul Stevens – has introduced SQDCI (Safety, Quality, Delivery, Cost and Inventory) to help monitor the company's manufacturing KPI's (Key Performance Indicators).