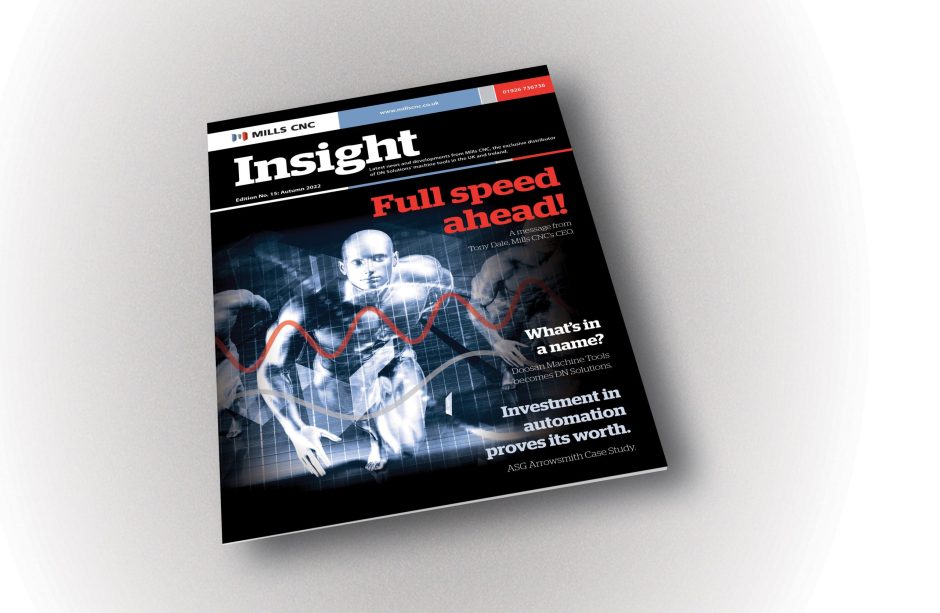 Mills CNC, the exclusive distributor of DN solutions' machine tools in the UK and Ireland, has published the latest edition of its popular, customer-facing magazine – Insight.
Available in digital and hard-copy formats, this edition brings Mills' customers and the wider manufacturing community at large up-to-speed with news and the latest developments from the UK's favourite machine tool and automation systems' supplier.
It is the first edition of Insight published since the run up to the MACH 2022 exhibition in April where Mills had the largest stand of the show, exhibiting 16 CNC machines, five cobots and two industrial robotic systems. It was an impressive range of technology showcased on its 'Broadway' themed stand.
To remember and celebrate such a successful show – there is a short MACH 2022 retrospective included in the edition.
The latest edition is also the first since Doosan Machine Tools announced that, effective from June 2022, its name would be changing to DN Solutions.
Details of the name change and its implications for Mills CNC customers are all included in a short, explanatory article towards the beginning of the edition.
Continuing with the theme, this edition of Insight is the first since the company launched its new website in August.
As such, there is an editorial piece on the new site focused on the rationale behind, and reasons for, the change and what can now be expected and experienced when visiting the Mills CNC website.
In addition to the above, the September edition also contains a number of recent customer case studies, where the emphasis is on investments made in multi-tasking machine tools and automation systems.
Finally, there is coverage devoted to a number of new machine tool introductions that have occurred over the last six months.
The only thing that is constant …is change.
There have been many changes and developments here at Mills and in the sectors we serve, since the last edition of Insight was published. The latest edition keeps readers abreast of these developments.
Tony Dale, CEO of Mills CNC
Get your copy of Insight Magazine