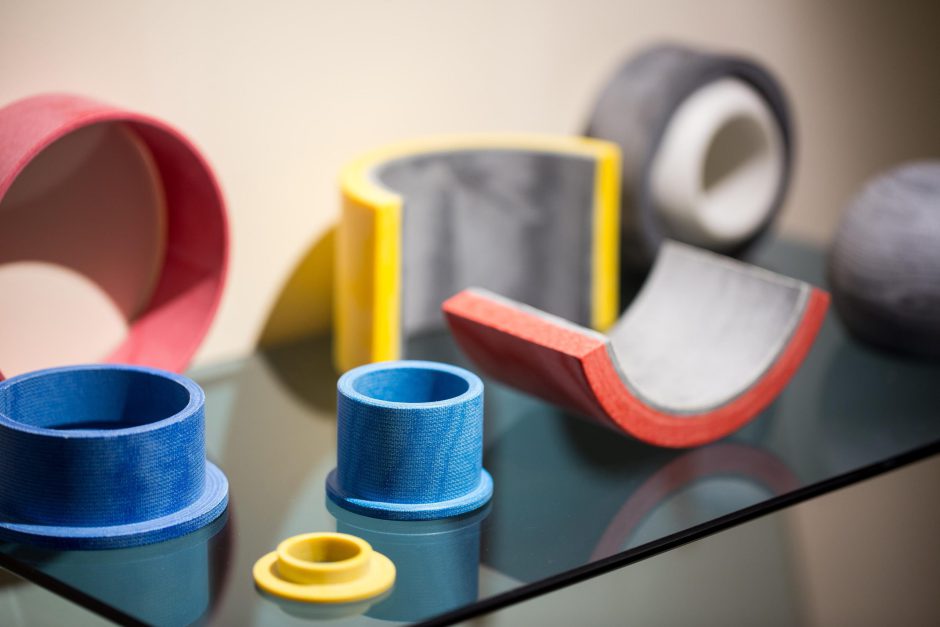 Leading composite manufacturing specialist – Tufcot – invests in fifth Doosan lathe in 10 years.
In July 2016 Tufcot (www.tufcot.com), a leading specialist manufacturer of composites materials, had its fifth Doosan machine delivered to its facility in Sheffield.
The machine, a new Doosan Puma 3100 lathe supplied by Mills CNC, joined the four previously-purchased Doosan lathes acquired by the company since 2007. The new Puma is being used to manufacture, using 'dry' machining strategies and techniques, high-precision finished and semi-finished Tufcot® components that include spherical bearings, bushes, flanged bushes, washers, wear pads and hydraulic wear rings for Tufcot's diverse and growing domestic and international customer base.
According to Tufcot's Managing Director, Greg Majchrzak, this latest Doosan machine acquisition (like those that preceded it), "will help Tufcot achieve future growth and maintain its competitive edge."
Explains Greg Majchrzak:
"We are continually improving and refining our products and services to customers. An integral part of this company-wide Continuous Improvement Programme involves investing in the latest and most advanced CNC machine tool technologies.

"We have a long-established relationship with Mills CNC and, during this time, have made Doosan lathes our preferred 'turning technology' choice. Doosan machines combined with the back-up, service and technical assistance provided by Mills CNC help us reduce lead times and ensure we are able to manufacture high-quality and high-precision products."
Tufcot, established in 1981 by directors Len Wheat, Elvin Majchrzak and Michael Majchrzak had, like many successful start-up businesses, relatively humble beginnings. Previously employed by British Steel in Sheffield, the three Directors had a combination of over 40 years' experience in the plastics and composites industry.
They used their collective expertise and know-how initially to serve the needs and requirements of a relatively small and select number of customers by first producing and supplying them with Tufcot® semi-finished products – laminates, tubes, rods – and later, machining and supplying them with a range of Tufcot® finished products that included wear pads and bushes.
In the first few years, the company operated from small rented premises and used a range of used/second hand machines to produce its Tufcot® products.
Fast forward to the present, and Tufcot is unrecognisable from these early days.
The company now employs over 40 people. It has moved premises four years ago to a modern manufacturing plant and now has an international distribution network supplying Tufcot® products around the world. It has recently acquired Lloyd's Register Type Approval for its T100MP grade for Pintle and Pintle Rudder Bearings used in the ship building and ship repair sectors.
Tufcot® – the material
Tufcot® composite material is manufactured from synthetic fibres and thermosetting resins. Its physical and mechanical properties make it (amongst many applications) an ideal bearing material for the following reasons:
It has a low co-efficient of friction
It is self-lubricating
It is hard-wearing and durable
It is dimensionally stable
It has low moisture absorption
It has a high strength to weight ratio
It has a wide application use and potential
Tufcot® is a material of choice for applications where the use of lubricants are undesirable or where their use can compromise component performance. Tufcot® grades are used extensively in the Marine, Mining, Oil and Gas, Rail and Hydraulics sectors, to name but a few.
The Doosan lathes
Tufcot has invested in five Doosan lathes – all equipped with Fanuc controls.
The most recent investments made include a 12" chuck Puma 3100M with 7.8kW/5000rpm driven tooling capability (acquired in 2014); a 12" chuck (standard) Puma 3100 purchased in 2016; a Puma 400MC large-capacity turning centre with large bore capability and a Lynx 220LM (long-bed lathe with driven tools) purchased in 2012 and 2007 respectively.
All Doosan lathes are powerful and have a rigid build and construction thereby enabling Tufcot to achieve rapid cycle times as well as high part accuracies and superior surface finishes.
Because Tufcot only machines composite materials – all Doosan machines at its facility are equipped with additional seals and extraction systems to prevent particle and dust ingress.
In addition, to facilitate the dry machining techniques employed by the company, compressed air as an alternative to coolant, is used to mitigate the effects of heat build during cutting operations by cooling both the component and the cutting tool, as well as removing debris from the cutting zone.
The end result is more stable and reliable machining processes.
Greg Majchrzak concludes:
"The investment made in Doosan machine tools (with Fanuc controls) means we have been able to standardise our turning processes and operations.
"Standardisation is important and means machine operators and programmers are familiar and comfortable with all the Doosan machines. It also enables parts and programs to be transferred between machines if required.

"The end result of such flexibility is reduced delivery times, improved efficiency and increased asset utilisation."
For information on Tufcot, please visit www.tufcot.com