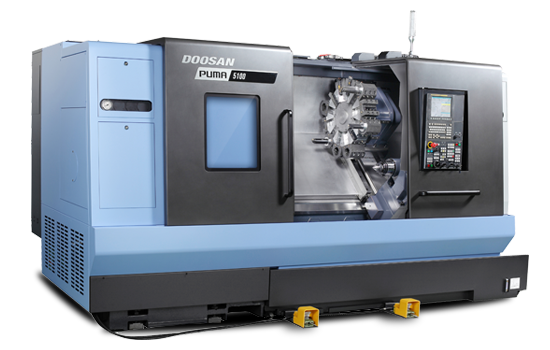 Mills CNC to showcase 19 high-performance Doosan lathes, machining centres and mill-turn machines – including seven new models – on its stand at MACH.
Mills CNC, the exclusive distributor of Doosan machine tools in the UK and Ireland, is exhibiting 19 Doosan machine tools at MACH 2016.
The company's stand (Hall 5 Stand 5430) is the one of largest Mills has ever booked at MACH. It is also one of the biggest stands at this year's Show.
Mills will be showcasing an impressive cross-section of its Doosan lathes and turning centres, 3- and 5-axis vertical machining centres, horizontal machining centres and mill-turn, multi-tasking machines on its stand – many of which are new machines making their UK and/or MACH debuts.
Says Kevin Gilbert, Mills CNC's managing director:
"Doosan machine tools set new benchmarks for performance, productivity, reliability and best value. The machines we're taking to MACH highlight all of these attributes."
Doosan lathes and turning centres
NEW Lynx 2100B and Lynx 220LYSC
Lynx lathes can be relied upon to deliver high part accuracies and superior surface finishes. They are compact, high-productivity machines equipped with powerful spindles, high-speed turret indexing and ultra- fast rapid rates that help minimise non-cutting time and, for small parts production, have no equal.
Mills is showcasing two Lynx lathes on its stand at MACH – the soon-to-be-launched Lynx 2100B – an 8"chuck/65mm bar capacity model equipped with a 15kW/4500rpm spindle, and the recently-launched Lynx 220LYSC – a long-bed lathe (510mm turning length) equipped with a 16-station turret, +/-52.5mm Y-axis, 15kW/5000rpm main spindle, 5.5kW/6,000rpm sub-spindle and driven tools (3.7kW/6000rpm).
NEW Puma GT2100M integrated with a Fanuc Robot
The Puma GT2100M is a universal box guide-way turning centre with an 8″ chuck / 65mm bar capacity and driven tools (5.5kW/5000rpm). The machine is equipped with a 12 station servo-driven turret and is being exhibited with an integrated Fanuc Robot to demonstrate its productivity potential achieved via plug and play automation.
Fanuc Robot
The Fanuc M20iA is a lightweight, compact and easy to install 6-axis robot with a maximum load capacity of 20Kg. The robot is equipped with 2 x load/unload grippers for secure work-handling, an intuitive HMI control, in-feed/out-feed conveyors and touch-screen control.  It offers a high speed automation solution for handling, pick & place and machine tending operations.
NEW Puma GT2600
The new GT2600 box guide-way turning centre has a 10" chuck / 76mm bar capacity, 658mm turning length and, like all models in the range is equipped with a programmable tailstock and an automatic tool-setter.
The machine is competitively-priced and built for productivity with a 22kW/3500rpm spindle and a 12 station turret.
Puma 2600SY (sub-spindle and Y-axis lathe)
The Puma 2600SY is a best-selling, class leading box guide-way turning centre with a 10" chuck / 65mm bar capacity; a 105mm Y-axis stroke, 12/24 position indexing turret, driven tooling (7.5kW/5000rpm), and an oil-cooled built-in main and sub-spindle.
 TT1800SY – twin-turret, twin-spindle turning centre
This true twin-spindle twin-turret 8-axis turning centre is equipped with 12/24 position indexing (BMT55) turrets and high-torque 22Kw oil-cooled built-in main and second spindles.
Standard equipment includes a remnant catcher, a fully programmable Renishaw tool-setter, parts catcher and output conveyor making the machine a virtual flexible manufacturing cell in its own right.
Puma 3100LY – large capacity, long bed lathe with Y-axis capability
This heavy duty box guide-way 12"/15" chuck (102mm bar capacity) turning centre has a long bed, with a 1,285mm maximum turning length, and a compound 130mm Y-axis stroke.
The machine has a high-torque built-in motor spindle (30Kw) spindle for tackling heavy-duty turning operations, and standard machine features include a fully-programmable Renishaw tool-setting arm, a fully-programmable tailstock and the Manual Guide i conversational programming system.
NEW Puma 4100M – large powerful lathe with driven tools
This is a high-performance lathe for manufacturers looking for a large 15" chuck capacity machine with driven tools (7.5kW/4000rpm)
The Puma 4100M has a box guide-way construction and boasts a number of innovative features that include -: a thread pickup function and an arbitrary thread repair function which allows the operator full control of the machine's feed rates during threading cycles. Standard features include a 30Kw spindle with an electronic gearbox for operations/applications that require high torque; a programmable Renishaw tool-setting arm, a programmable tailstock and the Manual Guide i conversational programming system.
NEW Puma 5100LYB
The Puma 5100LYB is a 2-axis, next generation 21" chuck (165.5mm bar capacity) heavy-duty turning centre equipped with a C – and Y- axis (+/-75mm), and driven tools.
The machine has a 12 station servo-driven turret with BMT75 tool holder interface and a directly-coupled 23Kw/4000rpm driven tool motor. The main spindle power is supplied by a high torque Fanuc 45Kw/2000rpm spindle motor. Thread repair and arbitrary functions are supplied as standard.
Doosan machining centres: 3-axis verticals
Mills is showcasing three Doosan 3-axis vertical machining centres on its stand at MACH – each one equipped with a different control system – Fanuc, Heidenhain and Siemens.
DNM 400 II (Siemens control)
This popular small footprint VMC is equipped with the Siemens 828D control system.
The machine has X- axis (762mm),Y-axis (435mm) and Z-axis (510mm) strokes; a 16.5kW/12,000rpm direct drive high torque spindle; 20bar Through-Tool-Coolant capability; a 30 tool ATC and the Siemens ShopMill conversational programming system.
DNM 650 II (Heidenhain control)
The DNM 650 Heidenhain vertical machining centre is equipped with the iTNC530 control making it ideal for 3D contouring.
The machine has large axis strokes X-axis (1270mm), Y-axis (670mm) and Z-axis (625mm), and a direct drive 32kW high-torque spindle motor. Standard features include 20bar Through-Tool-Coolant capability, a 30 Tool ATC and Heidenhain Conversational Programming.
NEW DNM 5700 II (Fanuc control)
The DNM5700 II is the latest generation of Doosan DNM vertical machining centres and features a large Y-axis stroke (570mm), and the advanced Fanuc 0iF control which delivers fast processing speeds and has a user-friendly graphic display.
The standard machine features 20bar Through-Tool-Coolant capability, a 30 tool ATC and Manual Guide i conversational programming.
Doosan machining centres: 5-axis machines
DNM 350 5AX – compact 3 + 2 positional 5-axis machine
This popular entry level 5- axis machine has excellent 3+2 positioning capability and has a Fanuc control with good high-speed look ahead functionality and a data server.
Standard equipment includes a 40 Tool ATC, 20 bar Through-Tool-Coolant and an intelligent and integrated thermal compensation system. The machine's 12,000rpm spindle is directly coupled to its Fanuc high-torque 18.5kW motor.
VCF850S with iTNC530 Heidenhain Control
This new multi-purpose vertical machining centre provides a versatile multi-tasking solution that includes full 5-axis simultaneous machining.
The machine has an X-axis traveling column and fixed bed design with the standard bed length being 2,000mm (a 3,000mm bed length model is also available which accommodates pendulum machining).
The machine has a Y-axis stroke of 850mm, a swivel head B-axis (+/-110 degrees), and an optional Ø800mm built-in table. The built-in spindle is powerful 32kW/12,000rpm and standard equipment includes a 60 Tool ATC, the Big Plus Face and Taper type tooling system and 20bar Through-Tool-Coolant capability.
Doosan machining centres: Horizontal machines
HP 5100 II – high-performance Horizontal machine
This high performance twin 500mm pallet BT40 Horizontal Machining Centre features the latest, most advanced design and includes a redesigned base casting for improved stability and accuracy and a servo-driven tool changer for increased speed and reliability.
The machine has a built-in 14,000rpm /20,000rpm spindle with rapid traverse rates in X-, Y- and Z- axes of 60m/min. The machine's ATC can be specified from 40 to 262 tools.
NEW DHF 8000 machine with nodding head design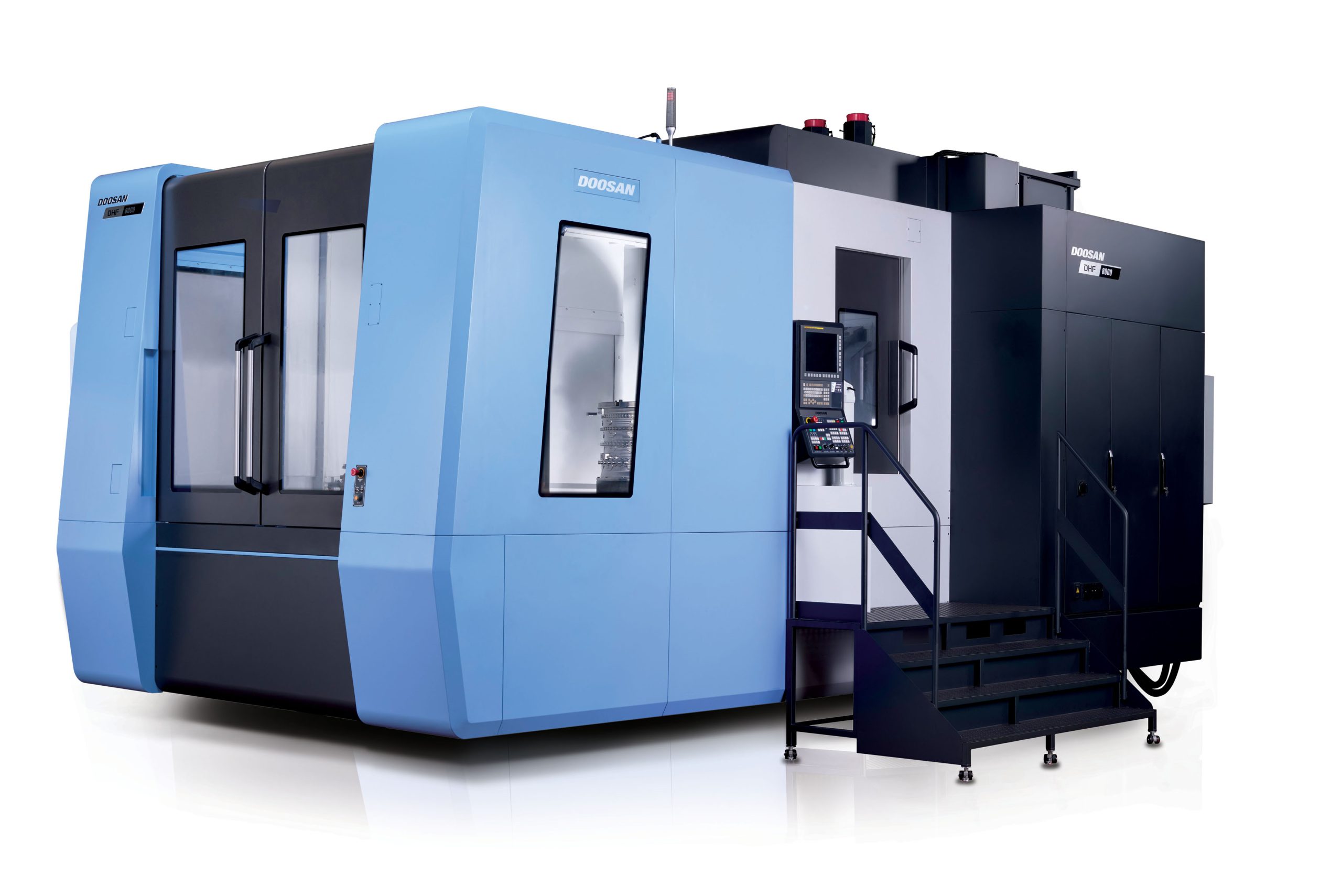 The DHF 8000 is a large 5-axis simultaneous twin pallet horizontal machining centre specifically designed for use in the aerospace industry and, as such, is second to none for cutting tough and difficult-to-machine materials such as those used engine housings etc.
The machine features a nodding head design enabling it to cut in both vertical and horizontal planes thereby increasing productivity and flexibility. Dual ball screws are incorporated on both Z- and Y- axes to deliver powerful and smooth cutting action and linear scales on all axes guarantee long term accuracy. The machine has twin pallets (each pallet is 800mm x 800mm) and a 25kW spindle with 2- speed gearbox and HSK100 spindle taper.
Doosan Machining Centres: Tapping Centres
T4000 – high-performance machine
The T4000 is a high productivity and high performance tapping centre with a 21 tool servo- driven ATC and a BT30 12,000/24,000rpm spindle.
Rapid traverse rates of 56m/min on all axes mean that the machine is incredibly fast. The T4000 has axis strokes of X-axis (520mm), Y-axis (400mm) and Z-axis (350mm).
Doosan Mill – Turn machines
NEW SMX 2600S – flexible multi-tasking machine
SMX machines represent the third generation of Doosan Multi-tasking mill-turn centres – the 'S' stands for 'Super'.
The SMX2600S is equipped with a 10" chuck and has 81mm bar capacity on both left and right hand spindles. The machine's Y-axis stroke (300mm) is delivered via orthogonal movement on high-precision class roller-type guide-ways. Accuracy is maintained by 6 thermal sensors positioned across the machine with the machine's spindles and X-axis ball screw nut cooled by oil.
Standard equipment includes Capto C6 built-in spindle and a 40 tool front-loading ATC.
SMX 3100 – large-capacity multi-tasking machine
This machine is similar to the SMX2600S – but with a larger capacity.
The SMX 3100 has a 12" chuck main spindle (102mm bar capacity) and is equipped with a servo-driven tailstock and a programmable steady rest for supporting large parts.
The main high-torque 30kW spindle is oil-cooled and the machine's milling capability is 26kW/12,000rpm
Standard equipment includes a built-in linear Renishaw tool-setter and a full 5-axis simultaneous control is available.
Concludes Kevin Gilbert:
 "We can confidently say that our stand at MACH and the machines being showcased will pull in the crowds. Few if any other stands will be exhibiting such a broad range of technologies, and the fact that we're also launching a number of new machines into the UK at the show is another reason why Mills' stand (Hall 5 Stand 5430) will be many visitors' first (if not their only) port of call."