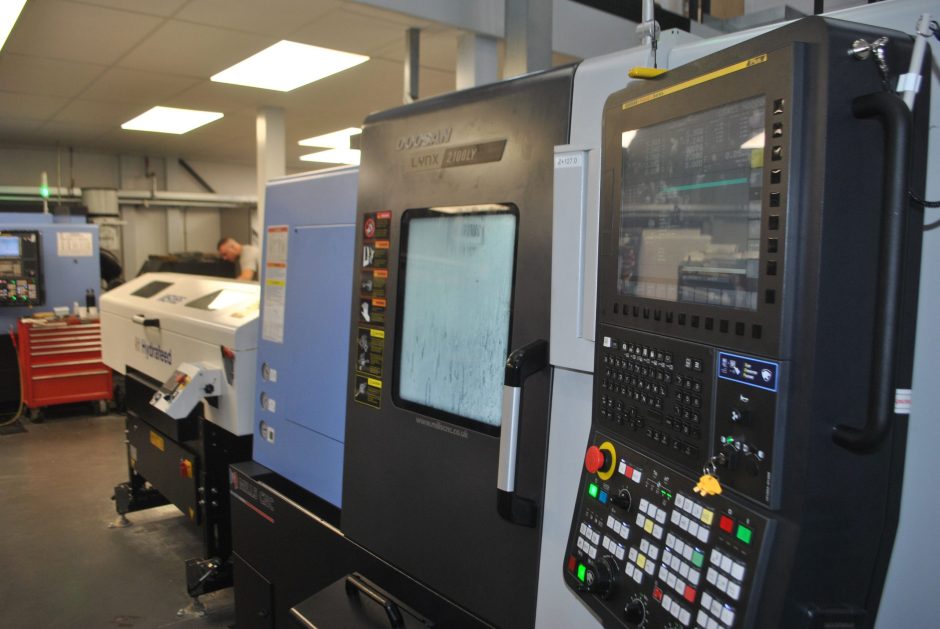 MJ Engineering Ltd., a leading precision subcontract specialist, significantly increases its machining capacity and capabilities with a three new machine tool investment.
Mills CNC, the exclusive distributor of DN Solutions' (previously Doosan) machine tools in the UK and Ireland, has recently supplied leading precision subcontract specialist – MJ Engineering Ltd – with three new, high-performance machines.
The machines, all equipped with the latest Fanuc controls, and all ordered at the same time in February 2022, comprise two 6" chuck Lynx 2100LYA compact lathes and a large-capacity DNM 6700 3-axis vertical machining centre.
The machines were installed at MJ Engineering's modern 7500 square foot manufacturing facility in Market Harborough between April and August 2022, and are being used to machine complex, high-precision components for a number of UK and international customers operating in the motorsport, oil and gas and aerospace sectors – to name but a few.
Investing in new machine tools
The latest investment is significant and is totally in keeping with family-owned MJ Engineering's commitment to continuous improvement which, according to managing director, David Simpkin, "enables us to provide customers with high-quality, competitively-priced machined components delivered on time…every time."
It also is proof positive that the company's progressive and strategically-led CapEx investment programme, in place for over 10 years, but interrupted by the pandemic, is now back in full swing.
Prior to the Covid outbreak, we regularly invested in new, advanced machine tools and ancillary technologies. On average, since 2012, we acquired two new machines every year as a route to increasing our machining capacity and improving our machining capabilities.
David Simpkin, Managing Director at MJ Engineering
Since 2012, when MJ Engineering relocated to its current premises, the company has invested in 12 new Doosan machines – some to replace older machines, and others to provide additional capacity.
A common theme running through its most recent investments is a focus on multitasking machine tools which has enabled the company to improve its productivity and process efficiencies by machining precision parts to completion in fewer set ups with reduced labour and fixturing costs.
Our most recently acquired lathes (the two new Lynx 2100LYA machines are a case in point), are equipped with integrated Y-axes.
This, in addition to many of our lathes having bar feeders, has resulted in us becoming more productive and better able to meet the stringent lead time requirements demanded by our motorsport and oil and gas customers.
David Simpkin, Managing Director at MJ Engineering
The same emphasis on multi-tasking capabilities is evident with its machining centres. The new DNM 6700 and a DNM 650 II, purchased back in 2015, both have multi-axis capabilities achieved via the use and interchange of a 4th-axis unit.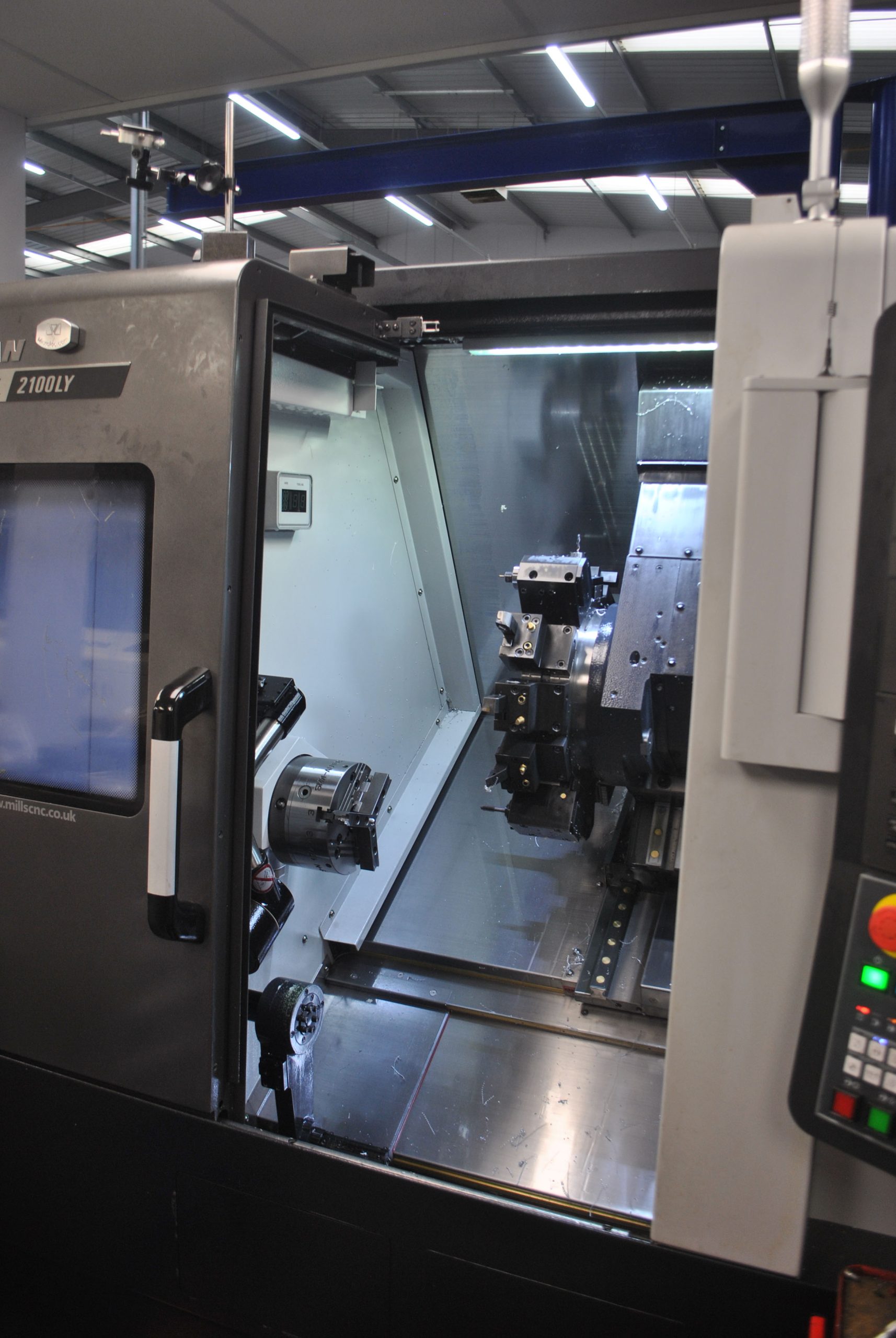 Why MJ Engineering choose Doosan machine tools from Mills CNC
MJ Engineering is a firm advocate of Doosan and DN Solutions machine tools having invested in 12 machines since 2009.
Doosan lathes and machining centres are technically-excellent, high-performance machines. They are reliable and represent good value.
Our experience with Doosan machines supplied by Mills CNC meant that when we decided to invest in new machines at the start of the year, we naturally approached Mills to discuss our requirements.
David Simpkin, Managing Director at MJ Engineering
Component manufacturing through the pandemic
Like many UK component manufacturers, the outbreak of the pandemic in 2020 and subsequent lockdown restrictions, had an impact on MJ Engineering and, in particular, on its F1 customers: the upshot being the postponement and cancellation of a number of races plus a significant scaling back of motorsport teams' research and development activities and their subcontract machining requirements.
"It did have an impact on us as we work with many F1 teams", remembers David Simpkin. "However, owing to a number of factors, Covid didn't hit us as hard as it did many other manufacturers."
Ventilator Challenge
Like many companies, MJ Engineering responded positively to the national Ventilator Challenge which was announced by the Government in March 2020.
During an eight-week period (April – June) the company was contracted to machine, in large volumes, high-precision ventilator components made primarily from PTFE (a low friction fluoropolymer) and aluminium.
To achieve the volumes required, MJ Engineering's four Lynx lathes, integrated with bar feeders, were running 24/7 for eight weeks.
It was a tall order but we, and our Lynx lathes, were up to the task. The temporary postponement of our motorsport business meant we had the capacity available, and our in-house turning technology and unrivalled machining expertise of our staff enabled us to complete the contract.
David Simpkin, Managing Director at MJ Engineering
Oxygen cylinder parts
In response to Covid-19, an existing MJ Engineering customer involved in the manufacture and supply of oxygen cylinders, significantly ramped up its production requirements from 2,000 to 12,000 parts per month.
The increase in demand from this long-established customer was unexpected but, with the additional capacity freed-up by the disruption to our motorsport business, we were able to machine the parts, in the volumes required, on one of our Lynx 220LM (chucking) lathes.
David Simpkin, Managing Director at MJ Engineering
Oil and gas
Being declared 'essential and protected', the oil and gas industry was not subject to the same restrictions as many other sectors.
As a recognised 'specialist' precision subcontractor with years of experience in the sector, and with proven expertise in machining tough and difficult-to-machine materials (i.e., titanium, Inconel, Hastelloy etc.), to tight geometric tolerances and super-fine surface finishes – MJ Engineering's oil and gas business suffered no serious decline during the pandemic.
(The oil and gas sector, pre-, during and post-Covid, accounts for 30% of MJ Engineering's annual turnover.)
Our oil and gas work remained constant through the pandemic.
This, plus the ventilator and oxygen cylinder contracts combined with us securing more high-value work from existing customers, enabled us to experience real growth during 2020 and 2021.
Our ability to machine high-quality components and meet customers' tight lead times, gained from working in the demanding motorsport, oil and gas and aerospace sectors, clearly stood us in good stead.
David Simpkin, Managing Director at MJ Engineering
Expanding machine tool capacity post pandemic
With business getting back to normal, and the motorsport sector in particular returning to pre-Covid levels, MJ Engineering is back on the investment trail.
The company's most recent three machine tool order is testament to that.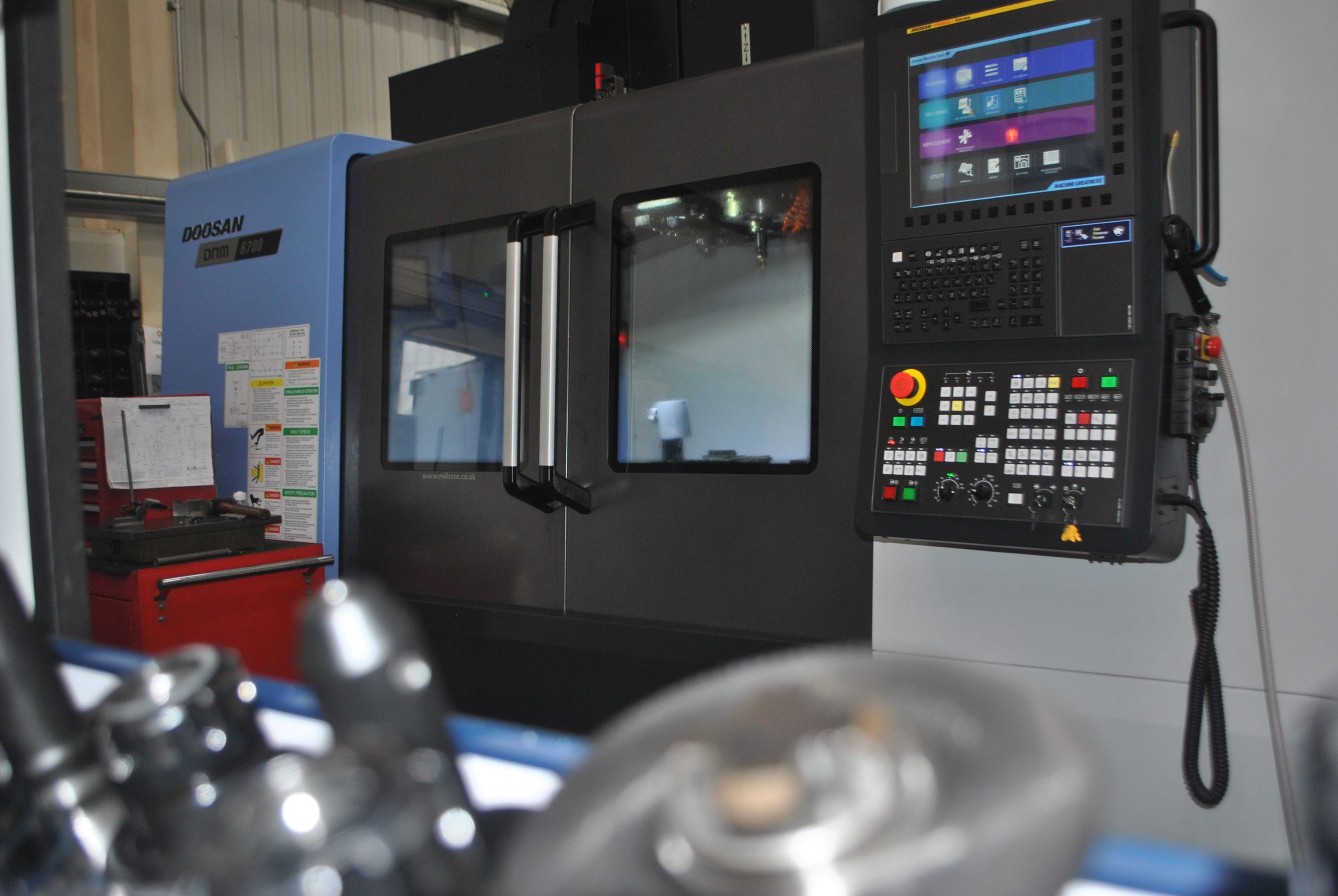 A closer look at the new CNC machines
The machines ordered by MJ Engineering in February 2022 comprise two Lynx lathes and a DNM vertical machining centre.
Lynx 2100LYA – installed April 2022
The 6" chuck Lynx 2100LYA, equipped with a 15kW/6,000rpm spindle and a 12-station servo-driven turret has a +/- 52.5mm Y-axis and driven tooling capability (5,000rpm).
The machine provides MJ Engineering with additional turning capacity and is being used as a second operations' chucking lathe – machining the back-end of parts.
DNM 6700 – installed April 2022
The DNM 6700 is a large-capacity vertical machining centre that has significantly strengthened MJ Engineering's milling capabilities.
The machine is equipped with an 18.5kW/12,000rpm spindle, a 30-position ATC and a 1500mm x 670mm worktable.
The machine has replaced a smaller DNM 400 machining centre acquired by MJ Engineering in 2010 and joins the previously mentioned DNM 650 II vertical machine to provide the company with an impressive milling resource.
With its large worktable, the DNM 6700 is able to machine multiple smaller parts in a single set up as well as processing larger components: a recent job involved the machining of a 1000mm x 600mm forged titanium component with a cycle time of 5 hours.
Lynx 2100LYA – installed August 2022
Similar to the Lynx 2100LYA installed in April (except with a 16-station turret), the new machine has replaced a Lynx 220LM lathe purchased by the company in 2015.
This machine has been integrated with a bar feeder to enable continuous production and the ability to run unattended overnight.
Other investments and improvements
Being committed to continuous improvement involves more than investing in new machine tools – important as that is.
To further improve its performance MJ Engineering has recently invested in a new ERP system to manage day-to-day business operations in real time and is actively considering developing its own in-house Apprenticeship Programme to help train and develop new talent into the company.
Summary
The three new machines acquired by MJ Engineering are part of a company-wide continuous improvement programme that, although disrupted by the pandemic, is now back on track with a vengeance.
The machines have helped the company significantly improve its productivity, efficiency and flexibility.
MJ Engineering is an advocate of Doosan machine tools from Mills CNC, and discussions about future upgrades to its existing machine tool portfolio are already well underway.