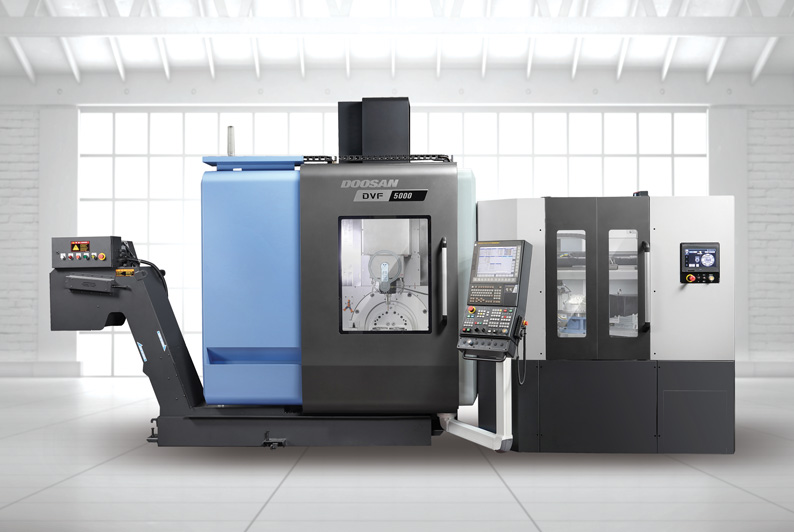 Mills CNC reports strong sales in Q1 and highlights the significant growth in demand for its Doosan multi-axis and Doosan multi-tasking machines, and for its advanced turnkey solutions as making a telling contribution to its 'better-than-expected' performance.
Mills CNC, the exclusive distributor of Doosan machine tools in the UK and Ireland, has reported that its sales performance in the First Quarter has been strong with Managing Director, Kevin Gilbert, acknowledging that machine tool orders,"whilst not at pre-pandemic levels – were certainly not that far off."
At the start of January 2021 there was a palpable nervousness amongst some manufacturers – and with good reason. The third national lockdown had been announced, and the impact and effects of the recent Brexit Withdrawal Agreement were largely unknown.
With certainty and predictability in short supply Mills, with characteristic bullishness and brio, went full steam ahead and launched its new and innovative Automation & Turnkey Centre located at its Campus facility in Leamington, and made preparations for the arrival, and subsequent introduction into the market, of a number of new Doosan machine tool models.
The opening of the Centre and introduction of new Doosan machines (as it transpired) did have a noticeable impact on Mills' sales performance in the first three months of the year – complementing and augmenting the company's day-to-day machine tool sales operations during the period.
Machine tool sales
Continues Kevin Gilbert:
"We started the new year strongly, and this wasn't just down to the continuing high demand, amongst component manufacturers, for our best-selling Lynx and Puma lathes, or for our DNM vertical machining centres either.

"What was (and still is) apparent was the sustained demand for our DVF (5-axis) machining centres, and for our SMX and MX multi-tasking mill-turn machines during Q1."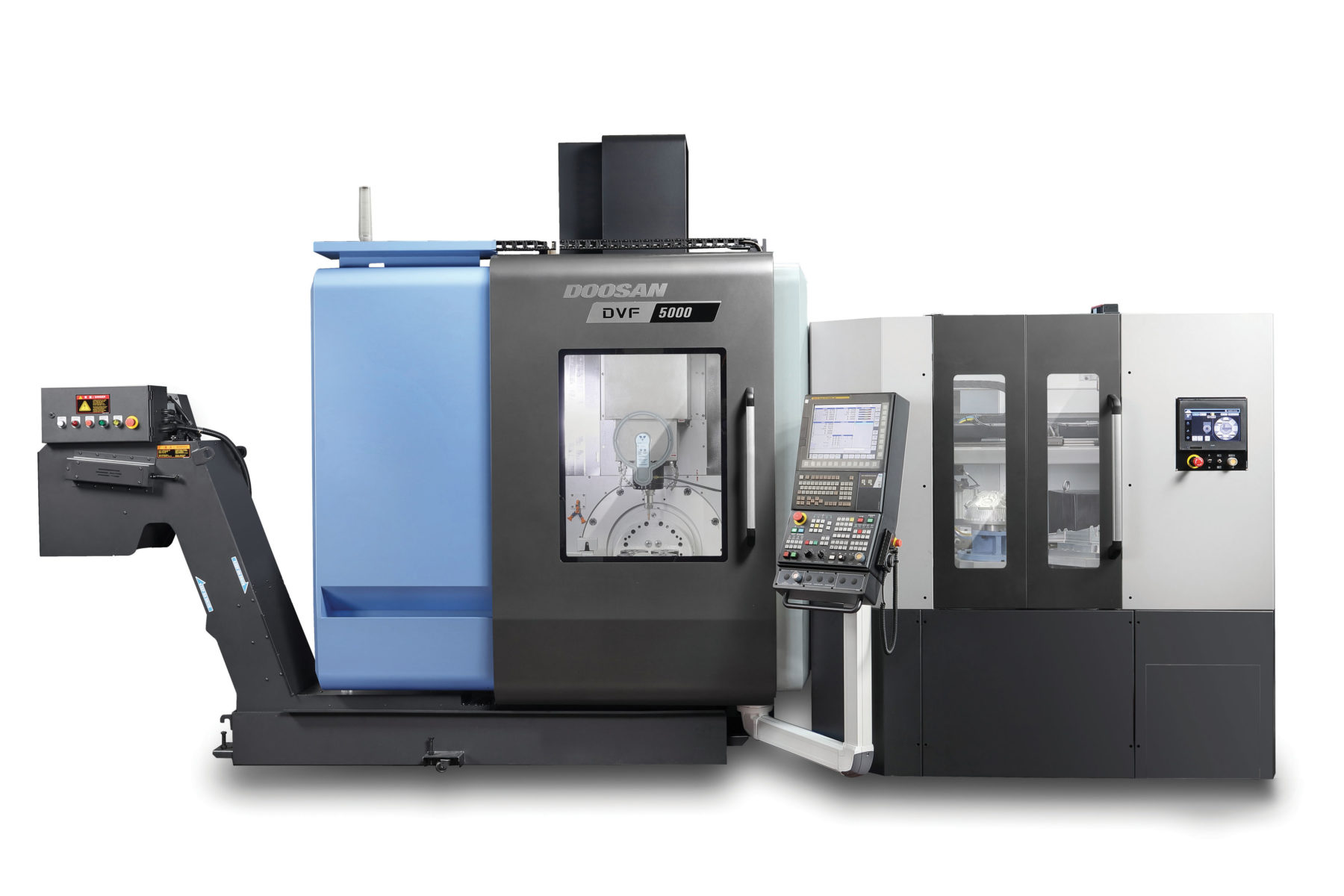 Doosan DVF machining centres, especially the DVF 5000 model, with its powerful, direct-drive spindle, generous-sized ATC, linear guideways and choice of control, has rapidly become the 'go to' 5-axis milling solution for component manufacturers looking for a high-performance, competitively-priced and, often, immediately available full simultaneous 5-axis machining centre.
A number of DVF 5000 machines were ordered and have been delivered to customers in the First Quarter, including two models integrated with Doosan Automatic Work Changers (AWCs).
Keeping pace with the increased demand for Doosan DVF machines was the rise in the number of orders taken by Mills for Doosan SMX and MX multi-tasking mill-turn machines. Worthy of special mention here is the recent order for a large-capacity Puma SMX 5100LXB machine.
The SMX 5100L series is new and was introduced, by Mills, into the UK and Ireland at the beginning of 2021.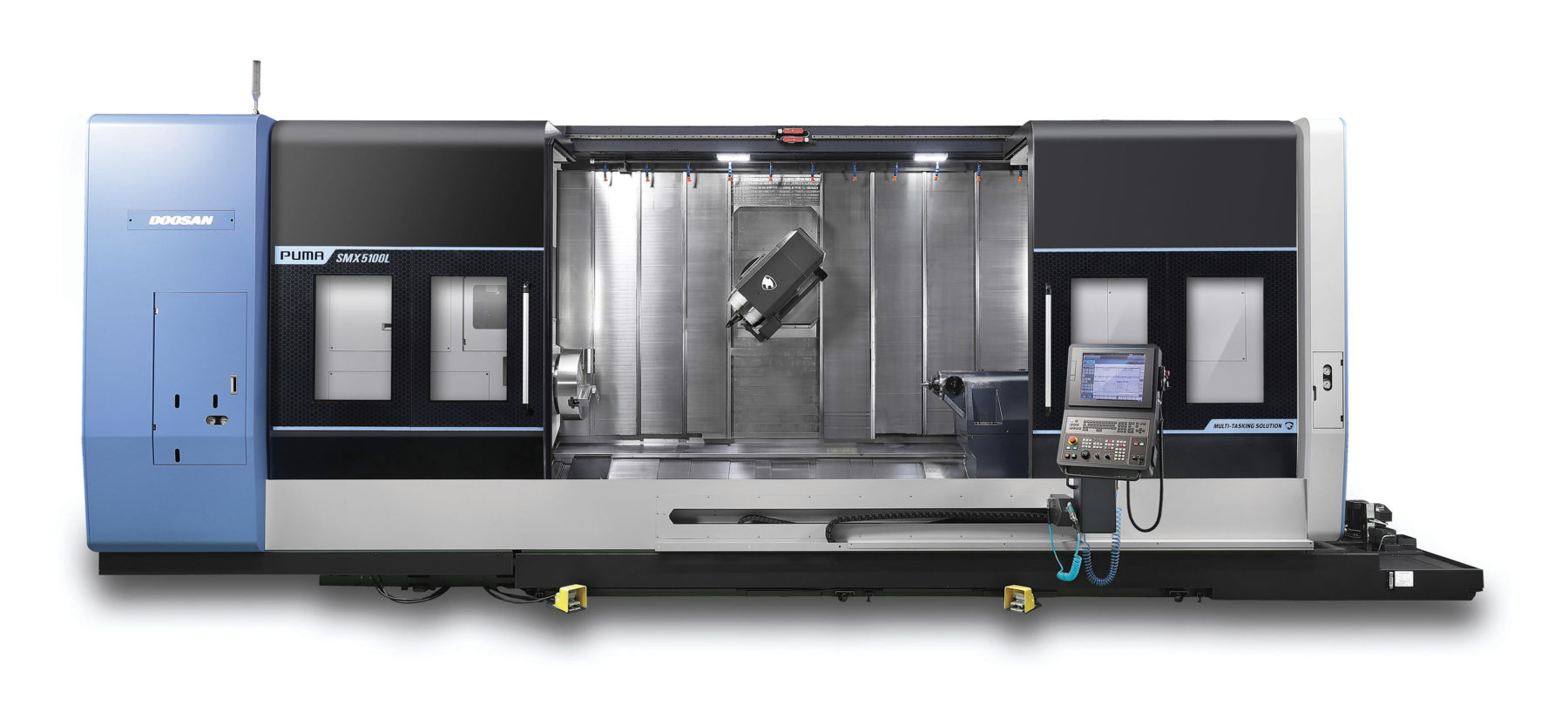 There are four different models in the SMX 5100L range, with the SMX 5100LXB model having a 21" chuck and a maximum turning diameter of 830mm and turning length of 4070mm. The machine features a servo-driven tailstock for the machining of long shafts and tubes etc.
Says Kevin Gilbert:
"SMX machines are fast, powerful and accurate. We were delighted when the first machine was sold: I am confident that it will be the first of many."
Ireland
Although first quarter machine tool sales across the UK remained resilient, even buoyant in some regions, it was the sustained demand for new Doosan machines throughout the island of Ireland that was really noticeable.
Explains Kevin Gilbert:
"Ireland is an important area for us, and we have a loyal (and growing) installed customer base there.

"Sales, over the first three months of the year, in Ireland were exceptional…not just in volume but also by technology type…with 5-axis machines and multi-tasking turning centres and mill-turn machines being prevalent."
Automation & Turnkey Centre
Mills' recently-launched Automation & Turnkey Centre provides the ideal location for the company to showcase its advanced SYNERGi Automation Systems, and its range of Doosan collaborative robots.
Although the lockdown and subsequent travel and social distancing restrictions clearly impacted on the number of manufacturers able to visit the Centre in the first quarter, the company nevertheless reported a steady increase in demand for its advanced turnkey solutions during Q1 – many of which had automation at their core.
Says Kevin Gilbert:
"There is a definite trend amongst UK and Irish manufacturers to invest in high productivity and high efficiency automation-led turnkey solutions.

"Since the beginning of the year we have designed and delivered a number of turnkey solutions for customers looking to improve their productivity, performance and competitiveness."
New machine tool introductions
Mills regularly introduces new Doosan machine tools into the market at the start of every year – and 2021 was no exception.
As well as launching a new range of SMX 5100L multi-tasking mill-turn machines, Mills also prepared the ground for the introduction of a new range of 10" chuck Lynx lathes with Y-axes.
Although the new Lynx 2600Y and Lynx 2600SY models will not be in stock until late April 2021, such is the reputation of Lynx machines, that the company has already taken a number of orders for them.
Concludes Kevin Gilbert:
"Clearly there was some apprehension at the beginning of the year but, after a difficult 2020, it does look as though manufacturing in the UK and Ireland is 'bouncing back'.

"The depth and breadth of the Doosan range of machines combined with our advanced automation solutions means we are ideally positioned to capitalise on the upturn. It's fair to say that we are cautiously optimistic about the remainder of the year."