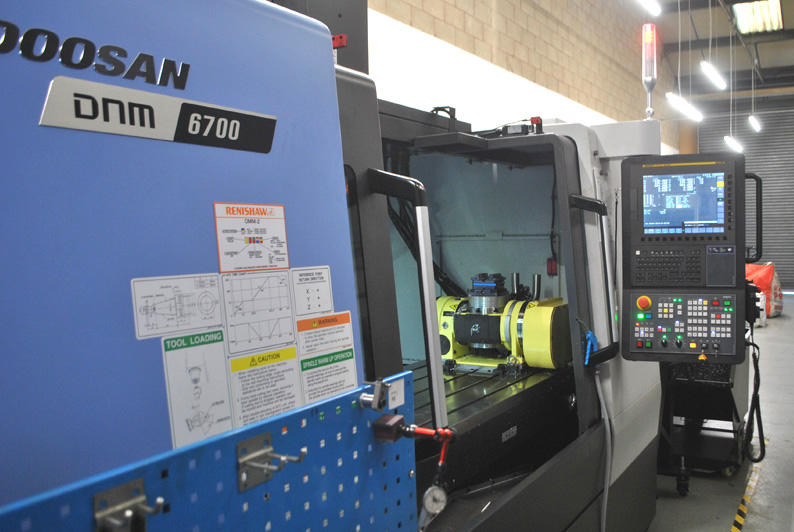 Leading precision subcontractor, Colt Precision, invests in a best-selling Doosan DNM 6700 vertical machining centre from Mills CNC.
Mills CNC, the exclusive distributor of Doosan machine tools in the UK and Ireland, has recently supplied leading precision subcontract specialist Colt Precision Ltd., with a new large-capacity vertical machining centre.
The machine, a Doosan DNM 6700 with the latest Fanuc 0iMP control, was delivered and installed at the company's 7,000sq. ft facility in Tewkesbury in May 2021, and was supplied with a Nikken 5AX 201FA (5-axis) rotary tilting table to help increase its already impressive capabilities and wide application potential.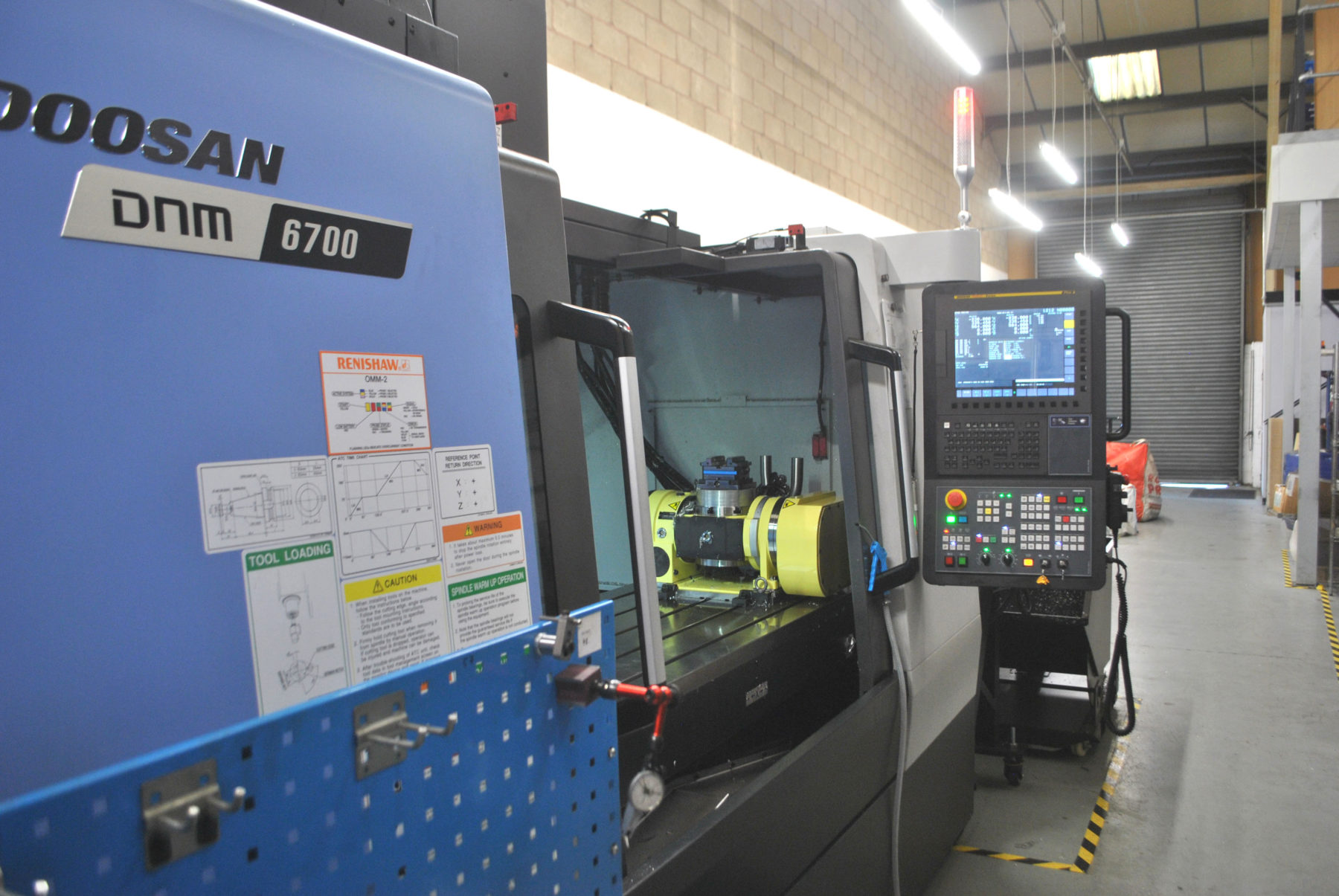 Since being installed the DNM 6700 has been used to machine a range of high-precision and, often exceedingly, complex parts for the medical devices, defence, aerospace and general engineering sectors…to name but a few.
These parts, made from a diverse range of materials that include Stainless Steels, steel, aluminium, titanium, plastics etc., are machined, in relatively small volumes (that include prototypes and one-offs) to exacting tolerances and surface finishes.
Although the machine was delivered to Colt Precision in mid-May 2021, the machine tool decision making process began some months earlier and was influenced by several inter-connected factors. These included:
1. The company directors' strategic decision, and long-term intention, to become less reliant on the medical devices sector (especially relating to orthopaedic device and implant manufacture)
2. A commitment to continuous improvement which, since 2014 when the current owners and directors bought the trading assets of Colt Precision Ltd., has resulted in regular investment in the company's people, in its plant and equipment, and in its processes and systems
3. The impact and effects of the pandemic
In the beginning
Explains owner and co-director, Simon Tarrant:
"When we acquired Colt Precision in 2014 our objective was (and still is) to create a world-class manufacturing company machining and producing high-precision and competitively-priced components delivered to customers in budget and on time…every time.

"We made the decision, owing to our background and previous experience, to focus on the medical devices sector and did everything we could to grow the business, build a strong reputation in the market for precision and perfection, and cultivate a growing and loyal customer base."
To help with its objectives the company achieved ISO 9001 and ISO 13485 certification (a QMS specifically designed for medical device manufacture) and embarked on a strategic investment programme that, over the past seven years, has seen it significantly improve its manufacturing capacity and, perhaps more importantly, its capabilities too.
Continuous improvement programme
Continues Simon Tarrant:
"In 2016 and 2018 (respectively) we strengthened our CNC milling operations by investing in two multi-axis machining centres.

"The ability to machine parts in one hit has helped us reduce part cycle times, improve lead times and become more competitive."
Since 2014 the company has also invested in wire EDM and laser marking technologies, created an in-house passivation plant, improved its inspection facilities and, in 2019, acquired its first Doosan machine tool – a Lynx 2100LSYB lathe with integrated Y-axis and driven tooling capabilities.
Explains Simon Tarrant:
"We are always monitoring and analysing the business and our performance. If and when we identify a weakness or an area that can be improved, we act quickly and decisively to rectify the situation."
An agile company
Following an internal audit undertaken in 2018 specifically focused on company sales, the future sales pipeline, existing customers etc., the company made a conscious decision to gradually reduce its dependance on the medical devices sector.
It was clear that, with 80% of business directly, or indirectly, linked to this one sector, any future reduction in demand or market downturn could, and would, leave Colt Precision exposed and vulnerable.
The outbreak of the pandemic proved that the company's decision to diversify was both a prescient and a prudent one.
Eggs and baskets
Remembers Simon Tarrant:
"Before the Covid-19 outbreak we had already successfully begun to diversify our operations and had, for example, won significant and repeat machining orders from aerospace and defence customers.

"The quality procedures and processes we had in place (a prerequisite of operating in the medical devices sector) combined with our commitment to best-practice and improvement proved essential in our ability to reposition the company and achieve a more 'balanced' business."
Having said that the pandemic outbreak did have a significant impact on Colt Precision's business with many of its remaining medical devices' customers cancelling and postponing orders – often at a moment's notice.
Says Simon Tarrant:
"It was like somebody turned off the tap.

"From December 2020 onwards, almost three months before the UK experienced its first lockdown, the global medical market felt the tremors of what was to come.

"Our orthopaedic and implant customers were focused on reducing their inventories, hospitals cancelled implant operations indefinitely and demand collapsed – virtually overnight.

"We made the strategic decision not to hope or wait for the (medical) market to save us and instead got on the front foot…made the decision to stay open…and promote, digitally and through word of mouth , our expertise and range services to existing customers and new prospects."
The decision paid off.
Companies from a diverse range of industries and sectors requiring access to high-quality, reliable and competitively priced machining services responded to Colt Precision's marketing and promotion.
So much so in fact that, by Summer 2020 Colt Precision had 'weathered the storm' and was fast on its way to diversifying its customer base.
Says Simon Tarrant:
"Not that long ago 80% of our turnover was derived from the medical sector. It's now more like 40%."
Moving forwards
To consolidate and grow its position in other industries and sectors, which incidentally also includes other medical markets like surgical instruments, equipment and accessories etc., a review of the company's existing CNC technologies was undertaken in January 2021.
To help (and facilitate) the company moving into different industries and sectors it was decided that that its milling capabilities needed to be revamped and strengthened. As a result, a shortlist of potential machine tool suppliers was created.
Says Simon Tarrant:
"We have invested in a number of CNC machine tools over the years and had a good understanding of the market and what we required."
Of critical importance to Colt Precision were the following:
– the size and capacity of its working table
– the power (and speed) of its spindle
– the rigidity of the machine including the spindle/tooling interface
– the CNC control
– the incorporation/integration of a 5th-axis unit
– the swarf management/chip evacuation system
– in-process tool/workpiece measurement
– proven after-sales service and support
The DNM 6700
The Doosan DNM 6700 is a large-capacity vertical machine with 1300mm x 670mm x 625mm (X/Y/Z axis travels), and a 1500mm x 670mm worktable.
The machine features a direct-drive 18.5kW/12,000rpm spindle with the BIG PLUS dual face and taper configuration, a 30-position ATC, roller LM guideways, integrated thermal compensation and the Fanuc 0iMP control with the latest iHMI.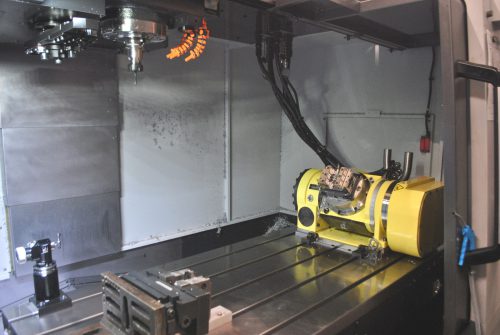 The machine was specified with i) a Nikken 5th-axis unit (rotary tilting table) enabling it to be used for 3 + 2, 4 + 1 and simultaneous 5-axis machining, ii) a Renishaw OMP60 and OTS tool and workpiece probe package for quick and trouble-free in-process inspection and measurements, iii) a MH500 swarf conveyor for high-efficiency chip evacuation – especially useful during intense and long machining runs.
Says Simon Tarrant:
"The DNM 6700 is a large, powerful machine. It is also extremely rigid, accurate and reliable too.

"All of these attributes make it ideal for machining a wide range of parts from an equally diverse range of materials."
The DNM 6700 is the consummate all-round performer and is ideal for heavy-duty machining operations, fine-finishing and long, extended machining runs.
In addition to its high specification other issues concerning the machine's availability and the after-sales service and support provided by the machine tool supplier were of importance and did affect Colt Precision's decision-making process.
The Mills CNC angle
Explains Simon Tarrant:
"Mills CNC has a good reputation in the market for its after-sales service and support.

"This was one of the major reasons why we had invested in our first Doosan machine – the Lynx 2100LSYB – back in 2019.

"Although we approached and visited a number of machine tool companies prior to placing the order we liked and responded well to Mills' approach: always professional and courteous without the 'hard sell.

"When we placed the machine order it was delivered in double-quick time and since its installation hasn't missed a beat."
Summary
To lessen its over reliance on the medical devices (orthopaedic and implant) sector Colt Precision began to diversify its operations well before the outbreak of the pandemic.
This meant that when Covid-19 struck, causing the global medical devices' market to be thrown into disarray, the company did not have 'all of its eggs in one basket.'
The company's progressive and single-minded approach evidenced by a) its ability to keep on trading (and growing) through the pandemic, b) its ability to replace medical device customers with ones from totally different sectors and industries, and c) its commitment to continue investing and improving its services in such unprecedented and turbulent times is testament to Colt Precision's inherent agility.
Colt Precision's desire to achieve a more balanced business portfolio has paid (and is paying) dividends – and the company has recently experienced its most successful trading month ever in its 42-year history. "All testament to the success of our diversification and investment strategies working in harmony", says Simon Tarrant.
Having recently taken on more apprentices as well as a new business development manager, and with more investment planned in the future…these are certainly exciting times for Colt Precision.