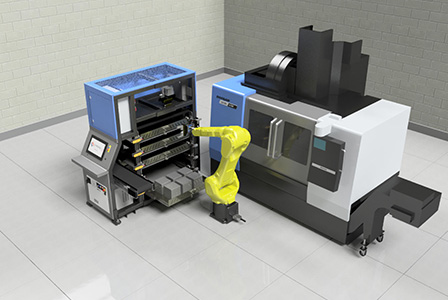 Mills CNC Automation introduces SYNERGi 25 – its new flexible automated manufacturing cell systems into the market.
Industrial robots integrated into flexible automated manufacturing cells are a key enabler of Industry 4.0 and the Factories of the Future.

They can revolutionise conventional industrial processes allowing manufacturers to increase productivity and achieve higher quality with lower costs.
Despite the clear and much publicised advantages of automation, and how it can help companies prosper and grow – there appears to be a perceived 'issue' with its widespread adoption in the UK.
Indeed recent reports suggest that the UK manufacturing companies lag well behind their European counterparts (and competitors) in embracing automation and integrating it within their manufacturing operations. This is especially true of SME's where a lack of knowledge and a 'fear' of 'all things robotics' is not unusual.
Says Tony Dale, Mills CNC's Technical Director:
"A major problem affecting the widespread adoption of automation amongst UK companies is a belief that it cannot be easily applied to their businesses or integrated into their work practices, or that the technology itself is too complex and too expensive.

"Mills CNC, through our highly-skilled engineers and years of experience project managing and delivering complex turnkey projects for customers, have addressed many of these concerns with SYNERGi 25 – our new, innovative, cost-competitive and easy-to-use automated cells.

"The cells are simple to install…simple to set up and simple to operate. They are powered by our own (proprietary) SYNERGi software and are high-productivity solutions designed to take the complexity out of automation."
About SYNERGi 25 Automated Manufacturing Cells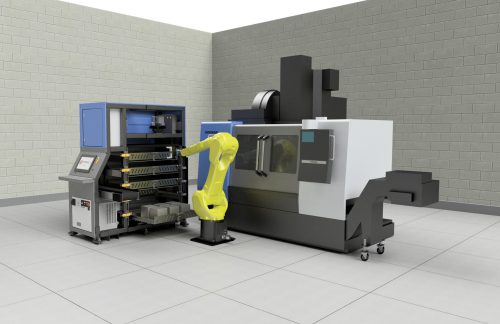 SYNERGi is the generic brand name of Mills CNC Automation's flexible, automated manufacturing cells, and SYNERGi 25, denoting a 25kg robot payload capacity, is the name of the specific standard automated cells held in stock by Mills.
SYNERGi 25 systems are versatile and scaleable, and can be integrated with new Doosan lathes, machining centres and mill-turn machines – significantly increasing their productivity. They can also, (model of machine and year of manufacture dependent*) -:
be retrofitted to customers' existing Doosan machines*:
be custom-designed and built to meet customer's specific application requirements:
be expanded to operate with more than one Doosan machine tool.
At the heart of every SYNERGi 25 cell, is a sophisticated and intuitive HMI (Human Machine Interface) – the driving force of the automation system.
The HMI is user-friendly and secure, and is logically designed. Navigation between HMI screens is clear and straightforward, as are the system's menus and graphical user interface.
Says Heath Redman, Mills CNC's Operations Director:
"The HMI is process driven and operators cannot get lost in the system or hit a cul-de-sac. Input entry errors or omissions do not take place enabling the cells to operate productively and optimally with limited training."
To ensure process reliability the HMI also incorporates a wide-range of quality control, monitoring and inspection features and capabilities.
SYNERGi 25 cells comprise a range of standard equipment that includes:
a high-capacity industrial robot
an automated two-way drawer system for stacking, storing and loading workpieces and machined components
a 17" touchscreen
an inspection and parts' ejector conveyor
locating plates
pneumatic 2- or 3-jaw grippers
integrated SICK safety systems
industrial robot fencing
Optional equipment includes a parts turnover station, a higher payload capacity industrial robot, a 7th-axis robot transfer unit rail, floor scanners in lieu of hard guarding etc.
Continues Heath Redman:
"If you are looking to embrace unmanned and lights-out operations – SYNERGi 25 automated manufacturing cells integrated with Doosan machine tools are the ideal and proven high-productivity and high-efficiency manufacturing solution."