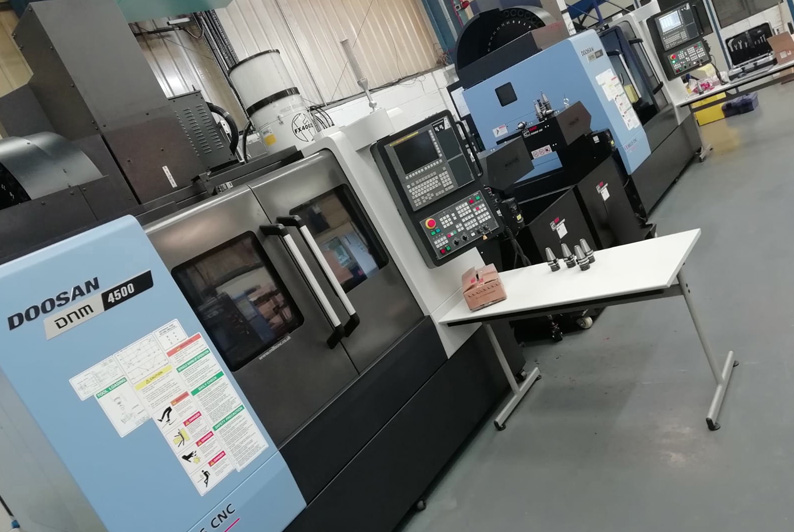 New precision machining subcontract specialist invests in ten Doosan machines in its first three months of operation!
Mills CNC, the exclusive distributor of Doosan machine tools in the UK and Ireland, is the supplier of choice for a diverse and growing number of precision component manufacturers.
The company, highly regarded for the depth and breadth of its machine tool range and for its range of industry-leading after-sales services, is often the first and automatic choice for many OEMs, Tier One suppliers and precision subcontractors. Increasingly it has also become the first port of call for many new start-up engineering companies.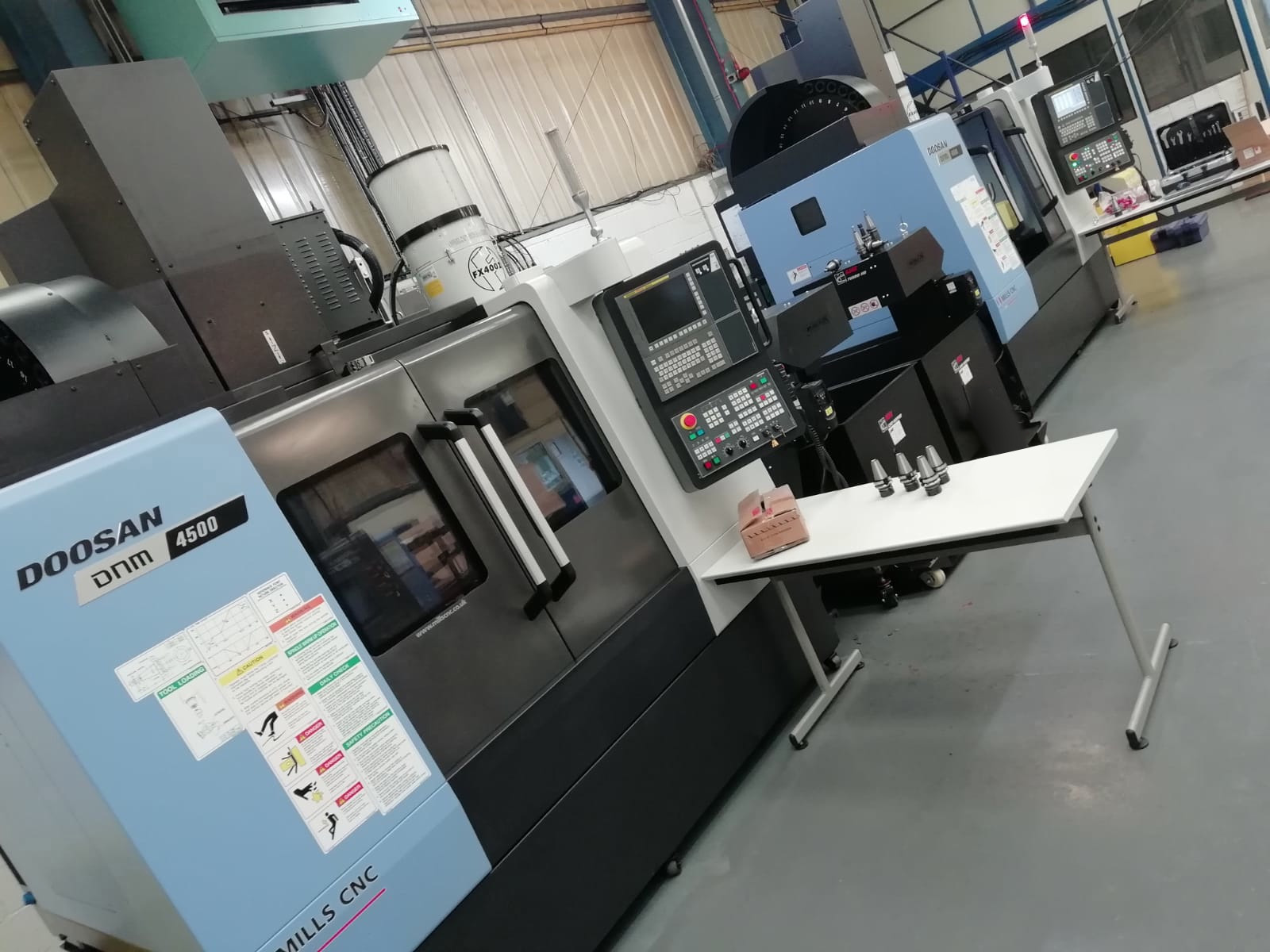 One such company is the Gateshead-based EAG Precision Ltd which was established in March 2019 and, within its first three months of operation, had invested in ten new Doosan machine tools.
EAG Precision Ltd
Operating from its 14,000sq. ft. facility in Ryton-on-Tyne, Tyne & Wear, EAG is a privately-owned company specialising in the small and medium batch production of complex, high-precision parts for the defence, marine, medical and renewables sectors – to name but a few.
To differentiate itself in the market, and from its competitors, EAG has achieved ISO 9001: 2015 approval and specialises in machining complex components (including prototypes) to tight tolerances and exacting surface finishes for customers based in the UK and the US. The company, also designs, manages and implements complex turnkey projects for its customers.
To maintain its growth and profitability EAG relies on the dedication of its highly-skilled workforce, the experience and expertise of its directors and senior management team and, of course, on the advanced machine tool technologies it has at its disposal: a majority of which have been supplied by Mills CNC.
In the beginning
Not many new start-ups have the confidence or wherewithal to invest in ten new machine tools straight out of the gate. But, EAG is unlike many new start-up companies.
Says Dave Graham, EAG's managing director:
"Although the new (EAG Precision) enterprise started trading in March 2019, a great deal of preliminary planning was initiated and completed well before then.

"The strategic business plan we created, and which we used to help obtain funding for the new company, was both robust and ambitious."
Covering all aspects of business, the plan identified key markets and customers (and how EAG would approach and build relationships with them); it highlighted, in depth, the company's key capital equipment investment plans, that included the number and type of advanced CNC machine tools it would be looking to acquire initially (and in subsequent years); and it established and reinforced EAG's mission, vision and values.
Continues Dave Graham:
"There were, and still are, three guiding principles that direct all our company operations – i) delivering high-quality manufacturing solutions to customers; ii) providing a rapid response in order to meet customers' requirements efficiently and effectively; iii) ensuring value for money and achieving cost efficiencies.

"Everything we do is measured and benchmarked against these principles."
Machine tool imperatives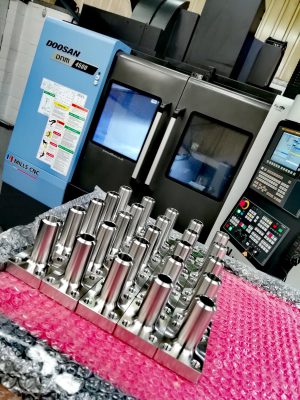 The directors and senior management team of the new company had over 100 years' collective experience of working in the precision manufacturing sector.
Their knowledge and expertise was invaluable when approaching potential customers to secure new machining contracts and orders. And, was also critical in identifying and selecting the right machine tools that would meet EAG's immediate and future capacity and capability requirements.
Although EAG canvassed the market looking for the best performing and best value machine tools available, the directors' previous positive experiences of dealing with Mills CNC and of using Doosan machines (gained prior to EAG being established), did put Mills in the box seat.
"We knew that owing to the depth and breadth of the Doosan machine tool range we would be able to find machines perfectly suited to our needs and requirements. It was also a big positive (especially for a new start-up in terms of time and logistics) if the machines could be acquired from a single source."
EAG's machine tool requirements were as follows:
i) New Vs Old
Many start-ups initially invest in used/pre-owned machines to get up and running. EAG opted to invest in new machine tools from day one.
Explains Dave Graham:
"The cost differential between used and new is not as great as one might think. We decided on new machines (from Mills CNC) as they were competitively-priced and were backed by full warranties and Mills' industry-leading applications and after-sales support services.

"We were also able to take advantage of Mills CNC's machine tool financing operation, which gave us access to flexible capital equipment funding packages."
ii) Immediate availability
Mills CNC's stock policy means that many machines (over 70 at any given time) are available from its Campus facility in Leamington ready for immediate delivery to customers in the UK and Ireland.
Says Dave Graham:
 "It was important that we hit the ground running from day one as we had already secured machining contracts from a number of customers. The ability to order and get our machines delivered, commissioned and installed in double-quick time was critical."
iii) Multi-axis machines
To improve operational efficiencies, optimise manufacturing flexibility and help with leadtime fulfilment, EAG invested in a number of advanced and proven multi-tasking Doosan machines.
These included Lynx long-bed lathes with Y-axes, sub-spindles and driven tools, a large-capacity Puma lathe with full mill-drill capability, Doosan DNM machining centres supplied with 4th-axis units and a high-productivity twin-pallet vertical machining centre.
iv) Fanuc controls
All ten Doosan machines acquired by EAG are equipped with Fanuc controls. This enables programmes to be transferred quickly and seamlessly between machines (when required) and as such prevents production bottlenecks from occurring if, for some reason, a machine is out of action for maintenance or repair.
v) Flexibility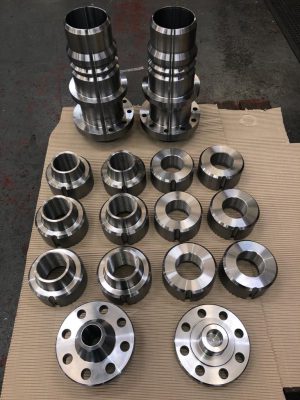 EAG machines precision components for a wide range of sectors and customers.
As a consequence parts are made from a range of materials that include steels, aluminium alloys, Duplex and Stainless Steels, plastics, inconels, titanium etc. The Doosan machines, with their rigid structure and build characteristics and advanced spindle technology are versatile and capable of machining such diverse materials to high geometric tolerances and surface finishes.
Says Dave Graham:
"The Doosan machines provide us with manufacturing flexibility. Our DNM machining centres enable us to machine prismatic parts (up to 1m x 1m x 1m), and the largest of our Doosan lathes provides us with a maximum turning diameter of 550mm."
Summary
New start-up companies are increasingly turning to Mills CNC to help them with their machine tool and, more recently, their automation requirements.
Attracted by the depth and breadth of the Doosan machine tool range, the machines' competitive prices and their immediate availability from stock, and the quality of the company's after-sales support services – it's a trend that looks set to continue.
Concludes Dave Graham:
"We are delighted with our Doosan machine tools and the level of service we receive from Mills CNC."