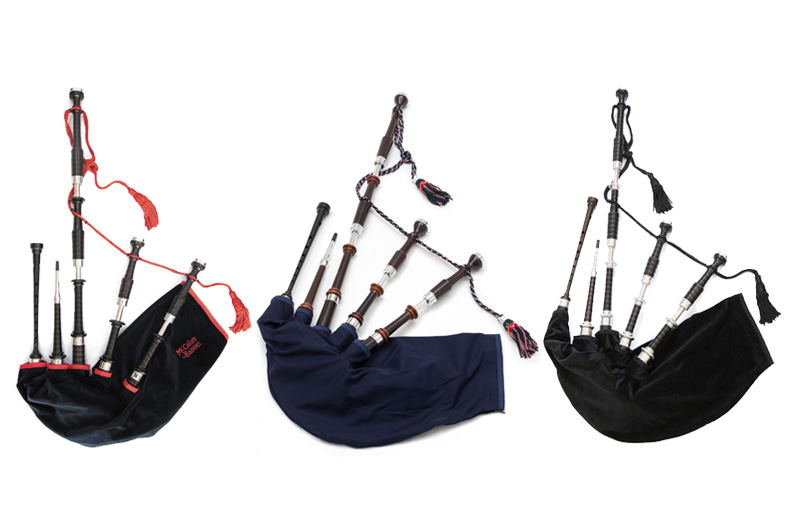 Leading bagpipe manufacturer reports dramatic increases in productivity and operational efficiencies from its first collaborative robot investment.
Mills CNC Automation, the exclusive distributor of Doosan collaborative robots in the UK and Ireland, has recently supplied McCallum Bagpipes Ltd., – an innovative and progressive bagpipe manufacturer (that happens to also be the largest in the world) – with a new Doosan cobot.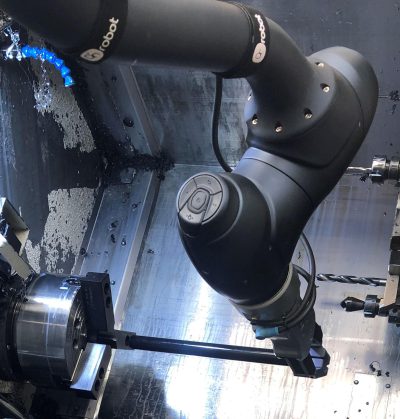 The M1013 cobot, with its 1300mm reach radius, 10kg payload capacity and six high-tech torque sensors for best-in-class safety and collision protection, was supplied with RG6 OnRobot gripper end-effectors. It was installed in the company's 6,000sq. ft. machine shop facility in February 2021 by Engineering Supply Co (Scotland) Ltd, an independent distributor and supplier of engineering consumables based in Glasgow…and an agent for Mills CNC Automation in Scotland.
The cobot was acquired by McCallum Bagpipes to undertake machine tool tending operations: in essence loading workpieces that require machining into a CNC lathe and, after the machining operations have been completed, unloading the machined parts into containers, and then repeating the cycle.
Says McCallum Bagpipes' Managing Director, Stuart McCallum:
"Since being installed the cobot, in a relatively short space of time, has significantly helped us improve our productivity and operational efficiencies.

"By integrating the cobot with our Dugard 'Eagle 200' CNC lathe we are able to operate this machine 24/7…running it unattended and overnight. The results have been remarkable."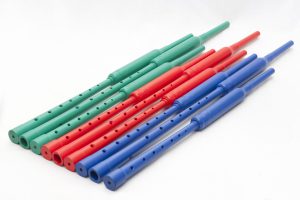 The performance and productivity gains being achieved by the company are clearly evident in the following example relating to the automated machining of a medium batch of practice chanters made from Polypenco (plastic).
(For those of you not in the know a chanter is an integral part of a bagpipe that resembles a recorder. It comprises a short, thin tube with finger holes, and is where, and how, the piper creates the melody/tune).
Example
Practice chanters (100 off) are placed in a plastic (pallet) tray situated adjacent to the lathe and the cobot.
Each chanter sits vertically in its own, individual circular hole. (This configuration means that the tray is effectively acting as a peg board).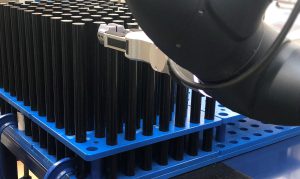 The cobot is programmed to open the machine door…take a designated chanter, in sequence, from the tray…orientate it…and place into the machine's open chuck (which then closes). The cobot then moves away from the machine…the machine door closes and the chanter is machined. Once machining operations have been completed…the door opens and the machined part is removed from the machine and placed in a container.
Part cycle time (including all cobot and machining operations) is short – typically 3 minutes in total.
Explains Stuart McCallum:
"We can load up jobs like this late at night during the 2.00pm – 12.00am shift. The 100 practice chanters are machined to completion overnight and unattended in approximately five hours (20 parts machined per hour).

"As well as getting five hours unmanned production from the machine, the cobot investment also means that operators are no longer required to perform repetitive and tedious part loading and unloading tasks…and, owing to the short cycle times, be virtually at the machine's beck and call."
Investment rationale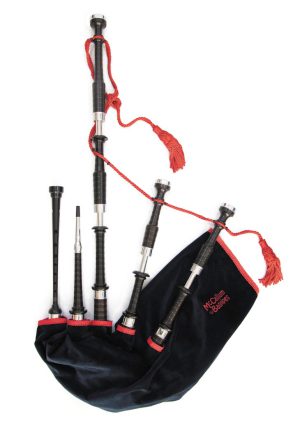 McCallum Bagpipes, established in 1998 and employing 38 people at its 9,000sq. ft facility in Kilmarnock, is on a strong growth trajectory with revenues and profits up, year-on-year, over the last five years.
This growth, fuelled by the company's innovative product development and imaginative marketing strategies, has seen McCallum Bagpipes significantly increase international sales, as well as consolidate its market-leader position in the UK and Ireland.
With markets as far afield as Canada, the US, Europe and the Middle East – and with a product portfolio that is constantly being augmented and refined, (and that now includes Breton and uilleann/Irish pipes as well as more traditional Highland and Scottish small pipes), the demand for McCallum Bagpipes' instruments (even taking the Pandemic into account) is at an all-time high.
Whilst clearly being good news for the company – the consistent upsurge in demand did put pressure on the company's existing manufacturing resources.
Explains Stuart McCallum:
"To ensure quality and cost-competitiveness very few of our manufacturing processes are 'subbed out'.

"But despite running a two-shift system we were still under pressure. We needed to become more efficient and optimise the technology we already had at our disposal."
As part of McCallum Bagpipes' continuous improvement programme the company, at the beginning of 2021, began exploring automation.
Continues Stuart McCallum:
"Things crystallised and fell into place during a conversation with Engineering Supply Co (Scotland). They introduced us to cobots and, being the agents in Scotland for Mills CNC Automation, to Doosan cobots in particular.

"In addition, I did my homework, talked to more people and looked at a number of YouTube videos to understand the strengths, weaknesses and potential of the technology – and how it could be applied at McCallum Bagpipes.

"In truth I didn't need that much convincing."
Vindication
The M1013 cobot acquired by McCallum Bagpipes operates 24/7- Monday to Friday.
The cobot has been permanently integrated with one of the company's (20) CNC lathes and, after only two days required for its installation followed by a further two days to train four members of staff, the cobot was up and running.
Concludes Stuart McCallum:
"We are delighted with the investment. Not only have we been able to ramp up productivity and get more out of the Dugard lathe, we have also been able to significantly free-up our operators' time. It's a real win: win situation.

"We estimated a payback period of four years for the cobot.

"With this type of return on investment, plus the marked improvements it has made to our productivity and efficiency – we'll be soon investing in a second cobot in the not-too-distant future."