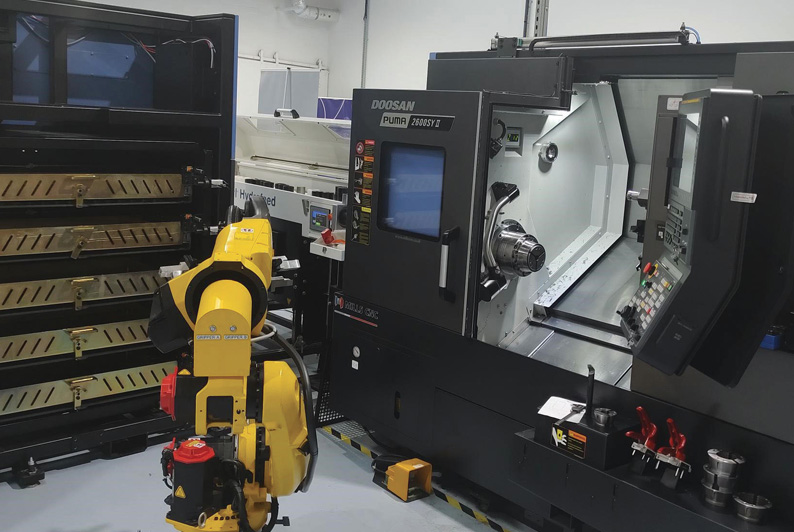 Irish Manufacturing Research (IMR) invests in a high-end SYNERGi automation system from Mills CNC to help increase awareness, understanding and, ultimately, the take-up of high-productivity and high-efficiency automation solutions amongst Irish component manufacturers.
Mills CNC, the exclusive distributor of Doosan machine tools in the UK and Ireland has, through its recently created Automation Division – Mills CNC Automation -, supplied Irish Manufacturing Research (IMR), a leading independent and not-for-profit research and training organisation (RTO), with a SYNERGi automation system.
The new, large-capacity SYNERGi Premier system was installed at IMR's 35,000 sq. ft. Technology Centre facility in Mullinger, Country Westmeath in November 2021, and has been integrated with a Doosan Puma 2600 II multi-tasking lathe, acquired by IMR from Mills in August 2020, to create a flexible automated manufacturing cell.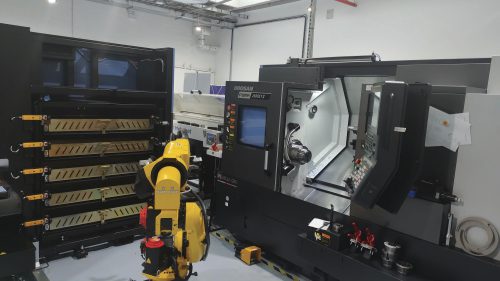 The SYNERGi cell is an important and significant investment. It is intended to help IMR de-mystify, de-risk and deliver new and emerging technologies to enable industry (across Ireland) compete and succeed at the cutting edge of advanced manufacturing.
IMR's main research and development efforts are focused on four 'thematic pillars'-: Digitisation; Design for Manufacturing; Sustainable Manufacturing; Automation and Advanced Control
It is intended that the investment in the SYNERGi Premier system and the creation of a high-productivity and high-efficiency manufacturing cell will enable IMR to:
a) explore and evaluate the potential of flexible automated manufacturing cell production
b) provide guidance and direction to individual Irish manufacturers about the application and suitability of automation within their operations
c) work in partnership with selected Irish manufacturers to help create new and/or improve existing manufacturing processes and systems etc.
Says Chris Judge, IMR's Machining Applications Specialist:
"Automation can help Irish component manufacturers, irrespective of their size, specialism or sector focus, improve their productivity, efficiency and competitiveness."
 Covid-19
COVID-19 turmoil has forced manufacturing companies around the world to think on their feet and quickly adapt their business strategy and operations to ensure the health and safety of their people and keep their organisations alive in a rapidly evolving environment.
The impact, and continuing effects, of the pandemic have helped put automation, front and centre, in component manufacturers' minds. No longer a 'nice' thing to have – automation is now perceived as a 'need' to have – and IMR is ideally positioned to meet this need.
Continues Chris Judge:
"Ongoing skills shortages and the need, for some manufactures, to adopt 24/7 operations were already key automation drivers prior to Covid-19. These haven't gone away but have been further compounded over the last two years by pandemic-led issues i.e., the need for social distancing, the increase in remote working practices etc."

"The pandemic represented a watershed moment for many manufacturers. It has certainly put automation on centre stage and enabled it to gain more traction not just amongst high-volume: low mix manufacturers – but with high-mix: low volume manufacturers too."
This backdrop explains IMR's decision to invest in an advanced automation system.
A SYNERGi system from Mills CNC: the rationale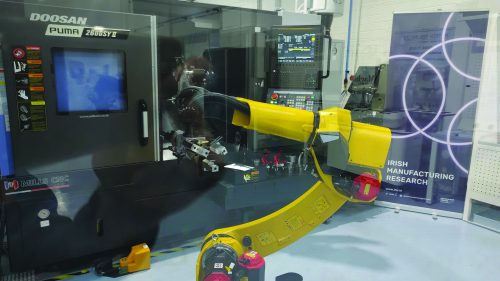 The SYNERGi Premier system was selected for a number of reasons:
SYNERGi systems are designed and built by Mills CNC. They are driven by Mills' proprietary software and are made specifically for Doosan machine tools (lathes, machining centres, mill-turn machines etc.,).
In 2020 IMR invested in a Doosan Puma 2600SY II lathe from Mills CNC. The lathe with its integrated sub-spindle and Y-axis was acquired to help IMR deliver innovative and best-practice 'Design for Manufacture' solutions.
To ensure longevity and relevance as well as helping to future proof the investment the Puma was supplied 'automation-ready' (i.e., supplied with the correct software/hardware interfaces, auto door facility etc.).
Explains Chris Judge:
"It was always our intention to integrate (retro-fit) an industrial robot led automation system with the Puma lathe when the time was right.
"Because Mills CNC designs its own advanced automation systems exclusively for Doosan machines it was natural that we looked at, and ultimately invested in, a SYNERGi system."
SYNERGi Premier system
The SYNERGi Premier system is a rigid, robust and large-capacity automation system comprising a Fanuc 6-axis Industrial robot (25kg payload) with Schunk 3-jaw grippers integrated with a five-drawer, bi-directional part loading and unloading station and laser floor scanner technology. It also features a part inspection conveyor and a 17" touchscreen HMI powered by Mills' proprietary (SYNERGi) software.
Comments Chris Judge:
"Being the largest SYNERGi system in Mills' portfolio, the Premier has a broader application appeal and provide us more with flexibility.

"We particularly liked the System's Five Drawer configuration and capacity, (each drawer is 900mm (W) x 600mm (D) x 200mm (H) with a 200kg maximum weight per drawer), and it's innovative laser floor scanner technology that ensures safe operation.

"The system was delivered and installed at our facility in November, and we anticipate that staff training will be completed in December.

"We are already in discussions with many manufacturers about introducing and integrating automation systems within their operations and, from early 2022, will be designing, developing and proving out automation-led solutions using the SYNERGi Premier automated manufacturing cell with a number of them.

"These are exciting times for IMR, and the SYNERGi Premier system is central to our, and to our partners', ongoing success."
About IMR
Irish Manufacturing Research (IMR) is a leading manufacturing Research and Technology Organisation with labs and industrial pilot lines in Dublin and Mullingar, Ireland.  IMR works with leading global and indigenous brands to de-mystify and de-risk new and emerging technologies, and to deliver high-impact collaborative research to enable global leadership in advanced manufacturing.
IMR has over 80 researchers with hundreds of years of combined industry expertise working in areas such as 3D printing, Data Analytics, Knowledge Management, Sustainable Manufacturing, Advanced Robotics and the Industrial Internet of Things.
IMR activities span national and European research collaborations, prototyping services, training, and Industry networks.
Over the last 12 months IMR has significantly increased its operations and has invested heavily in new advanced technologies. These include:
Expansion of Mullingar lab capabilities with new office spaces created for up to 40 full time researchers
Acquisition of SLM 280 (3D laser melting machine).
Investment in a Robotic Milling and Polymer DED manufacturing cell
Investment in an abrasive flow machine and in a multi mobile robot 'Intralogistics' cell.