New horizontal machining centre investment opens up new business opportunities, helps boost productivity levels and improves operational efficiencies for leading precision subcontract specialist.
Mills CNC, the exclusive distributor of DN Solutions' (formerly Doosan) machine tools, has recently supplied leading precision subcontract specialist – Endeavor Engineering Ltd. – with a new horizontal machining centre.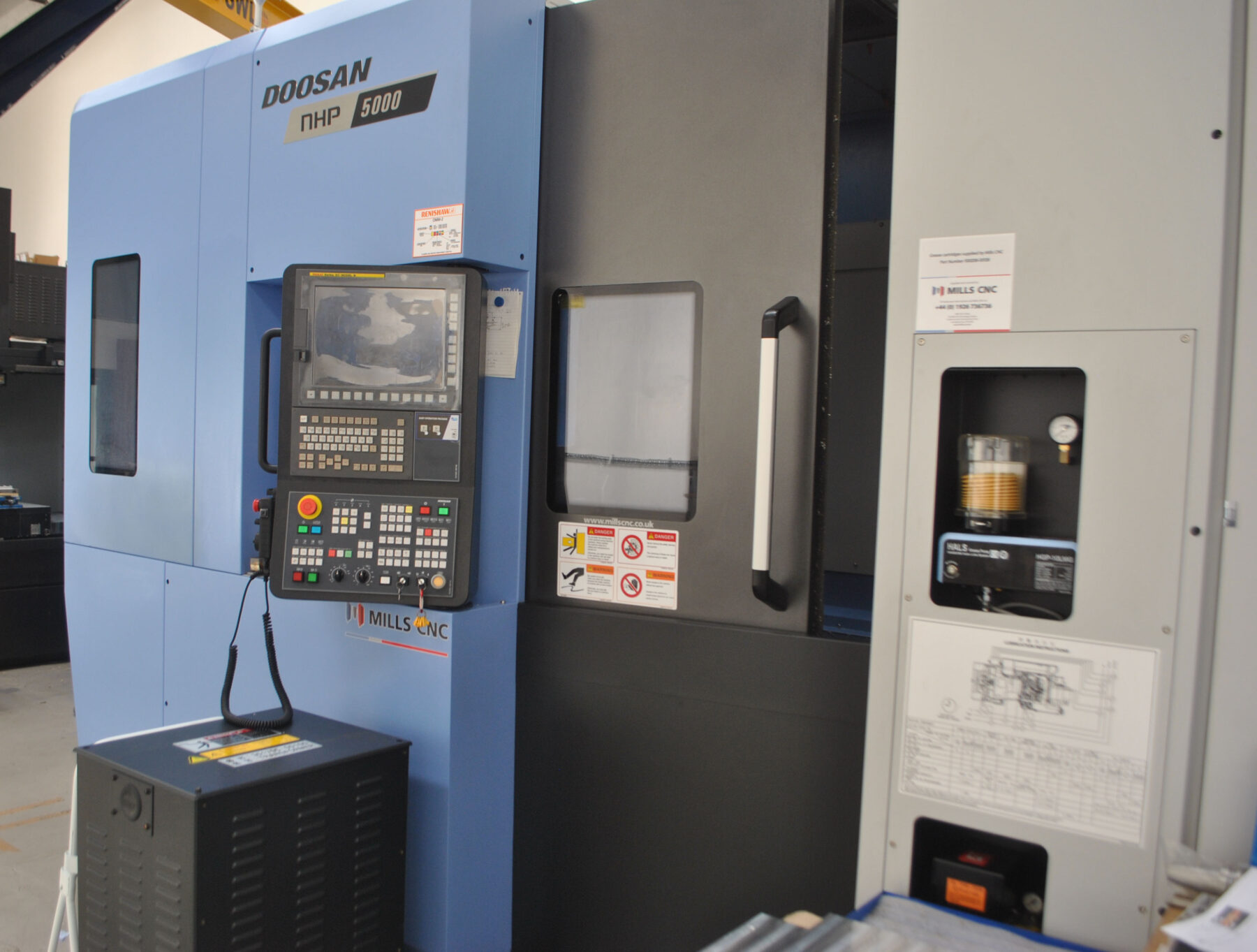 The machine, a Doosan NHP 5000, was installed at the company's 9,000sq. ft. facility in Didcot, Oxfordshire in November 2021 and joins nine other Doosan machines (three Puma lathes and five DNM vertical machining centres) previously acquired by Endeavor.
As intended the NHP 5000 has significantly increased the company's milling capacity and, more importantly, its milling capabilities too.
The new machine has already proved its worth and has been central to the company securing a number of new machining contracts with both new and existing customers.
Amongst these are new orders to machine bespoke lightweight aluminium vacuum chambers used for:
a) drying, degassing, sterilizing, cooling and distilling medications for the bio-pharmaceutical industry;
b) building and testing semi-conductors;
c) conducting controlled scientific experiments.
These new contracts would have been difficult, if not impossible, to win, and fulfill, using the company's existing (vertical) machining centre resource.
Endeavor's investment in the NHP 5000 is significant for a number of reasons:
It was made during the pandemic at a time when many manufacturing companies had battened down the hatches and had either cancelled or postponed their CapEx investments;
It was the first horizontal machining centre to be acquired by the company in its 10-year history.
To understand the motivation and rationale behind its latest investment, it is important to know more about Endeavor – what makes it tick and why it has become so successful in such a relatively short space of time.
About Endeavor Engineering
Endeavor Engineering was created in 2012 by directors Andy Strong and Martin Bell. It today employs 12 members of staff.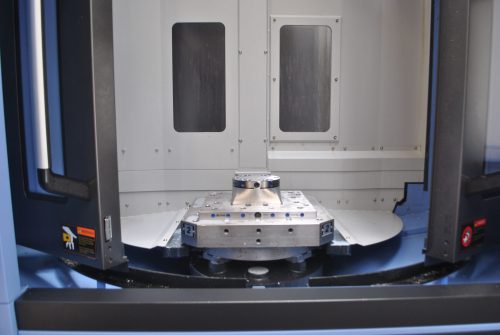 Rather than becoming a 'me too' precision engineering company offering the same services as many other 'similar' subcontractors – both directors, at the very outset, shared a vision about the new enterprise and its future direction.
This vision, as relevant today as it was back then, is clear, unequivocal and powerful.
It is focused on growth and on achieving differentiation by ensuring that the company's resources are directed to ensure the machining of high-precision, competitively priced components – delivered on time…every time to customers.
Explains director, Andy Strong:
"Our aim and ambition are to provide customers with high-quality, best-in-class manufacturing solutions accessed from a single and reliable source."
Underpinning this vision was (and is) Endeavor's commitment to continuous improvement and its single-minded business approach viz a vis:
Constantly and systematically reviewing and evaluating the market in order to identify emerging trends and capitalise on new business opportunities
Investing in new, advanced machine tool and manufacturing technologies
Creating technical leadership and differentiation through acquiring general and industry-specific business knowledge and expertise
Being flexible and willing to adjust to changing market dynamics.
Continues Andy Strong:
"We are an ambitious company focused on growth and are constantly looking at ways to improve the services we provide to customers as well as strengthening our position within their supply chains.

"Our intention (always) is to become, and be recognised as, a vital and indispensable part of their business."
The Pandemic
The outbreak of Covid-19 in 2020 (and subsequent lockdowns) had an impact on Endeavor Engineering and helped further crystallise the directors' thoughts about the future direction of the company.
Remembers Martin Bell:
"The pandemic had an impact on the business. Some customers postponed orders. Others cancelled them altogether.

"It made us think about what else we could do to improve and augment the services we already provide to customers."
In truth this soul-searching, as part of its continuous improvement programme, was already underway.
Floorspace
The company was actively exploring ways to increase its floorspace and was investigating whether it could acquire an adjacent unit.
If this occurred it would double the company's floorspace from 4,500sq. ft to 9,000sq. ft.*
Explains Martin Bell:
"The increase in floorspace would help us increase our productivity levels and operational efficiencies by enabling us to improve the machine shop layout as well as helping us create dedicated office space and a separate assembly area.

"It would also enable us to, comfortably, site and install any new machine tools and new technologies we wanted or needed to acquire in the future."
*(The company did acquire the adjacent facility in Autumn 2021 and, as a consequence, doubled its floorspace).
New Technology
Endeavor regularly invests in advanced Doosan machine tools from Mills CNC and, prior to the pandemic, was seriously looking at expanding its already impressive milling operations still further.
Continues Andy Strong:
"Rather than continuing to only invest in 3-axis vertical machining centres we began to consider multi-tasking machining centres – specifically 5-axis and horizontal machining centres.

"We were confident that having access to multi-tasking/multi-axis machines with integrated automation would enable us to pick up new and different work from existing customers and win new machining contracts from new customers."
The outbreak of the pandemic and its impact on business reinforced and accelerated Endeavor's determination to augment its milling operations and resulted in the investment in the NHP 5000.
The NHP 5000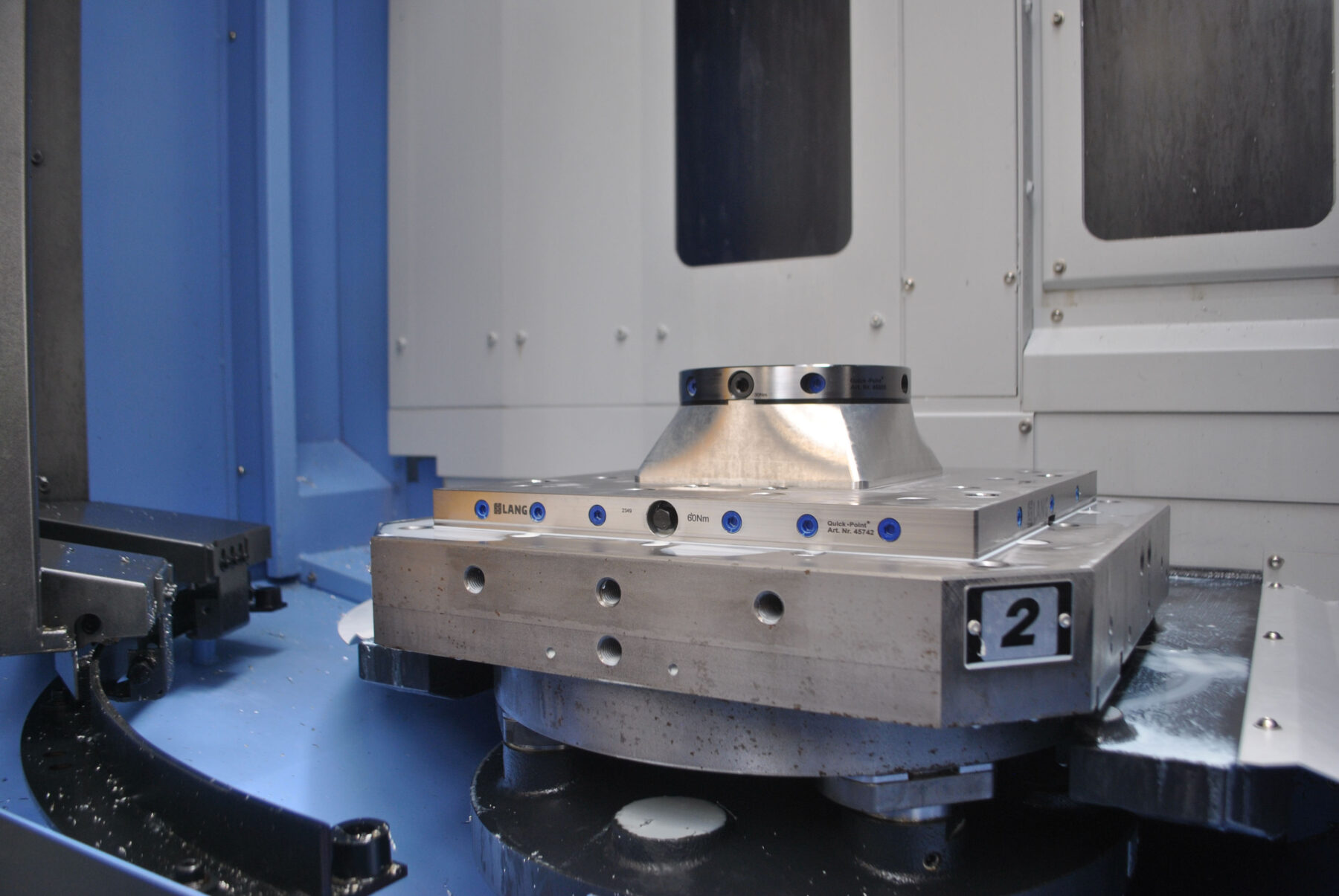 The NHP 5000 is a linear guide horizontal machining centre that minimises non-cutting time.
The machine has a rigid design and build. It is powerful, accurate and fast, and delivers exceptional material removal rates. The machine's integrated thermal compensation and spindle and bearing cooling systems enables it to maintain high accuracies over long machining runs.
The twin-pallet NHP 5000 is equipped with two 500mm x 500mm pallets with B-axis indexing capability, a high-torque, BT 40 built-in spindle (30kW/15,000rpm), a 60-position ATC and the 31i Fanuc control. It also boasts 60m/min rapids.
The machine was delivered to Endeavor with spindle and workpiece probing for in-process measurement and a high-efficiency swarf management system for improved process reliability.
Says Martin Bell:
"The NHP 5000 is a productivity powerhouse.

"The twin-pallet configuration enables us to set up jobs (on the free pallet) whilst machining takes place on the other. And the B-axis indexing capability enables 5-face/side machining to occur in a single set up.

"The fact that the machine is backed by Mills CNC's after-sales service and support was another determining factor."
Machining vacuum chambers
The aluminium vacuum chambers machined on the NHP 5000 are characterised by their precision and complexity.
Machined from solid they typically involve numerous machining operations and long machining runs (in excess of 25 hours), and have a number of intricate design features (i.e., ports, flanges, seals, pockets etc.), that are machined to tight geometric tolerances (10 microns or better) and exacting surface finishes (down to Ra 0.4µm).
Roughing operations can be particularly long and arduous, and the ability to ramp up speeds and feeds and take more aggressive depths of cut to optimise material removal rates helps reduce cycle times and improve process efficiencies.
Explains Andy Strong:
"We wouldn't and couldn't have entertained the idea of machining vacuum chambers and similar-type parts on our existing vertical machines.

"The number of different set-ups, re-fixturing operations and operator interventions required to machine the parts to completion on a vertical would have had a negative impact on the cost-per-part, and would have tied up our vertical machining centre resource creating delays and production bottlenecks.

"Instead, the NHP 5000, with its twin-pallets, large working envelope, powerful spindle, thermal compensation, generous sized ATC and efficient chip management system make it ideal for this type of work.

"With more and more work coming in for the NHP 5000, the decision to invest in our first horizontal machining centre has been vindicated."