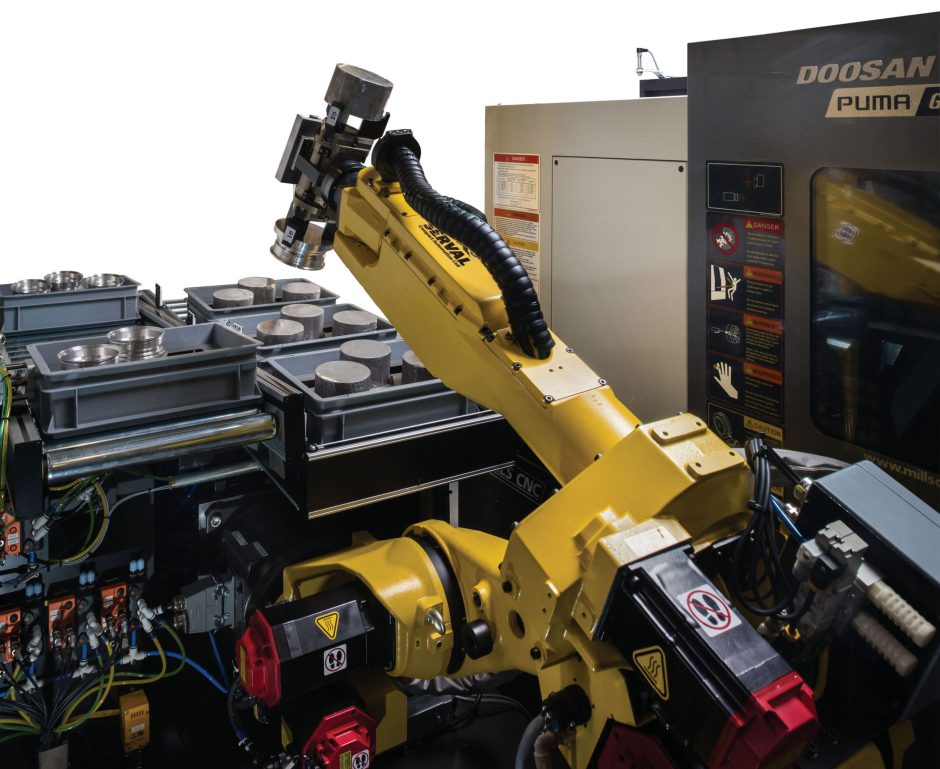 Mills introduces innovative a flexible SERVAL compact automation cell.
Automation is changing the face of manufacturing and is a proven method used by a growing number of companies to increase their productivity and quality, and improve safety.
Mills CNC, the exclusive distributor of Doosan machine tools in the UK and Ireland, is renowned for responding quickly to customers changing requirements and for introducing leading-edge technology into the market.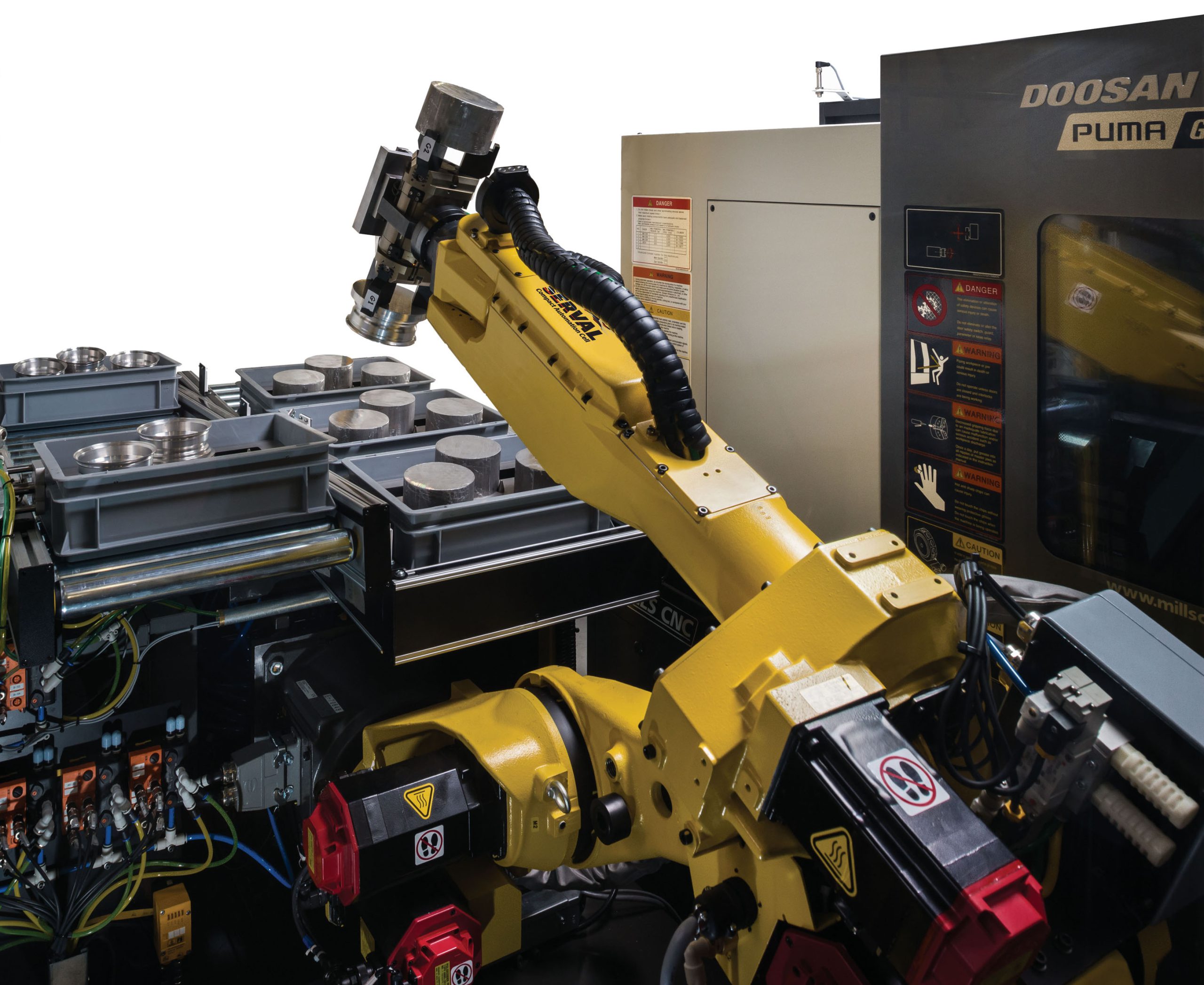 This reputation combined with Mills' extensive turnkey and process improvement applications knowledge and expertise, has been the catalyst in the development of SERVAL – the company's new Compact Automation Cell, which was showcased for the first time on the company's stand at the recent MACH 2016 exhibition.
SERVAL is a high speed, 'plug and play' automation solution designed for work-piece handling, pick & place and machine tending operations, The compact cell is versatile, cost-effective and easy to install.
Furthermore, SERVAL has a universal appeal and can be integrated with lathes and turning centres, and machining centres too.
Says Tony Dale, Mills CNC's Technical Director:
"The SERVAL cell is a joint venture between Mills CNC and Fanuc that started in 2015. The intention was to develop a fully-functional, easy-to-use and cost-competitive automation solution to help customers increase the productivity of their Doosan machines thereby maintaining their competitive edge."
A key strength of the SERVAL system is its small footprint.
For many manufacturers where production space is at a premium, the SERVAL's 2750mm x 1360mm x 2400mm ( L x W x H) dimensions will have an obvious appeal. Its size, in conjunction with the cell's rigid design and build, and its integrated design (which means there is no loose cabling that could present safety and maintenance issues), makes SERVAL fit for purpose…'right out of the box'.
The mainstay of the SERVAL cell is a 6-axis M20iA (High Inertia) Fanuc 20M-type robot with Fanuc R30iB controller that has a a maximum payload of 20kg and a1420mm reach. The robot is supplied with a standard interface connector (FL-net Robot-To-CNC) that makes it compatible with a number of Doosan machines.
Integral to the performance of SERVAL is its on-board cell management software that is both sophisticated, powerful…and easy to use and understand.
Comments Tony Dale:
"A major barrier that can often prevent manufacturers from investing in automation solutions is a belief that they are too complex. SERVAL debunks this 'myth', and the system's intuitive icon-driven Pro-face GP4601T Analogue Touch Panel enables customers to programme and operate the cell in next to no time."
Other main features of SERVAL are its gripper unit capability and its in-feed/out-feed conveyor system.
SERVAL is equipped with two load/unload grippers (Shunk PZN + 100 – 1AS), with either two or three gripper fingers (depending on requirements).
The system operates with separate in-feed and out-feed conveyors (4 trays in; 4 trays out), ensuring high efficiency.
To improve productivity and reduce human intervention, the SERVAL system can be programmed so that the robot opens and closes the machine tool door automatically before and after load/unload operations.
Concludes Tony Dale:
"SERVAL provides many advantages to Doosan machine tool customers. As well as helping reduce labour costs…and by implication the cost-per-part, the system also eliminates production bottlenecks and improves machine tool utilisation."