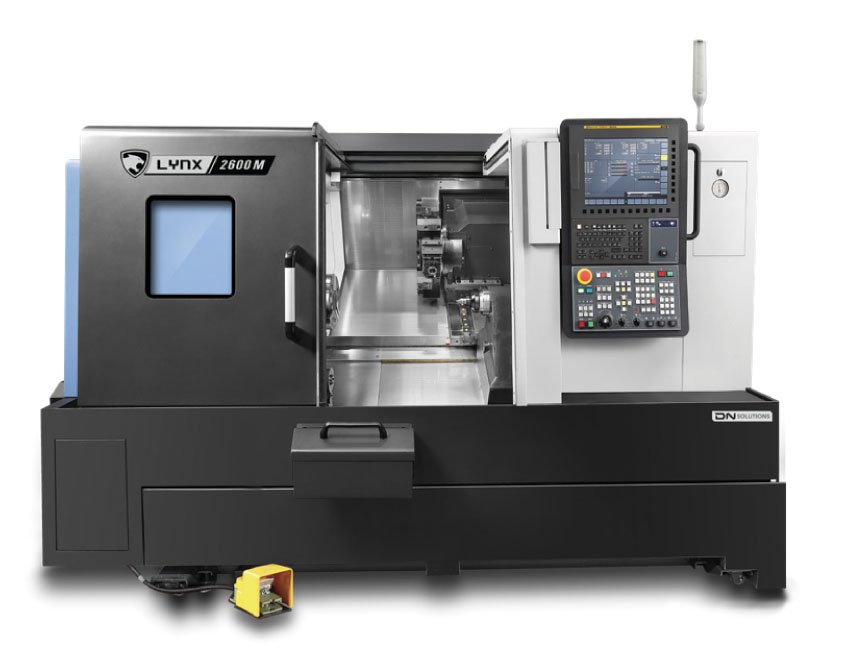 Mills CNC announces two new additions to its recently introduced Lynx 2600 range of compact, high-performance lathes.
Mills CNC, the exclusive distributor of DN Solutions' machine tools in the UK and Ireland, has announced that the recently introduced Lynx 2600 series (comprising Y-axis and Y-axis with sub-spindle models), has been expanded with the introduction of two new machines.
The 10" chuck/81mm bar capacity Lynx 2600 and Lynx 2600M machines, expected to be available in the UK and Ireland later in the year, provide the same exceptional speed, accuracy and cutting performance as the other Lynx lathes in the series and, as such, will prove popular with component manufacturers in the market for a compact and reliable small parts turning solution.
Features of the new Lynx 2600 and 2600M
The Lynx 2600 and Lynx 2600M have many technology features in common.
Both machines have 30m/min rapid rates and are equipped with powerful, high-torque 18.5kW/3,500rpm spindles (403N-m); high precision and highly rigid roller type LM guideways; servo-driven turrets; hydraulically actuated tailstocks and the grease-type lubrication system. Both machines are also available with a choice of control (Fanuc i Plus or Siemens 828D).
Despite the similarities there are, however, some important differences between both models.
The first, and most obvious, is that the Lynx 2600M has a C-axis and driven tooling capability (5.5kW/6000rpm) which increases this model's flexibility and productivity potential.
Other differences include i) a larger maximum turning length and turning diameter for the Lynx 2600 model (460mm and 658mm) as opposed to 380mm and 610mm for the Lynx 2600M and ii) a larger capacity BMT 55P turret with the Lynx 2600M (12-tool station) as opposed to a 10-tool station with the Lynx 2600).
"The availability of the new Lynx 2600 and Lynx 2600M models increase the appeal and attractiveness of the series, and further reinforces the proposition that DN Solutions is committed to providing component manufacturers with unrivalled choice and flexibility."
Tony Dale, CEO of Mills CNC