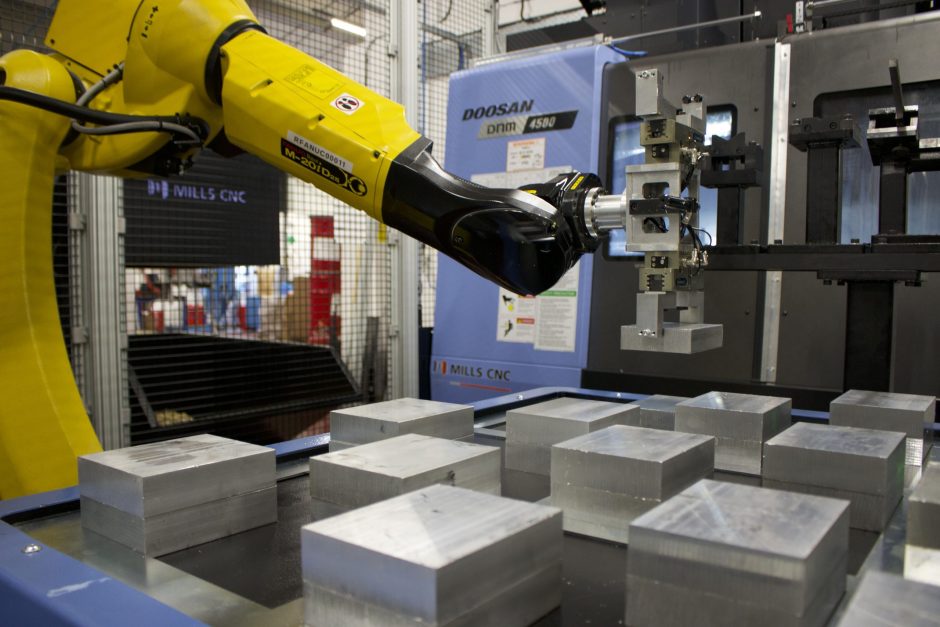 Significant growth in global demand for its best-in-class fire protection and fire suppression systems drives Ardent to invest in an innovative, flexible and highly customised automated manufacturing cell designed and installed by Mills CNC.
Mills CNC, the exclusive distributor of DN Solutions' (formerly Doosan) machine tools and a major automation systems solutions provider to UK and Irish component manufacturers, has recently supplied Ardent Ltd., a leading global design and manufacturer of fire protection and electronic safety systems, with an innovative, flexible and highly customised automated manufacturing cell.
The cell, installed at Ardent's facility in Roecliffe (North Yorkshire), in May 2022, comprises a Doosan Puma 2600SY II multi-tasking sub-spindle, Y-axis lathe and a Doosan DNM 4500 high-performance 3-axis vertical machining centre integrated with a SYNERGi Sprint robotic automation system.
Since its installation, the cell has been (and is being) used to machine a range of high-precision, complex components used in the company's fire suppression systems.
These components include performance-critical brass BSP and Jig valves*, supplied as blanks, that are machined in batches using both the Puma lathe and DNM machining centre – and batch-machined aluminium enclosures**, machined from solid, on the DNM 4500.
A key characteristic of the cell is its flexibility, and the attendant process efficiencies and improved productivity it delivers.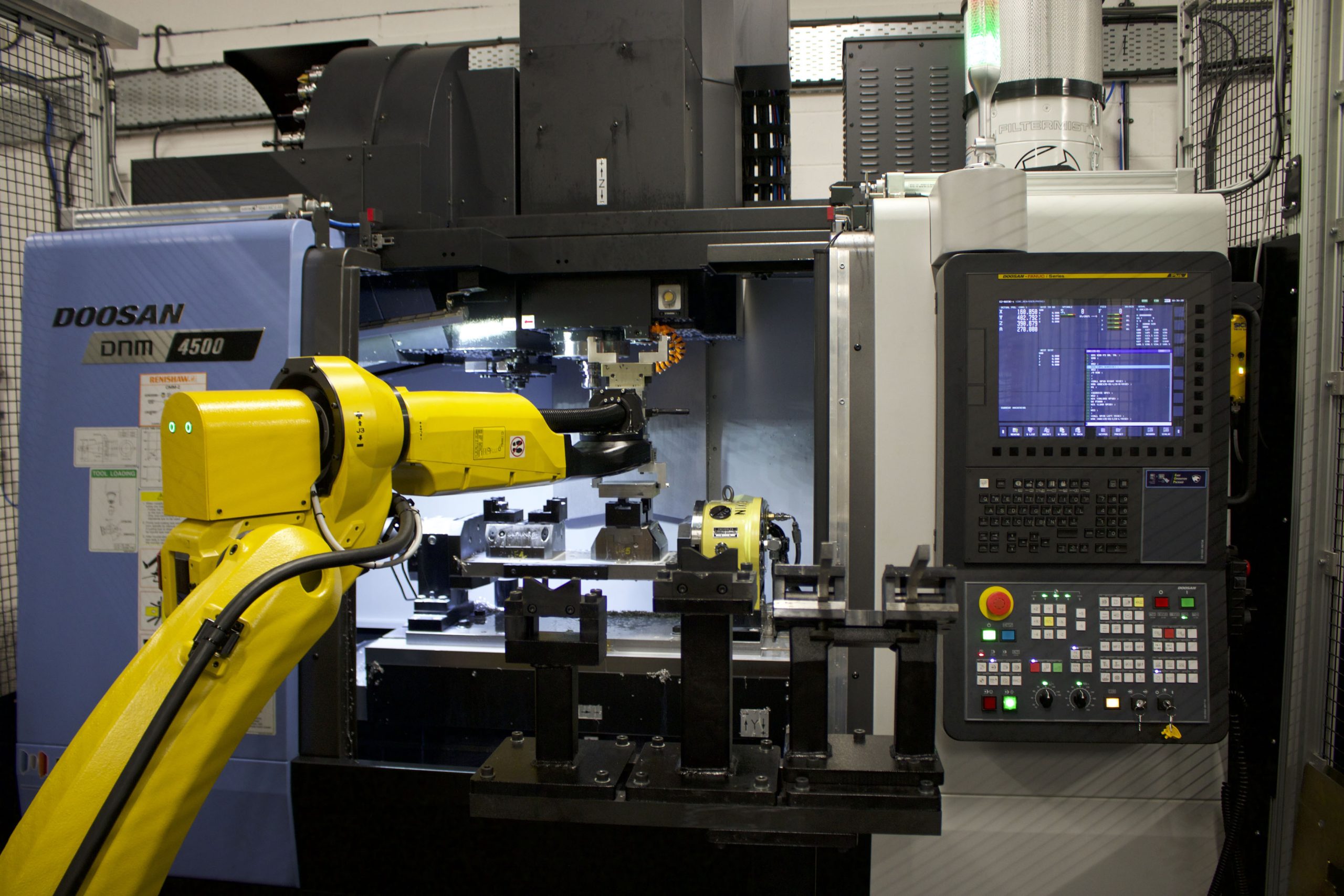 The need
Although the cell was delivered and installed in May 2022 its design, development and, ultimate proving out, began a number of months earlier at a time when worldwide COVID restrictions were being lifted and business, across many sectors, was returning to pre-pandemic levels.
Explains Paul Newton, Ardent's Production Manager:
"Although the pandemic did hit a number of sectors where our fire suppression systems and solutions are used – i.e., transport, aviation, ports and docks, construction, rail etc., we were confident that it was only a matter of time before they 'bounced back'.
"This, combined with a dramatic increase in demand, experienced during the height of the pandemic and continuing after, from a growing number of mining customers, located primarily in Africa, who use heavy-duty excavators, bull dozers, loaders and crushers etc., in their operations, resulted in us reviewing the capacity and capabilities of our in-house manufacturing operations.
"We were conscious that the effect of business returning to pre-pandemic volumes in conjunction with the new business contracts we had secured, would put pressure on our existing machining resources. If left unchecked, this would negatively impact on turnaround times and our ability to meet customer lead times."
It became self-evident that Ardent needed to invest (and strengthen) its in-house capacity and capabilities.
Existing machining resources
Ardent's existing machining resources comprised a previously-acquired Puma 2600SY lathe and a vertical machining centre.
Operating, in effect, as standalone machines the company's valve components, for example, were first machined (first and second operations) on the lathe, using its Y-axis, sub-spindle and driven tooling capabilities, before being manually transferred to the machining centre for finishing operations.
Although the process worked it was not as efficient as it could be. The over-reliance on manual intervention was costly (i.e., moving parts from the lathe to the milling machine) created 'dead time', increased overall part cycle times and the cost per part.
It was a similar situation with the machining of the enclosures, with machine shop staff having to be on hand to load and unload the parts manually.
Says Paul Newton:
"With the increase in demand for our systems we simply couldn't rely on our existing resources or methods.
"Instead of increasing capacity by duplicating what we already had and, as a consequence, the way we did things, we began exploring alternatives and, in particular whether automating our operations, via an automated manufacturing cell, would be a viable and cost-efficient option."
The Ardent: Mills CNC partnership
Having already invested in a Puma 2600 lathe and having experienced and liked Mills CNC's proactive business approach and its after-sales service support, Ardent detailed its immediate and future machining requirements, and contacted Mils CNC for its input and assistance.
The automation requirement
Focused on ramping up the efficient and reliable machining of its valves and enclosures, Ardent required an automation solution that was flexible, compact (to be accommodated within the floorspace confines of its machine shop), easy-to-use and that would enable the company to achieve unattended, lights-out and continuous production.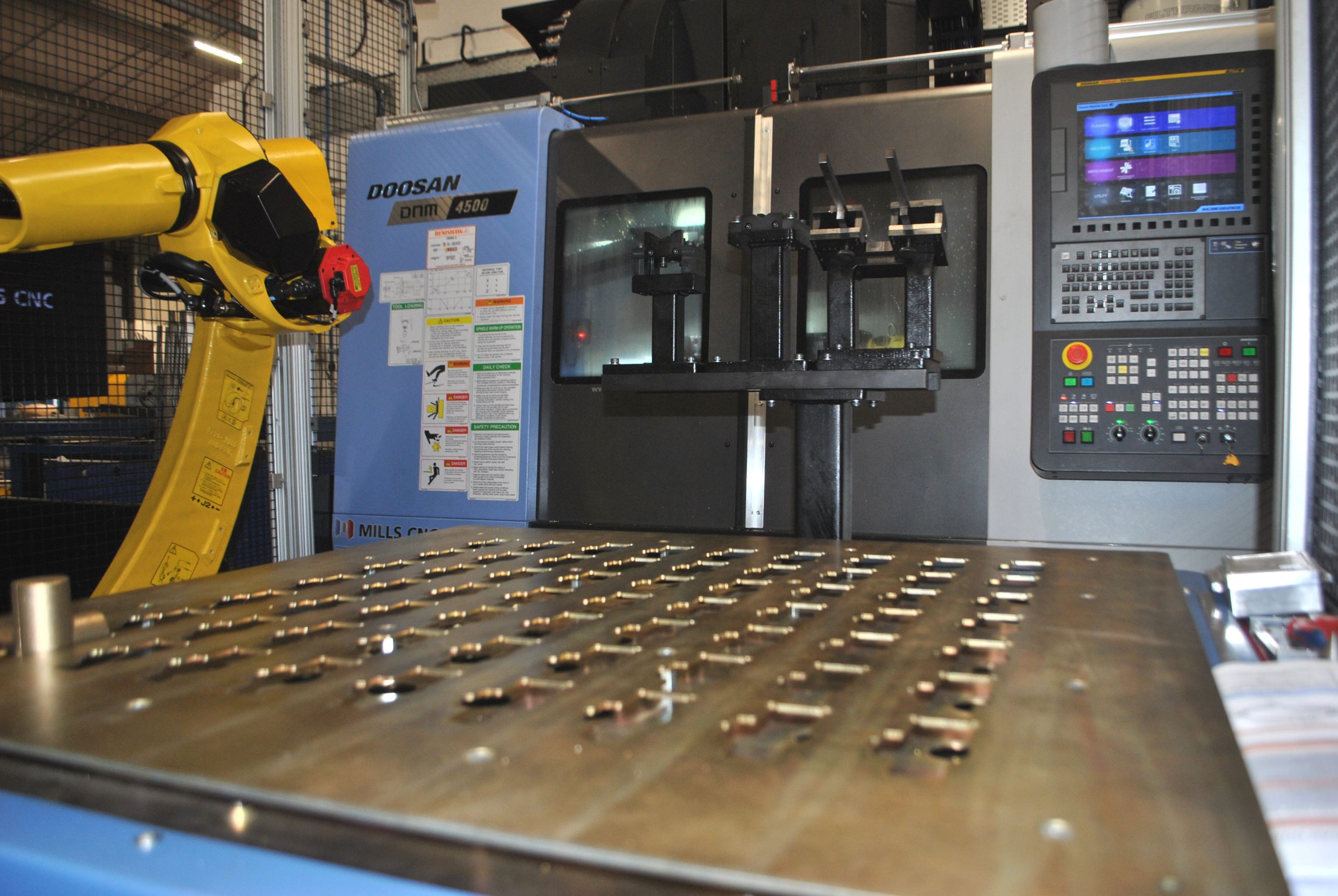 The Cell: a closer look
The automation cell comprises a new Puma 2600SY lathe and a DNM 4500 vertical machining centre. Both machines are equipped with the latest Fanuc I Plus controls and have automatic door open/door close capability.
Puma 2600SY II lathe:
The 10" chuck/81mm bar capacity box guideway Puma lathe is equipped with a +/- 52.5mm Y-axis, a 22kW/4000rpm built-in main spindle, a 15kW/6000rpm sub-spindle, and a 12-station (24-station indexing) servo-driven turret with 5,000rpm driven tooling capability.
The machine was supplied with Hydrafeed MSV 80 bar feeder to increase, and capitalise on, the lathe's flexibility and productivity potential.
DNM 4500 machining centre:
The machining centre features an 18.5kW/12,000rpm spindle, a 60-position automatic tool changer and was supplied with a Nikken 4th-axis unit for precision indexing and Renishaw probes for in-process measurement and inspection.
The automation element is provided by a heavily customised SYNERGi Sprint system comprising a Fanuc industrial robot (25kg payload) and a 900mm x 900mm grid plate to hold the brass blanks and aluminium billets (waiting to be machined), and machined valves and enclosures.
A robot linear rail, running between the Puma lathe and the DNM machining centre, enables the robot to service both machines.
Other cell features include:
Safety caging and gates that a) enclose the cell within the machine shop; b) isolate the Puma from the robot and the DNM machine enabling it to be used, independently, for either chucking or bar fed work; c) enable the robot and DNM 4500 to be used for automated machining of the enclosures – i.e., operating, on occasions, as a cell within a cell.
Different end-effectors (pneumatic grippers) to hold and transfer the pre-machined parts from the grid plate to the machine(s), and the machined parts back onto the grid plate.
Pre-cut (laser machined) multi-socket inserts that hold both the blanks and machined valves, and the billets and machined enclosures securely, in place, on the grid plate.
A part repositioning stand that a) enables the robot to take the valve parts from the Puma 2600SY II lathe, place and reorient them, and transfer them over to the DNM 4500 for machining features that include pressure switch ports etc., and b) take the enclosures out of the DNM 4500, reorient them on the stand and return them back to the DNM for machining the enclosures' reverse sides.
The cell is driven by Mills CNC's, proprietary, SYNERGi software -– a powerful and intuitive software solution that incorporates a 17" touchscreen HMI with a separate keyboard and that features logical navigation and user-friendly menu screens.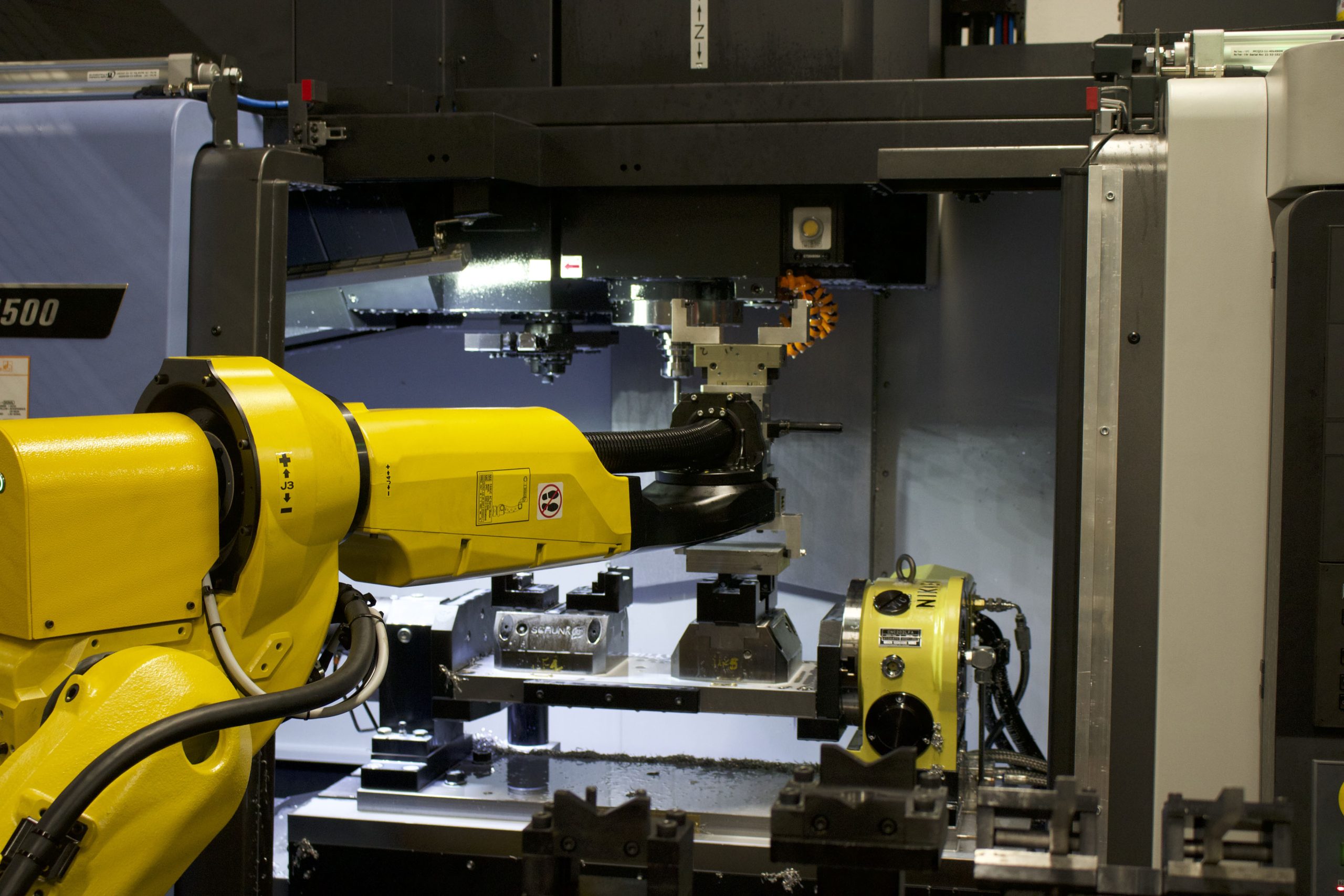 Results and improvements
Says Paul Newton:
"As required, the cell is inherently flexible.
"The Puma lathe, for example, is an integral part of the cell when machining our valve components but can also operate independently as a standalone chucking or bar fed turning centre when the cell (the robot and the DNM 4500 machining centre) is being used to machine the enclosures.
"The use of multi-socket inserts enables us to set up the cell for batch production and allows us to run the system unattended, overnight and over the weekends too, when required."
The cell enables Ardent to either machine 63 valves or 12 enclosures at a time with minimal human intervention and is a significant improvement over what the company's previous machining methods could produce.
Concludes Paul Newton:
"It's a fantastic system that meets our immediate and future production requirements."
"Credit goes to Mills CNC's sales and applications engineers for designing and installing such a high-productivity, customised turnkey automation solution."
*The brass, nickel-plated valves sit on top of Ardent's fire suppression cylinders and are used, when activated, to regulate the flow and delivery of the suppression agent used – either ABC dry powder, AFFF wet chemical or FX- 512 liquid – quickly to the fire source.
**The aluminium enclosures form the protective casings for Ardent's Control Modules that act as the brain for each suppression system, managing fire detection, system discharge, monitoring and alerts.