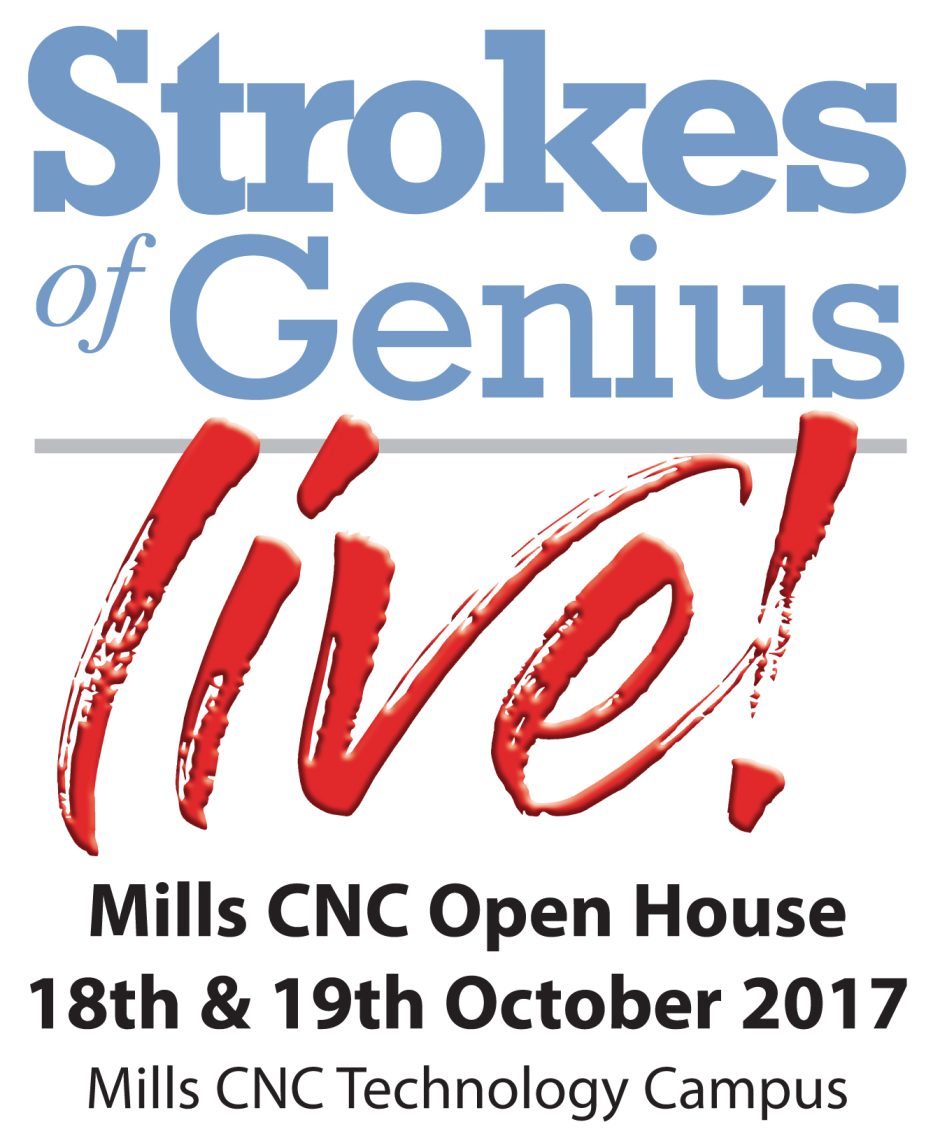 Two day event in Autumn 2017 will provide the ideal platform for Mills to showcase new and recently-launched Doosan machines and technology innovations to UK and Irish precision component manufacturers.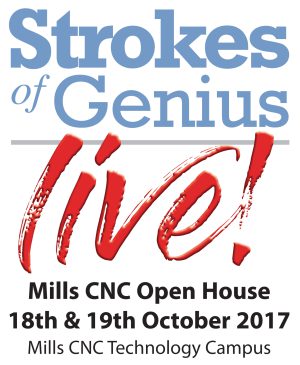 Mills CNC, the exclusive distributor of Doosan machine tools in the UK and Ireland, and home of the CNC Training Academy, has announced that it will hold an Open House at the company's Technology Campus facility in Leamington on the 18th and 19th of October 2017.
Branded 'Strokes of Genius…LIVE', the Open House is being used by Mills to showcase new ranges of Doosan machine tools and a whole host of technology innovations to visitors.
A significant percentage of the machines on view include new Doosan models that recently made their international debuts at the DIMF Show (Doosan International Machine Tool Fair), held in South Korea in May 2017. These machines will take their place at the event alongside more established, popular and best-selling lathes and machining centres from Doosan's extensive machine tool portfolio.
The Open House also provides Mills with the ideal platform to promote a number of new technology innovations that will soon be introduced into the market. These include new Siemens Sinumerik 828D 15.6" TFT touch-screens that will become a standard feature on Doosan (Siemens-controlled) machines in the very near future, and the launch of a new robot work-piece load and unload automation system that will help manufacturers significantly improve their productivity.
No Mills Open House would be complete without the company showcasing its customer-focused range of 'best-in-class' pre- and after-sales support services…and at the event in October Mills representatives from the CNC Training Academy, Mills CNC Finance, Mills CNC Turnkey and Development Centre and Mills CNC Servicing will be out in force – explaining and demonstrating their strengths and enduring market appeal.
Says Mills CNC's Managing Director, Kevin Gilbert:
"Market-leading Doosan machines…Innovative technology developments…Industry-recognised service and support – our Strokes of Genius…LIVE Open House has it all and is a great opportunity for component manufacturers find out what's so special about Mills and what makes us tick."
New machine highlights
Pride of place at the Strokes of Genius…Live event goes to a number of new Doosan machines making their UK debuts.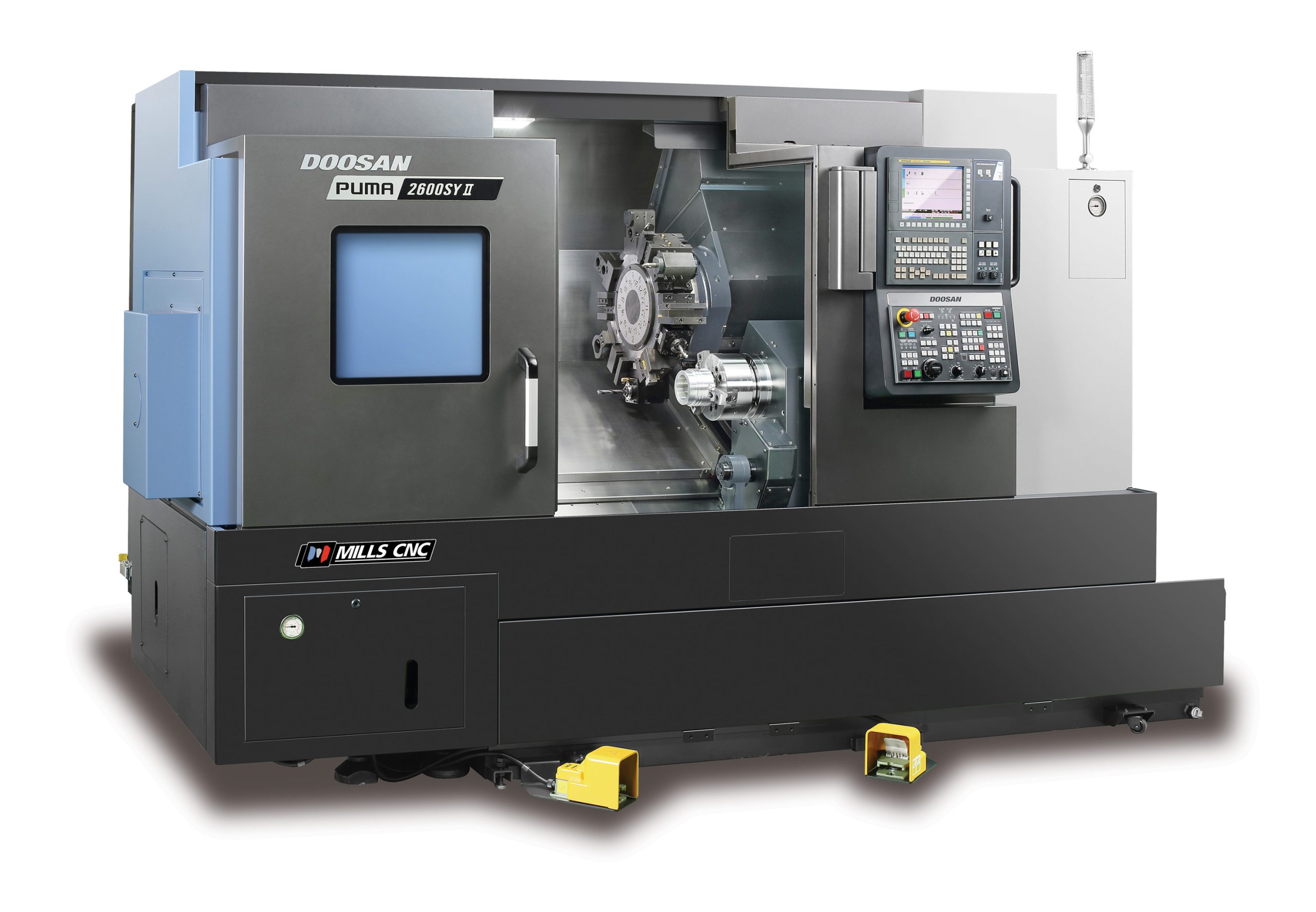 These include the new, next generation 10" chuck Puma 2600SY MK II (sub-spindle Y-axis turning centre) equipped with sophisticated thermal compensation sensor technology and an improved spindle bearing structure that delivers consistently high accuracies, even during continuous use.
Also on view is a new Doosan GT3100M (12" chuck/102mm bar capacity) box guideway global turning centre equipped with a 22kW/2800rpm main spindle and 7.5kW/5000rpm driven tooling capability and a new Siemens 828D-controlled Lynx 2100LMA long-bed lathe equipped with a 15kW/6000rpm spindle and 6.2kW/6000rpm driven tooling capability.
These machines, in addition to a further five lathes being exhibited, are all under power and will be performing a range of challenging machining demonstrations at the Open House.
It's a similar situation with Doosan machining centres.
The recently-launched DNM4500, 5700 and 6700 series of 3-axis vertical machining centres equipped with Fanuc, Heidenhain and Siemens controls are all being showcased at the event. (The Fanuc-controlled DNM 6700 machine is being exhibited with the latest Robojob robot handling system, from Hydrafeed).
The 3-axis machines on view are joined by two best-selling Doosan 5-axis machines – a VC 630- 5AX (with a Siemens control) and a DNM 350-5AX.
Explains Kevin Gilbert:
"The Doosan range of high-performance machine tools is constantly evolving. The Open House in October provides an ideal opportunity for manufacturers to get up-to-speed with the latest developments."
 Service highlights
Mills' Open House isn't just about machine tools – important as they are.
A main strength and key differentiator of Mills CNC is its range of customer-focused pre- and after-sales services. At the Strokes of Genius…LIVE event, representatives from the company's CNC Training Academy, Turnkey Development Centre, Finance and Servicing divisions etc., will all be available to explain the services on offer and how they can help manufacturers improve their productivity, performance and profitability.
Manufacturers wishing to attend Mills' Strokes of Genius…LIVE Open House should call 01926 736736 to register.