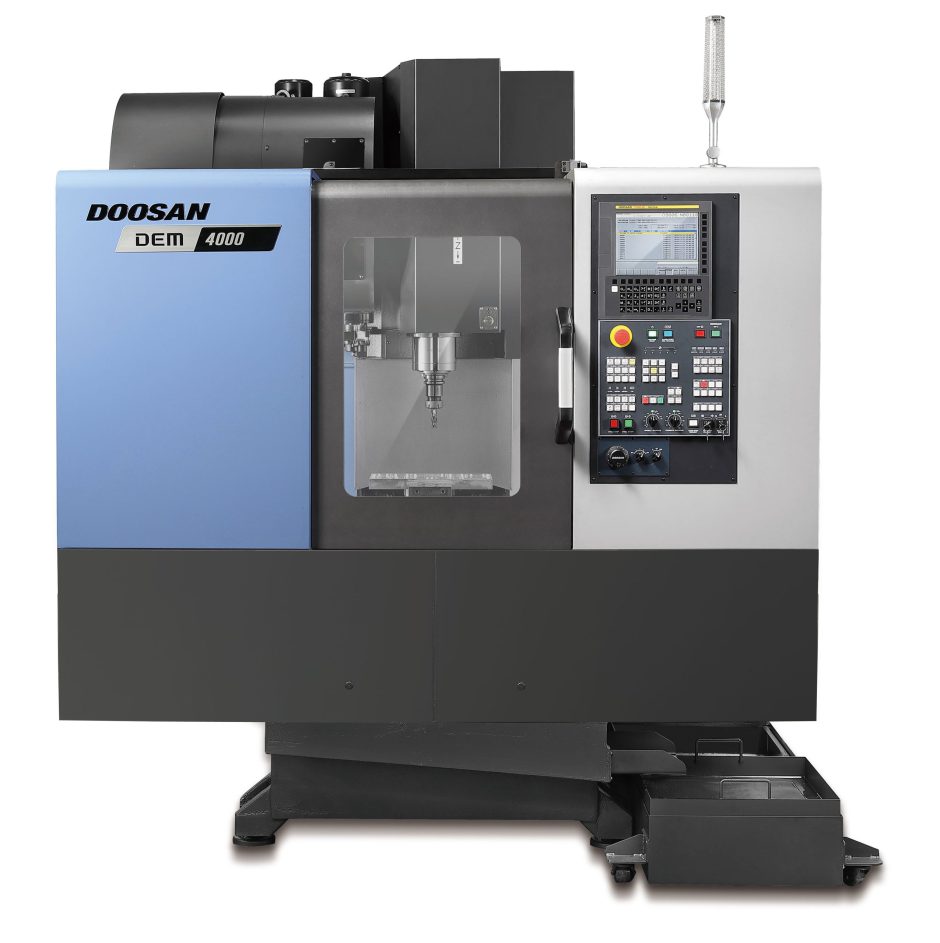 Mills CNC: Hall 19 – Stand 100
Mills CNC to showcase 18 high-performance Doosan machines and a range of advanced automation systems and solutions on its stand at MACH 2020.
Mills CNC, the exclusive distributor of Doosan machine tools in the UK and Ireland, is showcasing a range of advanced machine tool and automation solutions on its stand at MACH 2020 (Hall 19 Stand 100).
Mills CNC has traditionally viewed the MACH Show as a critically important element of its marketing programme and, historically, has used the event to launch a number of new Doosan machines and a range of its latest technology advances and service initiatives to visitors.
The company invests significant resources in its presence at MACH and regularly has the largest stand at the event.
At this year's MACH Show it's a similar situation with Mills showcasing 16 advanced Doosan lathes, machining centres and mill-turn machines on its own stand and two Doosan machines on Technical Partner stands.
The Mills stand is also the location where visitors can see a range of sophisticated Industrial and Collaborative robot solutions in action, and get the low-down on the latest training courses from Mills CNC Training Academy.
Doosan machines – general
Says Kevin Gilbert, Mills CNC's managing director:
"We will be showcasing an impressive cross-section of Doosan machine tools on our stand – many of which are new models making their UK and/or MACH debuts at this year's event.

"Doosan machine tools set new benchmarks for performance, productivity, reliability and best value. The machines we're taking to MACH 2020 highlight all of these attributes."
New Doosan machines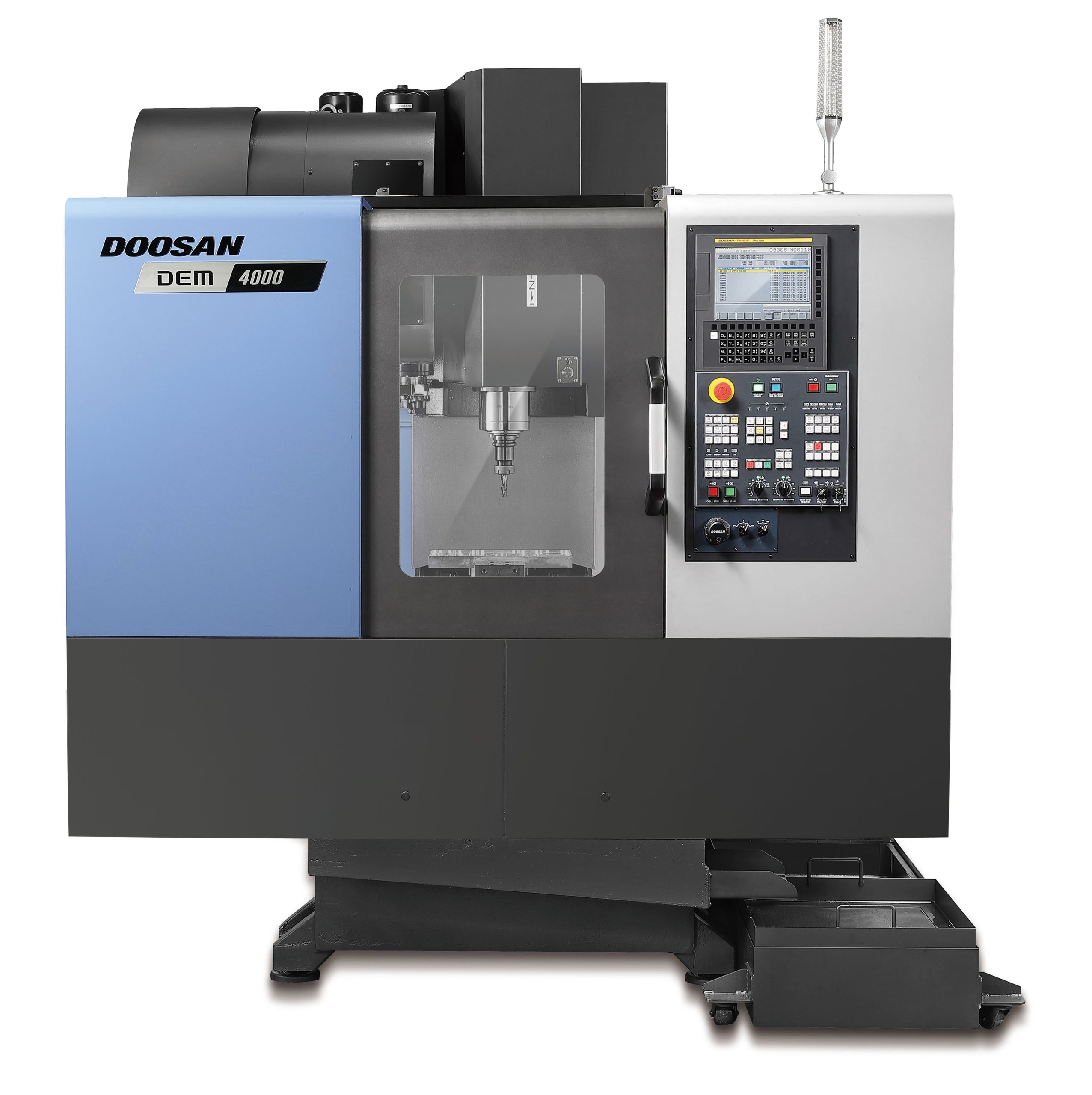 The 18 Doosan machines being exhibited feature a number of new models that are making their UK debuts at the event and include the new DEM 4000 – a compact, high-productivity vertical machining centre equipped with a high-speed 7.5kW/8,000rpm spindle, a 20 position ATC and the latest Fanuc control.
The DEM 4000 shares pride of place on Mills' stand with the company's latest high-performance 5-axis machining centres.
The Heidenhain-controlled Doosan DVF 5000, integrated at the show with a large-capacity Automatic Work Changer (AWC) for increased productivity, is taking centre stage at the show alongside two new models from Doosan's DVF (5-axis) range – a Fanuc-controlled DVF 6500 and a Heidenhain-controlled DVF 8000.
All three machines deliver unrivalled speed, accuracy, flexibility and process reliability. They are equipped with direct-drive spindles (up to 22kW/18,000rpm) and are supplied with integrated thermal compensation systems for increased (and long-lasting) precision.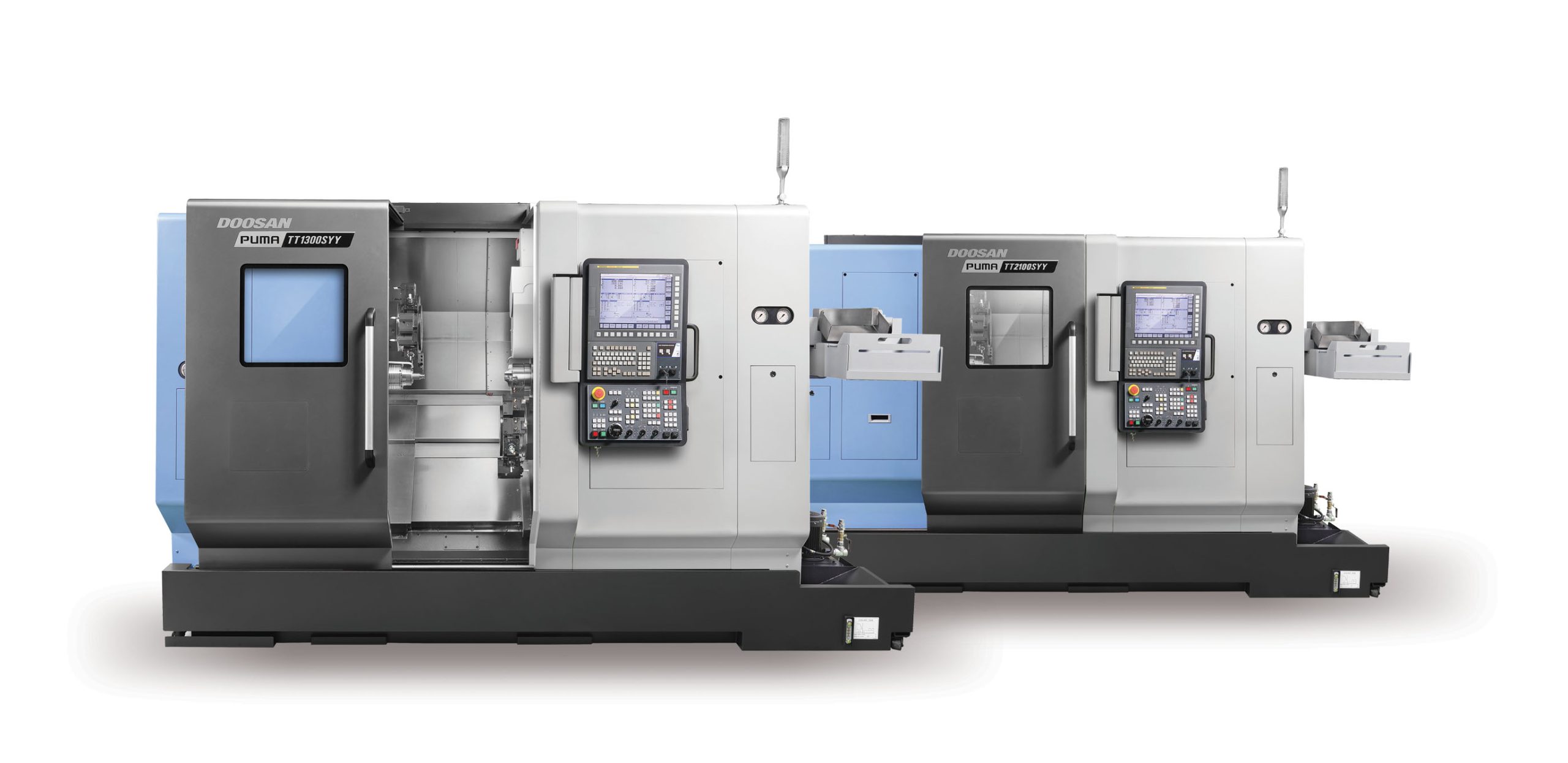 Many of the machines being exhibited feature in-built automation as standard, like the TT 1300SYYB and TT 2100SYYB twin-turret, twin-spindle turning centres with dual Y-axis capability on their upper and lower turrets.
Other Doosan machines being exhibited
In addition to the new models (highlighted above) a number of popular and best-selling Doosan lathes, machining centres and mill-turn machines are also being showcased on Mills CNC's stand and on the stands of two of the company's partners.
Doosan Lathes
As always Mills CNC will be showcasing a number of its ever popular Doosan Lynx and Puma lathes on its stand at MACH 2020.
Specific models being exhibited include a large-capacity Puma 700LM lathe with driven tools; a 10" chuck Puma 2600SY Mk II lathe with Y-axis and sub-spindle capability performing a gear hobbing machining demonstration; a Lynx 2100LB compact long-bed lathe machining shaft-type components, and a Siemens-controlled (828D) Puma GT 2600M with driven tools. (This machine is being showcased in the MTA's Training Zone at MACH 2020).
To demonstrate Mills CNC's expertise in automation – two Doosan lathes will be showcased with integrated industrial and collaborative robot technology.
A Fanuc-controlled Doosan Puma GT 2100M (universal) lathe with driven tools will be integrated with a high-productivity industrial robot to create a flexible, automated SYNERGi 25 manufacturing cell. (The cell also includes an Equator high-speed gauge system for inspecting medium-to-high volume machined parts).
A Fanuc-controlled Doosan Lynx 2100LSYB will be integrated with a Doosan M1013 collaborative robot demonstrating the productivity gains that be achieved through automated machine loading and unloading.
Doosan Machining Centres
Doosan machining centres feature heavily on Mills' stand. 
The machines being showcased include an advanced, large-capacity and Heidenhain-controlled (iTNC640) Doosan VCF 850LSR/ 800 II (5-axis) machining centre which will be demonstrated machining an automotive V12 engine block.
In addition to this a good representation of Doosan's DNM series of vertical machining centres will be on view. These include a Fanuc-controlled DNM 4500, a Siemens-controlled (828D) DNM 5700 and a Heidenhain-controlled DNM 6700.
Rounding off the DNM series is a Fanuc-controlled DNM 4000 which will be exhibited on Renishaw UK Sales' stand (Hall 19 Stand 300) where it will be integrated with a Doosan cobot.
Doosan Mill-Turn Machines
Mills will be exhibiting an SMX 2600S multi-tasking mill-turn machine on its stand at MACH 2020.
The machine with its Doosan CUFOS control will be performing a power skiving demonstration at the event.
Mills CNC Automation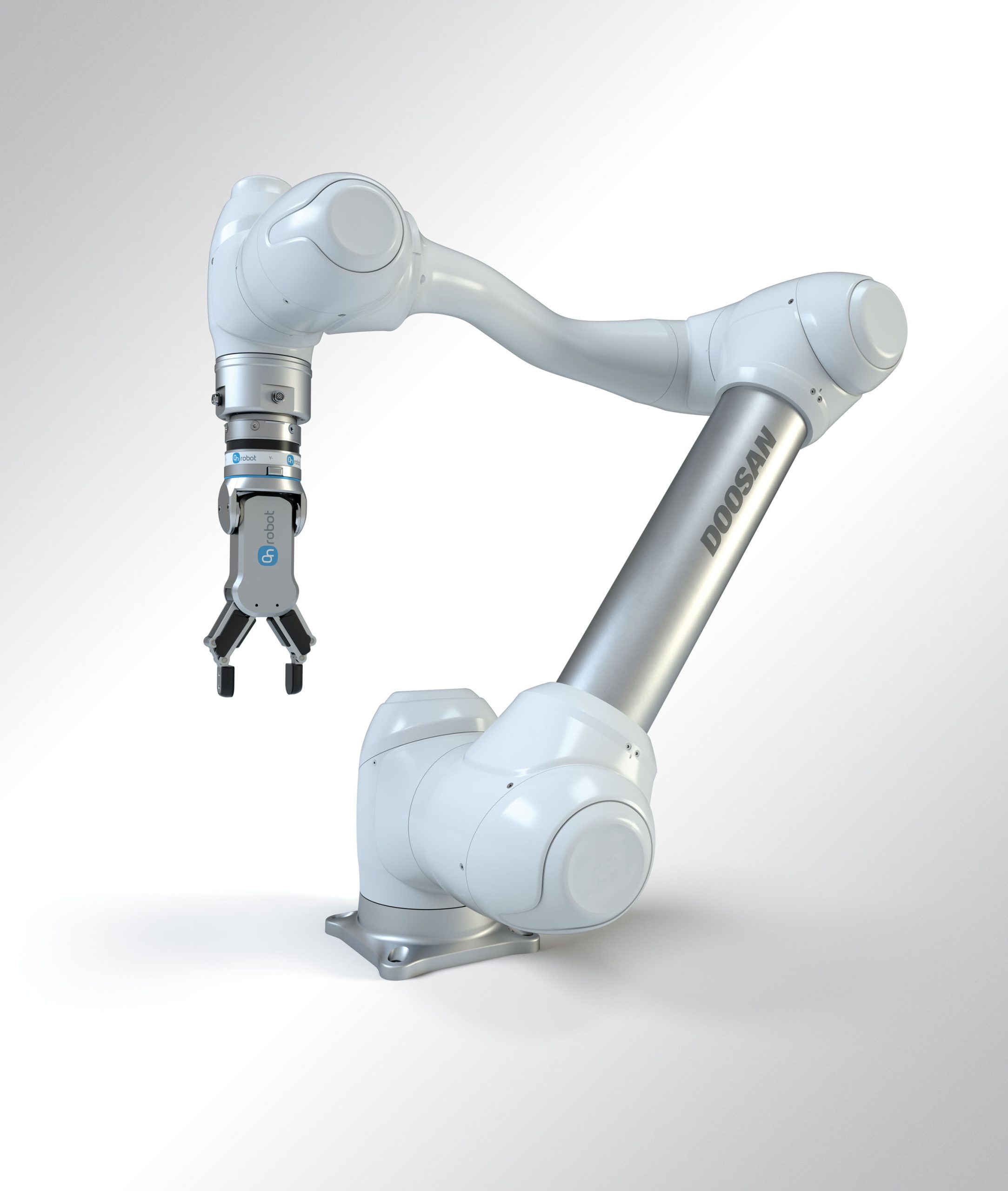 Mills CNC Automation – a division specifically created to drive Mills' Industrial and Collaborative robot business has a large presence on the stand.
Says Tony Dale, Mills CNC's Technical Director:
"Automation is a major theme underpinning our attendance at MACH and is a key characteristic of the solutions being exhibited.

"We are showcasing a 5-axis machine with an integrated automatic workpiece pallet changer; a flexible, automated manufacturing cell (called SYNERGi 25) which is powered and controlled by our own proprietary (SYNERGi) software; and a number of Doosan cobots too.

"Doosan cobots are versatile and are easy to use. With their best-in-class dexterity and torque sensing capabilities they will be showcased on our stand with different end effectors (including integrated vision systems) performing a range of machine tool tending, pick and place and assembly operations."
Mills CNC Training Academy
There is a designated area on the stand for the Mills CNC Training Academy.
As well as promoting its latest Fanuc, Siemens and Heidenhain Operator and Programmer training courses, the CNC Training Academy will also be presenting and explaining its new courses, that include BobCAD-CAM, Fanuc PC FIPT and Manual Guide i, to visitors.
Summary
Concludes Kevin Gilbert:
"We're making an Olympian effort to ensure that MACH 2020 is a landmark event for UK and Irish component manufacturers.

"Everything is well on track to make this year's show relevant, inspiring, memorable and rewarding for visitors.

"If you're a component manufacturer looking to compete, and win, on the global stage – visit our stand (Hall 19 Stand 100) and get your performance, productivity and profitability back on track."