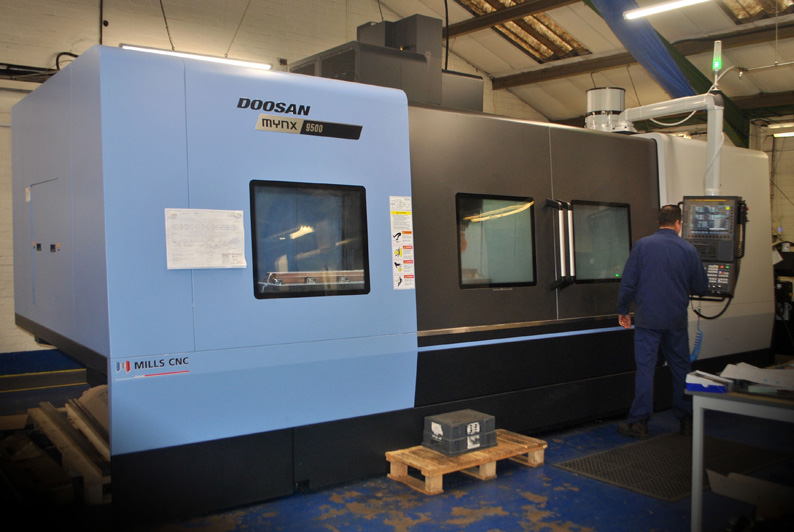 Leading precision subcontractor, searching for a large-capacity, powerful vertical machining centre canvasses the market and ultimately invests in a new Doosan machine from Mills CNC.
Mills CNC, the exclusive distributor of Doosan machine tools in the UK and Ireland, has supplied Birmingham-based Burcas Ltd., a privately owned specialist engineering subcontractor, with a new large-capacity vertical machining centre.
The machine, a Doosan Mynx 9500/50 with a Doosan-Fanuc control, was installed at the company's 32,000sq. ft. facility in October 2020 and is being used, primarily at this moment in time, to machine specialist tooling, prototypes and a range of high-precision components for the Nuclear Sector- a manufacturing sector which, owing to its 'essential' status, has been largely unaffected by the lockdown and its restrictions.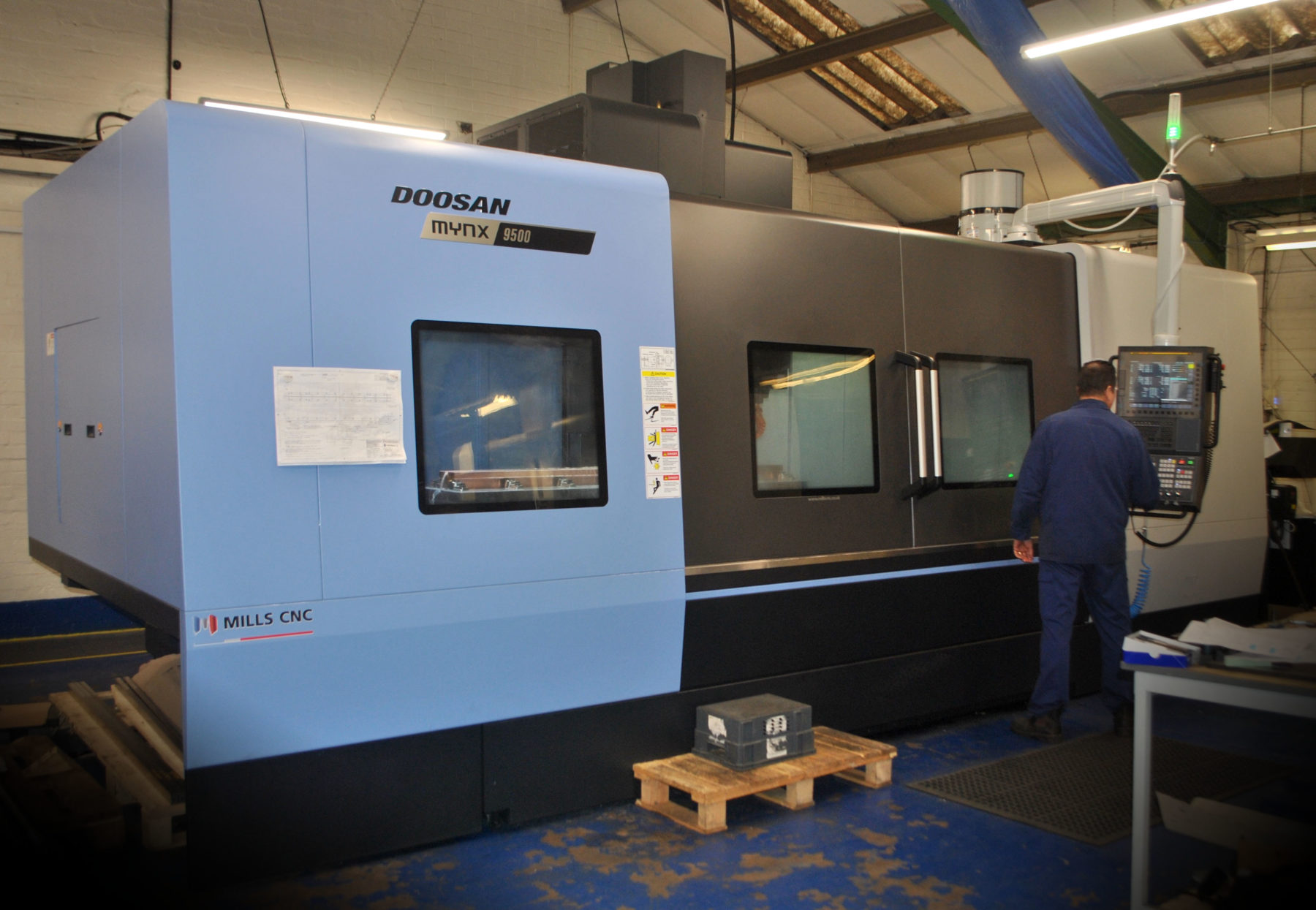 When not being used to machine parts destined for the nuclear sector the Mynx 9500/50 has also been used, to a lesser extent, to machine high-precision tungsten carbide and High-Speed Steel (HSS) Sheeter and Slitter knives and blades for Burcas' domestic and internationally-based paper and packaging customers.
The Nuclear Sector – the catalyst
The nuclear sector has always been important to Burcas and, over the last 10 months (since the COVID-19 outbreak), has become even more so owing to a decline in the company's other major business areas i.e. aerospace, oil and gas etc., caused, in large part, by the impact and effects of the pandemic.
In fact it was the increase in demand for Burcas' high-quality machining services from customers in the nuclear sector that was the catalyst behind the new Doosan machine tool investment.
Says Mike Burrows, Burcas' owner and managing director:

"To capitalise on the growing business opportunities in the nuclear sector we, at the beginning of the year, audited our existing machining capacity and capabilities.

"The results of the audit combined with our knowledge of the sector (i.e. the type of components and parts required by our customers, the machinability of the materials being used for these components etc.), highlighted a need for us to strengthen our milling capabilities as a matter of some urgency.

"As a consequence we specced out the type of machine we knew we required in terms of its size and capacity, spindle configuration and speed, torque rating etc., and began researching the market for the ideal machine.

"Although the new machine tool purchase was driven (almost entirely) by an increase in demand from customers in the nuclear sector we never lost sight that it would also become a major machining asset for our future aerospace and oil and gas business – when both returned to something resembling normality."
To identify the most appropriate and effective machine tool Burcas canvassed the market assessing both the machine tools and their suppliers against its purchase criteria.
The new machine tool purchase: Burcas' key criteria
To be able to machine a wider range of larger and longer components (than had been previously the case) the company determined that it needed a machining centre with a bigger working envelope.
Owing to the materials being machined (i.e. stainless steels, hastelloy, titanium, exotics etc.) and their machinability; the type of machining operations likely to be employed (i.e. heavy-duty roughing, interrupted cutting etc.) in producing the parts, and the accuracies and surface finishes required – it was clear that the new machine had to have a rigid design and construction…a powerful, high-torque spindle…a generous sized tool changer and a highly-effective swarf management system.
To help optimise machine tool uptime once the selected machine was installed, Burcas looked closely at the depth and breadth of the various machine tool suppliers' after-sales service and support operations.
Other key criteria included the machine's cost and its availability.
Meeting the criteria: The Mynx 9500/50
Having canvassed the market and discussed its requirements with a 'hit list' of potential machine tool suppliers, Burcas ultimately decided to invest in the Mynx 9500/50 machine for the following reasons:
a) The Mynx 9500/50 is a large-capacity machine with an impressive working envelope (X-axis 2500mm; Y-axis 950mm and Z-axis 850mm), and a large work table (2500mm x 950mm) that can accommodate parts up to 3,500kg in weight (i.e. maximum table load). The machine's 16m/min rapid rates on all axes make it extremely productive…enabling it to get down to business fast.
b) The Mynx is a rigidly designed and built box-guideway machine.
It is equipped with a powerful, two-speed gear box driven (22kW/10,000rpm), high-torque (452 Nm) spindle, with a BT50 face and taper configuration that makes it ideal for heavy-duty cutting operations, long machining runs and the efficient and accurate machining of 'difficult-to-machine' materials.
c) The machine features a 40-position ATC with a fast (2.5 second) tool change over time for improved productivity and flexibility, and a high efficiency four row screw chip disposal system that delivers improved efficiency and process reliability.
d) The Mynx 9500/50 is supplied and supported by Mills CNC who's pre- and after-sales and service offering is widely recognised as being 'the best in the business'.
Says Mike Burrows:
"The Mynx 9500/50 is our first Doosan machine and since its installation it hasn't missed a beat. The machine is versatile and reliable, and its cutting performance is impressive.

"In addition to the machine we have also been impressed with Mills CNC. From the outset they adopted a proactive role and, even a tricky installation that necessitated the craning in of the machine through the roof, was professionally managed and executed."
About Burcas
Burcas, established in 1941, is a company run on sound business principles. It is committed to continuous improvement and, as part of its vision and values, "strives for perfection and 100% customer satisfaction".
The company has, over many years, built a strong reputation in and across the many markets it serves (both domestic and international) for -: a) the quality and accuracy of its machined products; b) its speed of response and ability to fulfil customers' lead times and delivery schedules; c) its competitive pricing policies.
Essential to the company's success and its ability to work across so many industries and sectors has been its progressive attitude to investing in the latest manufacturing and machining technologies.
Says Mike Burrows
"We constantly monitor and evaluate all aspects of our business. If, and when, we identify an area that needs attention or improvement we act decisively."
In recent years this strategic outlook has seen the company invest in a number of advanced machine tools, optimise its processes and systems and integrate an effective ERP/MRP system across its operations to improve efficiencies and effectiveness.
Burcas is committed to quality and, as well as having ISO 9001 and AS9100 Rev D certification, also holds a number of customer-specific approvals.
Concludes Mike Burrows:
"The new Mynx 9500/50 investment is another example of Burcas' commitment to continuous improvement and of us striving to be the best we can be."