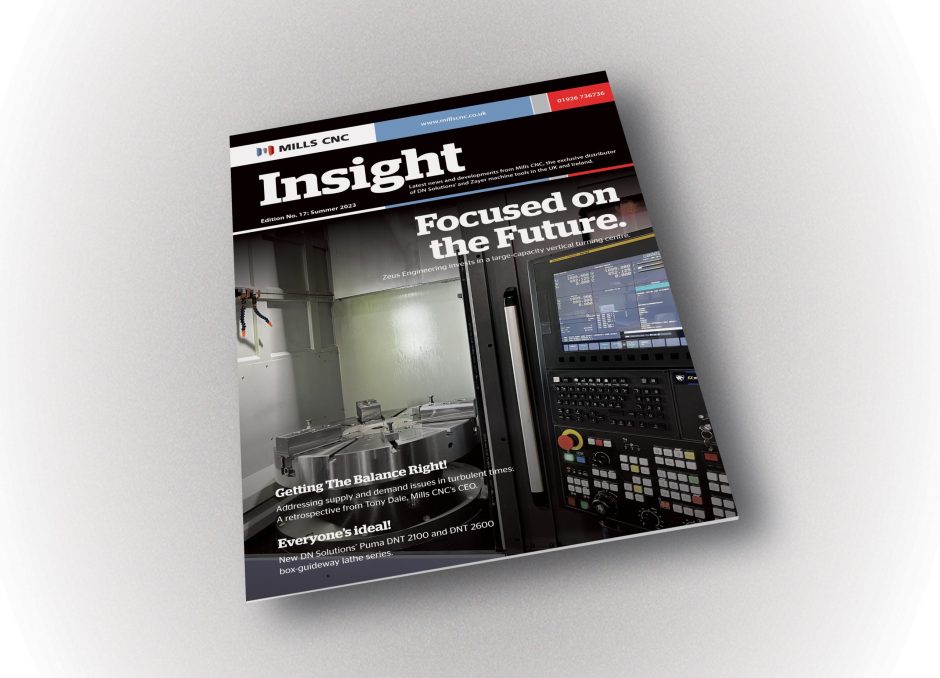 Mills CNC, the exclusive distributor of DN Solutions' and Zayer machine tools in the UK and Ireland, has just published a new 'Summer Edition' of Insight – the company's popular, customer-facing magazine.
Available in digital format and accessed from the company's website, this latest edition contains a retrospective overview of Mills' impressive business performance over the last six months, focusing on how it addressed rising demand for its machine tools and automation systems against a backdrop of macro-economic challenges and supply-side issues in Q1 and Q2.
The edition also features articles on the new DN Solutions' 8"- 10" chuck, box guideway DNT lathe series, introduced into the UK and Irish markets at the start of the year, and the company's latest social media 'News & Views' YouTube video initiative launched in Q2.
With a write-up on DIMF 2023 (DN Solutions' Machine Tool Fair), that took place in South Korea in June, and an update on its distributor relationship with Zayer Machine Tools as well as a number of recent customer case studies completed since the last edition of Insight hit the streets in January 2023 – the new edition is both interesting and informative: exactly what one might expect from a leading light in the UK's machine tool sector.
"2023 is proving to be a great year for Mills CNC, possibly the best in our 49-year history, with machine tool and automation system sales hitting record levels.
"In this edition of Insight there are in-depth features on a number of customers who, through their progressive investment programmes and loyalty to Mills CNC, are helping make this a reality."
Tony Dale, CEO of Mills CNC
The remainder of 2023 looks as hectic for Mills as the first six months of the year. Planning for its attendance at MACH 2024 in April is seriously underway as are its plans to celebrate, and commemorate, its 50th anniversary since the company was first incorporated back in 1974.
More about these, plus many other initiatives the company has in the pipeline, will be covered in the next, 'Winter' edition of Insight.
Insight Magazine – July 2023