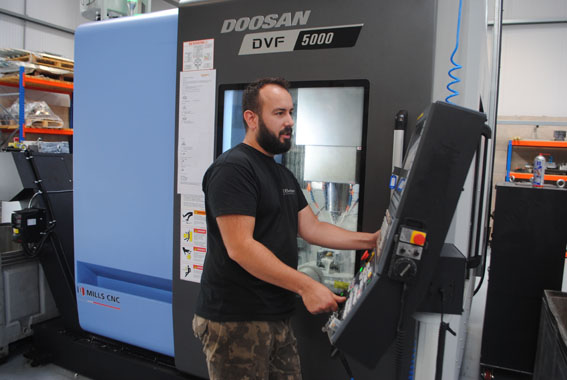 Significantly reduced machining operations leading to reduced part cycle times, improved operational efficiencies and new business wins are just some of the benefits Baker Engineering is experiencing from its latest Doosan 5-axis machine tool investment.
Mills CNC, the exclusive distributor of Doosan machine tools in the UK and Ireland, has recently supplied Baker Engineering Ltd., a leading precision toolmaker and engineering subcontract specialist, based in Derby, with a new, high-performance Doosan DVF 5000 (5-axis) machining centre.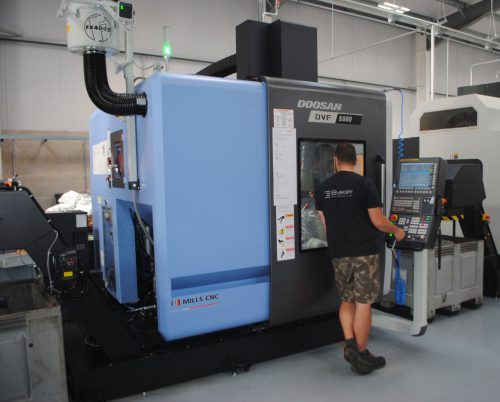 The machine was installed at the company's new, purpose-built 8,000 square foot facility in April 2020 and is being used to machine a diverse range of high-precision components, as well as specialist tooling, jigs and fixtures for its growing UK and international customer base.
The DVF 5000 is the second Doosan machine tool Baker Engineering has invested in recently; the first being a new DNM 6700 vertical machining centre which was acquired in February 2017.
5-axis machine tool investment: rationale
Baker Engineering is a family-owned business established in 2008 that today employs 15 members of staff.
The company is ISO 9001: 2015 accredited and is committed to continuous improvement making regular investment in the latest machine tool and ancillary manufacturing technologies to maintain its competitiveness and strengthen its preferred partner relationships with its customers.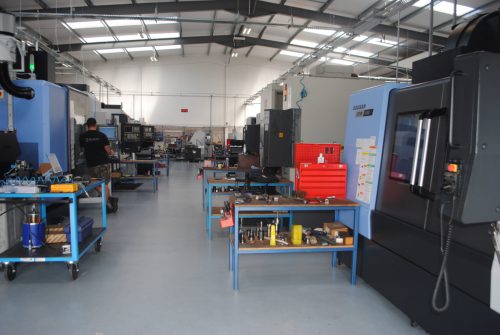 Baker Engineering has a number of CNC machines at its disposal; these include machining centres with integrated 4th-axis units, lathes with bar feeders, and wire EDM machines.
In addition to offering precision subcontract machining services the company also has specific strengths in manufacturing aerospace component tooling (i.e. jigs and fixtures for ground support maintenance); tooling for the measurement and inspection of railway tracks; and tooling used in the power generation sector).
As a forward-thinking company the decision to invest in the latest 5-axis machining technology was a natural one for Baker Engineering to make and had begun, in earnest, earlier in 2019.
Explains Director, Adrian Baker:
"Multi-axis and multi-tasking machine tools help manufacturers improve their productivity. Because we are a company that's looking to constantly improve we had done our homework into the technology and could see that an investment in a 5-axis machine tool would deliver significant performance benefits.

"In addition, the investment would send the right signals, externally and internally, that Baker Engineering was focused on the future."
The key advantages from investing in 5-axis machine tool technology were immediately apparent to management and staff at the company and included:
the ability to machine complex shapes/parts in a single set-up.
the added benefit that 'one-hit' machining has on reducing the time and costs involved in fixturing.
the ability to improve/maintain part accuracies owing to a reduction in work handling.
Says Adrian Baker:
"Since the DVF 5000 machine's installation we have experienced all of these benefits."
A demonstration of the machine's capabilities, and its impact on Baker Engineering's performance, can be seen in the following example.
Component case study
A customer electrical housing-type component was machined, prior to the arrival of the DVF 5000, in five separate machining operations with a cycle time of 2.5 hours. When machined on the DVF 5000 the number of operations was reduced to two, and the cycle time was 0.75 hours.
Comments Adrian Baker:
"The above is typical of the results we have been able to achieve since we invested in the machine".
Mills CNC
Prior to making the 5-axis machine tool investment decision, Baker Engineering did its homework and investigated the market in order to help identify the type of machine that would 'fit the bill'.
Comments Adrian Baker:
"We had invested in a DNM 6700 vertical machining centre from Mills CNC in 2017. We have been pleased with the machine's performance and reliability, and have been impressed with Mills' after-sales service and support.

"When considering the 5-axis machine tool investment is was natural that we approached them to discuss our requirements."
These discussions resulted in the DVF 5000 being recommended.
The DVF 5000
The Doosan DVF 5000, a popular and best-selling 5-axis machine from Mills CNC's impressive machine tool portfolio, is a compact and rigidly-built machine that delivers excellent cutting performance and unrivalled machining flexibility.
The machine offers full simultaneous 5-axis machining capability as well as 3 + 2 and 4 + 1 operation. (Baker Engineering is predominantly using the machine for 3 + 2 and 5-face machining).
The DVF 5000 features a powerful, direct-drive spindle (up to 18.5kW/12,000rpm), a generous-sized tool changer (up to 120 position), linear guides, and a 500mm x 450mm work table with 400kg table load.
The machine is fast boasting 40m/min rapids and was supplied to Baker Engineering with a 60-position ATC, integrated tool measurement and the latest Fanuc 0iMF control.
Since installation – added benefits
The DVF 5000 has been fully operational at Baker Engineering's facility since the end of April 2020 and has been in constant use since then.
As well as it helping the company increase its productivity and efficiency the machine has also helped Baker Engineering win new machining work.
Explains Adrian Baker
"News travels fast.

"On hearing that we had invested in Doosan 5-axis machine tool technology – a new customer made contact with us asking us to quote on a job. We have successfully turned the enquiry into an order.

"Our decision to invest in the Doosan DVF 5000 has been vindicated. The machine has significantly strengthened our machining capacity and capabilities. It is fast, accurate and reliable, and represents great value."