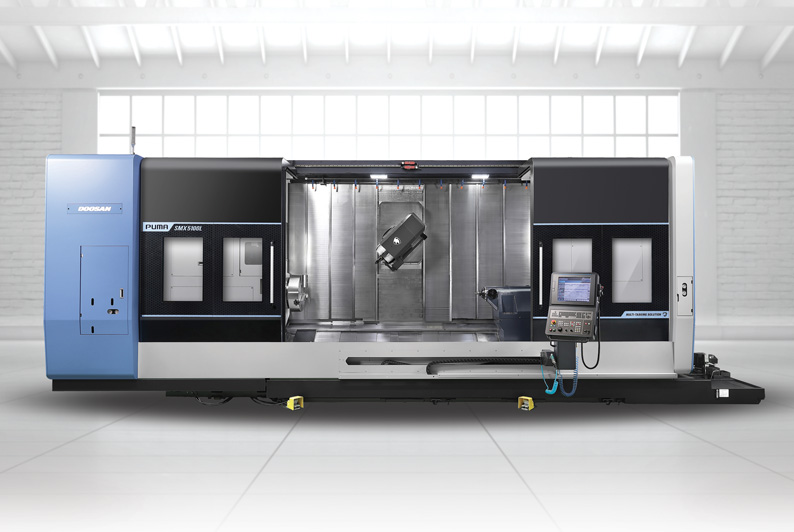 Latest mill-turn range is immensely powerful, accurate, fast and flexible.
Mills CNC, the exclusive distributor of Doosan machine tools in the UK and Ireland, has introduced a new range of large-capacity, multi-tasking mill-turn machines into the market.
The Puma SMX 5100L series, the largest in Doosan's SMX range, has been designed and built to handle large, heavy workpieces typically found in the aerospace, energy and oil and gas sectors – and machine them to completion in a single set-up.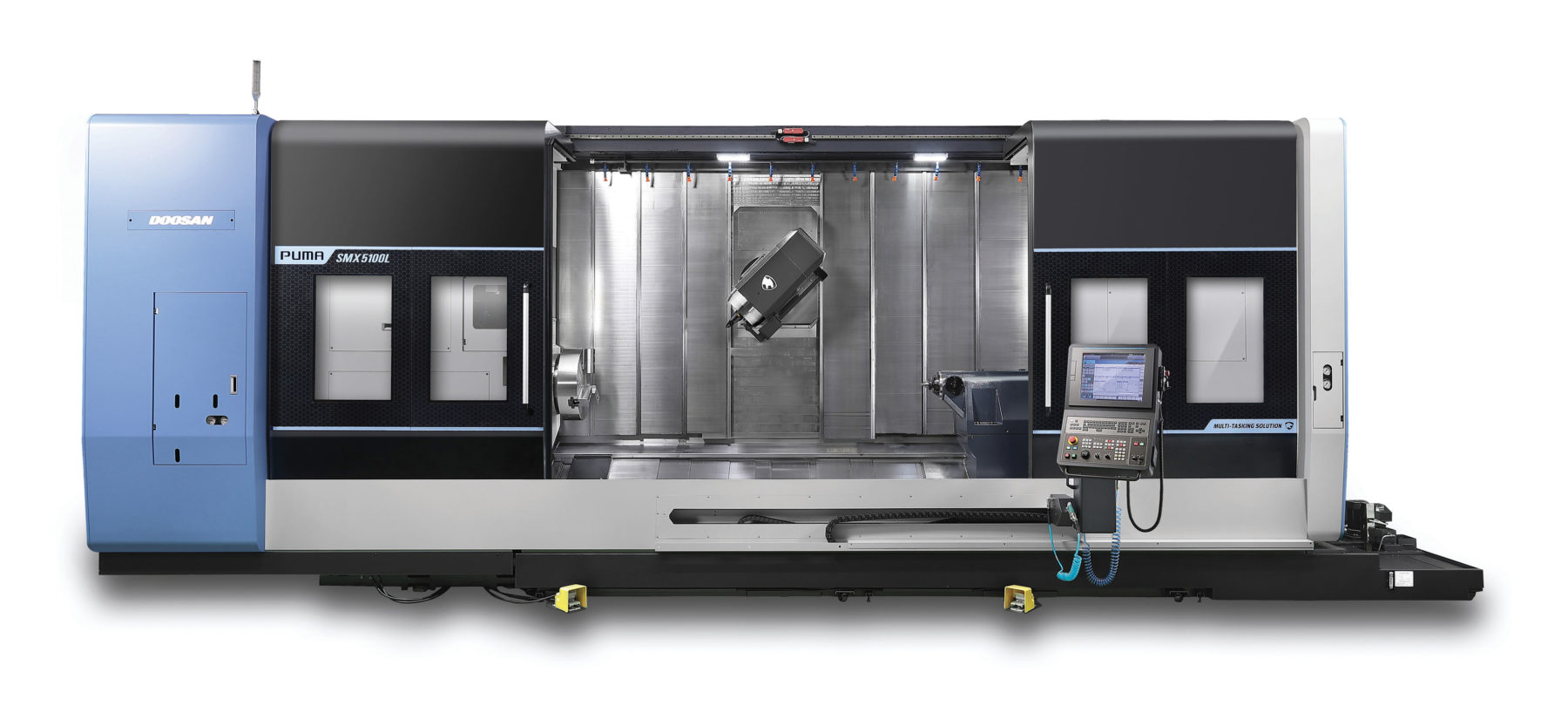 There are four different models in the SMX 5100L range with the largest machines having chuck sizes up to 21", a maximum turning diameter of 830mm and a maximum turning length of 3050mm.
SMX 5100LS and SMX 5100LSB machines are equipped with high-torque, built-in (left and right) spindles (up to 37kW/2400rpm) with 0.0001° resolution on their C-axes for high precision contouring. SMX5100L and SMX 5100LB models feature a programmable, servo-driven tailstock (instead of a sub-spindle) for the precision machining of long shafts, tubes etc.
All four models are supplied with a powerful and versatile B-axis milling head (+/- 120° stroke) that features the Capto C8 quick-change tooling system and is powered by a 37kW motor that rotates at 10,000rpm. The roller gear cam mechanism that drives the B-axis eliminates backlash and is highly rigid, capable of outputting torque of up to 2700Nm.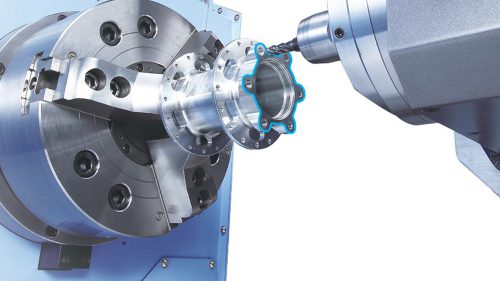 SMX 5100L machines' productivity and performance are further optimised by their ultra fast rapid rates (40m/min), their (520mm) Y-axis capability and their heavy-duty high-precision roller LM guideways.
The machines are also equipped with generous sized, servo-driven tool changers (up to 120 tools), with the machines' ATCs also having their own touch screen operation panel for ease of use, efficient job set-ups and improved process reliability. (Long boring bar and long tool magazines are also available, as options, that further extend the machines' application potential).
Accuracy – a priority
Everything about the new SMX 5100L machines screams accuracy.
From their rigid design and build and their sealed guideways (that prevent chip and coolant ingress) through to their spindle, headstock and ball-screw cooling systems, that keep thermal deformation under check – SMX 5100L machines deliver unrivalled accuracy even during long machining runs.
CNC Control – introducing CUFOS
SMX 5100L machines are supplied with the latest CUFOS Fanuc-based control.
CUFOS is an acronym for Customised User-Friendly Flexible Operating System – Doosan's new, customisable, app-based front-end control interface that, with a 19" touchscreen and enhanced 3D graphics, uses conversational programming software as well as access to a range of process reliability functions (like machine collision avoidance etc.), to improve performance and efficiency.
Says Tony Dale, Mills CNC's Technical Director:
"Everything about Doosan's new SMX 5100L multi-tasking mill-turn machines is impressive

"From their size and capacity, right through to their speed, power, accuracy and versatility. Although only just launched into the market we believe that the new SMX 5100L machines will become immensely popular and successful."