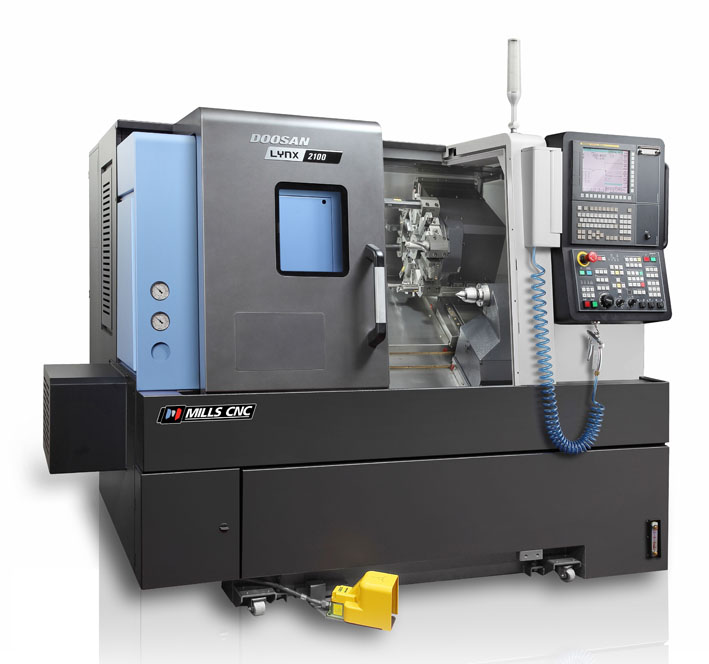 Mills CNC introduces new Doosan range of Lynx 2100 lathes.
Mills CNC, the exclusive distributor of Doosan machine tools in the UK and Ireland is launching a new range of compact high-productivity, high-efficiency Lynx lathes into the market – and will showcase one of the new models – a Lynx 2100B – on its stand at MACH 2016 (Hall 5 Stand 5430).
The Lynx 2100 series is an upgrade on the phenomenally-successful Lynx 220 range introduced a few years ago, and will provide precision component manufacturers with a best-in-class machining solution for small parts production.
Depending on the selected machine (there are 10 different model-types in the series), Lynx 2100 lathes are equipped with either a 6" chuck (51mm bar capacity) or 8" chuck (65mm bar capacity) and have a maximum turning diameter of 350mm and a maximum turning length of 550mm.
The machines feature a powerful 15kW 6000rpm or 4500rpm spindle which combined with their highly-rigid and low-vibration design and build (i.e. spindle housing, bed, feed shaft etc.), ensure high-accuracies, repeatability's and surface finishes even during heavy-duty machining operations.
Models with Driven Tools are equipped with 6,000rpm milling capability and the BMT (Base Mounted Turret) driven tool mounting configuration for improved rigidity, productivity and process reliability.
Lynx 2100 series lathes have high-speed, stable and responsive servo-driven turrets that improve productivity and accuracy, and also feature an integrated collision protection system (as standard) that prevents (for example) a machine's turret from coming into contact with its tailstock.
The new Doosan Fanuc I controlled Lynx lathes are also equipped with an easy-to-use Work-Setting Function for fast, error-free measurement and job set-ups; a fully-programmable tailstock and a tool monitoring function that provides information on tool change efficiency.
In addition, an on-board tool setter for automatic tool measurement and compensation that further reduces set up times and improves accuracy and overall performance is supplied as standard.