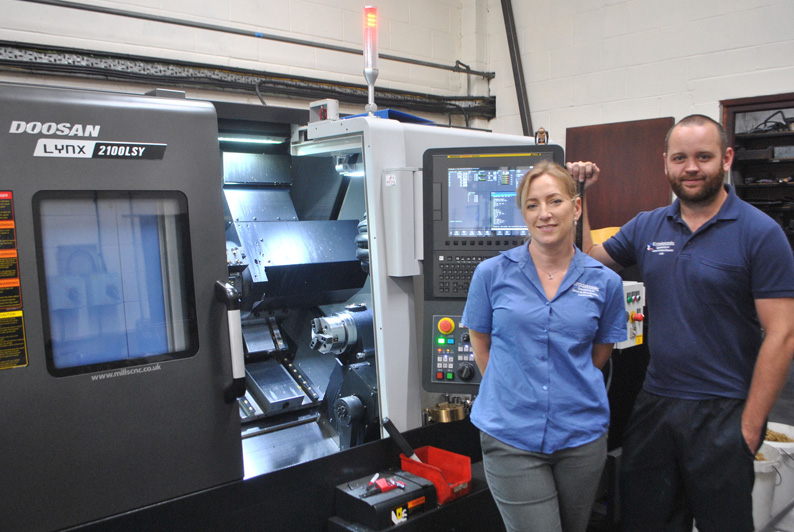 Erodatools gets its fledgling machine shop up and running by investing in three new, high-performance Doosan machines from Mills CNC.
Mills CNC, the exclusive distributor of Doosan machine tools in the UK and Ireland, has recently supplied leading EDM precision subcontract specialist – Erodatools Ltd., – with three new Doosan machine tools
The machines, comprising two compact, multi-tasking Lynx lathes (a Lynx 2100LSYB and a Lynx 2600Y) and a DNM 6700 vertical machining centre, supplied with a Nikken 4th-axis unit, were installed at the company's 8,500sq. ft. facility in Penistone, South Yorkshire in September 2020, April 2021 and May 2021 respectively.
The investment in three machines…made in such a relatively short space of time…and during the pandemic…reflects a major strategic move by the company to augment its core and traditional wire and solid sink EDM operations through the rapid creation of a fully-functional, high-performance in-house CNC machine shop with state-of-the-art turning and milling capabilities.
Spearheading the development of the new resource is Jon Harper, Erodatools' (recently appointed) Machine Shop Manager:
"The new machine shop complements the EDM side of the business", says Jon Harper. "It is run on the same business principles and company values that have served Erodatools so well for almost 50 years – namely a commitment to continuous improvement, to 'best-in-class' quality and to unrivalled customer care."
About Erodatools
Erodatools was created in 1972 by brothers Ken and Tony Rolfe as an EDM precision subcontract specialist company providing high-accuracy wire and die-sinking machining services to locally-based customers operating in the mining and rail industries – to name but a few.
Back in those days (i.e. the 1970's) EDM was a 'relatively' unknown machining process amongst many manufacturers with some, more familiar with conventional machining technologies, often referring to it as a 'black art'.
However, for the stress-free machining of high precision and often, complex and intricate, workpiece features such as thin walls, tapers, internal corners with tight radii etc., to exacting geometric tolerances and surface finishes – the process was (and still is) largely unrivalled.
Continues Jon Harper:
"Erodatools, through the skill and dedication of its people combined with regular and prudent investment in advanced EDM machine tools, built a strong and solid reputation in the market based on quality, lead time fulfilment and cost competitiveness.

"As EDM became a more mainstream technology so Erodatools, as a recognised and leading niche specialist, was able to take advantage of the situation and grow the business."
Today the company serves a diverse range of customers operating in the aerospace, automotive, oil and gas, medical devices, marine and energy sectors.
A machine shop – rationale
It was always Erodatools' intention to augment its EDM operations by creating a CNC machine shop. The issue was more 'when' as opposed to 'if'.
Explains Caroline Healey, Erodatools' Works Manager:
"Although EDM is our core business, and we have a large number of loyal customers – we are essentially a 'jobbing' shop. And, because EDM (and therefore Erodatools) is often at the end of the process chain, it is often difficult to predict work volumes in advance.

To add more certainty to the business and to strengthen our position within customers' supply chains, we wanted to create an in-house CNC machine shop. The outbreak of the pandemic, and the uncertainty this created, made this need more acute."
Setting up a machine shop from scratch:
 a) Recruitment
One of Erodatools' first tasks in creating its in-house CNC machine shop was to appoint an experienced manager to head up the new resource.
Explains Caroline Healey:
"We appointed Jon (Harper) in 2020 because, as a previous Erodatools' customer, he already knew about and understood our business, and we were confident that he possessed the requisite skills, experience and 'can do ' attitude to make a success of the new venture."
And that is what has transpired.
b) Workspace
Another 'first step' in establishing Erodatools' CNC machine shop involved the 'freeing up' of physical space in the company's facility to house the new CNC (machine tool) technologies.
Continues Caroline Healey:
"We divested a number of our older EDM machines to create the additional space for the new resource.

"Our facility now has three distinct and discrete areas i.e. wire EDM, solid sink EDM and the new CNC machine shop."
c) Customers
The customer profile for Erodatools' CNC machine shop fall into two main categories – existing Erodatools' (EDM) customers and new customers.
Says Jon Harper:
"We wanted to offer a new value-added machining service, over and above our EDM services, to existing customers. From talking to these customers, we knew that as long as we could meet their quality, delivery and cost requirements, we would be in business.

"We also wanted to expand our customer base to include non-EDM users, and offer them the same, high-quality CNC milling and turning services.

"Our focus, for both types of customer, was on the machining of high-precision prototypes and one-offs, through to small-to-medium batch production."
d) Technology
To a large extent the success of Erodatools' new CNC machine shop was dependent on the range and type of machine tool(s) acquired by the company.
Explains Jon Harper:
"Before joining Erodatools I had some knowledge and experience of Doosan machine tools and Mills CNC gained from previous employment.

"Doosans are great performing machines. They are accurate and reliable and, in my experience, do not miss a beat. It's a similar positive story with Mills CNC – whose after-sales service and support is recognised as being amongst the best in the business."
 The Doosan machines: a closer look
The first Doosan acquired by Erodatools was a Lynx 2100LSYB which was installed in September 2020.
The 8" chuck Fanuc-controlled compact lathe is equipped with a 15kW/4,500rpm main spindle, a 5" chuck 6,000rpm sub-spindle, a 24 position 12 station turret, 6,000rpm driven tooling capability and a +/-52.5mm Y-axis stroke.
Says Jon Harper:
"The Lynx 2100LSYB is a multi-tasking lathe that, with its live tooling and sub-spindle, can machine small parts to completion in a single set up. The Lynx operates as a de facto self-contained turning cell.

"The lathe represents cutting edge technology and makes us extremely competitive – exactly what we needed (and need) to win new business."
Since installation the machine has been put through its paces machining a range of components made from an equally diverse range of materials – steel, Stainless, aluminium, aluminium bronze alloys, monel, inconel etc.
Comments Jon Harper
"The machine is coping with everything we have thrown at it. Only recently it was being used for two days continuously to machine complex aluminium bronze parts to high precision (10 micron tolerance maintained)."
Subsequent Doosan machine tool investments occurred in April and May 2021 respectively with the arrival of a new DNM 6700 vertical machining centre and a new Lynx 2600Y lathe – which, incidentally, was one of the first to be installed in the UK.
The Fanuc-controlled DNM 6700 was installed with a Nikken CNC 260LFA (4th-axis) rotary table (260mm diameter table) and features a directly-coupled 12,000rpm spindle, a 30 tool ATC and roller LM guideways. The Lynx 2600Y, again with the latest advanced Fanuc control, is a 12" chuck lathe with a 18.5kW/3500rpm spindle, a 24 station turret, 5000rpm mill/drill capability and a +/- 52.5mm Y-axis stroke.
Says John Harper:
"The new DNM 6700 and Lynx 2600Y have significantly increased our machining capacity and capabilities.

"All three Doosans are what can be called 'sophisticated' machines. They help to differentiate us in what is a crowded marketplace and enable us to machine parts – faster…better…and more economically than our competitors."
Next steps
Although still early days all indications are that Erodatools' CNC machine shop is a roaring success.
Comments Caroline Healey:
"We are busy and the decision to set up the new resource and invest in the three new Doosan machines has been vindicated.
"We are now putting the finishing touches to the machine shop area – completing shelving and painting the floor – and will be recruiting another person, as a machine operator, to help free up Jon's time.

"As far as future investments are concerned we are monitoring the situation and, if demand continues, we could well be looking to automate our turning operations in the near future by investing a bar feeder."