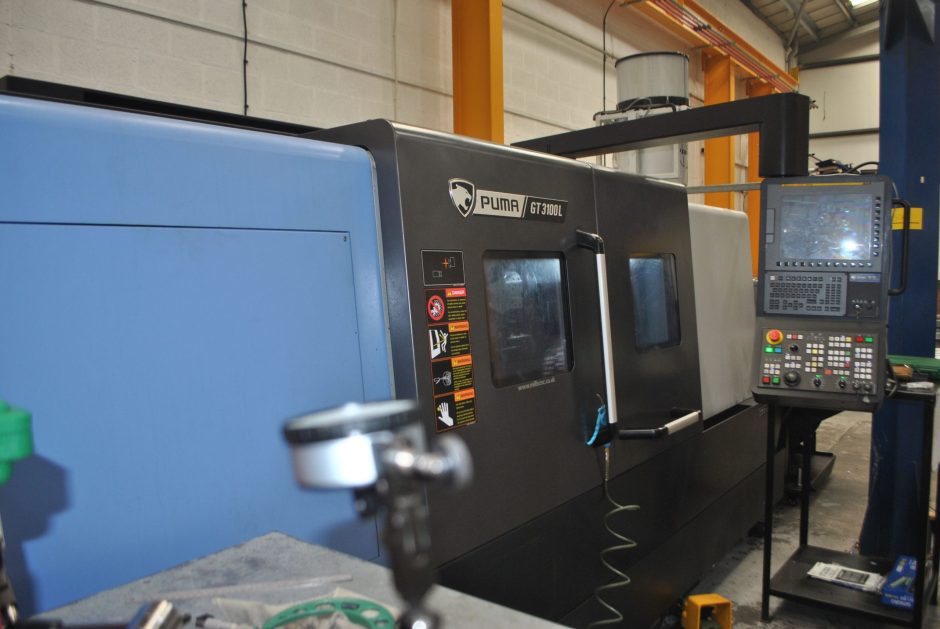 Leading roll tooling and equipment design and manufacturing specialist continues to increase and strengthen its in-house machining capacity and capabilities by investing in a new, DN Solutions' box guideway lathe from Mills CNC and, follows this up in quick succession by placing an order for a new, DN Solutions' large-capacity vertical turning lathe.
Mills CNC, the exclusive distributor of DN Solutions' and Zayer machine tools in the UK and Ireland, has recently supplied Bowers & Jones Ltd., a market-leading design and manufacturing specialist of high-precision roll tooling and equipment with a new DN Solutions' Puma GT 3100L box guideway lathe.
The new machine was installed at the company's modern 15,000sq, ft. manufacturing facility in Bilston, near Wolverhampton, in August 2023 and joins two, previously-acquired (Doosan) machines supplied to Bowers & Jones by Mills CNC – a Puma 5100B lathe and a DNM 750 II vertical machining centre equipped with a 4th-axis unit – in 2020 and 2021, respectively.
The company has also ordered a new DN Solutions' large-capacity, heavy-duty vertical turning lathe (a VTR 1216F), which it expects to be delivered and installed in Spring 2024.
Background
With business returning to pre-pandemic levels and the company winning new contracts to supply replacement roll tooling and associated equipment to steel and copper mill customers across the world, Bowers & Jones has, since 2020, been on a mission to streamline and strengthen its in-house machining capacity and capabilities as a route to helping it achieve real, tangible and sustainable growth.
The company, under new ownership since 2020 and led by managing director, Jane Sommerville, and her team, is committed to continuous improvement and, as such, regularly monitors and benchmarks the performance of its manufacturing operations in order to identify 'pinch points' and production bottlenecks.
A recent internal audit, undertaken by the company in early 2023, revealed an issue within its 'small' roll production operation and, in particular, highlighted the under-performance of an older mill-turn machine acquired some years earlier.
"The machine was purchased for a specific application we no longer manufacture.
"This meant that the machine, with its relatively small working envelope, had limited value going forwards and, owing to its age, was also unreliable and prone to breakdown."
Jane Sommerville, Managing Director of Bowers & Jones
As a consequence, the company made the decision, in early 2023, to trade-in the machine, not for another mill-turn model as one might expect, but for a new, two-axis horizontal lathe instead.
"Firstly, mill-turn machines are expensive
"Secondly, the parts we manufacture, and the processes we have developed to manufacture them, mean that it is often more efficient and effective for us to have standalone, independently-operated lathes and machining centres at our disposal. If and when required, parts can be easily transferred between our machines."
Jane Sommerville, Managing Director of Bowers & Jones
Serendipity
At the time when Bowers & Jones was contemplating replacing the mill-turn machine by investing in a new machine tool, the company was approached by Mills CNC regarding a new Fanuc-controlled Puma lathe it had in stock.
The machine in question was a 15" chuck Puma GT 3100L long-bed, box-guideway lathe equipped with a powerful, high-torque, belt-driven spindle (35kW/2,800rpm/1613N-m) and a 12-station turret with a maximum turning length of 1275mm and a maximum turning diameter of 481mm. It was also available for immediate delivery.
"Although somewhat fortuitous in retrospect, the GT 3100L fitted the bill perfectly for machining our 'small/medium-sized' rolls and components, so we decided to place the order for the new lathe once we had sold the mill-turn machine and secured the appropriate funding."
Jane Sommerville, Managing Director of Bowers & Jones
Having previously invested in (Doosan) machines, the company had already established good relationships with Mills CNC.
"We like Mills' proactive and informed business approach.
"The (Doosan and DN Solutions') machines they sell, and support, are technically-excellent, reliable and competitively-priced, and the after-sales services they provide cannot be faulted.
"We rely on Mills to service our existing Doosan machines and use their 'Mills CNC Finance Operation' to help fund our machine tool investments too."
Jane Sommerville, Managing Director of Bowers & Jones
At work
Since being installed the GT 3100L has been put through its paces machining a range of high-performance, highly-customised and application-specific replacement rolls and parts for new and existing steel mill customers.
Characterised by their high-precision, tight geometrical tolerances and superior surface finishes, rolls designed and manufactured by Bowers & Jones, are typically machined from high-quality forged tool steel* billets in a range of batch sizes i.e., from one- and two-offs, through to larger volumes (i.e., up to 200-off), depending on customers' requirements.
*(Rolls can also be manufactured from special quality iron and cast steels as well as aluminium bronzes and PM grades).
The rolls are first roughed-out on the Puma GT 3100L before being sent out for Heat Treatment to a number of hand-picked preferred suppliers, and is a process carefully managed by Bowers & Jones.
After treatment, parts are returned and are then finish-machined back on the Puma, and if required, undergo secondary surface treatments – coatings, plating, shot peening, nitriding etc., before being dispatched.
Cycle times vary depending on the size of each roll and the required profiles and features to be machined. Larger and more complex rolls can involve more than 20+ hours machining time (roughing and finishing operations combined).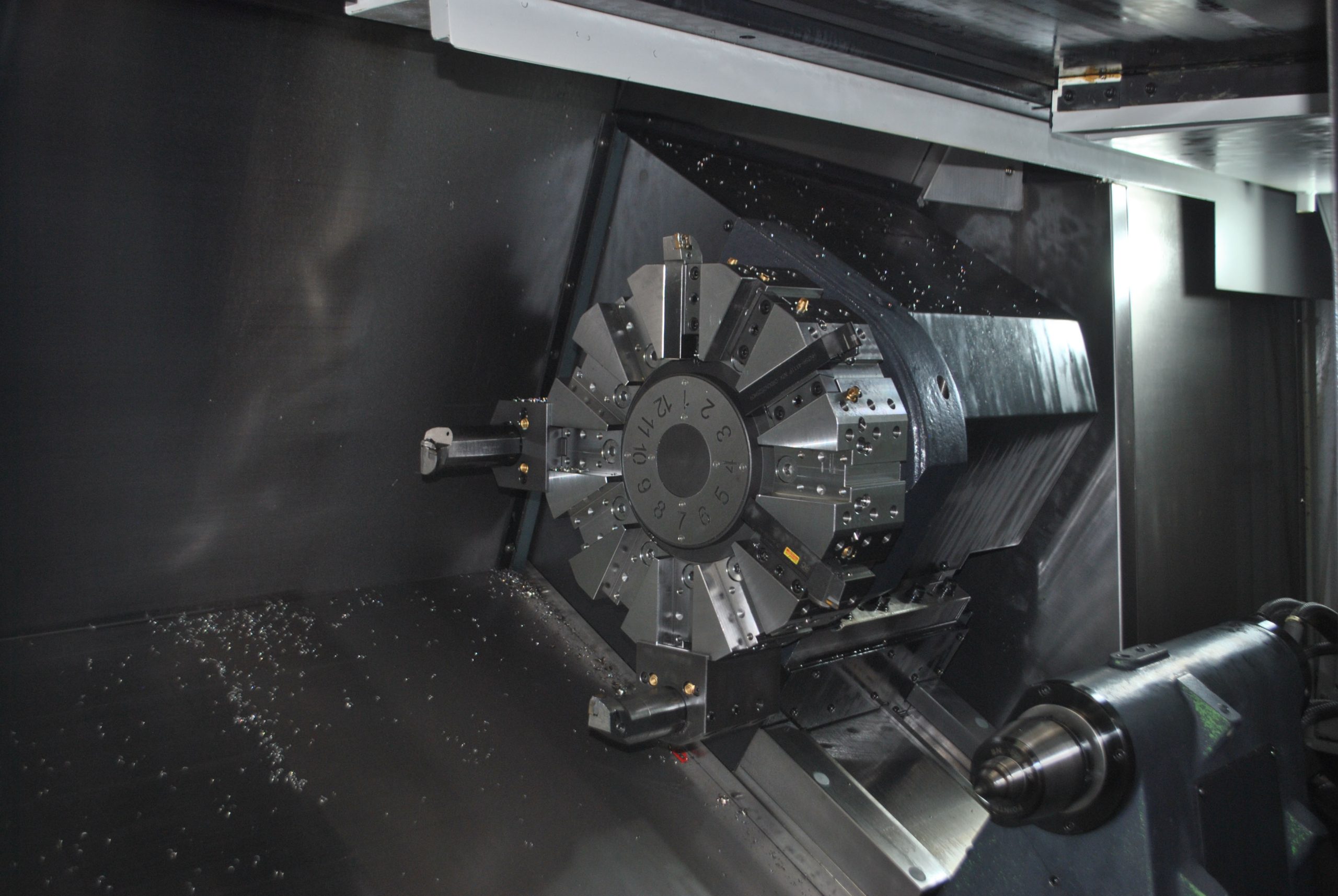 Rolls: use and application
Rolls are performance-critical components. They are also consumable items.
They are used in metal forming processes to enable metal stock (i.e., steel) to pass through one or more pairs of rolls, located on stands, in order to reduce the materials' thickness, making it uniform and consistent and, where required, give the rolled material additional mechanical and application-specific properties required by the ultimate end-user.
The rolls are used to process the material into different products (i.e., bar stock, rails and structural steel beams, angle stock and channel stock etc.), which are used across many industries and sectors i.e., construction, rail, energy, oil and gas, automotive etc.
However, because rolls operate in steel and copper mills' harsh and demanding environments, they are subject to high wear, thermal stress and mechanical fatigue. As a consequence, they need to be replaced regularly to maintain product quality and consistency, and ensure that the mills hit their own production targets and customer deadlines.
Bowers & Jones
This is where Bowers & Jones, with its "Keeping Mills Rolling" corporate strap-line, comes into its own.
Established in 1954, the company's knowledge of metal forming processes is second to none.
With almost 70 years' experience of designing and manufacturing high-precision rolls for steel mill customers involved in the production of steel tubes, pipes, rails and sections, and rolls and wheels for customers producing copper rods and wires, the company works closely with all customers to design and manufacture bespoke and tailored replacement roll tooling and equipment.
Bowers & Jones' success is built on its considerable know-how and expertise, and the care and attention it brings to roll design, the quality of roll material selected and machined, and the methods of manufacture adopted: all are critical to a roll's performance and to its life span.
The company works in partnership, and collaboratively, with its customers and can design, manufacture and test (via simulation) roll tooling for customers' new products, as well as helping improve established and existing product lines.
The bottom line is that Bowers & Jones' roll tooling solutions last longer and perform better than its competitors.
"High-quality designed and machined rolls may cost a little more, but they are an investment and help customers save time and money by reducing re-profiling and replacement costs, limiting potential downtime (caused by tooling changeovers), and by ensuring that customers' mills keep rolling."
Jane Sommerville, Managing Director of Bowers & Jones
Future
Although the Puma GT 3100L has only recently been installed, such has been its performance over the last two months (and the performance of its two previously-acquired machines from Mills), that Bowers & Jones has continued its investment programme with Mills by placing an order for a new DN Solutions' VTR 1216F vertical ram-type lathe. This will be the company's first vertical lathe investment.
With its fixed cross-beam, wide-column and box guideway design, large turning diameter and length (1600mm and 1250mm), and 45kW/400rpm spindle, the VTR 1216F will enable Bowers & Jones to machine larger and heavier roll and ring-type components, including larger piercing rolls.
"Instead of clamping larger diameter rolls in a horizontal lathe which takes time and, if not careful, can lead to deformation and out-of-roundness during machining, the investment in the VTR 1216F, with its rigid design and large chuck, will enable us to machine these larger components much more effectively and help us (significantly) reduce set up and part cycle times."
Jane Sommerville, Managing Director of Bowers & Jones