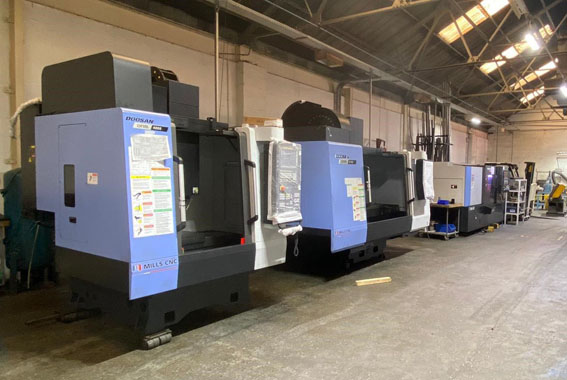 Leading precision subcontractor invests in two new Doosan vertical machining centres and a Doosan cobot during the lockdown.
Ayrshire-based NPI Solutions Ltd., has recently invested in two new Doosan vertical machining centres and a new Doosan cobot – all supplied by Mills CNC.
The machines – a Doosan DNM 4000 and a DNM 6700 – were installed at the company's 46,000 square foot facility in the first week of July (2020) and replace two older machining centres that had served the company well but which had seen better days.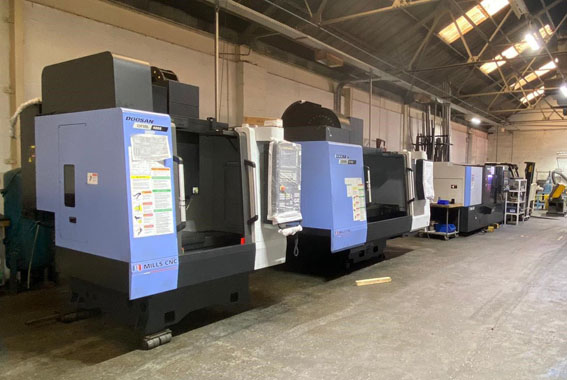 The Doosan M1013 cobot, the company's first investment in a robotic automation system, was delivered and installed in late July.
The decision to invest in new machine tool and automation technologies was made during the height of the pandemic in April.
At a time when many manufacturers may have understandably been 'battening down the hatches', NPI chose a different route; one entirely in keeping with the company's business ethos and approach.
Says Kevin Priestley, NPI's managing director:
"We are a company that's committed to continuous improvement and, as such, regularly monitor and review our performance.

"We had become aware (earlier in the year) that two of our older machining centres were creating a 'pinch point' in our operations and were affecting our productivity and efficiency.

"We decided that we wanted to replace the two older machines and approached Mills CNC to discuss a way forward."
NPI is no stranger to Mills CNC or to the Doosan machine tools it sells and supports.
The company, since 2011, has made a number of strategic investments in Doosan machine tools and, prior to the addition of the two latest machines, had acquired three Doosan lathes and three Doosan machining centres.
Says Kevin Priestley:
"Doosan machines are reliable and represent good value. We like Mills. They know our business and we believe the company's after-sales service and support is hard to beat."
The two new DNM machines acquired by NPI are proven performers and are best-selling models.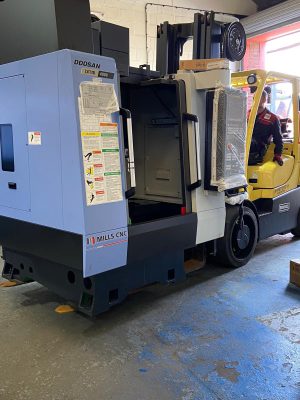 The DNM 4000 is a compact machining centre equipped with a 18.5kW/12,000rpm direct-drive spindle, a 20-position quick-change ATC and, inline with NPI's preference, the Fanuc 0iMF control. The machine boasts impressive rapid rates (48m/min) and, like all newer DNM models, features an innovative and efficient grease lubrication system that eliminates the need for an oil skimmer and reduces lubrication costs by up to 60%.
The DNM 4000 is also versatile and delivers excellent cutting performance. It is fast and accurate and, in many respects, is similar to the larger Doosan DNM 6700 machine which is equipped with a 18.5kW/8,000rpm direct-coupled spindle, a larger ATC (30/40position), grease-lubricated LM roller guide ways and thermal error compensation system that ensures high-accuracy over long machining runs.
Explains Kevin Priestley:
"We machine high-precision components – from prototypes and small batch series through to larger volumes – for a growing number of UK and international customers.

"To meet their quality and lead time demands we need access to reliable, high-performance machine tool technologies. The new Doosan machining centres are a case in point."
The company's commitment to continuous improvement and willingness to invest in the (its) future was the driving force behind its (first) collaborative robot investment.
Says Kevin Priestley:
"We are always looking to improve and recognise the power and potential of automation.

"In discussions with Mills' sales and technical consultants we began exploring the benefits we could gain from integrating a cobot with our Doosan DNM 350-5AX (5-axis) machining centre acquired in 2016."

"The ability to run the machine and cobot unattended was particularly appealing and would help us really take advantage and exploit of the DNM 350-5AX's one-hit machining capabilities.

"Lights-out operations is a desired state. The cobot investment is a first step in getting there."
Prior to deciding on the Doosan M1013 cobot, NPI approached other cobot suppliers.
Concludes Kevin Priestley:
"The Doosan cobot was selected for its build quality, and its safety, payload and reach radius characteristics. The fact that it was backed by Mills CNC made it an easy decision to make."