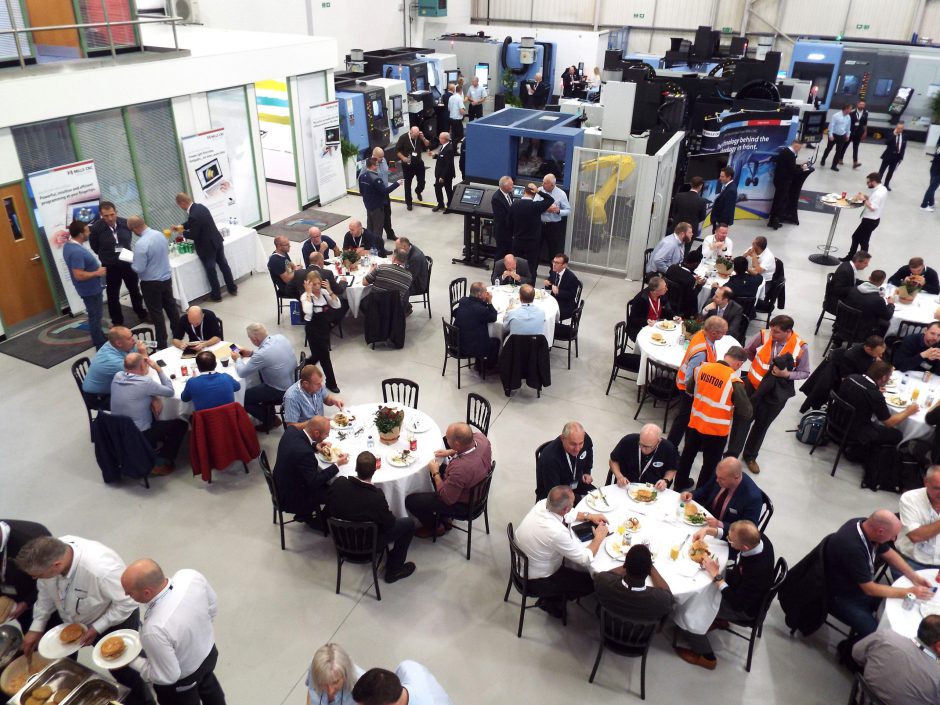 Mills CNC's 'Another Giant Leap' Open House pulls in the crowds resulting in the sale of eight machine tools and three collaborative robots, plus the generation of over one hundred significant enquiries.
Mills CNC, the exclusive distributor of Doosan machine tools in the UK and Ireland, has reported that its 'Another Giant Leap' Open House held at the company's Technology Campus in Leamington (October 9th & 10th), was a huge success.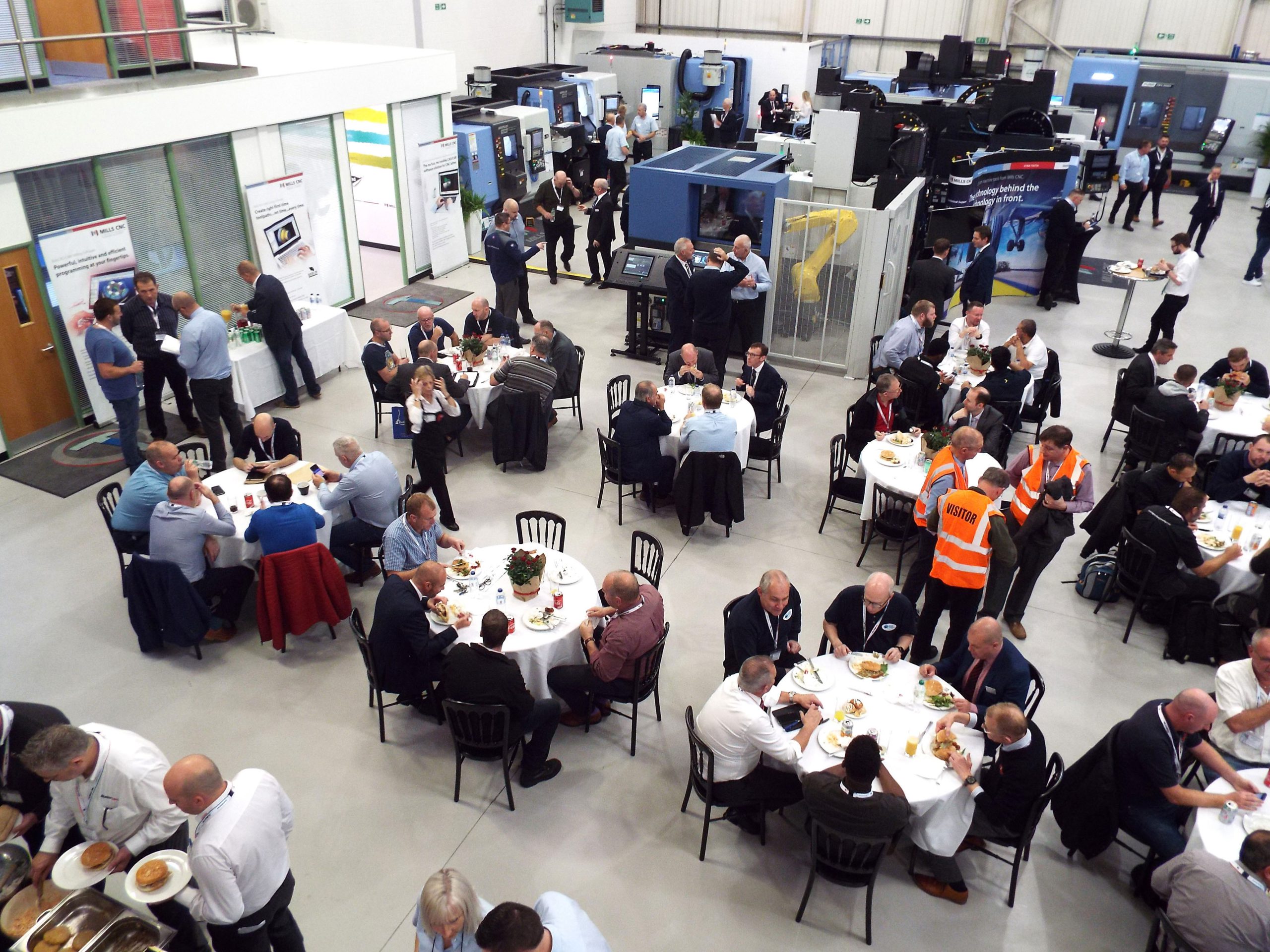 The total number of visitors attending the event, where 15 Doosan machine tools were being exhibited including four machines making their UK debuts and where the company showcased its advanced industrial and collaborative robot solutions, exceeded 350 over the two days.
Says Kevin Gilbert, Mills CNC's Managing Director:
"What a fantastic event.

"Not only did we sell a number of machine tools and collaborative robots during the event – we were also, quite literally, inundated with enquiries for our technology solutions.

"The mood throughout the two days amongst visitors was incredibly positive. Despite some reported uncertainty in the market – confidence at the event was high and a commitment to invest in high-productivity machining and automation solutions was apparent for all to see."
Machine tool highlights
Mills showcased 15 Doosan machine tools at the Open House. All models were under power performing a range of innovative and challenging demonstrations and included four new machines making their UK debuts at the event.
Says Tony Dale, Mills CNC's Technical Director:
"Interest in the new machines was high.

"Our new Doosan TT1300SYY and TT2100SYY (twin turret/twin spindle machines with dual Y-axis capability on their upper and lower turrets) drew in the crowds as did our new large Doosan 6700XL vertical machining centre with its 2.1 metre X-axis, directly-coupled spindle and sophisticated thermal compensation system."

A constant theme running throughout the event was automation and the way it can help component manufacturers improve their productivity and competitiveness.
As well as showcasing a range of Doosan machines with in-built and integrated automation like the high-performance SMX 2600S mill-turn machine and the highly-productive and flexible DVF 5000 (5-axis machine) integrated with an automatic workpiece pallet changer, Mills used the event to promote its industrial and collaborative robot solutions.
Industrial robot highlights
A Doosan DNM 4500 vertical machining centre integrated with a Mills CNC industrial robot was showcased at the event.
This compact, flexible and self-contained manufacturing cell featuring an advanced robot, a high-efficiency workpiece/part storage system and Mills CNC's proprietary software, was set up to perform continuous workpiece loading/unloading operations.
Collaborative robot (cobot) highlights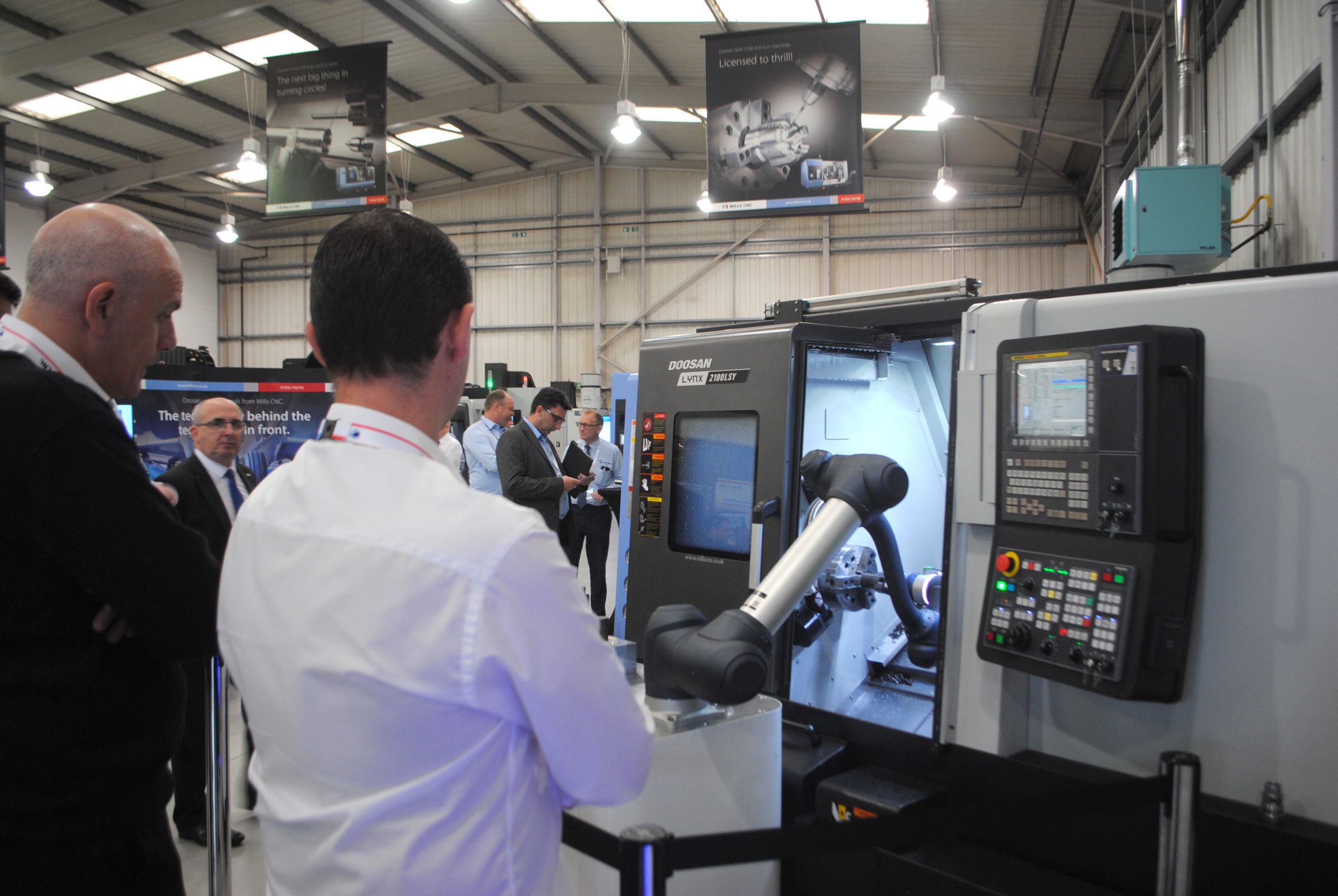 The Open House provided the ideal opportunity for Mills to showcase its range of Doosan cobots to visitors.
One of the cobots, the M0609, was demonstrated (integrated) with a Lynx 2100LSYB lathe and all four cobots in the Doosan range were presented to visitors in a series of live seminars delivered by Peter McCullough, Product Manager – Doosan Robotics, during the event.
Other highlights
Mills CNC Finance, Mills CNC Servicing and Mills CNC's Training Academy were all out in force at the Open House with the latter promoting the power and sophistication of BobCAD-CAM software to visitors.
Concludes Kevin Gilbert:
"We knew from the number of pre-registrations that the event could be popular. But the sheer number of visitors that attended the Open House on both days took us a little by surprise.

"In addition to the sales, leads and enquiries generated over the two days I have been particularly pleased with the number of positive comments we have received from visitors and suppliers alike about the structure and content of the event.

"I would like to take this opportunity to thank everyone involved in helping to make 'Another Giant Leap' so successful."