Leading precision subcontractor invests in state-of-the-art Doosan 5-axis machining centre from Mills CNC.
UK Manufacturing is facing uncertain and challenging times.
The March 2019 deadline for the UK to leave the European Union is fast approaching and the confusion surrounding whether we have a Hard or a Soft Brexit has led some economic experts, fearing the former, predict a slowdown in growth and a general contraction within the sector. Others, however, no doubt fuelled by the fall in value of Sterling and its positive impact (to date) on exports, are more positive and are confident that UK Manufacturing is more resilient than was originally thought.
With so many competing, and often conflicting, views of what 'could happen' in the future, many UK companies, rather than waiting and 'hoping for the best', are taking matters into their own hands – investing in their manufacturing plant, equipment, processes, systems and people, and strengthening their supply chain relationships to make themselves better prepared for the future and better positioned to capitalise on opportunities in the post-Brexit world.
One such company is leading precision subcontract specialist – Aerotech Precision Manufacturing – based in Poole who recently invested in a state-of-the-art, high-performance Doosan VCF 850LSR 5-axis machining centre supplied by Mills CNC.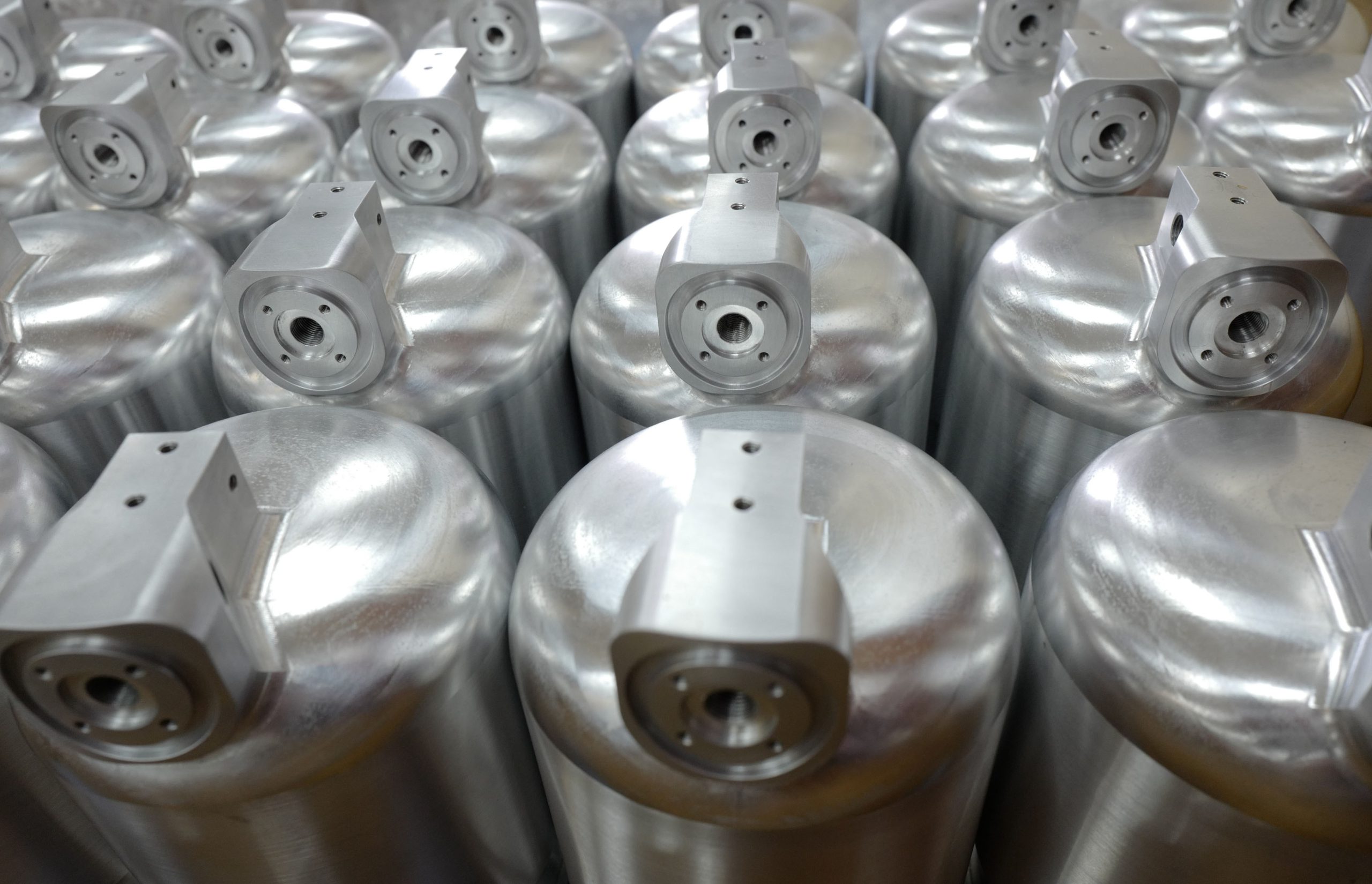 Aerotech, established in 1990, manufactures and supplies high-precision complex components and assemblies for the Aerospace, Defence, Medical Devices, Nuclear and Oil and Gas sectors, as well as parts for 'special purpose' processing industry and packaging equipment and machines.
Components machined by Aerotech vary considerably and include prototypes and one-offs through to small-medium batch production.
A significant proportion of Aerotech's work is in highly-regulated markets (i.e. Defence, Aerospace, Nuclear etc.), and the company, not surprisingly, has invested heavily in ensuring it has the correct accreditations and certifications to operate and grow within these sectors – i.e. AS 9100 (Rev C); ISO 9001; ISO 14001 and Fit4Nuclear.
The company prides itself on the quality of its parts it supplies and adopts a 'right first time…every time' approach. It also invests significant resources into both achieving (and often exceeding) customers' tight delivery deadlines and in controlling costs.
The emphasis on quality, lead time fulfilment and cost competitiveness explains, to a large extent, the company's recent investment in the Doosan VCF 850LSR machine.
Explains Aerotech Business Development Manager, Aaron Houston:
"We operate in highly-competitive global markets and, as such, you simply cannot afford to 'stand still'.

"As a consequence, we regularly audit and review our engineering and technical capacity and capabilities – benchmarking where we are against where we need to be. If there's a disconnect between the two, we make strategic investments in the latest technology to bridge the gap."
5-axis machine requirements
As part of the company's continuous improvement programme, Aerotech made the decision to replace one of its existing large-capacity 3-axis machines with a new, high-specification 5-axis machining centre. The investment was intended to help the company reduce job set-up times and part cycle times (via adopting a one-hit machining strategy) and, in doing so, improve its productivity and process reliability.
Explains Aerotech Director, Allan Redfern:
"Although we decided on the 5-axis machine tool route there are so many different types and models available that we made sure we gave ourselves sufficient time to investigate the market thoroughly to ensure we selected the right machine for our requirements."
To a large extent the sectors served…the materials used…and the type and complexity of components machined by Aerotech narrowed the choice down to a large-capacity, ultra-versatile 5-axis machine equipped with a Heidenhain control and high-efficiency swarf evacuation/chip management system.
The machine also needed to deliver excellent cutting performance (i.e. maintain high volumetric accuracies in roughing operations, and to guarantee high surface finishes), and enable the company to produce parts using 3-axis, 4 + 1 and full 5-axis simultaneous machining.
Continues Allan Redfern:
"We had previously invested in a Doosan Puma 480L lathe from Mills CNC in 2013, and were (and are) impressed with its reliability and performance as well as Mills' after-sales service and support.

"As part of our 5-axis machine tool selection process we attended Mills' Groundbreaking Technology' Open House in Autumn 2015, and visited the company's stand at MACH 2016.

On both occasions we were able to see the VCF 850LSR machine in action, and to talk to Mills sales and engineering staff about the machine and our plans."
Doosan VCF 850LSR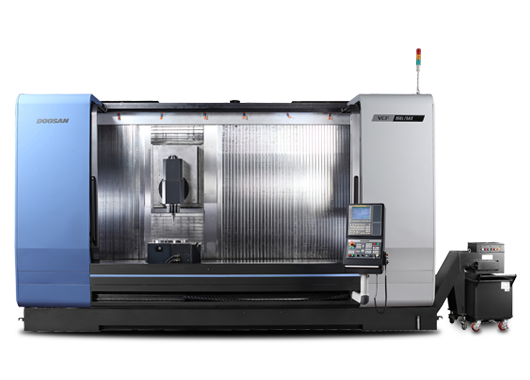 The large-capacity moving-column-type VCF 850LSR machine has X-, Y- and Z-axis travels of 3000mm x 850mm x 800mm, a B-axis (+/- 110 degrees) built-in, 'swivelling head' milling spindle (32kW/12,000 rpm) and a 800mm diameter (built-in) rotary table integrated into the machine's 3500mm x 870mm long bed.
The machine also features roller LM linear guideways, a 60 position servo-driven chain-type ATC, the BIG PLUS face and taper tool shank configuration and onboard cooling systems (spindle, ball-screws, housings etc.), that help minimise thermal displacement during long production runs.
Says Allen Redfern:
"The VCF 850LSR represents a sound investment, and is being used to machine complex, high-precision components for aerospace, defence and nuclear sector customers.

"One of the components being machined on the Doosan is used in advanced, remotely operated underwater vehicles (ROVs) – which themselves are used in the detection, assessment and destruction of sea mines.

"The components are made from aerospace grade aluminium alloy and are machined from solid – first on our lathes (first operation), and then 4-/5-axis machined on the VCF 850LSR.

"The components are rough machined in the first instance, which requires significant high accuracy stock removal and, subsequently, are finish machined to realise a Ra 0.4µm surface finish.

"Since machining these parts on the new Doosan machine, cycle times have been reduced dramatically."
Now, some six months after installation, the VCF 850LSR is, naturally enough, is taking on more and more work as Aerotech directors and managers become more familiar with the machine…its capabilities and its potential. The machine has also become a focal point for customers and prospects visiting Aerotech's 2,500 square metre facility.
Concludes Aaron Houston:
"When visitors see the VCF 850LSR up close and in action – they are impressed. The machine provides them with confidence and the certainty that Aerotech can achieve the part quality and lead times they demand.

"With advanced machining technologies on our side (like the VCF 850LSR), we are prepared for most, if not all, eventualities in these challenging times."