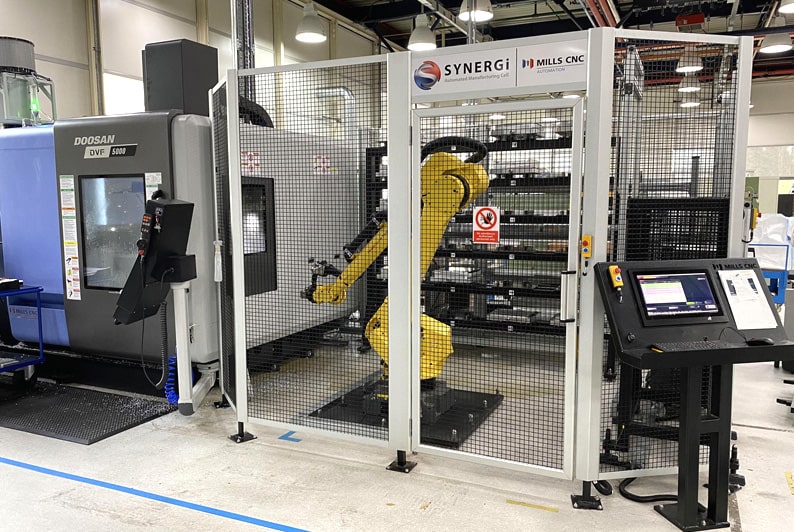 Market-leading, progressive and innovative hi-fi manufacturing specialist invests in an advanced turnkey automation solution from Mills CNC to increase productivity and output.
Mills CNC, the exclusive distributor of Doosan machine tools in the UK and Ireland, has recently supplied high-end audio equipment design and manufacturing specialist, Linn Products Ltd., with an advanced, custom-designed and built 'SYNERGi' automated manufacturing cell.
The state-of-the-art cell, installed at the company's 7,200 sq. metre facility in Glasgow in November 2020, represents a significant investment for Linn and comprises a new Heidenhain-controlled Doosan DVF 5000 (5-axis) machine and a Fanuc industrial 6-axis robot with a 45kg payload capacity. Other features include: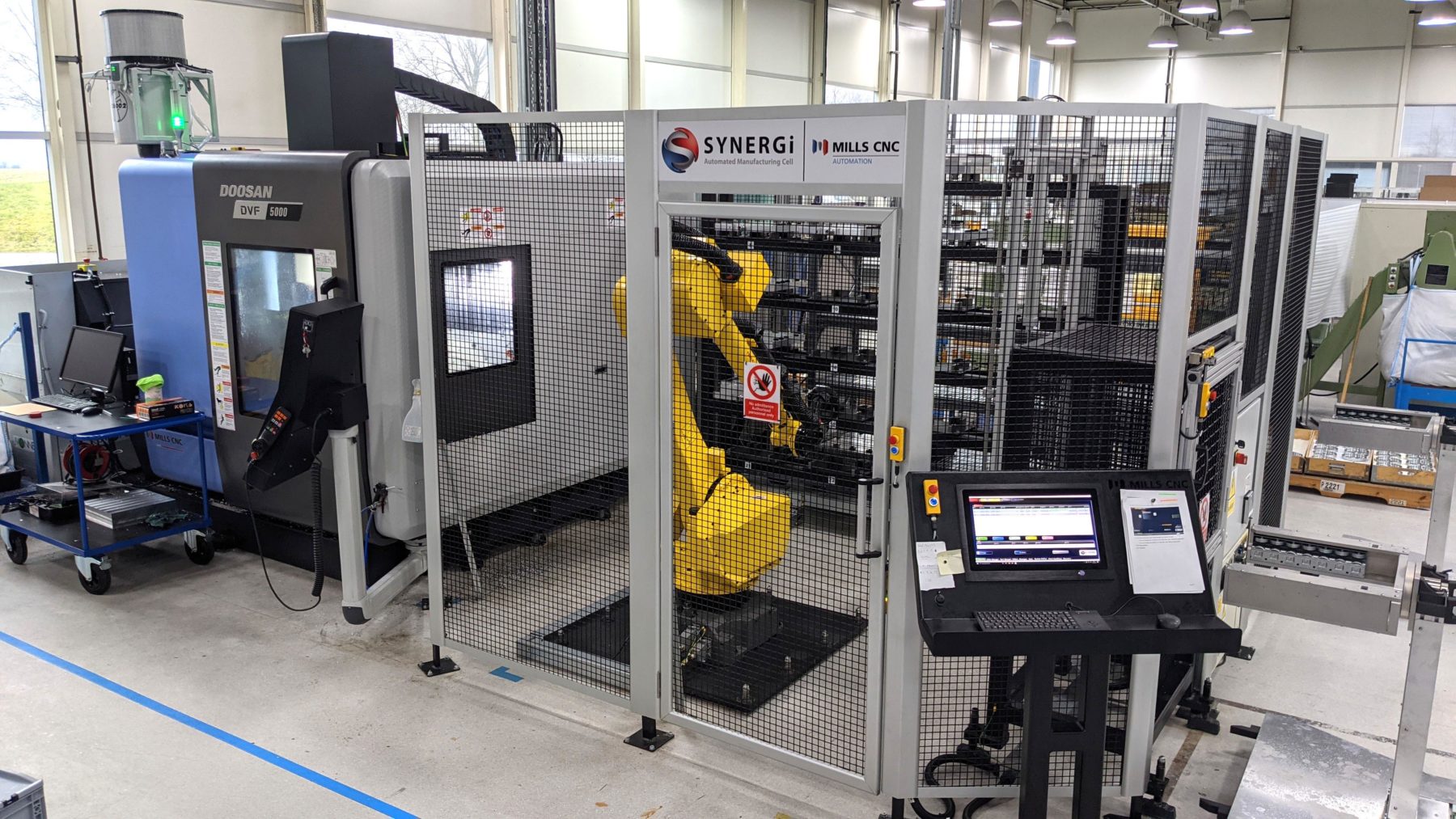 i) An integrated racking system that holds up to 24 x standard sized pallets onto which workpieces are clamped and then loaded, via the robot, into the DVF 5000 and machined components (on pallets) are unloaded from the machine and stored in predetermined positions back on the racking system.
ii) Two metre high safety caging/fencing that enclose the robot and pallet racking system restricting access to the loading/unloading area and protecting operators, shop floor staff etc. The caging also features a two-way access door that allows machined components to be removed entirely from the cell, and new workpieces to be introduced into it.
iii) A sophisticated and powerful 17" touchscreen HMI driven by Mills' proprietary SYNERGi software that controls the cell and provides a seamless interface between the machine tool, robot etc.
Since being installed some five months ago, the cell has proved its worth – running overnight and over the weekends…unattended: delivering, as was intended, significant productivity gains and process efficiency improvements.
About Linn Products
Linn Products was established in 1973 and, today, employs around 160 people.
The company designs and manufacturers iconic hi-fi equipment (i.e. record players, streaming systems, amps, speakers etc.).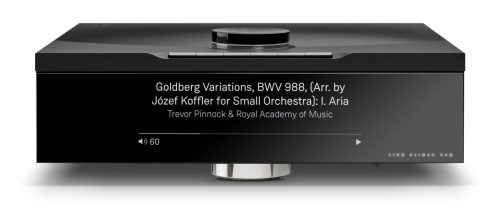 Product brands, like its legendary Sondek LP12 turntable and its state-of-the-art Majik, Selekt, Akurate and Klimax DSM network music players are widely acknowledged, by critics and aficionados alike, to be amongst "the best in the business" for their design and build, and for their sound reproductive quality and clarity.
Rave reviews are already racking up for the company's latest product update – the new Klimax DSM – a revolutionary streaming system featuring Linn's first 100% in-house produced DAC (Digital to Analogue Convertor), named Organic, that was launched in April 2021, and is described by Linn as the ultimate streaming system available, bar none.
Explains Chris O'Brien, Linn's Director of Operations:
"Our products are built to exacting quality standards and precision using the best materials and components available.

"A great deal of care and attention is given to every stage of the design, manufacturing and assembly processes. At Linn, the details really do matter."
Committed to continuous improvement and with a strong business focus on Research & Development, Linn constantly looks at new ways to grow its markets and delight its customers. With customers all over the world including in Japan, the US, Canada, Germany, the Netherlands etc., as well as in the UK, it is evident that company sales and market share, despite the pandemic, are, and have been, on a steep upward trajectory.
Integral to the company's improvement programmes are the regular investments it makes in its people, in its plant and equipment, and in its systems and processes. Over recent years Linn has invested heavily in improving its manufacturing operations and its machining capabilities.
Machining capabilities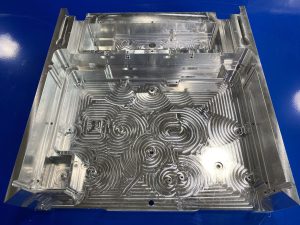 To maintain quality and control lead-times and costs Linn, over the past few years, has embarked on a strategy of increasing and strengthening its in-house machining capacity and capabilities.
The strategy has resulted in the company investing in advanced (Doosan) 3- and 5-axis machine tools from Mills CNC.
Says Chris O'Brien:
"Our high-end products are machined from solid aluminium. Product interiors are 'hollowed out' and feature a number of chambers, separated by thin walls, where electrical and electronic components are housed. Product exteriors are machined to a mirror finish using a large diameter fly-cutter (cutting tool) that face mills the entire surface in one pass to produce a uniform finish.

"We rely on our Doosan machining centres to deliver fast and accurate material removal rates and super-fine finishes. Removal amounts on premium products can be in excess of 80% and part cycle times, owing to roughing, semi-finishing and finishing operations, can be long and take several hours to complete."

Investment rationale
In early 2020 Linn's machining capabilities were under pressure.
The manufacture of its 'soon-to-be-launched' Klimax DSM system was in full swing and required significant machine time to cater for last minute product tweaks and developments, and for building up actual stock in time for the launch itself. Demand for Linn's other, more established, products was also high.
Remembers Chris O'Brien:
"We were busy. Not having sufficient in-house machining capacity at our fingertips was creating a pinch point that was affecting all other areas of our operation. The outbreak of the pandemic and its impacts and effects i.e. travel restrictions, staff furloughs, social distancing, lockdowns etc., exacerbated the difficult position we were in.

"We looked at a number of different options to help us address and solve the situation ranging from hiring more staff and running an additional shift (difficult during a pandemic) through to subcontracting the work out."
As it transpired the company believed that neither option provided the strategically-sound or flexible solution required and, instead began to investigate automation systems as the means to meet its immediate and future machining requirements.
Says Chris O'Brien:
"From a flexibility, productivity and a 'best return on investment' perspective we began thinking about investing in a new, high-performance machining centre with integrated automation – as opposed to acquiring another stand-alone machine.

"We wanted, and needed, to improve our operational efficiencies by adopting lights-out, unattended operations.

"Having previously invested in three Doosan machines from Mills CNC, and having been more than satisfied with the machines' performance and the service and support provided, we approached Mills to discuss our future machining requirements."
The Turnkey solution
Following extensive discussions between Linn and Mills engineers to fully understand and scope out the project, it was agreed that a turnkey solution comprising a new Doosan DVF 5000 (5-axis) machining centre integrated with a Fanuc industrial robot (45kg payload capacity) and including a bespoke, 24-pallet workpiece loading and unloading system would be its core elements.
The decision to go for the customised multi-pallet system as opposed to an off-the-shelf automation system was down to capacity requirements and the desire to optimise the autonomy of the cell.
"Originally we did consider a standard solution with 4 or 12 pallets," recalls Chris O'Brien, "however, for us to have a fully autonomous cell that could run (unattended) from Friday afternoons through to Monday mornings, we required more capacity."
Time was taken, at the project's inception, to ensure that the new machining centre selected would have the capacity (working envelope) and capabilities required to machine all of the company's products. To facilitate unattended operations, long machining runs and the machining of a diverse range of parts the machine also needed:
a generous-sized automatic tool changer
a high-efficiency swarf evacuation/management system
advanced powerful and responsive spindle technology
thermal compensation to ensure part accuracy and repeatability's
the latest Heidenhain control
Says Chris O'Brien:
"The DVF 5000 machine is a proven performer. It is fast, accurate, flexible and reliable. When in auto mode the machine's side door is used – but we can also use it in manual mode by using the machine's front door.

"This means we can use the DVF 5000, when required, as a stand-alone machine."
Cell operation
The 24 pallets in Linn's SYNERGi cell reside on a racking system located inside the caged area adjacent to the DVF 5000 and the Fanuc robot.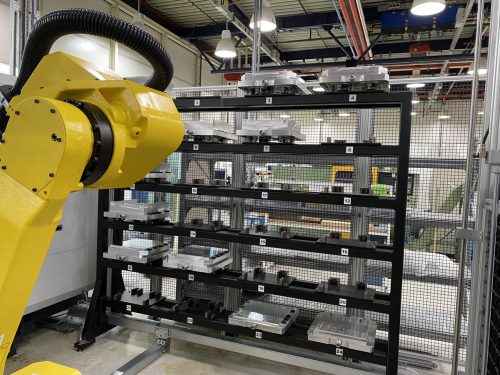 The operator, using the HMI, can programme specific pallets with machined/completed parts on them to be removed from the cell area by using the robot and making use of an innovative two-way access door designed into the caging.
Trolleys that lock onto the side of the cage enable the quick and easy movement of these pallets away from the cell area. The trolley system and two-way access door are the method by which new pallets/workpieces are introduced into the cell.
When the DVF 5000 is available, and in line with Linn's production schedule, the robot picks a pallet from the racking system and loads it into the machine.
Depending on the part machining cycle times vary – from minutes to several hours.
After machining operations have been completed the machined parts are taken by the robot and put back on the racking system. The load/unload cycle is then repeated.
Specific features built into the cell that ensure process security and reliability include:
• RFID tagging on every pallet for fast and accurate job location and identification.
• Remote monitoring and diagnostic facilities that (a) send email alerts to designated members of Linn's staff informing them of stoppages and alarms, and (b) allow Mills' engineers to intervene and diagnose any operational issues…and rectify them.
• Tool inspection and detection, and pallet/part checking: all are failsafe mechanisms built into the SYNERGi software platform.
Review
Linn's automated manufacturing cell was delivered and installed at the beginning of November 2020 and, following on-site training for six operators, was fully-operational by the of the month.
As a consequence of investing in the cell Linn has significantly improved its productivity and efficiencies. The company was able to hit its Klimax DSM launch date and build up stock of all its products to satisfy demand.
Concludes Chris O'Brien:
"We are no stranger to automation and, amongst other things, have a fully-automated warehouse with AGVs. This investment, however, is our first involving a machine tool.

"We have a good relationship with Mills CNC and their proactivity, knowledge and expertise all combined to deliver a successful project.

"A great measure of success of a new machine or system is when you wonder how you coped without it. And that's the case with our new SYNERGi cell."