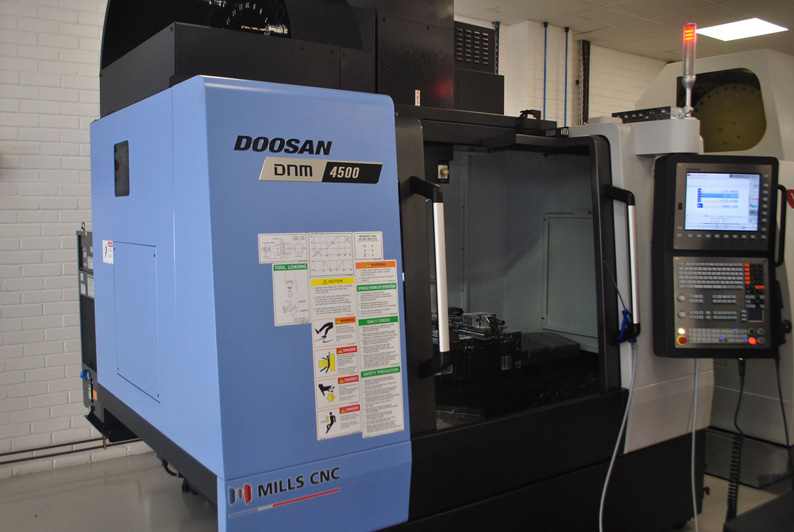 Quick Machining Solutions invests in a new Doosan vertical machining centre from Mills CNC to improve production and help meet continued demand for its high-quality machining services.
Mills CNC, the exclusive distributor of Doosan machine tools in the UK and Ireland, has supplied Quick Machining Solutions Ltd., a leading precision subcontract specialist based on the outskirts of the New Forest, with a new vertical machining centre.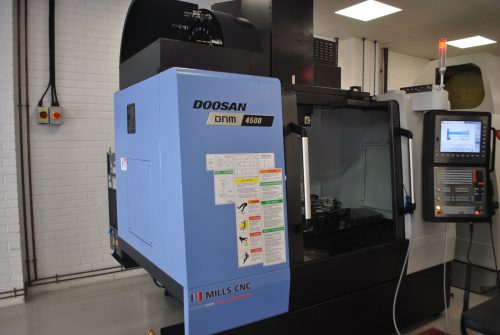 The machine, a Doosan DNM 4500, is a compact, high-performance and best-selling 3-axis machining centre that has become a firm favourite amongst precision component manufacturers in the UK and Ireland. The new machining centre was installed at Quick Machining Solutions' modern, refurbished 7,000sq. ft. facility in September 2020.
Investment rationale
Investing in a new machine tool during the pandemic, at a time when many manufacturers were (and still are to some extent) 'battening down the hatches' has helped Quick Machining Solutions meet a growing demand for its high-quality machining capacity and capabilities.
Explains Wayne Harris, owner and managing director:
"A number of component manufacturers closed down their operations and/or furloughed a significant number of their staff in response to the pandemic outbreak.

"We felt that even in these uncertain times, we had an obligation to our customers to remain open whilst ensuring we did everything to keep our staff safe.  We also used any spare time for training, maintenance and other improvements within the business.

"As a consequence of 'keeping our doors open' we were able to pick up new business from a number of customers who were having difficulty sourcing their machined parts in the necessary timescale.

"This increase in demand, in addition to continually improving our machining (milling) capabilities, was the main catalyst behind the DNM 4500 investment."
Machine tool requirement​
To ensure that the new machining centre would meet it's immediate and future machining requirements, the company drew up a checklist and investigated the market.
Says Wayne Harris:
"We needed a high-performance 3-axis machine with a compact footprint and a good-sized working envelope (to handle a wide range of different-sized parts).

"We also needed a machine with a Heidenhain 640 control (our preferred VMC platform) to be able integrate with our existing machines and program database.

"We had looked at acquiring a Doosan DNM 4500 at the start of the year but had postponed the decision…temporarily as it transpired.

"However, the increase in demand and the need for a swift delivery (caused in part by the impact and effects of the pandemic)… combined with a great purchase price we were able to negotiate with Mills for a new DNM 4500, meant that the investment was given the go-ahead."
Since being installed the DNM 4500 has been used to machine a range of components for customers operating in the motorsport, film, leisure and industrial sensor sectors…to name but a few.
These components, machined in small to medium batch sizes and from a variety of materials that include aluminium, stainless steels, titanium and engineering plastics, often exhibit tight tolerances (i.e. down to a few microns in some instances) and superior surface finishes (Ra 0.1µm).
The DNM 4500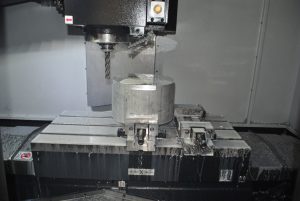 The DNM 4500 machine supplied to Quick Machining Solutions is equipped with a powerful, direct-drive 12,000rpm spindle, a large 1000mm x 450mm work table, a 30-position ATC and the latest Heidenhain (TNC 640) control.
The machine also features roller LM guideways and thermal error compensation to ensure high accuracies and repeatability's over long machining runs.
Says Wayne Harris:
"The machine is versatile and is a great all-round performer. It was available at an extremely attractive price.

"We ordered the machine in September and in the same month it was delivered, installed and was cutting metal."
Background: Quick Machining Solutions
Quick Machining Solutions was established in 2010 and, over the last ten years, has achieved significant growth and success.
The company today employs eight members of staff, has substantially increased its turnover (since the early days) and, to win new business and secure (and elevate) its position within customers' supply chains, has achieved ISO 9001: 2015 accreditation.
The company's commitment to continuous improvement is further reflected in its strategic and prudent investment in new and advanced machine tools and ancillary technologies as evidenced by its first Doosan machine tool investment made 18 months ago.
The first Doosan machine
In November 2018 Quick Machining Solutions invested in a new Doosan Lynx 2100LMA multi-axis turning centre. The lathe was supplied (by Mills) with an integrated servo-driven bar-feeder.
Comments Wayne Harris:
"To maintain our competitive edge we made the strategic decision (back in 2018) to invest in a flexible, high-performance multi-tasking turning centre.

"We were looking for a lathe that was fast, powerful and accurate. And we were specifically keen on acquiring a machine that was equipped with driven tooling to help us reduce set up and part cycle times. We also wanted the lathe to be supplied with a bar feeder to help us improve productivity and facilitate 'lights-out' and unattended operations."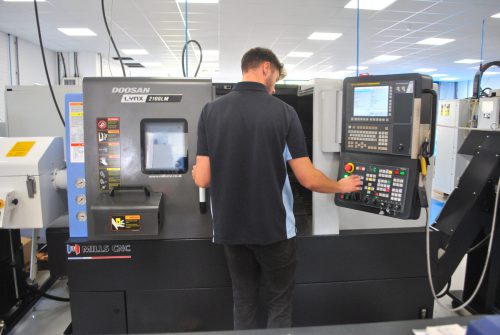 Before any purchase decision was made Quick Machining Solutions did its homework and researched the market.
The results of the research revealed that Doosan lathes were extremely popular amongst component manufacturers and that, for small parts production, the Lynx range came highly recommended.
On the basis of its research findings, that also included visiting an existing Mills customer and Lynx lathe user, Quick Machining Solutions placed its order for a Lynx 2100LMA.
Comments Wayne Harris:
"The Lynx lathe is a real workhorse and, since its installation, hasn't missed a beat. The performance and reliability of the Lynx lathe, and the ease of doing business with Mills, were major factors in us deciding to invest in the DNM 4500."
Investing in new technology as well as its people, plant and manufacturing processes and systems is definitely the 'direction of travel' for the company in the future. Other recent and planned investments to improve its performance include:
the recent purchase/integration of a MRP system to help improve productivity and operational efficiencies,​
an investment in a new CMM (Coordinate Measuring Machine) to improve its inspection capabilities,
the roll out of an ambitious and innovative plan to generate its own solar energy to power its plant,
the continuation of its popular and successful in-house apprenticeship programme to meet its skills requirement.
Continues Wayne Harris:
"We are always looking to improve and innovate.

"We have built a solid reputation in the market based on the quality of our machined components… the speed of response and the fast turnaround times we can achieve for customers…and our competitive prices.

"In a relatively short space of time, we have become a 'go-to' precision component manufacturer for customers operating in number of industries and sectors.

"Our investments in Doosan machine tool technologies have been more than instrumental in helping us get to where we are."