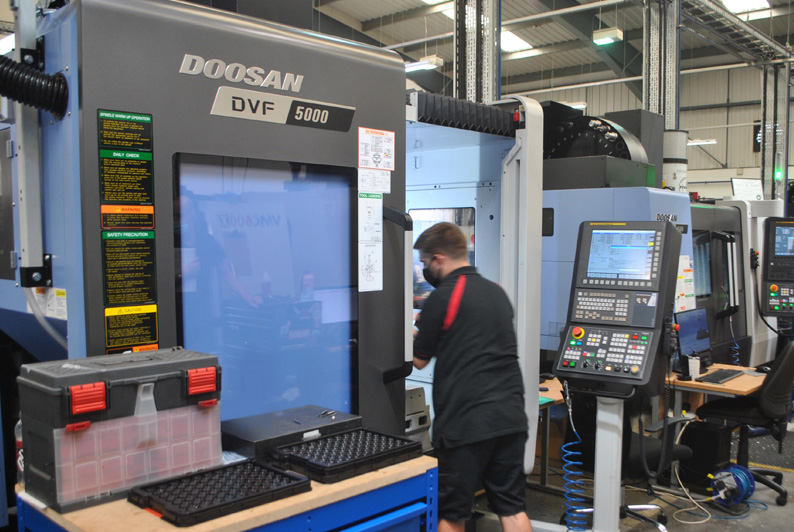 Leading precision subcontractor, with strong and well-established relationships with the motorsport sector, invests in three new Doosan machining centres from Mills CNC.
Mills CNC, the exclusive distributor of Doosan machine tools in the UK and Ireland, has recently supplied leading precision subcontract specialist – SRD Engineering Ltd., – with three new Doosan machining centres.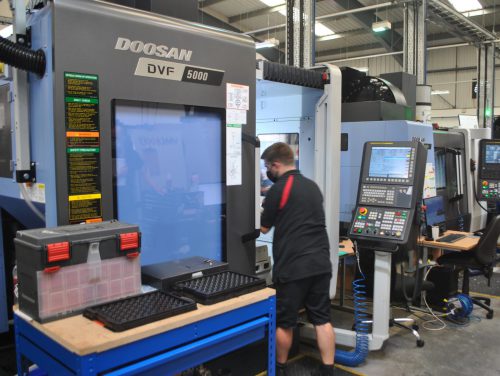 The machines, two DNM 4500 (3-axis) vertical machining centres supplied with Nikken 4th-axis units, and a best-selling DVF 5000 simultaneous 5-axis machining centre, were installed at the company's 18,000sq. ft. facility in June 2021.
Since their arrival the new Doosans have been, and are being, used to machine a range of high-precision, and often complex, components for customers operating in the F1 and motorsport, automotive, electronics, medical devices, power generation and aerospace sectors…to name a few.
These components are machined in small-to-medium batches and are made from a diverse range of materials that include inconel, titanium, stainless, steels, aluminium, plastics, nylon etc.
Typical components machined by SRD Engineering are characterised by their tight tolerances (i.e., 8 – 10 microns on 'tied up' features), and exacting surface requirements (i.e., Ra 0.8um or better). Part cycle times vary considerably – from a few minutes at one end of the spectrum through to over nine hours at the other end.
The parts machined by SRD Engineering are also required, in many instances, in double-quick time with very short (i.e., virtually non-existent) lead times especially where the F1 and motorsport sectors are concerned. This helps explain why the company operates 24/5, and why it is committed to investing in technologies that are designed to improve productivity and efficiency levels.
Said Mark Bonham who, along with brother Paul, are the directors of the company:
"We operate in demanding and competitive sectors where quality, lead time fulfilment and cost competitiveness are the Holy Grail.

"If you are weak in any of these areas, you'll be found out quickly and won't last long."
About SRD Engineering
SRD Engineering was established in 1989 by Steve Bonham (Mark and Paul's father), and two other business partners. As is the case with many new start-up businesses the company had humble beginnings operating, in the first instance, from small and cramped rented premises in Bicester using second-hand machine tools.
"It was actually a cowshed", remembered Mark Bonham, "But it served its purpose and got the fledgling company off the ground."
Despite the modest beginnings the company, built on the principles of delivering high-quality and competitively priced machined components to customers…on time…every time, thrived. And, despite some bumps along the way, that included the 2008/09 recession and the recent Covid-19 outbreak, SRD Engineering's fortunes have been on an upward trajectory.
Over the last 32 years the company has changed dramatically and grown exponentially.
It has expanded its operations considerably and has relocated twice since the early 'cowshed' days. (The first occurring in 1995 when it moved to a more spacious 2,500sq. ft facility, and the second in 2014 which is when the move to the larger, modern and well-apportioned 18,000sq. ft. facility, its current location, took place).
The company now employs 85 members of staff and has, just shy, of 40 CNC machine tools at its disposal.
Continuous improvement: Project 24
A constant and recurring theme throughout the company's 32-year history, is its commitment to continuous improvement and the regular and strategic investments it has made (and continues to make) in its people, its plant and equipment, and its processes and systems.
Explained Mark Bonham:
"To ensure that you are meeting, and hopefully exceeding, customers' expectations you need to monitor and benchmark your business performance and address any weaknesses or concerns before they can impact on your ability to meet customers' quality, lead time and cost down requirements.

"We have systems in place to ensure that this is a priority and our latest continuous improvement programme, Project 24, a company-wide initiative, implemented in 2019, focused on Restructuring, Redeployment, Training and Investment. It provided the catalyst and rationale for the recent three Doosan machine tool investment."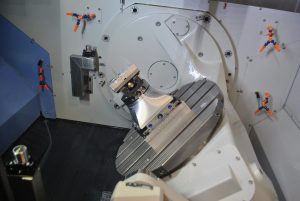 Project 24 helped identify a 'weakness' in SRD Engineering's milling section – specifically with three older vertical machining centres which, owing to their age and through constant use, were becoming more unreliable, required consistent and costly maintenance intervention and, if left unchecked, would create production bottlenecks.
To avoid production 'pinch points' from occurring, the company decided to replace the (three) older machines with more advanced machine tools and approached the market to identify suitable replacements.
SRD Engineering: Machine tool investment history and strategy
SRD Engineering has close to 40 CNC machine tools at its disposal. A significant percentage of these are Doosan machine tools supplied by Mills CNC.
Even a quick and cursory look at the Doosan lathes, turning centres and machining centres acquired by SRD Engineering reveals the company's commitment, evident over many years, to investing in multi-tasking and multi-axis machines.
A majority of the 13 Doosan Lynx and Puma lathes at the company's facility have sub-spindles, Y-axes and driven tools and its Doosan DNM machining centres have integrated 4th-axis units.
Explained Mark Bonham:
"We are always looking to increase our machining capabilities and not just our capacity.

"Multi-tasking and multi-axis machine tools help increase our productivity and operational efficiencies. Being able to machine components in one hit and reduce part cycle times enable us to better meet customer deadlines.

"Furthermore, reducing the number of job set ups required to complete a job and avoiding the need to transfer jobs from one machine to another ensures that part accuracies and repeatability's are not compromised."
The company's commitment to investing in multi-tasking machines is matched by its commitment to Doosan machine tools and to Mills CNC.
Continued Mark Bonham:
"Doosan lathes and machining centres are good machines and, from a price: performance perspective, are difficult to beat. The fact that over 50% of the CNC machines we have in our facility are Doosan machines is testament to their consistently high performance and reliability.

"We are similarly impressed with Mills CNC. The company is proactive…. knows our business inside-out…and has, what we consider to be, 'industry-leading' and 'best-in-class' after-sales service and support."
Covid-19 and CBILS
The outbreak of the pandemic in March 2020, as was the case with many UK manufacturing companies, had a significant impact on SRD Engineering with orders being postponed…some being cancelled altogether.
However, the company, through its strong and 'preferred supplier' relationships with several F1 Teams was able to weather the storm by being actively involved in machining high-precision ventilator parts.
Remembered Mark Bonham:
"We were in uncharted territory and the ventilator contracts were important to us. They enabled us to keep the doors open and the spindles turning."
The Government's Coronavirus Business Interruption Loan Scheme (CBILS), introduced in response to the pandemic, also helped SRD Engineering.
Explained Mark Bonham:
"Covid-19 had affected our ability to roll-out our Project 24 continuous improvement programme – but the introduction of CBILS (and its favourable repayment terms and conditions) combined with the upturn in business activity and its positive impact on confidence, enabled us to get our investment plans 'back on track'.
With renewed optimism and determination to capitalise on the economic upturn, SRD Engineering approached the market in 2021 with its new milling machine tool requirements.
The new Doosan machines: DNM 4500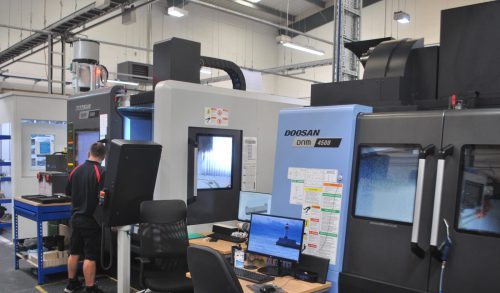 "We approached Mills CNC with our requirements," said Mark Bonham.
"We had previously invested in Doosan DNM machining centres with 4th-axis units some years earlier and, owing to the machines' reliability and performance, decided to replace two of our older milling machines with two new DNM 4500 machining centres."
The two DNM 4500 machines supplied to SRD Engineering are equipped with the latest Fanuc 0iMP control, 12,000rpm directly coupled spindles, integrated thermal compensation, LM roller guideways, 30 tool position quick-change ATCs and Filtermist extraction systems.
To increase the productivity of the machines both were also supplied with Nikken CNC202 rotary tables.
The new Doosan machines: DVF 5000
SRD Engineering is no stranger to 5-axis machining and has a dedicated 5-axis milling section in its facility.
Explains Mark Bonham:
"We are keen advocates of 5-axis machine tools and of 5-axis machining and the way that both can dramatically improve company productivity and performance.

"In discussing our future milling requirements and production strategies with Mills CNC's sales and application engineers, we decided that the third machine we would acquire would be a high-performance, simultaneous 5-axis machining centre capable of processing a range of parts."
The machine identified was the best-selling Doosan DVF 5000 – a compact, simultaneous 5-axis machining centre equipped with a 12,000rpm direct-drive spindle, 60 tool position ATC, linear guides, an efficient swarf conveyor system, Filtermist extraction and the Fanuc 31iB5 control.
Said Mark Bonham:
"We negotiated a great deal with Mills and part-exchanged our three older machines for the three new ones. All three machines were delivered and installed at our facility in June 2021."
Going the extra mile
Key strengths and market differentiators that help separate SRD Engineering from other precision subcontractors are its commitment and ability to go the extra mile for customers, and its laser focus on growth and improvement.
In recent years the application of both have seen the company:
i) Invest in sliding head technology enabling it to machine high-precision, complex components in large volumes for its customers. From a standing start the company now has 4 sliding head lathes at its disposal.
ii) Significantly improve its inspection and measurement capabilities. The recently implemented Project 24 initiative identified the need to further upgrade its capabilities by investing in another CMM and making its inspection room fully air conditioned.
iii) Stock heat treated materials at its facility just in case a specific F1 customer needed components to be machined and delivered immediately. (As it transpired the F1 Team in question did require parts machined at a moment's notice, and SRD Engineering was able to respond. Consequently, the company was able to secure significant machining contracts with this F1 customer).
iv) Bring many machining processes in house. To ensure quality, cost competitiveness and lead time fulfilment, SRD Engineering has lessened its reliance on outside subcontractors – preferring to bring several secondary services and specialisms in house.
Summary
Concludes Mark Bonham:
"Although SRD Engineering is a very different company to the one that was established 32 years ago – not everything has changed.

We still operate on the same quality, lead time fulfilment and cost down principles that we did when first established and our commitment to continuous improvement, as evidenced by our recent investment in three new Doosan machining centres, remains a priority."